This content contains affiliate links.  If you make a purchase after clicking a link on this page, we might receive a commission at no cost to you.
As far as I'm concerned, bacon wrapped jalapeño poppers are the ultimate grilled hors d'oeuvres.
Sure, you could bake them in the oven, and they'd turn out just fine! But there's just something so perfect about the way they come off of the grill, with a little bit of smokey flavor.
Bacon wrapped jalapeño poppers are so delectable because of their strong yet balanced combination of savory and salty bacon, rich cream cheese, and of course a little bit of heat from the peppers.
If you needed a recipe or some guidance on how to grill jalapeño poppers, you've come to the right place!
What Are Jalapeño Poppers?
The ultimate cookout appetizer, that's what!
In all seriousness, one of the things that makes poppers so great is that they're pretty simple to make. They're also pretty easy on the wallet – you can get the ingredients for a big serving of poppers for cheap.
Here's a look at the ingredients that go into poppers:
Jalapeños – this one is obvious since it's in the name of the dish! You'll want to use fresh bought jalapeños that are sliced in half and deseeded. Size wise, I prefer to buy big jalapeños but you can definitely opt for smaller ones if you'd prefer a bite size experience.
Cheese based filling – cream cheese is the most common base for filling. You can do cream cheese on its own or add other types of cheese to the mix. If you really want to get fancy, it's possible to mix ingredients like lobster or beef into your cream cheese filling. We're going to keep it simple in this article though – there's plenty of flavor in bacon wrapped poppers that have just cheese in the filling.
Bacon – pick your bacon of choice – they're all good on this recipe. My personal preference is to go with thick cut bacon for a little more volume, plus it allows the popper to cook for just a little bit longer and pick up maximum flavor off of the grill.
How to Grill Jalapeño Poppers
Prep Your Poppers
Before you start your popper prep assembly line, it's probably a good idea to preheat your grill so that it's ready to go when your poppers are made.
While your grill preheats, you can assemble. The first step is to get your cream cheese base mixed in a bowl. All you need to do for this is combine your cream cheese and shredded cheese into a bowl and mix until evenly incorporated.
Next, take each jalapeño, and simply slice it in half, and remove the seeds and veins. Be really careful when handling jalapeños – if you accidentally touch your eyes or skin after handling them, you could hurt yourself. If you're in doubt, use a pair of BBQ gloves while handling!
From there, spoon the cream cheese mixture into each jalapeño half. I like to spoon enough so that the entire jalapeño half is filled, but not so much that the cream cheese is higher than the edge of the popper.
Finally, we need to wrap the cheese filled jalapeño half with bacon. Simply take a slice of bacon, line it up with the end of the popper, and wrap it around and down the popper.
If you wrap this way, you don't need toothpicks to hold your poppers together. Don't be afraid to use toothpicks to hold the bacon on there though if you're having trouble keeping them together.
Safety Tips For Grilling Jalapeño Poppers
While poppers are as good of a candidate as any food to go on the grill, there is a glaring safety issue that must pointed out.
Bacon exudes grease while it cooks. Most grill types heat food with some kind of flame. Grease and flames are not a friendly combination.
It's safe to cook bacon on the grill, but there are some major caveats you should be aware of – and precautions you should take – to ensure that you don't end up with a dangerous grill fire.
Make Sure Your Bacon Isn't Directly Over a Flame
Some gas grills have flame guards over the burners. If that's the case then it should be safe to grill poppers directly on your main grill grate because grease drippings will hit the flame guard and vaporize, and they won't drip directly into fire.
If your grill's burners are exposed, or if you're working on a charcoal grill, you should cook poppers with indirect heat.
Do this with a two heat zone grilling set up or simply cook your poppers on the top warming rack to give them some distance from your burners.
Grill With a Lower Temperature
Using a lower temperature on the grill will greatly reduce the risk of bacon grease causing an issue. You don't need to go crazy low – I like to keep the grill at 350ºF or 375ºF for grilled poppers.
Obviously the lower the temperature, the longer your poppers will take to cook. A longer time on the grill isn't necessarily a bad thing though! It's more time for your food to pick up smokey flavor.
Just plan ahead to make sure you aren't rushing to serve your meal – and make sure that your bacon is done cooking before pulling the poppers off!
Use Long BBQ Tongs
Since there's a risk of flare ups when grilling bacon, it's a good idea to have long BBQ tongs on hand in case you need to quickly maneuver your food. They're not expensive and a borderline must-have grilling accessory anyways!
Great for High Heat Grilling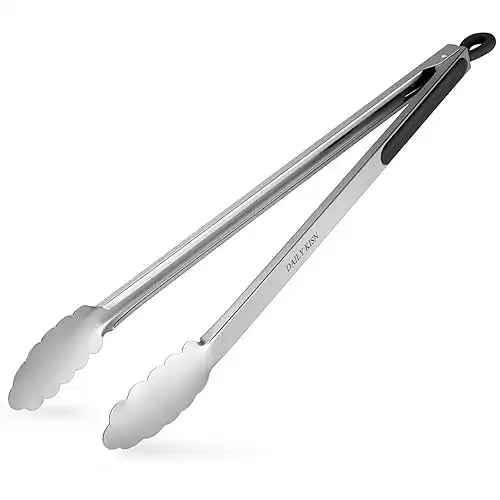 How Long to Grill Bacon Wrapped Jalapeño Poppers
Generally speaking, it takes about 20-25 minutes to grill these poppers. Really, the poppers need to stay on the grill until the bacon is cooked to your desired doneness.
Cooking times can vary based on a couple of factors. First, how hot is your grill? The hotter the grill, the less time your poppers will spend cooking, and vise versa.
Second, how crispy do you like your bacon? If you prefer things on the super crispy side, you may need to plan for a few extra minutes on the grill for your bacon to get there.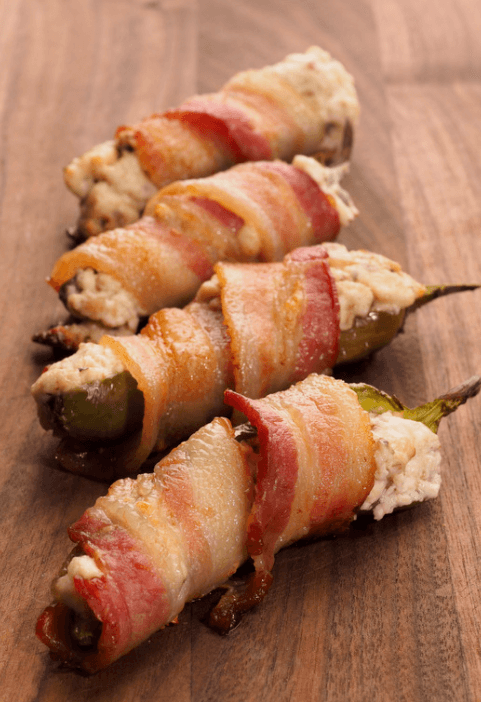 Rest, Serve, and Enjoy!
When your poppers come off of the grill, you need to wait a few minutes before serving.
In particular, the cream cheese mixture will be piping hot and will surely burn somebody's mouth if you eat them right away.
We like to give them at least 5 minutes and up to 10 minutes of rest time before serving.
Bacon Wrapped Jalapeño Poppers
The ultimate grilled hors d'oeuvre, bacon wrapped jalapeño poppers are packed with flavor and come out perfect off of the grill.
Ingredients  
1/3

cup

cream cheese

1/3

cup

shredded cheddar cheese

sharp

6

jalapeños

sliced in half & deseeded

12

slices

bacon
Instructions 
Preheat your grill to 375ºF

Combine cream cheese and cheddar cheese in a bowl. Mix until evenly incorporated

Slice jalapeños in half lengthwise and remove seeds and veins

Fill each jalapeño half with cream cheese mixture without spilling over the top

Wrap each filled jalapeño half with a slice of bacon

Place poppers on the grill and shut the lid. Cook for about 20-25 minutes, or until bacon reaches your desired doneness

Remove poppers from the grill and put them on a serving plate. Let them rest for at least 5 minutes before serving (they will be hot!)
Notes
This recipe can easily be done on a baking sheet in the oven if you don't have a grill!
Final Thoughts
There you have it! One of the tastiest grilling appetizers is also the easiest to make. Especially if you have an assembly line going, these bacon wrapped jalapeño poppers are easy to crank out on the grill for a large group of people.