This content contains affiliate links.  If you make a purchase after clicking a link on this page, we might receive a commission at no cost to you.
There are so many ways to prepare and cook chicken wings. If you search the web, you'll find just about any and every way to bake, grill, smoke, and fry. But how long to air fry chicken wings at 400? This question is asked thousands of times per month.
You should air fry chicken wings at 400 for 20 minutes, checking every 5 minutes. Give them a shake each time you check to move the chicken wings around and allow them to crisp on all sides.
Step By Step Instruction To Air Fryer Chicken Wings At 400
Let's go over the steps to prepare and air fry those crispy chicken wings.
Choosing your wings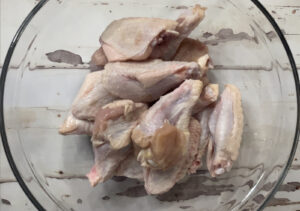 It's important to note that all wings in the air fryer should NOT be frozen. You can purchase fresh or frozen wings, just make sure the wings are completely thawed before seasoning. This will prevent undercooking the wings, and we all know that uncooked chicken is not something we want to eat.
Please Note: If you do plan to air fry the chicken frozen, it is important to extend the time to at least 30 minutes or when the chicken reaches 165 degrees F.
I personally prefer the drumette and wingette to be separated. If you should get the full wing in one piece, you can either use scissors (the easiest way) to separate them or just leave them whole.
Seasoning the Wings
Before seasoning, just take a paper towel and pat them dry. You can place them in a bowl and drizzle olive oil, salt and pepper, and garlic powder(optional). Give the bowl a shake or use a spoon to evenly distribute.
If you're a grill seasoning expert then add your favorite flavors, but I can promise you sticking with just the basics will not disappoint.
Air Frying the Wings
Start by adding a batch of wings to the air fryer. Don't overcrowd.  Start the air fryer and adjust the temperature to 400 and the timer to 20 minutes. Push start and get those wings cooking.
Checking on the Wings
It's good to stay close by and open the air fryer every 5 minutes. You'll want to shake up the air fryer basket or use a wooden spoon to stir them up. Make sure they're still laying flat and not on top of each other to prevent areas from not crisping. At the end of 20 minutes, you should have crispy wings.
If you prefer extra crispy wings or super crispy chicken wings, then feel free to cook a little longer.
Easy Optional Buffalo Sauce
The hard part here is to give you the correct measurements. I honestly just throw it all together and adjust if necessary. The air fryer wings sauce consists of butter, ketchup, franks hot sauce, sugar, and honey. I will get more precise in the actual recipe card listed below.
Place all the ingredients into a small saucepan and allow to melt and then simmer on low. Make sure to stir to avoid burning. If the chicken wings are not finished you may want to pull the sauce off the heat and then turn it back on a few minutes before using it to heat through again.
Serving Chicken Wings
Once the air-fried chicken wings are perfectly crispy, remove them from the fryer basket with tongs and place them in a shallow bowl (or any bowl you have on hand).
Pour the sauce over the wings and mix. Make sure to save a little on the side for extra dipping. You can also use blue cheese or ranch dressing to dunk them in for added flavor. Yum!
What is the Best Air Fryer?
Here are our top 3 Air fryers:
The best Nuwave XL Air Fryer
The Best Ninja Dual Air Fryer
Most Popular Ninja
What to Serve with Air Fryer Chicken Wings?
You can serve air fryer chicken wings as an appetizer and pair them with other small plates like these 17 BBQ Appetizer Ideas.
If you're thinking of serving the air fryer chicken wings as a meal then our tater tot casserole and smoked baked beans are a perfect match.
What Are Some Healthy Chicken Wing Recipes?
Once you start creating healthy chicken wing recipes, it's kind of hard to go back. Take a look at our 23 favorite ways to cook grilled chicken wings.
Tips for the Best Air Fryer Chicken Wings
A few simple tips for the best air fryer chicken wings are to use fresh nonfrozen wings, air fry them for 20 minutes at 400 and check on your wings frequently when air frying. Shake them up every five minutes to help give them the crispy skin they deserve.
How many Chicken Wings Per Person for Serving?
The recommended amount of chicken wings per person varies, but a general guideline is about 6-8 wings for a main course and 3-5 wings for appetizers or party platters.
How To Store Air Fry Chicken Wings?
To store air-fried chicken wings for leftovers, let them cool to room temperature, then place them in an airtight container or wrap them tightly. Refrigerate for up to 3 days or freeze for 2-3 months. Make sure to discard any wings left at room temperature for over two hours or showing signs of spoilage.
How to Reheat Chicken Wings in the Air Fryer?
You can reheat chicken wings in the air fryer by cooking them at 350 for 5-8 minutes. Always check every few minutes and shake the air fryer basket around to move the wings around and heat through evenly.
Ingredients For Air Fryer Chicken Wings
There are endless possibilities when it comes to ingredients for air fryer chicken wings. We suggest you keep it simple for the cooking process. All you need is olive oil, salt and pepper. Once the chicken wings are closer to being finished you can season with your favorite rub or sauce and finish cooking those last 5 or so minutes.
How Long Does it Take to Cook Wings in an Air Fryer?
If you are cooking fresh chicken wings, cooking for 20 minutes in an air fryer set to 400 will give you perfectly cooked chicken wings. If you are cooking frozen chicken wings, increase the cooking time to 25-30 minutes or until you reach an internal temperature of 165°F.
Are Air-Fried Wings Unhealthy?
Air-fried chicken wings can be a healthier option. Since you're using less oil compared to deep frying, the wings are lower in fat content. Air frying also reduces the amount of harmful compounds, such as acrylamide, that can form during deep-frying at high temperatures.
More Air Fryer Recipes
Here are a few other air fryer recipes we love:
Additional Frequently Asked Questions
Here are a few added questions we know others ask:
Can you Air Fry Frozen Raw Chicken Wings?
Yes, you can technically air-fry frozen chicken wings. It's recommended to increase the cooking time compared to fresh wings. This ensures that the wings cook through and reach a safe internal temperature.
Can I put raw chicken wings in an air fryer?
You can put raw chicken wings in an air fryer. We recommend air frying fresh raw chicken wings at 400 for 20 minutes to create a perfectly crispy wing.
Why isn't my Air-Fried Chicken Crispy?
If your chicken wings are not crispy, they may be overcrowded in the air fryer basket. It's always better to cook in smaller batches to avoid them overlapping each other. The chicken will not crisp on the areas that are covered.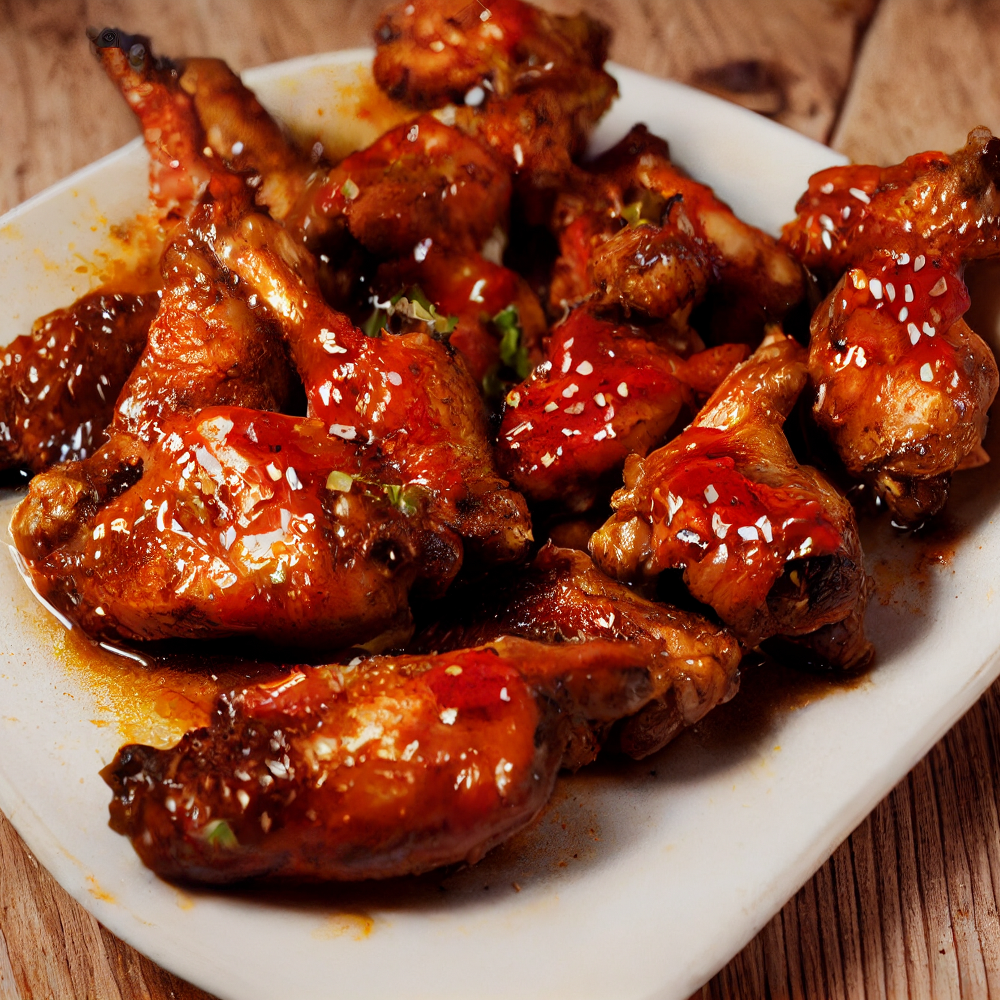 Air Fryer Chicken Wings at 400 degrees
Ingredients  
1

dozen

chicken wings

1

tsp

salt

1/2

tsp

pepper

1/2

tsp

garlic powder

optional
Wing Sauce
1/2

stick

butter

1/4

cup

ketchup

1/8

cup

franks hot sauce

1/8

cup

sugar

1/8

cup

honey

1

tbsp

Blue Cheese or Ranch Dressing

optional
Instructions 
In a bowl mix together the chicken wings, olive oil, salt, pepper, and garlic powder (optional).

Place the chicken wings in the air fryer basket and air fry on 400 for 20 minutes.

Make sure to check on the chicken every 5 minutes and shake them around to allow the chicken to move and crisp on all sides.

While the chicken is cooking, place all the wing sauce ingredients (butter, ketchup, hot sauce, sugar, and honey) into a small saucepan and heat through on medium to med-low heat. Once the sauce starts to bubble turn off the heat a set aside.

When the chicken wings are fully cooked, place them in a new clean bowl and drizzle the wing sauce over top.

You can save a bit of the sauce to place on the side to dip the chicken wings into. You can also serve with blue cheese or ranch dressing.
Nutrition