This content contains affiliate links.  If you make a purchase after clicking a link on this page, we might receive a commission at no cost to you.
It's hard to imagine a better main event for your dinner than a properly cooked Tomahawk Steak.  Sometimes known as a Cowboy Steak, a thick cut of tomahawk steak is undoubtedly a meal fit for royalty.
Most tomahawk steaks weigh in at 3 or more pounds.  Combined with the fact that they are typically high quality cuts of meat, you'll want to make sure you know how to grill a tomahawk steak to make sure you're getting the maximum bang for your buck.
There are a few ways you can go about cooking a tomahawk – some are easier than others and some (we think) produce tastier, more consistent results than others.
Here we'll go over a couple of our favorite methods along with some tips and tricks for how to grill a tomahawk steak.  If you want to go straight to the step by step recipe, feel free to scroll down near the bottom of this page!
Grilled Tomahawk Steak – Overview
A tomahawk ribeye is a giant cut of steak still on the rib bone, typically 2.5 to 3.5 pounds in weight.  It's a sight to behold, and you'll want to make sure you do it justice on the grill.
Seasoning Your Steak
First things first, you'll want to get your beef seasoned.  I've always been a fan of keeping things simple when it comes to seasoning quality pieces of meat – all you really want to do is bring out the delicious flavor within your tomahawk ribeye.
I like to use a seasoning mixture of kosher salt, black pepper, and maybe a little bit of garlic powder, but you can feel free to use your favorite steak seasoning as a substitute.
A tomahawk steak is a HUGE piece of meat, so you want to make sure to be liberal when it comes to applying your seasoning.  Make sure you coat the entire thing, including sides and even the fatty parts.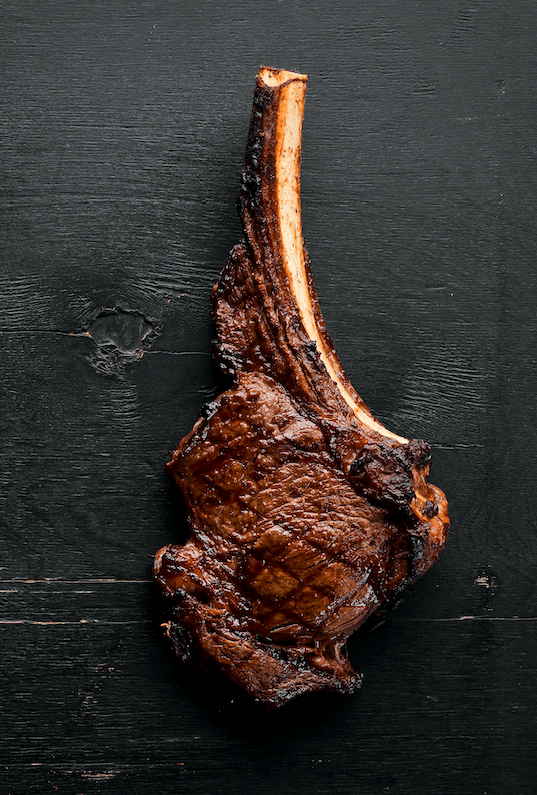 Let It Breathe At Room Temp
From there, let your steak rest at room temperature for a minimum of about 45 minutes.  If time is on your side, you can also place your seasoned beef into the fridge for a couple of hours before letting it rest at room temperature.
During this time, the beef will absorb the seasoning and flavor will begin to sink in.  Also, the seasoning will absorb some of the moisture inside of the steak which will help create a beautiful crust when we sear later in the process.
Equipment You'll Need to Grill A Tomahawk Steak
Probe Meat Thermometer
You might be able to get away without a probe thermometer when you grill a traditional steak – when the steaks are thinner, it's possible to "eyeball" it and do just fine, especially if you have some grilling experience.
That's not the case with a tomahawk steak.  It's crucial that you utilize a probe meat thermometer to know the temperature of the innermost section of your beef while it cooks.  You won't be able to tell when it's done otherwise!
Great Budget Thermometer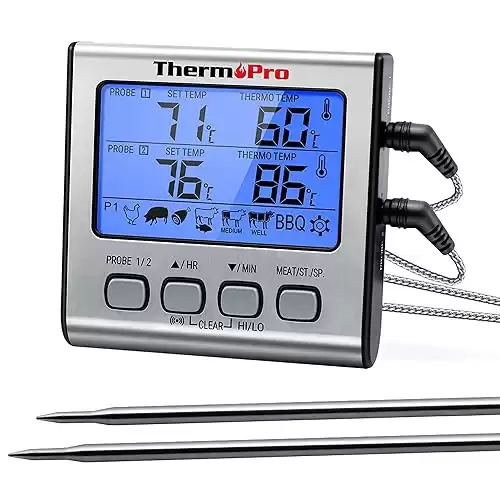 Aluminum Foil Pan
This one is optional, but highly recommended!  The pan goes underneath the grilled tomahawk steak while it slow cooks to catch drippings, which then vaporize and rise back up to flavor your steak.
We also like to add ingredients like butter and herbs to the pan for even more flavor depth.  A standard 9×9 foil pan or something similar will do!
Grilling Method 1: The Traditional Route
Preheat Your Cooker
While the steak rests, go ahead and get your grill fired up.  You can preheat your grill while your seasoned steak finishes up its rest.  If you are using a gas grill, you might only need 5-10 minutes to get heated up.
If you're working on a charcoal grill, you may need a little more time to get your fire right.  Either way, this is a great time to get your grill heated up in preparation to sear your steak.
You'll want to set up a 2 zone cooking surface – one side of your grill should run piping hot, about 500-550 degrees for the sear.  The other side should be cooler where we'll cook the steak all the way through with indirect heat by going low and slow.
Steak Goes On
After the searing side of your grill is hot and ready to go, it's time to get the tomahawk steak on there.  Place the beef on the grate and press down.
After 2.5 minutes, rotate the steak 45 degrees (keeping it on the same side), and press it down into the grate again.  Sear for another 2.5 minutes.
We are ready to flip the steak now (so after 5 minutes total on the first side).  Flip the tomahawk ribeye steak and repeat the last step, searing the other side for 5 minutes total with a 45 degree rotation after 2.5 minutes.
After the sear is complete, move the steak over to the "cooler" section of your grill for the slow cook.  Place the steak on a raised rack or on your grill's swing away warming rack. The idea here is to finish off the cook with indirect heat.
Monitoring The Cook
At this time, you should insert your probe meat thermometer.  Make sure the probe is measuring temperature at the very center of the loin.
For maximum flavoring, we like to take a shallow aluminum pan and place butter, garlic clove, and fresh herbs inside (thyme, sage, rosemary, or some combination of those).  Place the pan on the grill and underneath the steak to catch drippings from the beef.
All of the contents will combine and homogenize as the steak cooks.  From time to time (I usually do it every 5-10 minutes), baste the contents of the pan back over the steak with a basting brush.
From here, we're not cooking for a set amount of time – we're grilling until the inside of the steak reaches it's desired doneness.  Just to give you a ballpark idea though, plan on slow cooking for around 30-45 minutes.
Finishing The Cook
The USDA says that 145ºF is the safe internal temperature for cooked steak, although most professionals and steak lovers prefer a temperature below that, more in the realm of 123-125ºF.
Personally, I cook my tomahawk ribeye steak to an internal temperature of 125ºF before I pull it off the grill – which usually ends up being medium rare trending a tiny bet towards medium.  One thing to bear in mind – the steak will continue to cook a little bit even after it is off the grill and resting.
After your steak reaches it's desired doneness, take it off of the grill and place it on a cutting board or serving tray to rest for 15 minutes.
Grilling Method Two: The Reverse Sear
The other way we like to grill tomahawk steaks is by utilizing the reverse sear method.  The key difference here is that we are going to slow cook the steak first to our desired temperature and sear it last, not the other way around.
Preheat Your Grill
We like to get our grill temperature to around 250ºF for a reverse sear. We start with a lower temperature, roast style for a reverse sear.
Slow Cook Your Steak
Place your steak on the top rack with the drip pan below it – juices and drippings will fall off and combine with your mixture of butter, garlic, and herbs.
Depending on the size of your steak, it could stay on the grill for 45 minutes, give or take.
After the centermost point of your steak reaches your desired temperature (we take it off at 120ºF on a reverse sear), remove the meat and aluminum pan from the grill.
Finishing With A Sear
Next, crank up the heat to 450-500ºF.
Once your grill is scorching hot, place the steak on the grill grates directly over your heat.  Sear for about 5 minutes per side or until a delectable crust forms on each side.
Remove from the grill, allow to rest for another 5-10 minutes, then carve and enjoy!
Presenting A Grilled Tomahawk Steak
Now at this point, you've got an incredibly tasty piece of meat on your hands. I always like to take things a step further though and wow everybody with the presentation.
All you have to do for a steakhouse style presentation is to cut the steak along the bone line, detaching the meat from the bone.  From there, cut the steak into 1/2 inch wide strips – this is the perfect size for your audience to grab and share!
After you cut all of the strips, press the strips against each other, recreating the shape of the original, whole steak, and place the meat back up against the bone on the cutting board.
Enjoy, and happy grilling!
Where to Get Tomahawk Steaks Online
If you're lucky like me, your local grocer or butcher will carry tomahawk ribeye steaks on a regular basis.  If that's not the case for you, don't worry!
In this day and age, technology can help you out.  The internet is an amazing place, and there are options out there to get tomahawk ribeyes delivered directly to your doorstep.
My personal favorite place to get tomahawk steaks online is from Snake River Farms.  Snake River Farms is a family owned and operated business whose aim is to produce and provide the highest quality farm to market beef in the USA.
Their American Wagyu beef is some of the highest quality, most decadent beef you'll find just about anywhere.  I can personally attest to the quality of their food!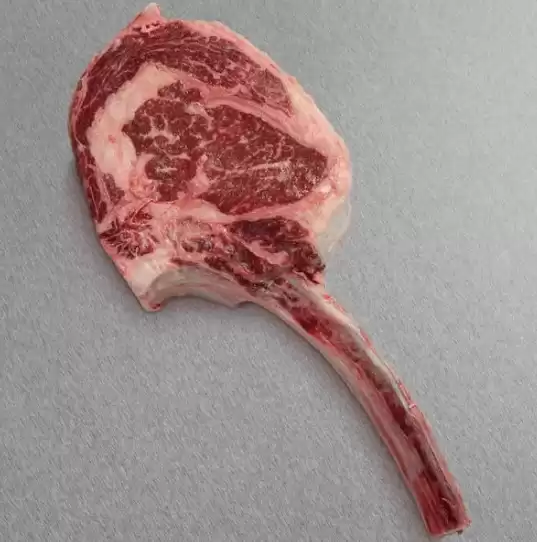 The other recommendation we have to give is for you to check out Porter Road.  Their tomahawk steaks are a sight to behold and won't completely break the bank.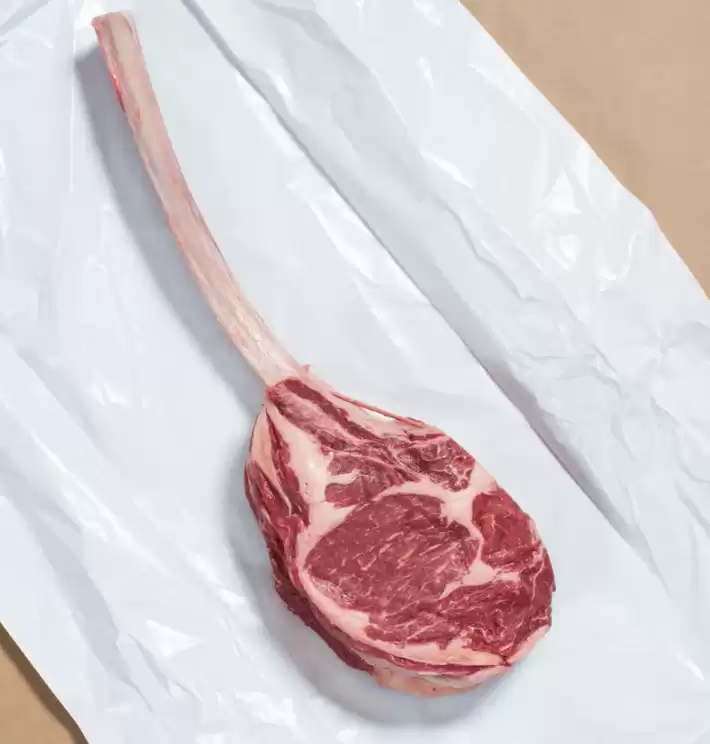 Full disclosure, these steaks are pricey – but you can be sure that your stomach will thank you later!
Grilled Tomahawk Steak Recipe
A simple, delicious grilled Tomahawk steak recipe that is sure to wow the crowd
Equipment
Shallow Aluminum Pan (ideally 8" x 8" or larger)

Basting Brush

Meat Thermometer
Ingredients  
1

Tomahawk Ribeye Steak

(2.5 – 3.5 lbs)

2

tbsp

Kosher Salt

2

tbsp

Black Pepper

1

tbsp

Garlic Powder

5

Garlic Cloves

peeled

1

bundle

Fresh Thyme

8

oz

Butter

⅛

cup

Olive Oil
Instructions 
Mix kosher salt, black pepper, and garlic powder in a small bowl.  Use this mixture to season all sides of the ribeye steak generously.  You can also substitute your favorite steak seasoning.  After applying seasoning, let the steak rest at room temperature for about 45 minutes.

Prepare 2 temperature zones on your grill.  This can be one hot side and one unheated side on the main cooking grate. Alternatively you can heat the full main grate and utilize your warming rack. I heat one side to ~500 degrees F for searing, and leave the burners off on the other side.

Sear the steak over the hot side of the grill for 5 minutes on each side.  Halfway through each side (so after 2.5 minutes), rotate the steak 45-90 degrees to form grill marks on the steak.

After the tomahawk steak has seared for 5 minutes on each side (10 minutes total), move the steak to a raised warming rack or to the cooler side of the grill.

Stick your probe meat thermometer into the very center of the cut to measure internal temperature.

Place butter stick, garlic cloves, olive oil, and thyme in the aluminum pan.  Then place the aluminum pan under the steak, if possible, to catch drippings.  After a few minutes, the steak drippings and ingredients will mix together.

Baste the steak with the aluminum pan mixture every 10 minutes until the tomahawk steak reaches your desired doneness.

Once the steak reaches its desired doneness, remove from the grill and place on a cutting board or serving dish.  The steak should rest for 10-15 minutes before cutting/serving. Enjoy!
Nutrition
Frequently Asked Questions
Is a Traditional or Reverse Sear Better for Tomahawk Steak?
We tend to lean towards a reverse sear because it generally makes it easier to get a more consistent, uniform inside of the steak.
If you don't get a traditional sear right or leave it on too long at the beginning, the outside portions of the steak might end up slightly overcooked compared to the inside.
How Long Does It Take to Grill a Tomahawk Steak?
A Tomahawk steak is a pretty large lump of meat, so you might be wondering how long you should grill it for. As you probably expect, it takes considerably longer to grill a tomahawk steak versus a "regular steak"
All in, plan for your grilled tomahawk steak to take about 45 minutes to an hour.
How Do You Reverse Sear a Tomahawk Steak on a Gas Grill?
One of the nicest finishes for a steak is a reverse sear, and the same thing applies to tomahawk steaks. But, knowing how to reverse sear a steak of this size is often difficult, so here's what you need to do.
To begin the reverse sear, you should cook your tomahawk steak at a lower temperature of 250 degrees with indirect heat. Once the steak reaches about 110ºF internally, take your steak off the grill and crank up the temperature on your grill.
What Do You Serve with a Tomahawk Steak?
If you have cooked your Tomahawk steak, you might find yourself puzzled at what to serve with it. There are lots of wonderful things that you can serve with your tomahawk steak, here's a list to help you.
These work perfectly with Tomahawk steak:
Garlic butter mushrooms
Cheesy scalloped potatoes
Roasted Brussels sprouts
Garlic butter potatoes
Loaded cauliflower bake
Thick-cut Fries/Wedges
And lots more…
So if you are stumped about what to serve with your tomahawk steak, there's no need to worry because there are lots of things that you can serve with your steak. Just check out the list above for some inspiration.
Final Thoughts
If you really want to take your tomahawk steak experience to the next level, find a great wine and steak pairing here.
How did it go on the grill with your steak?  We'd love to hear about it in the comments selection below!