Steak. A sensational experience when cooked to perfection; a horrible disappointment when it's not. For those of us who enjoy a quality piece of red meat now and then, there is an underlying excitement that comes with the anticipation of taking our first bite.
As memorable as it can be, though, what if I were to tell you that steak is not entirely fond of being the center of attention? Instead of being considered the star of the show, what if steak were more like an invitation – a call beckoning us forth to something greater?
That's right: steak needs a companion, and that companion is red wine. Consuming delicious food can be a thrilling experience in and of itself, but to neglect the corresponding wine pairing can be like leaving a puzzle unfinished.
So it goes with steak. An expertly prepared steak demands a quality glass of red wine; a poorly prepared steak needs it.
Best Wine With Steak – Varietals
Today we'll discuss some of the best wine options to consider next time steak is on the menu, whether it's at a restaurant or during your next grill session at home.
Even though the world of steak is full of a variety of different cuts and cooking techniques, each one needing a more tailored wine pairing, consider this the first of many steps to better understanding how wine can complement your steak.
Cabernet Sauvignon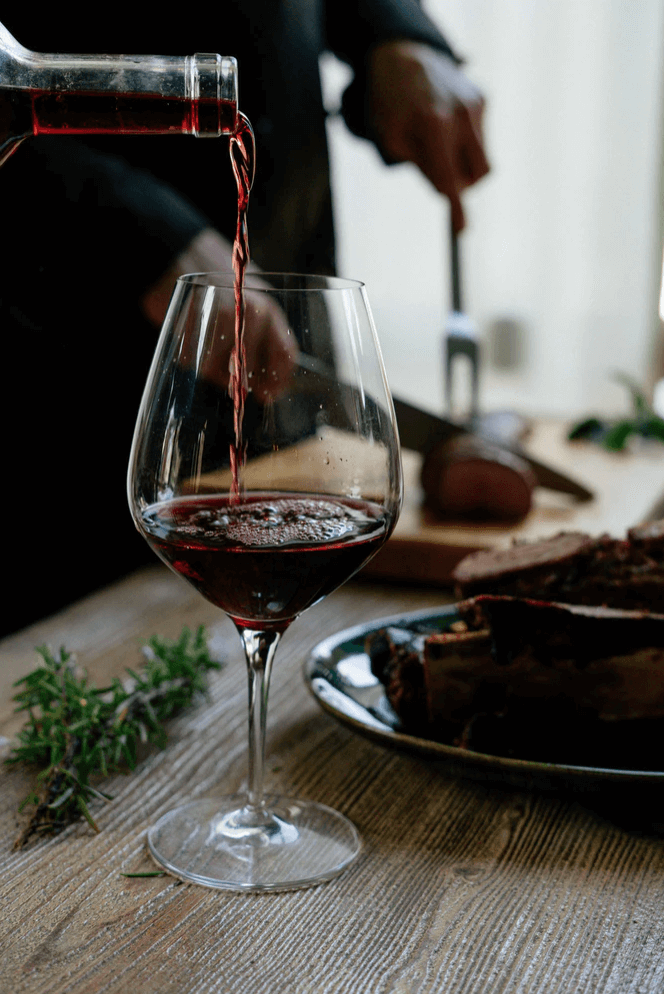 What may be considered the quintessential grape varietal for pairing with steak, a glass of Cabernet Sauvignon can remarkably enhance your dining experience and can also be the gift that keeps on giving as the wine evolves throughout your meal.
This grape varietal is known for having a high amount of tannins which helps counteract the steak's fat content and juices. Tannins are a compound most commonly found in red wines. These compounds attribute to the complexity and dryness of the wine, thus allowing it to truly stand up to a rich, savory piece of red meat.
When it comes to choosing the right Cabernet Sauvignon, try setting your sights on a selection from California.
For folks looking for an even more intriguing and satisfying experience when it comes to pairing Cabernet with steak (or wine with food, in general), one aspect to consider is the vintage. In the United States, for a wine to reflect a specific year on its label, at least 95% of the designated varietal must have been harvested during the year listed.
Paying attention to the vintage of a wine, especially for wine pairing purposes, can be crucial. Understanding the nuances of various vintages can be daunting, but a general rule of thumb is that younger wines will drink on the more robust and lively side, while older more mature wines will be more balanced and refined, thus causing them to exhibit more elegance and finesse.
Whether mature or youthful, Cabernet can truly sing when carefully paired with just the right steak. Whereas a rich, decadent bottle of 2008 Caymus "Special Selection" would pair nicely with a larger-than-life Porterhouse, a more elegant bottle, like 1992 Heitz Cellar "Martha's Vineyard" would be better suited for a carefully prepared filet mignon.
Looking for Cabernet Sauvignon suggestions? Try these:
Syrah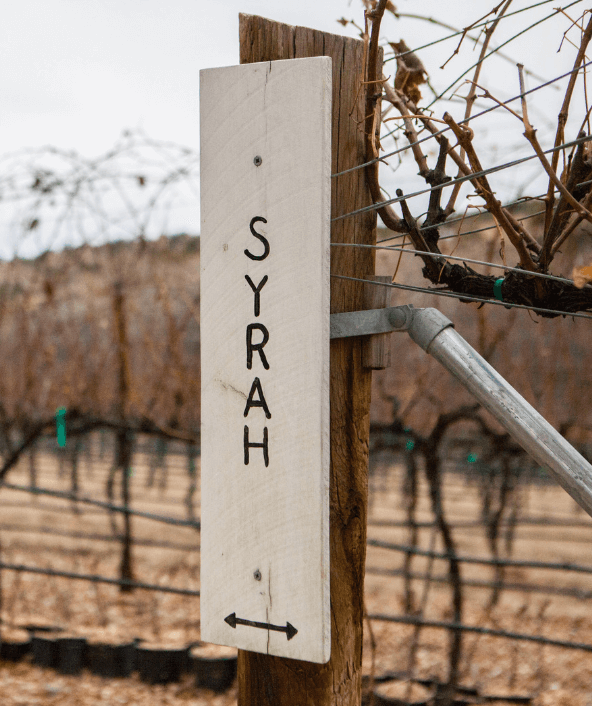 One notable aspect of the world of wine is the sheer diversity in how many grape varietals there are around the world that are used for winemaking purposes. While some garner an immense amount of attention, some fly under the general public's radar, just waiting to be discovered. Syrah is one such varietal.
Syrah (or Shiraz, as it's called in Australia) is grown in numerous places around the world and can taste quite different depending on a variety of factors. One glass of Syrah can smell like bacon fat and stewed meat, while another glass can smell like a jar of fruit jam; another yet can smell like pencil shavings and eucalyptus.
This wide range of expressions found in the world of Syrah can make for one exciting journey in-and-of-itself. Like Cabernet Sauvignon, Syrah exhibits robust enough characteristics that allow it to stand toe-to-toe with a nice cut of grilled red meat.
While the individual steak's preparation ought to be considered when selecting a particular bottle of Syrah, overall the union of the two can be a match made in heaven.
Just like a wine's vintages is worth considering before choosing a bottle, so also is the region the wine comes from – that is to say, the geographical area where the grapes were grown and harvested. Where the grapes are grown can have a profound impact on how the wine looks, smells, tastes, and ages.
This is where the French word terroir comes in. Terroir is an incredibly dense word packed with meaning and is used to describe all the natural environmental characteristics that winemaking grapes are grown in and exposed to. This can include aspects like rainfall, soil types, exposure to sunlight, elevation, and so much more.
You will find that the same varietal can drink entirely different all because of where the grapes were grown, thus allowing a consumer to determine where he/she prefers their Syrah (for example) to come from.
Some wine drinkers gravitate towards more fruit-forward selections that exhibit notes of ripe red fruits like cherries and raspberries, as well as dark fruits like plums and blackberries.
On the other hand, some wine drinkers may enjoy the juicy notes of red and black fruits while also searching for more inorganic notes to add further dimension and complexity to the wine. Inorganic notes can be anything ranging from pencil lead, sawdust, asphalt, tar, and pepper (both white and black), all of which are characteristics commonly found in Syrah.
Looking for Syrah suggestions? Try these:
Zinfandel
While this varietal's ability to pair well with barbecue can easily overshadow its friendly demeanor toward other foods, don't let it fool you, steak and Zin are totally friends.
Steak offers a flavorful, savory, hearty experience that causes the taste buds to ignite with stimulation. Zinfandel, on the other hand, exhibits bold, jammy notes of ripe red fruits and spices, as well as more exotic notes like tar and asphalt.
Sound weird? Give it a try. A bold Zinfandel with fruit-forward notes that is not overly ripe can truly compliment steak in a tantalizing way. Zinfandel can be easily acquired at your local grocery store or wine shop, and most restaurants have at least a handful of offerings on their wine lists.
Looking for Zinfandel suggestions? Try these:
Michael David Winery, "Lust" Zinfandel
Does the Type of Steak Matter?
You might be wondering if there's a difference in the best wine with steak if you're having a ribeye vs a New York Strip.  Or maybe you're having a glorious porterhouse cut and want to make sure you have just the right bottle.
For the most part, the different steak cuts are all similar enough that it isn't going to affect optimal wine pairing suggestions too much.  Even though some cuts of steak might be more tender or more flavorful than others – the flavor profiles and strength of steak flavor is similar enough for purposes of choosing a wine.
Now if you're a master sommelier and can pick out an incredible level of detail and nuance in your wine, you might have different wine suggestions for each type of steak.  But for 99.9% of the population, the above recommendations pair nicely with all of the common steak cuts.
Best Wine With Steak – Wrap Up
Take the information presented in this article and start exploring – you won't regret it! The world of wine can be many things, but stressful and overwhelming should not be some of them. In setting your sights on a narrow, yet common food and wine pairing like steak & red wine, you are setting yourself up for future success with more complex pairings.
Understanding the nuances of the wine and how it interacts with the food on your dinner plate can take time, but it is a worthwhile pursuit – especially when done in the company of friends and family. Start small, start simple, and start having fun!
Looking for more wine pairing guides?  Here's our guide to pairing wine and lobster and salmon.