This content contains affiliate links.  If you make a purchase after clicking a link on this page, we might receive a commission at no cost to you.
When it comes to fish, it's safe to say salmon is one of the most commonplace offerings around. Whether at an upscale steakhouse, a casual eatery, or your local grocery store salmon can be found nearly anywhere.
It's found in abundance in the wild, can be sustainably farmed, can be cooked a multitude of different ways (check out our grilled cedar plank salmon recipe), and has a flavor profile delicate enough to appease even the folks who cry foul when they taste something, well….fishy.
With such a strong footprint in the culinary world, salmon-based dishes are worth singling out to better understand with which wines to pair it.
Best Wine With Salmon – Overview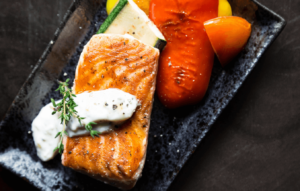 Before we dive into the specifics of wine and salmon, let's discuss cost. One especially gratifying aspect of pairing wine with salmon is that it can all be done on a budget.
Salmon itself is a relatively inexpensive food which can be easily complimented by a wine that is reasonably priced and suitable for the task. Given the litany of preparation methods used on salmon it's remarkably easy to find a suitable companion on the wine aisle or on the wine list.
As a quick note, while there is plenty of room in the world of red wine for salmon, today I will only be discussing white wines. The reason for this is because white wine options alone number in the thousands.
With so much territory to explore within the realm of just white varietals it's best we limit ourselves lest we get carried away! With that said, let's dive in.
Our Favorite Wine for Salmon

Best Wine With Salmon – Top Varietals
Chardonnay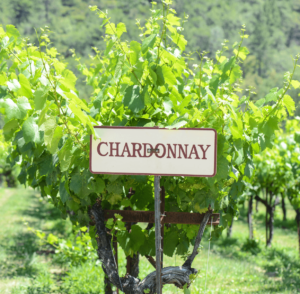 As you might have guessed Chardonnay is without a doubt one of salmon's best friends. Chardonnay is also incredibly easy to find, just like salmon. Now we're talkin'! As a wine, Chardonnay can vary in sight, smell, taste, and in its overall mouthfeel depending on a variety of factors.
Even Chardonnay grapes that are grown just a few miles apart from each other can taste remarkably different! That is the power of not only differences in winemaking styles but, more importantly, the terroir: the soil composition, exposure to sunlight, moisture, temperature fluctuations, everything.
This variation in growing conditions yields a host of unique styles of any wine, Chardonnay included, which in turn presents the consumer with a vast ocean of options.
As is the case with any food & wine pairing, one of the factors to be taken seriously is how the food itself is prepared. This distinction will dictate not only what type of wine to select, but also what type of flavor profile to seek out.
When it comes to Chardonnay, the line in the sand, if you will, that separates drinkers of this varietal is whether the wine has been exposed to oak during the aging process. When wine has been stored in oak barrels for aging purposes, the wood can dramatically affect the wine's flavor profile.
Oak imparts notes of vanilla, cream, spice, and caramel and can give the mouthfeel a buttery, suave texture, all of which either attracts or repulses wine consumers. As is the case with spirits like Bourbon, oak can be the driving force behind how the Bourbon will taste by the time it's bottled.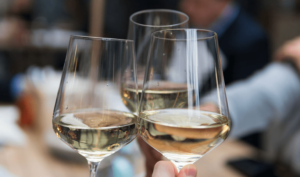 If you prefer Chardonnay that is full-bodied, silky, buttery and, therefore, oaked then you will certainly have no issue with finding a suitable bottle at almost any place that sells and/or serves wine, especially here in the United States.
This style of Chardonnay I just described goes perfect with salmon and compliments it perfectly. The oftentimes rich and round flavor profile that is characteristic of big, oaked Chardonnay stacks up nicely with the rich, oily nature of salmon, thus making for a delicious union.
Chardonnay Suggestions:
Viognier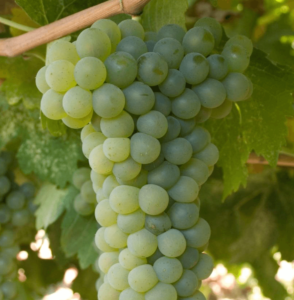 Now this is a varietal I've not yet discussed here on Own the Grill. Hailing from Southern France, this grape, like Chardonnay, can be used to make an oaked wine as well as an unoaked wine – and the differences can be just as bewildering!
Viognier can range from being delicate, citrusy, refreshing, and almost watery, all the way to creamy and bold. Viognier as a wine is far more challenging to find as it's oftentimes overshadowed by more well-known varietals such as Chardonnay and Sauvignon Blanc, so knowing where to procure a Viognier is key.
In terms of price, few Viognier selections command an elevated price point – most are quite affordable and offer a good quality-to-price ratio (QPR). Viognier is also incredibly easy to drink as most expressions are delicate on the palate and can be paired with a variety of cuisines.
With salmon, Viognier can truly shine when the fish is simply prepared with lemon and sage and done up either in the oven or on the stovetop. In this fashion, the fresh, tantalizing citrus on the fish can complement the delightful subtleties of a Viognier, which oftentimes exhibits notes of flowers, tropical fruits, and citrus.
However, while pairing Viognier with a more graceful presentation of salmon is a lovely way to dip your toes in the Viognier pool, it is certainly worth exploring more full-bodied and richer expressions of this varietal.
As you explore the spectrum of sight, taste, and mouthfeel of Viognier, feel free to change up your salmon recipes to match the seemingly unending variations of this beautiful varietal.
Viognier Suggestions
Darioush, "Signature" Viognier
All of these wines are available for Purchase on Wine.com
White Rhône Blends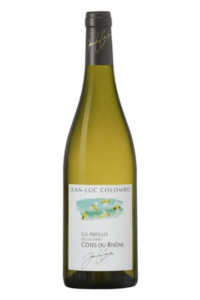 With this next section I'm going to break from tradition and forego suggesting a specific varietal and instead suggest a blend. Not just any blend, mind you. No; what we're going to discuss next is the style of white blend common to a region of France known as the Rhône Valley.
There are a multitude of grapes grown across the Northern and Southern sections of this highly regarded winegrowing region – from Syrah to Grenache to lesser known varietals such as Carignan and Mourvèdre – but today we'll only be discussing the handful of grapes used most often in Rhône white blends.
Enter Marsanne, Roussanne, Grenache Blanc, and yes, Viognier. These varietals, and a few more, are on constant rotation in the Rhône Valley and together they make for quite a presentation.
All white blends from the Rhône Valley don't have to use each of these varietals at the same time, as some blends completely ignore one varietal (or two) in exchange for another, but generally speaking one will find a relatively equal representation of each of these varietals when exploring the region.
The grape varietals that go into a white Rhône blend can oftentimes exude similar characteristics to that of Chardonnay, and that goes for not only the blends themselves but also for single-variety expressions.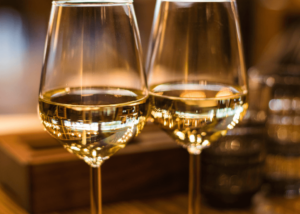 Wines that are 100% Roussanne or 100% Marsanne can exhibit notes of dried citrus fruits, brioche, beeswax, and honey just like a great many Chardonnays can. Not only can the flavor profile be similar, but the mouth feel – the density, the texture, the acidity – can also.
For the sake of finding a wine to pair with salmon, however, one would be far better off seeking out a blend rather than a single-varietal white wine from the Rhône Valley as the latter can be a bit tricky to locate.
But who are we kidding? We've not even discussed how well these blends pair with salmon! As I've mentioned already, the oily, somewhat rich component of salmon effects how well it plays with wine and also dictates exactly what wines it likes to be paired with.
More often than not white blends from the Rhône Valley offer complexity, density, and robustness – enough so to handle salmon that's been served with rich, creamy sauces. This is truly where things can start getting interesting (and fun).
In my opinion salmon is oftentimes not given the time of day by whoever is cooking it. Simplistic and bland presentations seem to be commonplace, unfortunately, with little thought or creativity devoted to turning this fish into an exceptional dish.
If you're feeling adventurous and would rather stick with the good – but common – preparations of salmon I'd encourage you to select a white blend from Rhône to aid you in your discovery.
Cooking and serving salmon in rich, decadent, creamy sauces can not only tantalize the palate but can also expand your horizons when paired with a suave, rich blend from this region. Time to get creative!
White Rhône Blends Suggestions
Chateau de Beaucastel, "Coudoulet Blanc"
All of these wines are available for Purchase on Wine.com
Sauvignon Blanc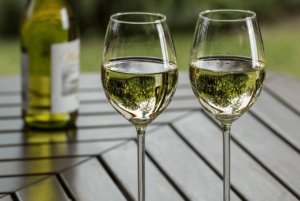 This widely loved varietal is versatile, refreshing, easily found, and can be quite budget-friendly. Now that's a combination! In addition to these positive attributes, it's also worth noting that a great many high-end producers make Sauvignon Blanc that's reasonably priced, as well.
That being said, this is a really fun varietal to explore premium producers with whose other wines – like Cabernet Sauvignon or Chardonnay – may be a bit more expensive. Sauvignon Blanc can also vary drastically in how it smells and tastes depending on what part of the world the grapes were grown.
For instance, Sauvignon Blanc from Marlborough, New Zealand is renowned for exhibiting exotic notes of freshly-cut grass, river rocks, river rocks, and even cat pee (yikes!), while Sauvignon Blanc from Bordeaux, France can taste more refined and sophisticated with subdued notes of citrus, wax, and brioche.
Sauvignon Blanc from Napa, on the other hand, can oftentimes showcase more zesty and energetic notes of tropical fruits, citrus, and herbs. The diverse spectrum of smell and taste is profound and is a remarkable experience to behold.
When it comes to pairing Sauvignon Blanc with salmon, however, I'm of the accord to choose both a delicate yet expressive wine to match a simply-prepared dish. If the wine showcases too many exotic, unique notes, then the fish will be overpowered.
This is, interestingly enough, a positive attribute of Sauvignon Blanc. It can be paired with salads loaded with zesty fruits and savory nuts and can also be paired with oily, rich fish and a multitude of things in between.
For the purposes of this discussion, however, we'll relegate ourselves to more traditional expressions of Sauvignon Blanc and leave the exotic interpretations for another day. One particular preparation of salmon this varietal pairs well with – especially Napa Valley Sauvignon Blanc – is when fresh citrus and garden-fresh herbs are involved.
While Chardonnay and white blends from the Rhône Valley are best saved for more robust recipes, Sauvignon Blanc is fresh and energetic enough to compliment seasonal herbs from the garden. When I envision pairing salmon with Sauvignon Blanc, I oftentimes picture backyard grill sessions during the summer.
Patio lights, friends, the sound of sizzling meat, the clink of wine glasses, crisp evening air, and maybe some bocce ball or croquet. In my mind this is the ideal environment that Sauvignon Blanc can shine in.
Sauvignon Blanc Suggestions
All of these wines are available for Purchase on Wine.com
Best Wine With Salmon – Wrap Up
As we close, I'd like to end with the words of one of my relatives: Good wine. Good food. Good people. Ultimately that's what pairing food & wine together is all about.
Discovering and preparing just the right combination to share not only with your taste buds but, more importantly, with your friends and family.
As we now know, salmon and wine are an excellent union, and the opportunities to explore just why that is are seemingly endless.
From the simplistic yet fresh preparations – full of citrus and herbs – to the more rich and savory interpretations that indulge the senses with seasonings and rich, buttery sauces, salmon can please just about any palate.
So, with that in mind, gather your loved ones, grab a bottle of wine, and get to cookin' and sippin'!
Looking for other wine pairing suggestions?  Here are some articles to read next!