Snake River Farms is a beef and pork producer that has built a reputation for delivering some of the finest quality meats you can find in the USA.
Amongst other things, they are especially known for being one of the top producers of American Wagyu Beef.  And if you're the type to frequent top end restaurants, don't be surprised if you come across their products for sale at some of the highest rated steakhouses in the country.
Snake River Farms also employs a farm to table model, where you can buy many of their products online and have them delivered directly to your doorstep.
We've known Snake River Farms by reputation for a while and decided that it was time to see what the hype was all about – so we initially ordered one of their Gold Grade American Wagyu Traditional Ribeye steaks and fired up the grill.
Spoiler alert, the results were excellent – and nowadays we order Snake River Farms three to four times per year for special occasions.
In this Snake River Farms review we'll go over everything you need to know about the company, the products they offer, and share details on what you can expect from the experience of ordering from them online.
Why Trust Our Review?
At Own the Grill, we take pride in creating content that is fair and unbiased. When it comes to Snake River Farms, we've been customers of theirs for years and have tried a wide variety of their wagyu beef offerings (more on that in a minute).
Furthermore, we regularly order from some of their peers so we have an accurate feel for the mail order steak market as a whole, and where Snake River Farms fits in.
About Snake River Farms
Snake River Farms and their sister operation, Double R Ranch, are family owned and operated ranches that have dedicated themselves to being one of the highest quality beef and pork producers in the United States.
The ranch was founded in 1968, and part of what makes their operation unique is that they place a tremendous amount of focus on every single step of the animal's lifecycle.  This attention to detail and animal nutrition forward approach is what allows them to provide the best products possible to your doorstep.
Sustainability and Animal Well Being
I also love this about Snake River Farms – they are totally committed to sustainability and the well-being of their animals.  Here are just a few of many practices they have implemented to ensure a high level of sustainability:
The majority of their cattle feed is sourced from suppliers within 150 miles of their feed yard locations
Water reclamation projects reduce water use by up to 40%
Cattle waste is composted and recycled into fertilizer for use by local farmers
Low stress animal handling techniques
Cattle are checked daily for health
Fresh, high quality feed is replenished twice a day and fresh water is available around the clock for all cattle
What Makes the Meat So Good?
To understand what makes the quality of Snake River Farms beef so good, you need to have a little bit of background on Wagyu beef and Berkshire hogs.
Snake River Farms Beef
How Their Meat Is Different
Wagyu is a Japanese breed of cattle that are especially known for their incredible flavor and tenderness.  In particular these cattle are laden with intra-muscular fat cells, which melt and render during the cooking process to flavor the beef and keep it tender.
This intra-muscular fat is commonly referred to as "marbling" – and Wagyu beef is the best of the best when it comes marbling.
A New Frontier
In the 1970's, Wagyu cattle began to be imported to the USA and bred, leading to a boom in the availability of quality American Wagyu beef stateside.
Wagyu is so good in fact that it's graded on a completely different system than most beef in the USA.  In the states, the Department of Agriculture has a grading system for beef that consists of Choice (safe to eat but average quality), Select (good quality), or Prime (the best quality).
Most of the Wagyu you'll find at restaurants and at Snake River Farms would grade well above beef that is Prime rated by the USDA.  Wagyu is graded via a precise Japanese grading system that incorporates scores for the beef's marbling, color, fat color, texture, and firmness.
Snake River Farms initially imported Japanese Wagyu (before it was made illegal in Japan), and bred them with Angus beef to create a new breed of American Waygu – which yield unbelievably high quality beef.  You can read more about the differences between Wagyu and Angus beef right here if you want to learn more about this topic.
Snake River Farms Pork
While their beef gets most of the glory, Snake River Farms pork is top notch quality too.  Specifically, they have a wide offering of Kurobuta pork – which comes from Berkshire hogs.
Kurobuta is considered to be the Wagyu equivalent for pork, and Snake River Farms is one of only a few brands that offers pork from 100% pure breed Berkshire hogs.  The meat from these hogs are known to be extra tender and juicy with a touch of sweetness to them.
What to Expect Ordering Online From Snake River Farms
My experience with Snake River Farms was the first time I've ordered beef online before – so I didn't know what quite to expect.
After all, beef and pork are perishable goods.  So at the least I was intrigued to see how they would handle delivering high quality perishables through the mail.  Here's a rundown of how it works when you order from Snake River Farms.
Placing Your Order
Snake River Farms has a clean, aesthetically pleasing website that's easy and intuitive to browse around.  The user experience is really nice and what you'd expect of a quality online shopping experience in this day and age.
After you've selected your beef or pork, you're directed to a traditional checkout experience.  Enter your address, enter your billing info, and then it's time to coordinate your delivery date.
Since they're shipping perishables, a little bit of planning has to go into the logistics process.  Essentially, they ship your meat frozen and vacuum sealed in a cooler full of dry ice to ensure that it remains safely stored.
At the time of this writing, Snake River Farms can deliver on Wednesday through Saturday.  Simply pick the day of the week you want your food delivered, and you're good to go.  It's very important though to ensure that you'll be home and available to receive delivery of your shipment – so be sure to mark your delivery date down in your calendar.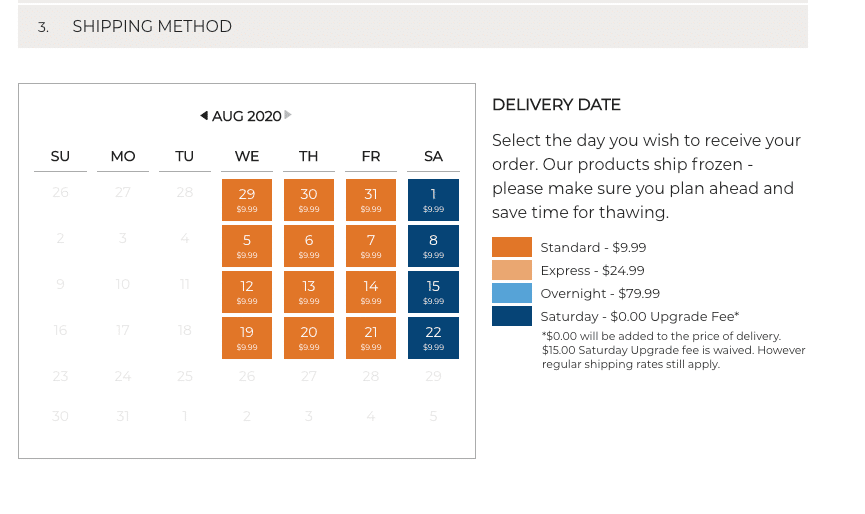 Receiving Your Meat
As mentioned above, your meat is vacuum sealed and delivered in a cooler that's full of dry ice.
Here's what their box and packaging looks like.  The shipment even came with a reusable cooler!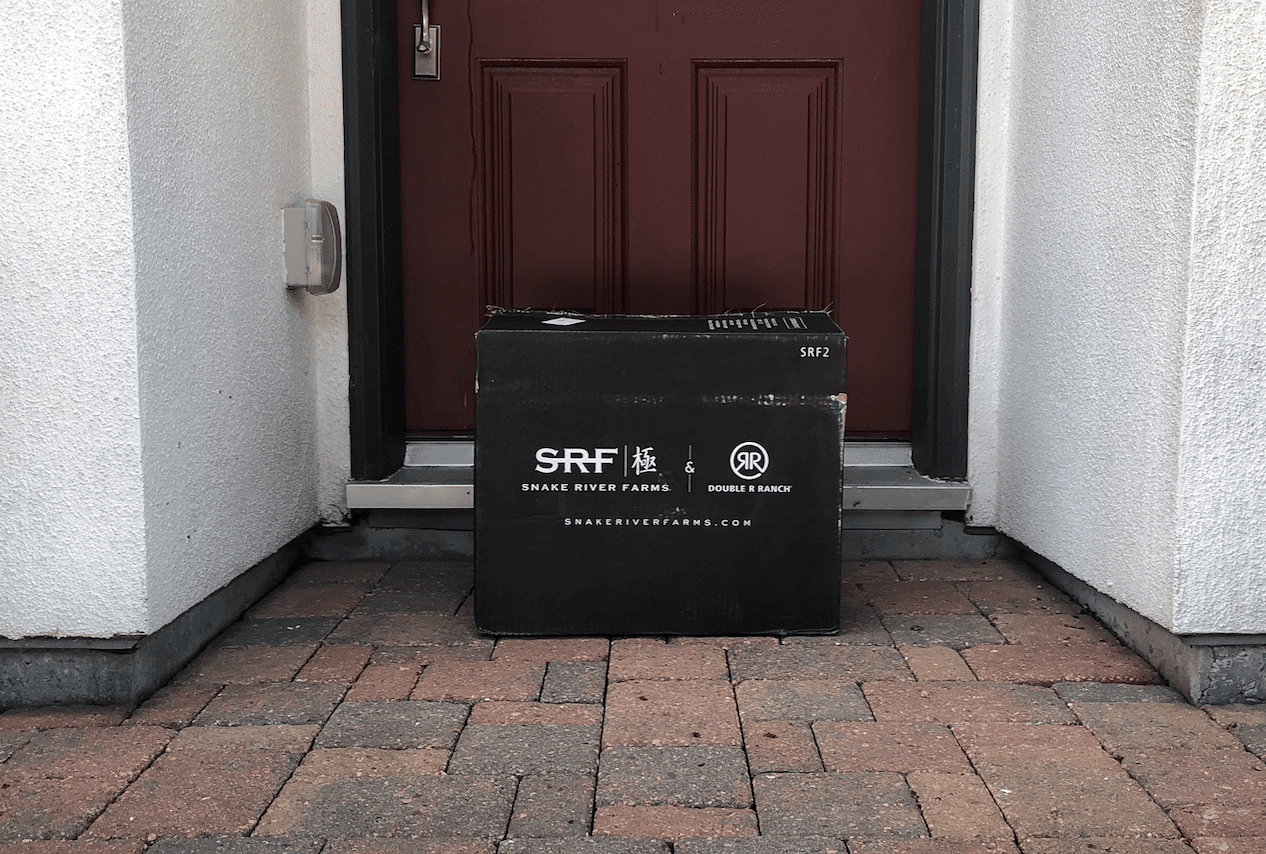 Be careful when you unpack the food as dry ice is so cold that it can actually burn your skin if you touch it directly.  Dry ice is used to ensure that the meat stays properly cold and frozen during delivery.
You can stick the package in the freezer or move it straight to the fridge if you're planning to cook it soon.  A frozen steak takes about 24 hours to thaw after you place it in the fridge, so it's best to schedule your delivery at least a day ahead of the date you plan to cook it.
Inspecting the Beef
Now for the fun part!  Any time you hear "Wagyu" or are paying this kind of coin for a cut of meat, you want to be dazzled by the quality of the cut.
I was impressed to say the least with my Wagyu ribeye.  It came with a healthy amount of white, translucent fat, beautiful marbling, and a vibrant red hue.  It also had a really nice firmness and texture to it.
The page I ordered off of said that the steak would be 1.5″ thick and on average 1.2 pounds (so about 19 ounces).  The steak I got came right in at 1.5″ thick and 18.5 ounces… close enough!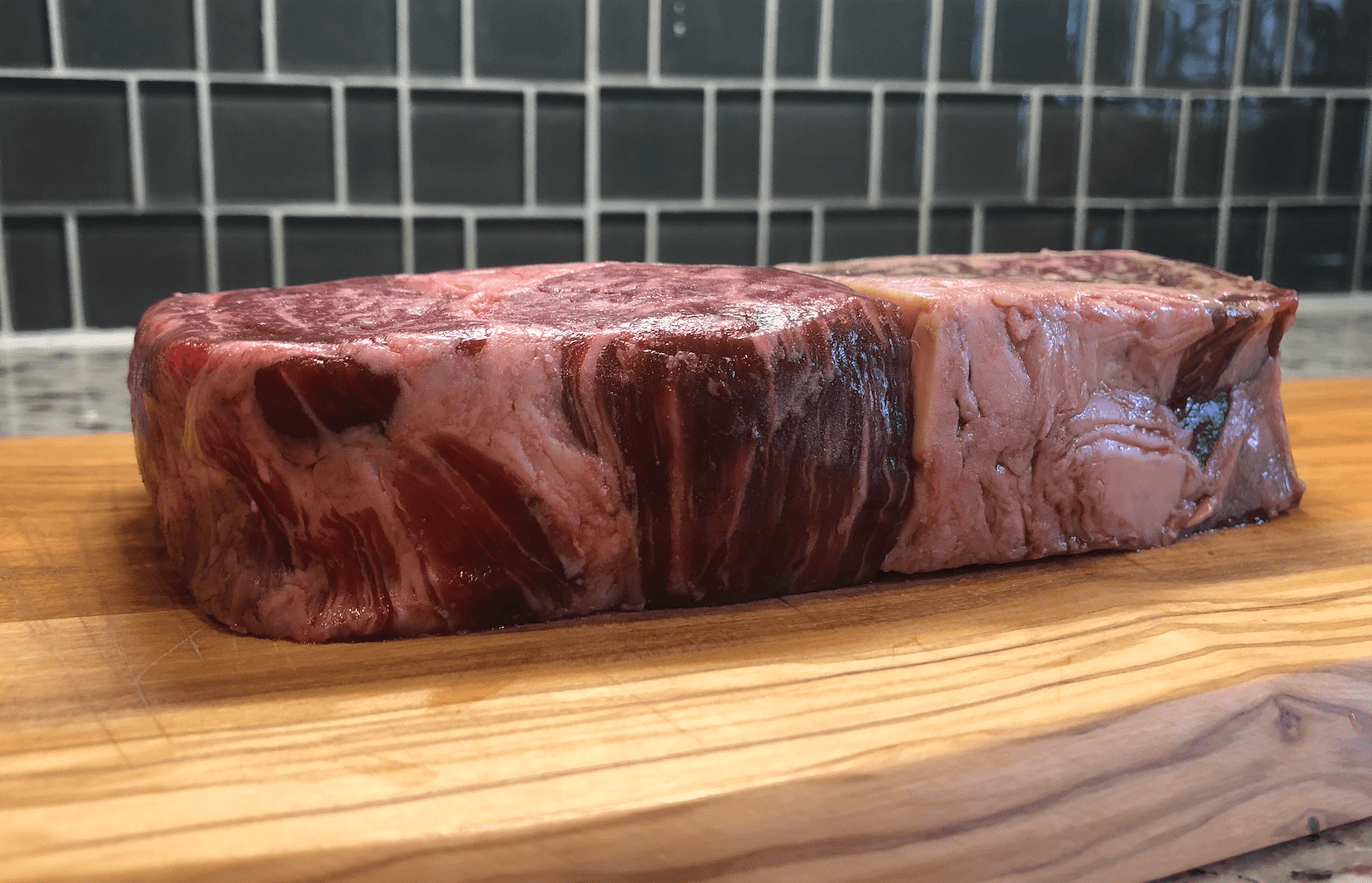 Perhaps the coolest part of the steak I got was the massive ribeye cap section – which is rare to find at a local grocer or butcher and contains some of the most legendarily tender and tasty beef you can find.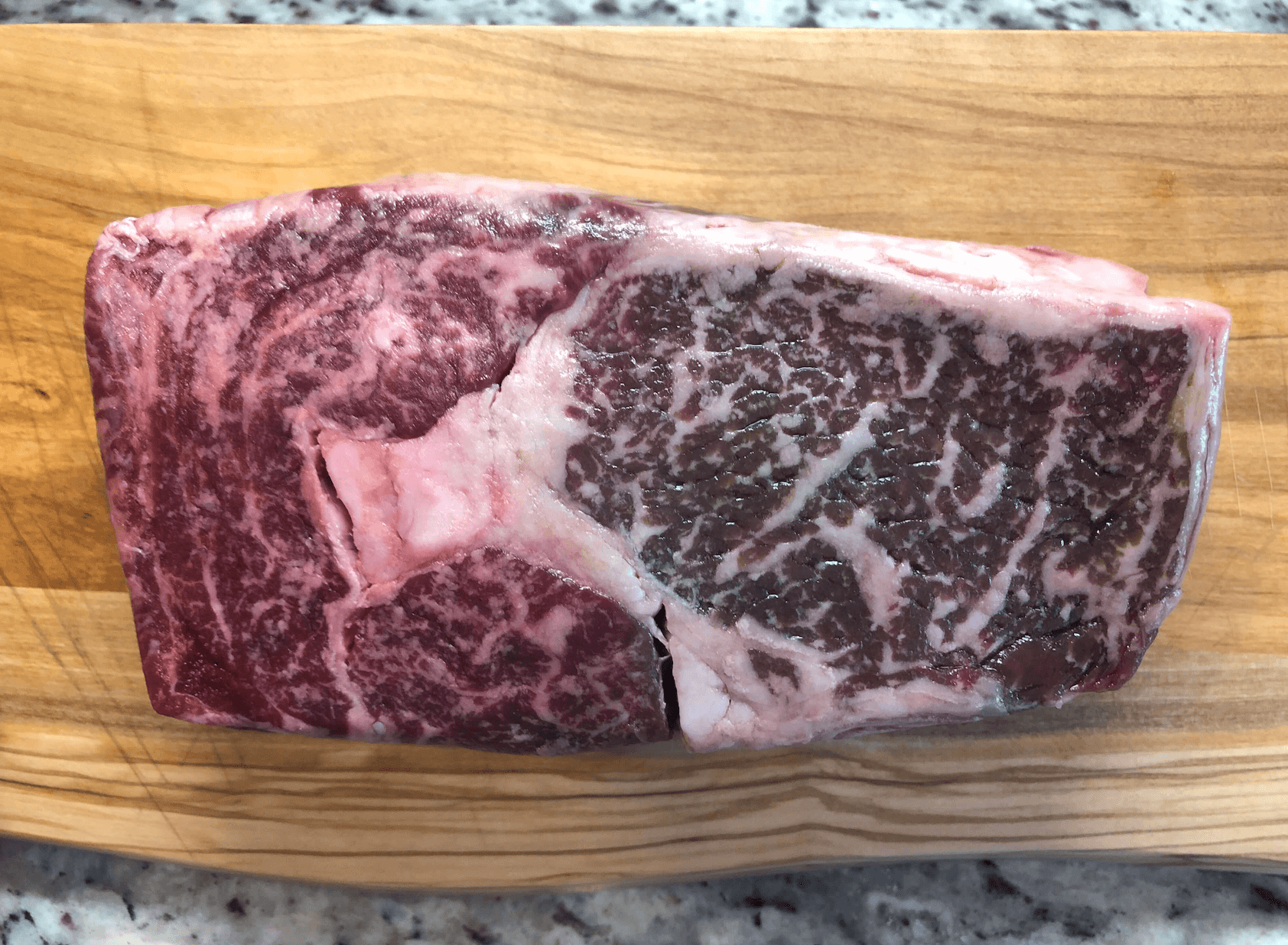 The Results
Snake River Farms Gold Grade Ribeye
I wanted to go for a maximum sear on the outside of this steak, so I opted for a flat top cooking surface instead of a traditional grill grate.
So I put a little bit of oil in a cast iron skillet to sear each side for about 4 minutes, then I finished it off in the oven until the center reached an internal temperature of 125°F (measured with a probe thermometer) for medium-rare doneness.
The great thing about cooking in a pan or skillet is that your steak ends up with an incredible, consistent crust on the entire outside.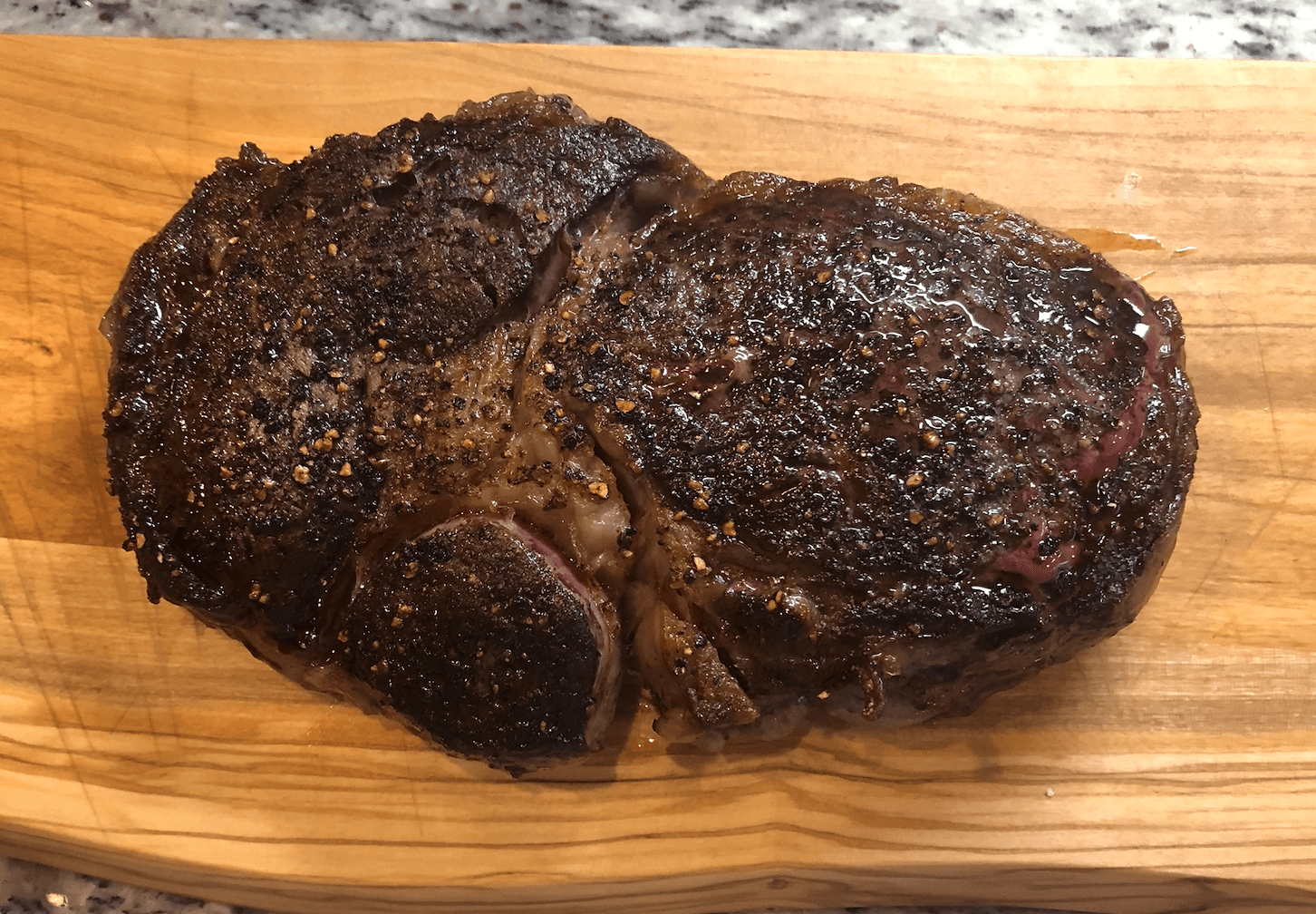 After that, I let the steak rest for a little less than 10 minutes, then it was time to slice and dig in.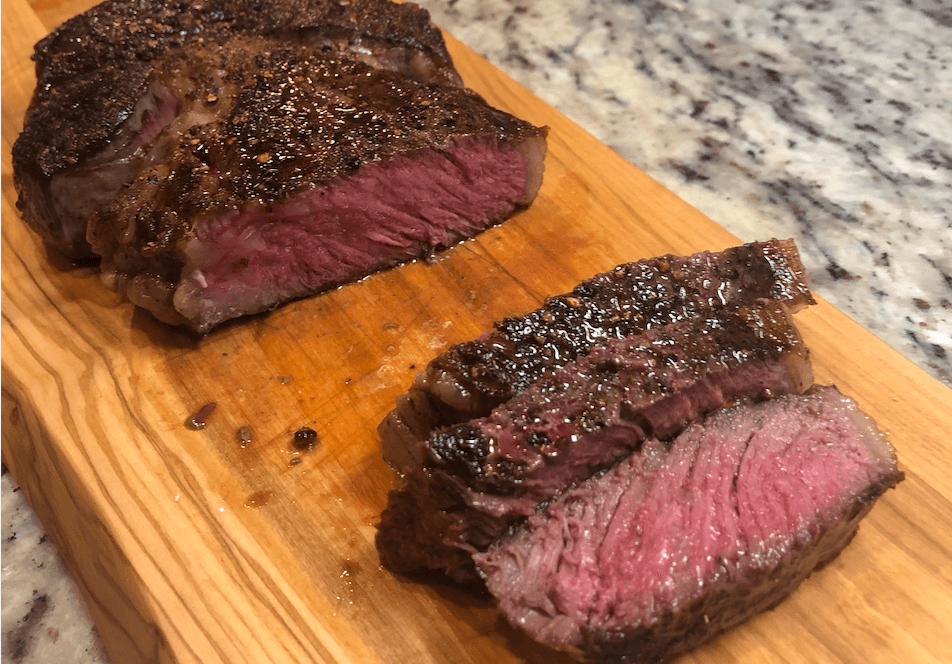 It was unbelievably good.
Part of making great food at home is knowing how to cook, for sure.  But this experience was a reminder to me that the quality of your ingredients are often the most important factor when it comes to making a delicious dinner.
You can check out the exact Wagyu Ribeye cut that I ordered right here:
Snake River Farms Tenderloin Roast
For the holiday season I decided to treat the family to a beef Wellington on Christmas Eve. Even though I only needed the center cut section of the tenderloin for my recipe, I went ahead and ordered a whole tenderloin.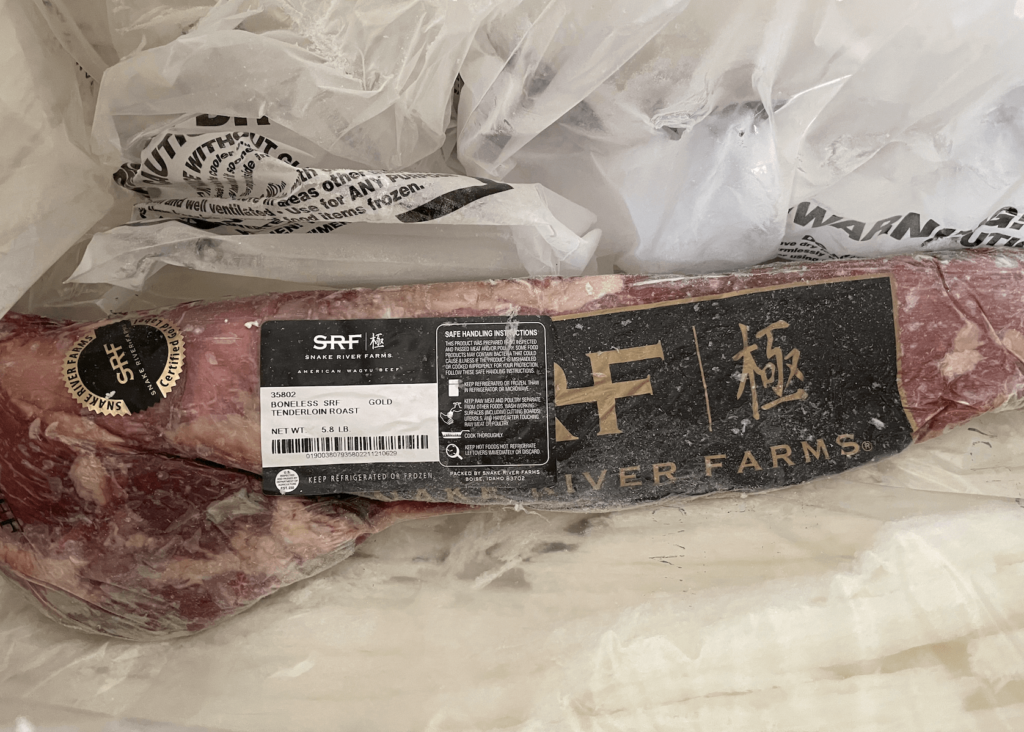 I was glad that I did! The tenderloin was huge, weighing in at almost 6 pounds.
I had a lot of fun butchering the beef too – the center section of meet I needed was only about 1.5 to 2 pounds, so that left a lot of other meat to work with.
All in all, I ended up with a 2 pound center cut section for my beef Wellington, plus two thick filets, five petit filets, and about 1.5 pounds of cubed and bite sized meat pieces that ended up going in a Mongolian beef dish later.
All of the meals we made with the Snake River Farms tenderloin were unbelievable – the meat was unbelievably tender and packed with beefy flavor.
Here are a couple of photos from our Christmas Eve feast: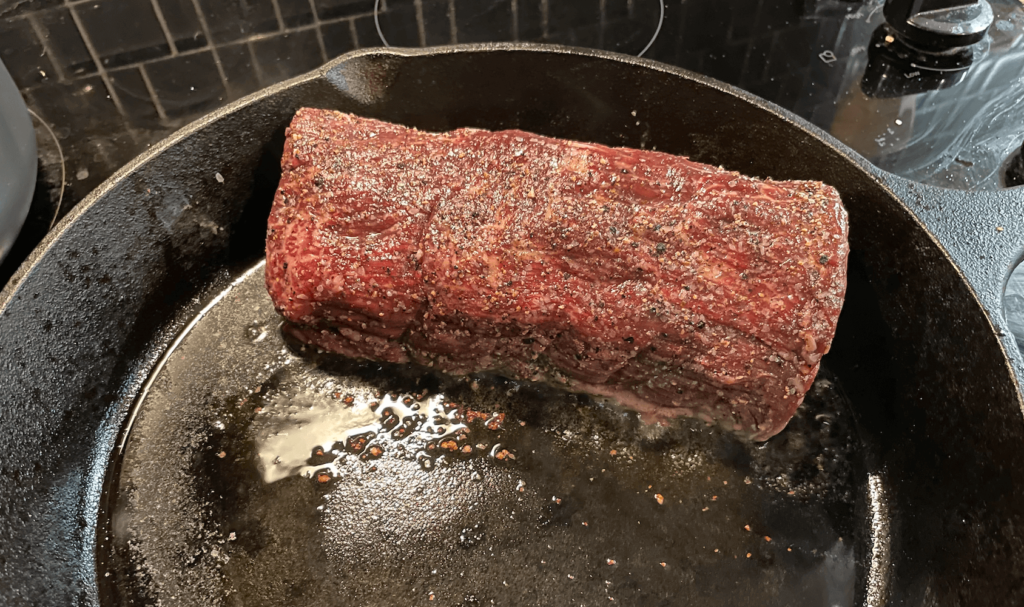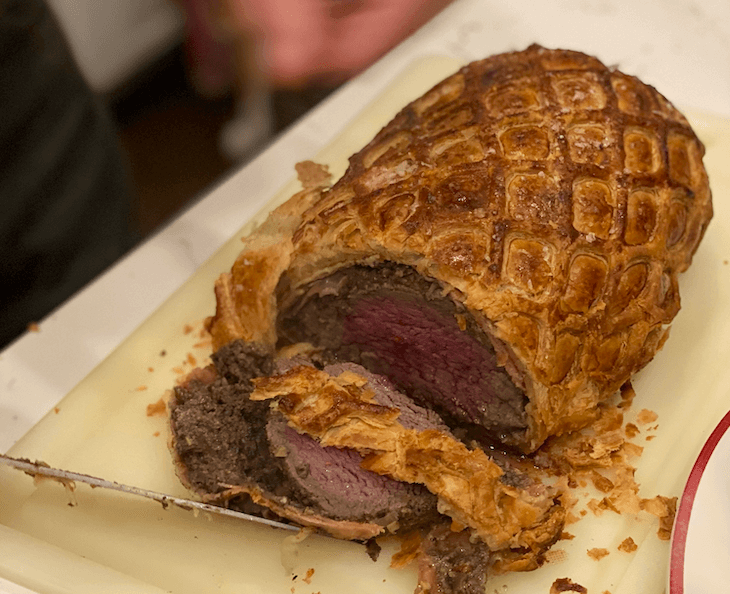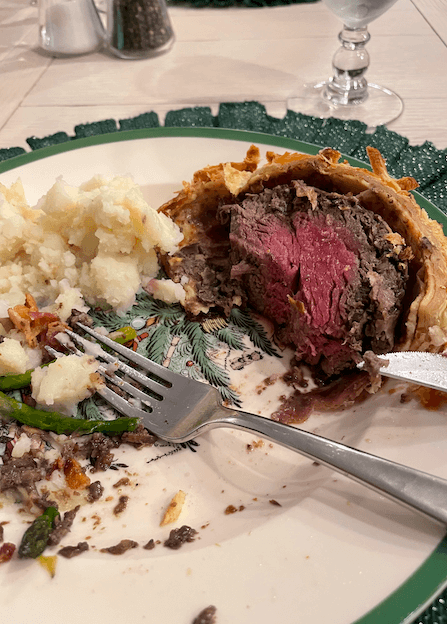 And here's a link to the same tenderloin we ordered:
What's on the Menu at Snake River Farms?
They are probably most known for their American Wagyu beef steak cuts, but Snake River Farms actually has a fairly extensive menu to order from.
Beef:
Various Steaks
Various Roasts
Wagyu Brisket
Burgers and Hot Dogs (yes, Wagyu!)
Wagyu Beef Short Ribs
Pork:
Pork Chops
Kurobuta Pork Ribs (Baby back, spare ribs, etc.)
Kurobuta Pork Roasts
Bacon
Additionally, they have a wide selection of gift packs that provide you with a sample of multiple types of meat.
Snake River Farms Pros and Cons
Overall, my personal experience with Snake River Farms was a great one, and I'll definitely be back in the future for more.  Here's a quick list of the upsides and downsides of ordering with Snake River Farms.
Pros
The quality of their meat is undeniably good.  Whether you're in the mood for American Wagyu beef or Kurobuta pork, they are definitely at the top of the list of quality American purveyors of these types of meat.
They use sustainable ranching practices and have systems in place to ensure animal well being.  While this may not be the biggest deal to some, it's certainly a big consideration for me to make sure that I'm supporting sustainable producers.
Their shopping experience is simple and effective.  Ordering Michelin star restaurant quality beef and pork is made super easy on their website.
The shipping process is straightforward too.  All you have to do is pick a date and they'll deliver your meat, properly and safely packaged.
Snake River Farms has great customer service.  If you have any questions, concerns, or issues with your order, their customer service team is easy to get ahold of and very helpful.
Cons
The price of many of their cuts of meat are very expensive, especially compared to what you'd find locally.  Of course, the quality of Snake River Farms meat is some of the best in the USA – so many think it's justified.  There's no doubt though that it's not exactly the price range that most people can afford to eat on a regular basis.  For me, I view Snake River Farms beef as a "treat yourself" kind of experience.
There are limited options for fresh meat.  This one makes sense, as there's only so much you can do when you're shipping farm to table.  But if you swear by fresh meat – the options are a little more limited and you'll have to pay $50 in overnight shipping to deliver any fresh, not frozen beef or pork.
Snake River Farms Review – Final Thoughts
If you're on the fence about whether or not to try Snake River Farms out, I'd say they are definitely worth ordering from at least once.  It's expensive, and maybe not realistic to order multiple meals from them per week.
But if you are looking for a glorious steak to celebrate a birthday or accomplishment – you'd be hard pressed to find a better place to order beef from.  You can find everything from ground beef for burgers to massive tomahawk steaks on their menu.
At the end of the day, there's a reason you'll see the Snake River Farms name appearing on the menus of some of the finest steakhouses in the USA.  It's not by accident – their beef and pork are in the conversation for the best of the best when it comes to American beef and pork.
Have you tried Snake River Farms before?  What did you order?  And how did you like it?  I'd love to hear about your experience in the comments section below.