This content contains affiliate links.  If you make a purchase after clicking a link on this page, we might receive a commission at no cost to you.
There's nothing more amazing and decadent than a tasty steak.
Whether you eat it medium rare, or cooked to a higher doneness, nothing quite matches the amazing texture and smooth and complex tastes of every bite of a good steak.
Hunting for the best steaks can be quite a challenge, as the selection at many local grocers is spotty at best. This is definitely where the wonder of mail order steaks come into play.
If you've never ordered steaks on the internet before, it might sound like a decidedly crazy idea, but trust us when we say it's a truly viable way to get tasty beef to your table.
With mail order steaks you can experience truly consistent steaks every time, without even having to leave your front door.
There are a number of companies out there that specialize in mail order steaks, but which amongst them really stand out as the cream of the crop?
That's why we're here! Let's look through some of the best mail order steaks that you can try out today!
Why Trust Our Reviews?
As steak fanatics, we've tried beef from all over the world – literally! When it comes to mail order steaks, members of the Own the Grill team have personally experienced steaks from each company on this list.
What Are Mail Order Steaks?
Mail order steaks may sound like a rather crazy concept, but it is actually a fairly simple idea.
With how much of our modern world revolves around smart devices, and with the meteoric rise of home retail companies like Amazon, it is no surprise that food was next to join the list of things you can purchase online.
Mail order steak companies make it easy to order high-grade steaks of the best quality all from a single website. This makes it so much easier to find and purchase the best steaks that are sourced from the best places.
Better yet, mail order steak companies make it much easier to repurchase a steak that you have previously enjoyed so that you can enjoy it all over again.
Snake River Farms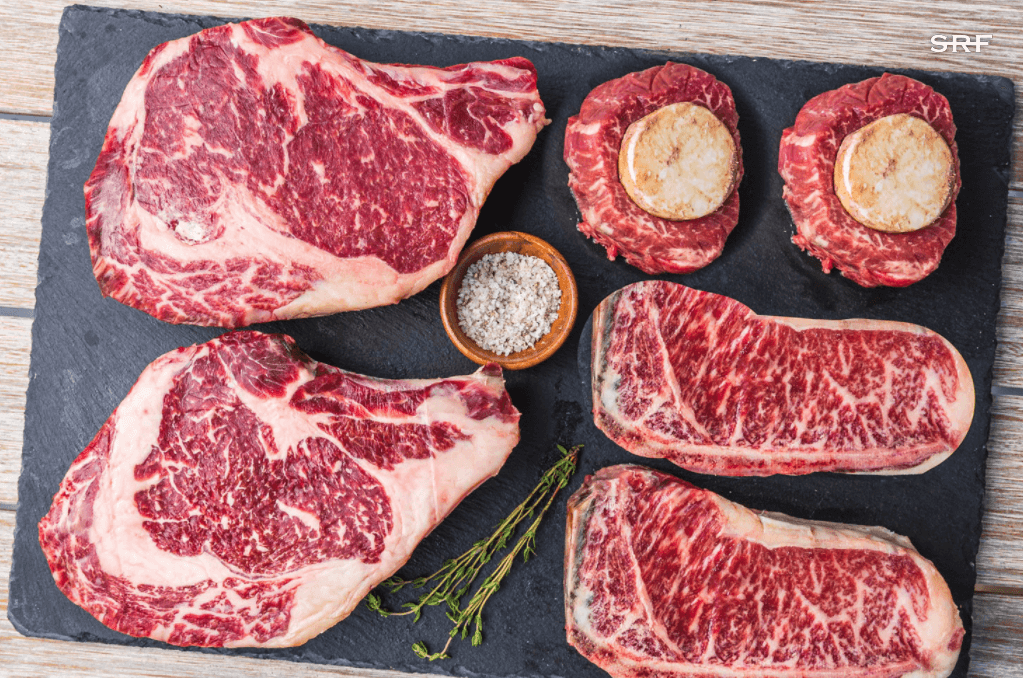 Note: You can check out our complete review of the Snake River Farms experience here.
What Do Snake River Farms Offer?
So, without any further ado, why don't we jump into the first mail order steak company on our list.
Snake River Farms mail order has been in the business of making stakes for so long, that they definitely know what they are doing. If you order a steak from these guys, you will always be getting your money's worth.
One of the most revered steaks in the world is the famous Japanese specialty of Wagyu.
This particular range of beef, bred in Japan, is famous for its mouthwatering taste and its melt-in-the-mouth texture that makes every single bite a delight for the senses.
However, with such notoriety comes a hefty price tag and the challenge of finding it.
Wagyu beef is quite difficult to get your hands on and can cost a pretty penny when you do. This is how Snake River Farms has managed to make such an impact in the market. The company prides itself on being the 'Pioneers of American Wagyu Beef'.
The company makes it far easier for the average person to get their hands on quality Wagyu beef that has been reared entirely within the United States!
This was achieved by crossbreeding Japanese cows with native Angus cows, to create a new "American Wagyu" breed that has a deliciously tender texture, and a complex flavor profile.
The Wagyu beef from Snake River Farms is definitely on the pricier side. However, the flavors contained within that amount of meat alone make it worth every single penny – it's a great cut of meat to cook for a celebratory meal.
However, if this is your first time ordering steaks online, you likely want a more affordable option to ease yourself in, right?
If that's the case, you can also select from one of their many other beef options, such as the Wagyu Sirloin, which has a much lower price. They also offer USDA Prime beef cuts at a lower price point than Wagyu.
Snake River Farms also sells a selection of pork products, such as the Kurobuta Pork, which has a high degree of marbling, which makes it extremely tender, and makes every bite pure heaven.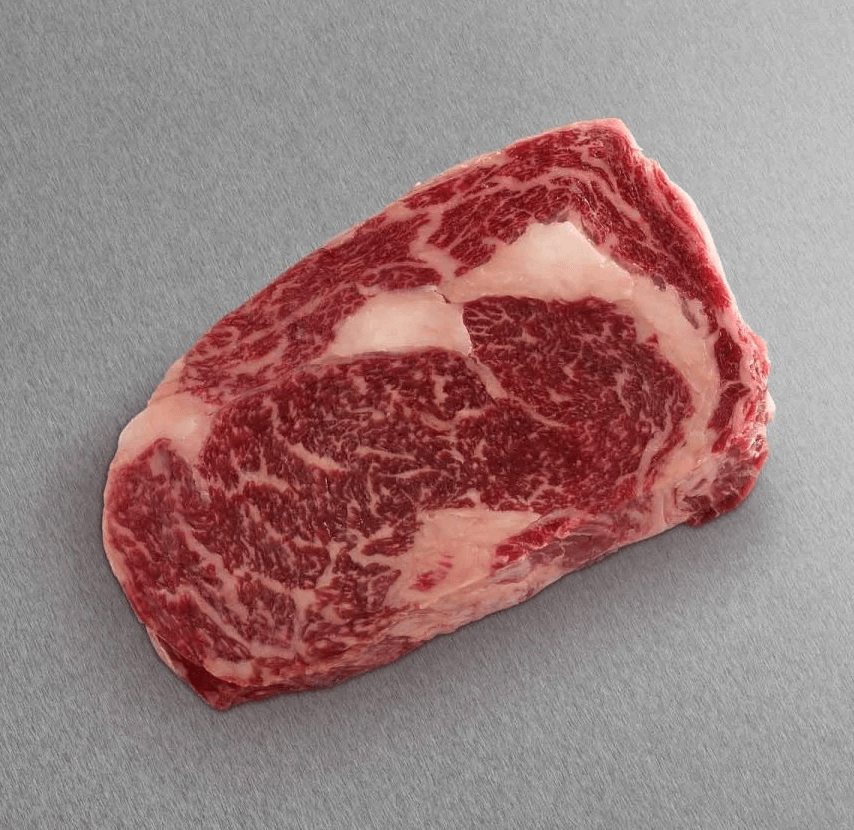 How Are Snake River Farm's Steaks Produced?
Snake River Farm's steaks are made to the highest degree of quality.
Each cow is bred and raised with care, to ensure that they yield plenty of healthy and tasty meat, and they are slaughtered in a humane manner.
The Snake River Farms website makes it very clear that the company only ever sources its meats from farms that meet the highest quality standards for animal welfare.
This adherence to quality has paid dividends when it comes to the meat itself. Our taste tests simply blew us away.
Every aspect of the production process is controlled, in order to give you the best quality meat and to make the process of ordering the mail order steaks simple and stress-free.
We were really impressed by how easy it was to order from Snake River Farms. We were able to browse their expansive list of meats and cuts to find exactly what we wanted.
After we made our order, it was very easy to see how our steaks were doing in their journey towards us, thanks to the order tracking service that is offered on the Snake River Farms website.
This meant that we never had to worry if something might happen in transit, which took a massive load off of our minds, especially considering how much the steaks cost!
And if you ever run into a problem with your order, it is very easy to call the company up to be met by a representative. They were able to field our questions very effectively, and were extremely friendly, which helped to put us at ease!
How Do They Ship Orders?
Luckily, Snake River Farms is able to offer top-class delivery, so that you can receive your amazing steaks just about anywhere in the United States. This is because the company makes use of FEDEX, so you can even receive steaks in Alaska!
As mentioned before, you can even track your order once it is in transit, to help you to earn peace of mind while you wait for your delicious steaks!
However, unlike many other mail order steak companies, Snake River Farms does not offer free shipping, whether you spend a lot or a little, which could be off putting to some.
The company offers four distinct mail tiers. Standard shipping is the most affordable, at $9.99, and is carried by ground. Express shipping via the air is also available, which arrives within two days.
For $79.99 you can access overnight shipping, which only takes one working day. For express dry-aged shipping, you should expect to pay around $49.99.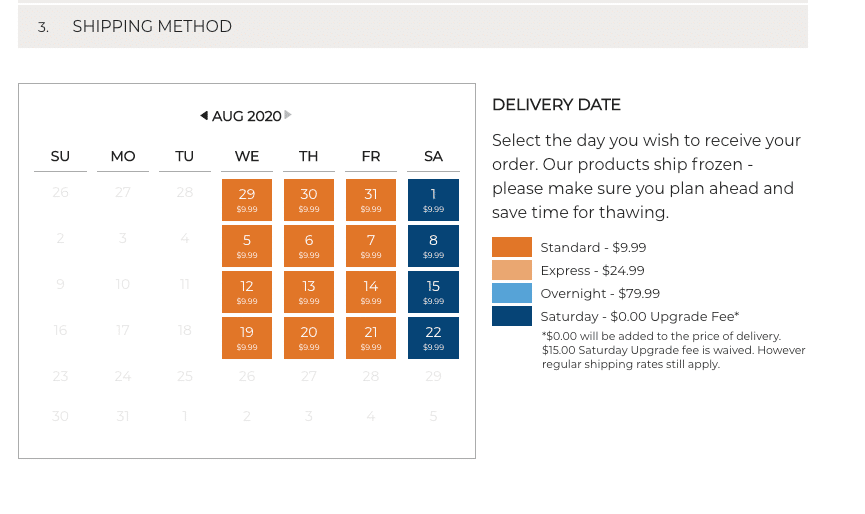 Pros
Snake River Farms also offers a fantastic subscription service, so you can receive regular deliveries of top-quality steaks that will consistently impress you month-to-month.
Snake River Farms' range of incredible Wagyu beef options are all cut from American cows, so you are always buying locally.
Orders are processed in a timely manner, packed into sturdy packaging, and sent with mail order tracking so that you can always be sure that your steaks will arrive in the best possible quality.
Cons
Snake River Farms does not offer free shipping, and the lowest shipping cost is priced at $9.99.
Very expensive Wagyu beef could be intimidating to some.
Check out our full write up on Snake River Farms. 
Holy Grail Steak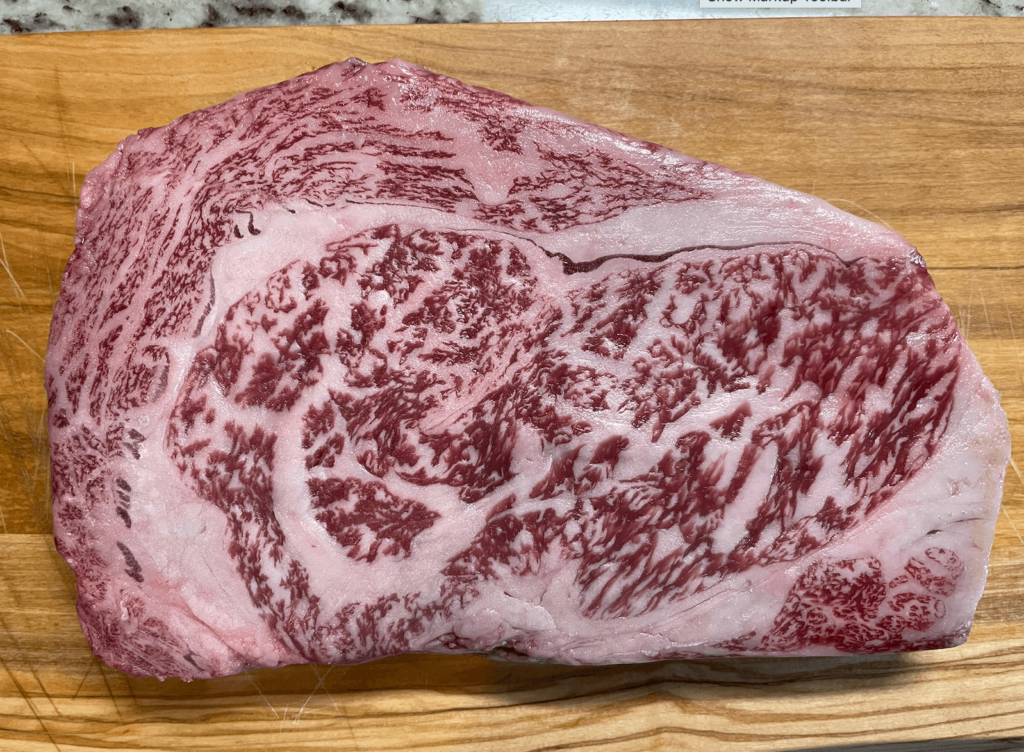 Note: You can check out our complete review of the Holy Grail Steak Co. experience here.
What Products Does Holy Grail Steak Offer?
Holy Grail Steak is another option that you can turn to if you want to purchase some mouth-watering Wagyu beef of your own!
In fact, Holy Grail Steak prides itself on being able to offer the absolute best Japanese Wagyu beef steaks that you can possibly order online in the United States.
Specifically, much of the Japanese Wagyu beef that Holy Grail Steak carries is graded at the coveted A5 grade.
In fact, from time to time you can buy coveted Kobe Wagyu beef online from Holy Grail.
The A refers to the grade that is given to the overall yield, while the 5 refers to the grade of the quality itself. This is how you know that Holy Grail Steak truly means business.
And if the A5 Wagyu proves to be a little too costly for you, you can also choose from a range of American Wagyu steaks that are born and bred in the United States from selectively bred cows.
The A5 Wagyu very often costs well in excess of $300 per steak, so you definitely want to make sure that you know what you are getting into.
Alongside Japanese and American Wagyu, Holy Grail Steak also offers products as wide-ranging as Prime Black Angus steaks, Kurobuta Pork, and even Wagyu burgers.
In fact, the sheer selection of choices on the Holy Grail Steak website was enough to leave us gobsmacked.
You can easily find the type of beef you want and then scroll through an exhaustive list of specific cuts which can range in size and weight. Just scrolling through the website is enough to make our mouths water.
How Easy Is It To Order From Holy Grail Steak?
Ordering from Holy Grail Steak is extremely simple, and this is benefited greatly by the wonderful design of the main website. The Holy Grail Steak website is incredibly easy to navigate and is designed to perfection.
Finding what you want is as simple as navigating the beautiful menus, clicking on your selection, and then adding it to your cart!
From here, it is as easy as entering in your payment details and your address, and then making your order!
We were supremely impressed with how quickly our products arrived. It took no more than a few business days for our decadent steaks to be in our hands, and ready to be cooked to perfection.
Before your steaks are sent, you will be sent a confirmation email, to certify that Holy Grail is now dedicated to getting your steaks to you.
This gives you some great peace of mind. And we can verify that you are in very good hands with this company.
Unlike Snake River Farms, Holy Grail Steaks are immensely proud to offer free shipping on all orders over a few hundred dollars.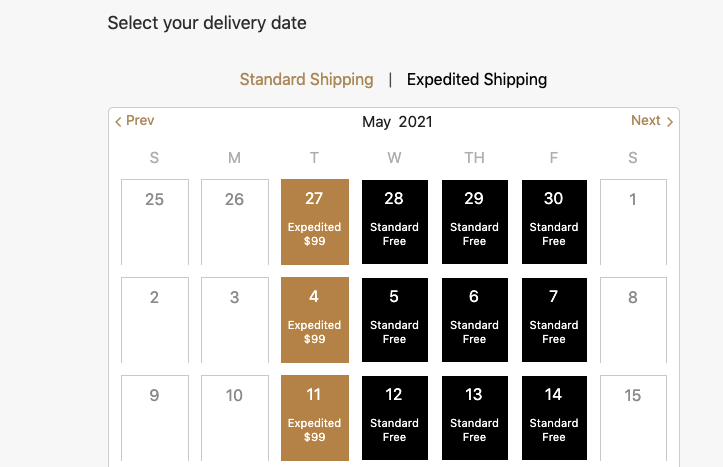 You can even pay a little more to have your delivery expedited, but regardless of whether you pay for shipping, or select the free option, your products will be with you within three short days.
What Is The Quality Of Holy Grail Steak's Packaging?
This is another area in which Holy Grail Steak really shines.
Every cut of meat is individually packaged in insulated packaging to ensure that they each remain isolated, and in their best quality throughout their entire journey toward you.
Each cut of beef is vacuum-sealed, to allow for even more to be packaged into a single box so that you can get your money's worth without receiving an oversized package.
And once you are done with the sturdy packaging, every single element of the packaging is recyclable, so that you can help to protect the planet! So you can have your steak and eat it too!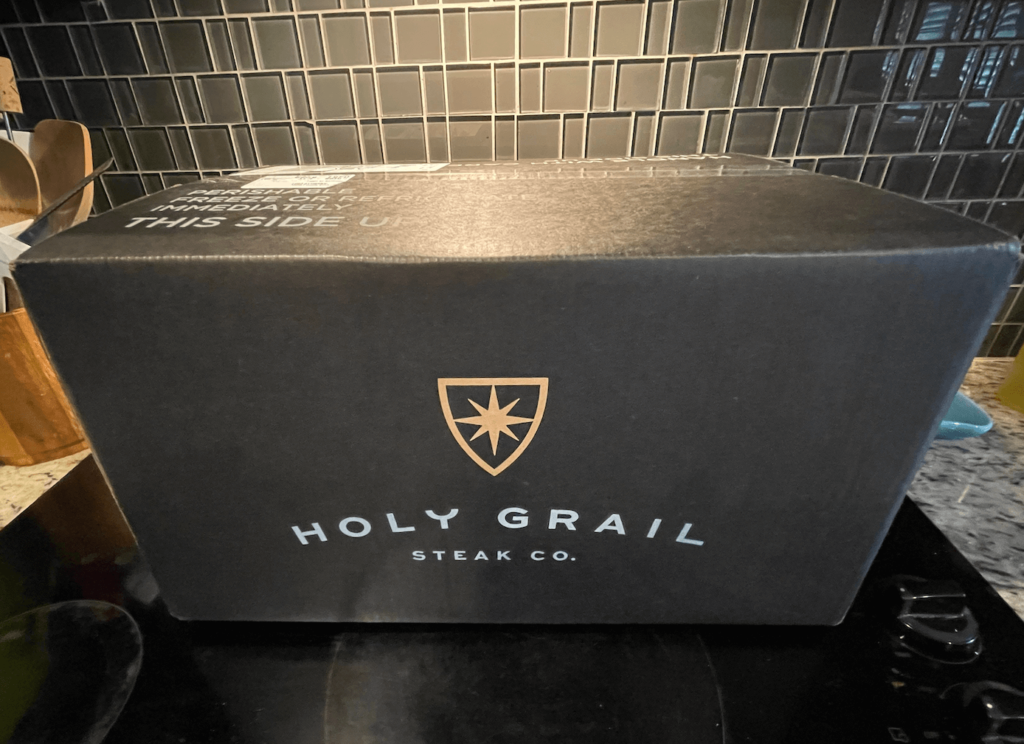 Pros
Holy Grail Steak is able to offer free shipping on all orders over $100.
Holy Grail Steak truly stocks the holy grail of steaks, thanks to their selection of A5 Wagyu products.
Ordering from the Holy Grail Steak website is easy.
Cons
Offers many very expensive products which may prove a little too expensive for some.
Unlike Snake River Farms, there is no subscription service to make it easier to explore their range of products.
Porter Road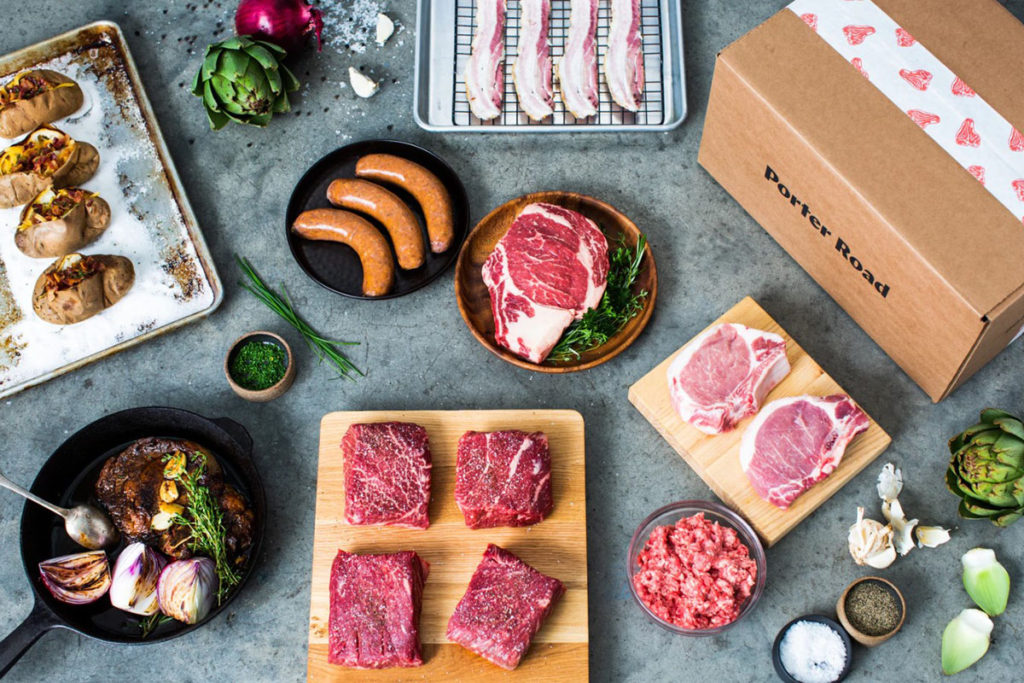 Where Does Porter Road Source Their Meat From?
Getting high-quality beef that is raised in the right conditions can often be very difficult.
Many steak companies, even those within the mail order steak world, prefer to keep their sources on the down low, and it can be very difficult to find out exactly where your steaks are coming from.
This is most definitely not the case with Porter Road, which makes a point of only sourcing steaks from the best farms across the United States that adhere to the highest standards and treat their animals with kindness and respect.
After all, well-treated animals that are reared with care and love yield far better and more succulent meat.
Porter Road also makes a point of working with smaller family-owned farms, to help local farmers to do the wonderful work that they do on a regular basis, and to give you access to wonderful steaks that you may otherwise have missed!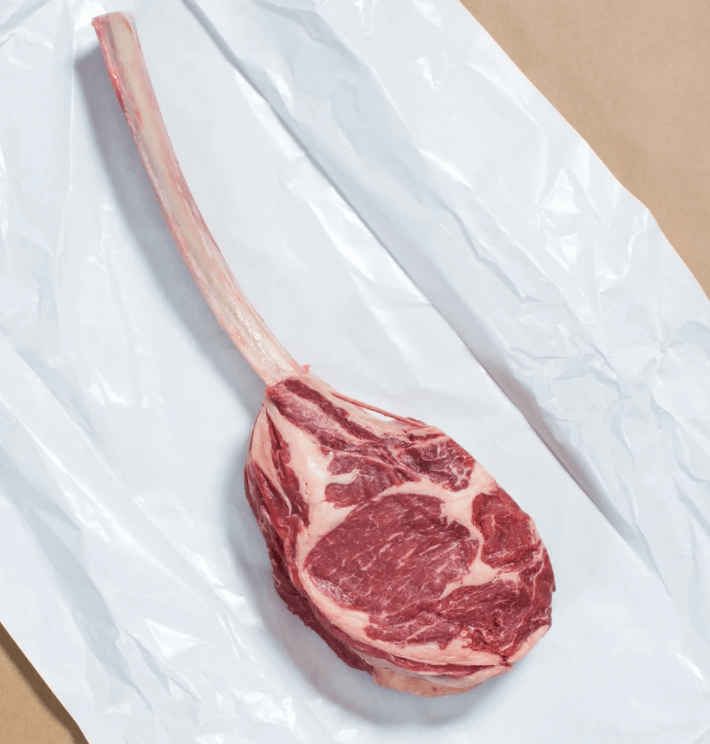 What Products Does Porter Road Offer?
This is easily one of the best things about Porter Road, and something that made it a no-brainer to add them to this list.
Porter Road has an incomparable menu of options from high-grade cuts, to even more basic steaks.
Porter Road is not just reserved for the elite, or those with lots of disposable income to spend on a single cut of Wagyu Beef.
If you want great steaks every single time that fit well within your budget then Porter Road is definitely the choice for you.
Amongst their beef offerings are popular products such as dry-aged ground beef, ribeyes, flat iron steaks, and even delectable filet mignon.
As well as the countless beef offerings, you can also grab yourself amazing chicken breasts or whole chickens, or how about pork butts, pork chops, and even lamb shanks!
There is so much to choose from, which makes Porter Road an absolute treasure trove for fellow carnivores.
Why not treat yourself to a few of the products they have on offer, there's definitely something that will catch your eye.
How Is The Meat From Porter Road?
Simply mind-blowing. That is the best way we can put it.
No matter what we ordered, or when we ordered it, we would always receive high-quality meat that looked as though it had been prepared and packaged with the utmost care possible.
And this high quality extended all the way down to how the meat felt in our mouths once we got to eat it. Every single bite was packed with complex flavors and had our mouths watering for more every single time.
There is a very obvious distinction between Porter Road steak products and ordinary steaks that you may purchase from the supermarket.
It is clear that the attention to detail, and the strive for maximum quality has led to some truly incomparable products that you can always depend on to taste great, no matter how many times you order them.
Farm to table is definitely alive and well thanks to Porter Road, which is committed to bringing you the absolute best of beef every single time.
How Is It To Order From Porter Road?
Ordering from Porter Road is extremely easy.
The website is very simple to navigate, and lists out the massive range of products that the store specializes in, so you can make a different choice every time, or just pick up your essential favorites.
Porter Road's steaks are also delivered in a timely fashion, and in very sturdy packaging, so you can ensure you are getting the freshest product possible whenever you order.
And, to sweeten the deal, Porter Road also offers a subscription service, so you can slowly explore everything they have to offer, and widen your flavor pallet!
Pros
A wide selection of products is available through their website.
Porter Road does not just stock products for elite customers, such as high-grade filet mignon, but also focuses on stocking high-quality products that don't cost too much. This makes them a very customer-friendly option.
Porter Road is committed to stocking products from trusted farms, and family-owned farms, to bring you the best steaks from across the United States, raised with the utmost care.
Cons
While Porter Road may offer a wide range of products, they do not offer products such as seafood.
While Porter Road has many products to choose from, there isn't always a massive amount of variety between them.
Chicago Steak Company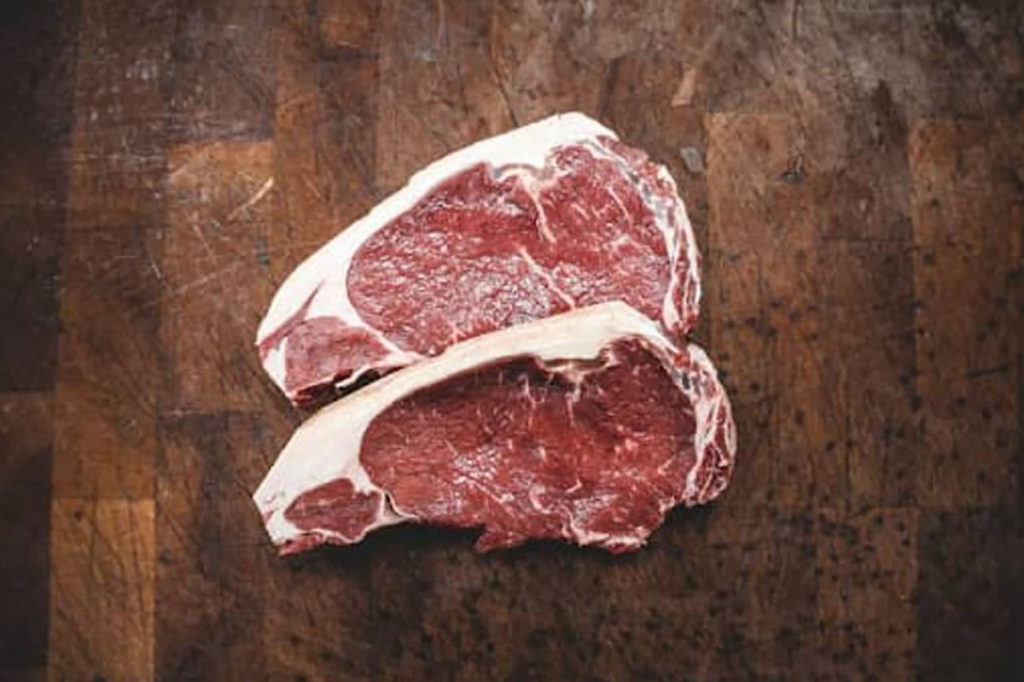 Let's finish off our list with a frequent favorite of ours.
Chicago Steak Company has been in the business of delivering steaks for so many years, and they are very much here to stay into the future.
If you've never used a mail order steak service before, then this is a great place to start.
Who Are Chicago Steak Company?
You'd be hard-pressed to find a more accomplished steak business that can provide you with top-quality service every single time.
The Chicago Steak Company continue to make a large amount of their profit from selling wholesale to steakhouses and multiple five-star restaurants and hotels.
No matter what kind of steak, or other meat you need, Chicago Steak Company can give you exactly what you need. In fact, the company is known for having one of the largest dry-aging facilities in the entire United States.
What Products Does Chicago Steak Company Offer?
You won't be at a loss for options at the Chicago Steak Company.
Unlike many of the other companies we've spoken of so far in our list, Chicago Steak also offers a wide selection of other foods, including seafood, to make them a great one-stop-shop for all of your meat-eating needs.
From Filet Mignon, to American Wagyu Beef, all the way to tomahawk ribeyes and whole chickens.
We always find ourselves simply blown off our feet by the incredible range of options at your disposal whenever you visit the Chicago Steak Company website.
What Is The Quality Of Chicago Steak Company's Products?
No other word would be fitting here than 'Exceptional'. Every single product that we tested (and we tested quite a good few) had a great sense of flavor and an incredible sense of texture that we had yet to ever experience elsewhere.
If you were new to the world of steaks and mail order steaks, then this is definitely a great shop to start with.
Every one of their products serves as a great introduction to the beautiful complexities of these meats, and they even stock your favorite usuals, such as whole chickens and pork chops.
And if you aren't in the mood for something fancy and expensive, then you could also try out their range of amazing burgers, including their Wagyu burgers which boast that amazing Wagyu taste and texture, but in a more recognizable form!
What Is It Like To Order From Chicago Steak Company?
Ordering from Chicago Steak Company is very easy, and this is due in part to the fact that their website is so elegantly designed, and so effortlessly optimized.
You won't run into any glitches or find yourself lost. It's easy to find what you want and then pay for it, or simply browse and see where your attention takes you.
All fifty states are covered by Chicago Steak Company, so you can order your steaks no matter where you end up within the country.
However, you will have to pay for shipping with every order you make. This can be a bit of an annoyance, but the higher delivery cost is worth it thanks to the high-quality packaging.
Every single cut of meat in your package is separately wrapped, to keep each one in the best quality, while the outer box packaging is fully durable, and offers plenty of cushioning to protect your meats from the outside world!
And if you run into any problems or concerns during or after the ordering process, you can easily get in touch with the Chicago Steak Company team via Trust Pilot or Facebook, who will respond promptly, and with exactly the answers you are looking for!
Pros
Chicago Steak Company easily offers the most products out of any of the stores on our list.
Chicago Steak Company's products are of the highest quality, which is reflected by its history of catering to some of the best restaurants in the world.
Makes for a great first-time service for mail order steaks.
Cons
It is not as easy to tell where Chicago Steak Company's products are coming from, which can be very off putting for many people.
Chicago Steak Company does not offer free shipping on products.
Mail Order Steaks Buyer's Guide
Are you looking to get into the world of mail order steaks for the first time? Not really sure where to begin?
Don't worry, we understand that it can be intimidating, so we put together this short buyer's guide to help you make the right choice for your first time, and every time after that!
Price
First, you will most definitely want to check to make sure that you are not spending too much on your steaks.
Steaks can be very expensive as it is, but if it is your first time ordering a steak via the mail, you should aim to buy a more affordable steak from a more affordable vendor.
Higher quality steaks that cost in excess of $300 will also need a high degree of culinary knowledge and expertise to make the most of them, thus you definitely want to make sure you are confident enough before you spend a hefty amount on them.
Service Quality
Before you make any purchase from a mail order steak company, make sure to do a thorough internet search to verify that they offer a high-quality service.
Check to ensure that their steaks are of the highest quality and that they have sourced them from trusted farmers or suppliers.
You should also check to ensure that their delivery practices are of high quality so that your steaks will arrive as you expect them to when you order them.
Meat Quality
You also definitely want to make sure that any sellers you are buying from specializes only in the best quality beef and steaks so that you don't receive an unsatisfactory product.
Ordering from a mail order steak company should not be a gamble. You should be able to tell that what you are ordering is high quality and reflective of its price.
The best businesses are able to make it clear that they can offer a high-quality product every time.
Cerified Piedmontese is another mail order steak delivery that exceeds our expectations.  
Frequently Asked Questions
What's The Best Mail Order Steak?
Unfortunately, this question is near impossible to answer. This is because so many mail order steak companies are dedicated to serving different customer bases.
For example, if you want top-grade A5 Wagyu beef, then you should go to Holy Grail Steak. If you want to explore more options, try somewhere like Chicago Steak Company.
Best Place To Buy Meat Online?
Some of the best places to buy meat online are the various mail-order businesses, especially those that specialize in steaks, such as Chicago Steak Company, which also specializes in stocking other types of meat as well.
What Is So Special About Omaha Steaks?
Omaha steaks are grass-fed, which means that they are packed with fresh and natural flavors, and their meat is extremely tender and complex, which makes it a delight to savor.
Final Thoughts
Steaks are a serious business. Some may even go so far as to say that the act of cutting and preparing a steak is an art form unto itself.
Thus, it's not really a surprise that the best steaks can be rather expensive and difficult to get your hands on.
If you want to explore the tasty world of steaks, make sure to visit one of the websites above and challenge yourself to try something new. We have no doubt in saying that you'll find something that will blow your mind.