If you're keeping up with the latest and best grilling trends, then you know the Blackstone griddle is making a huge name for itself. I mean, who doesn't love the flat top griddles that have a cooking surface that can flip pancakes, fry eggs, sautee veggies, grill a burger, and sear juicy steaks? It just makes sense!
Find the Right Blackstone Griddle Size for You
Now which blackstone griddle is the best for you? Let's break down these best-selling grills and why we love them. Let's start by listing each of the griddle categories:
Within each Blackstone griddle size, there are specific models. Let's get into more detail and see why these griddles are so amazing.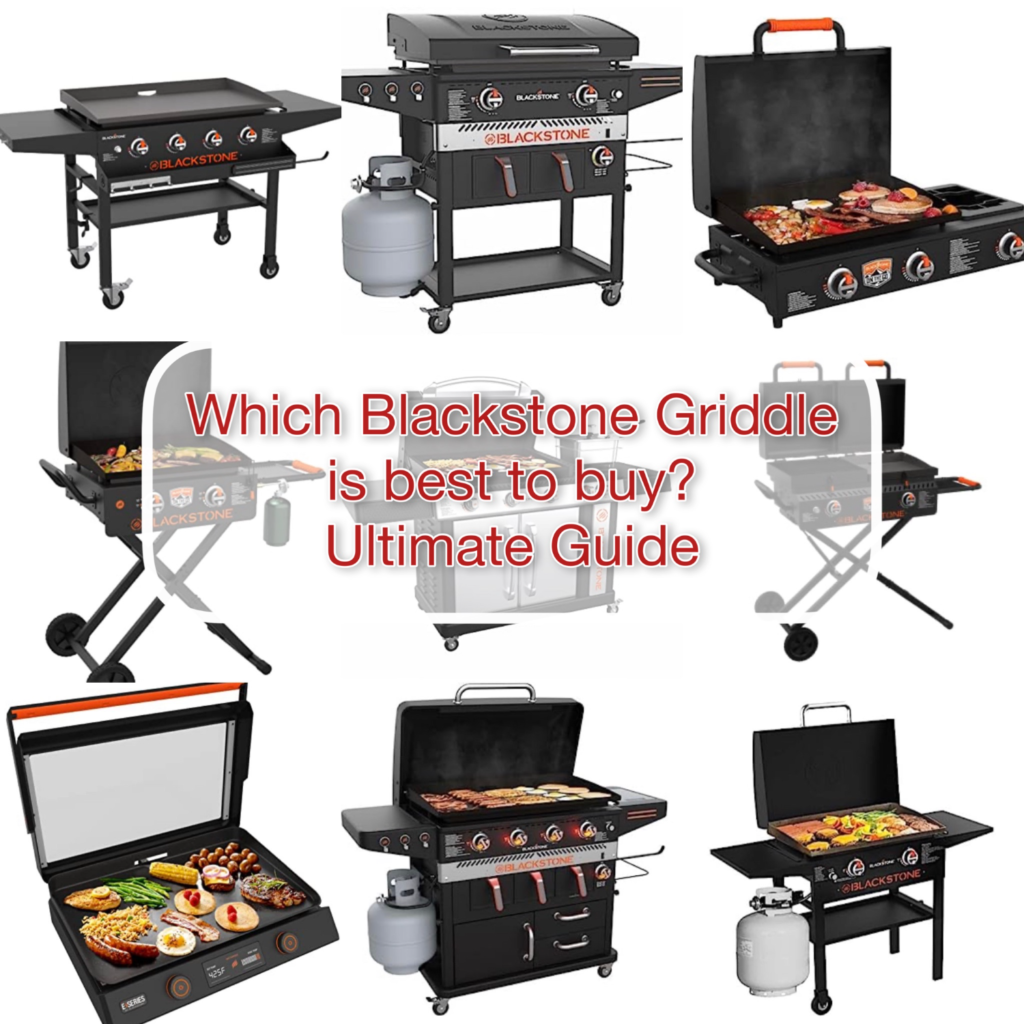 The largest of the Blackstone flat-top grills are the 36″ griddles. They are spacious and meant to cook for large groups. The flat-top cooking surface is 35 3/4″ W x 21 1/2″ D. Each of the models is equipped with 4 easy-to-light burners and is able to cook up to a whopping 30 burgers or 125 hotdogs. Here we will compare the 36″ Blackstone grill:
This griddle has:
Over 765 square inches of steel cooking space.
Foldable side shelves.
60,000 BTU
Magnetic toolbar and shelf hooks
Paper towel holder
Rear grease trap
Wheels for easy transport
You can purchase a Blackstone original with a hard top lid if you prefer the lid to be removable.  The griddle alone weighs 141 pounds.
4-quart warming drawer
(2) 4-quart air fryer (roast, bake, or air fry)
4 independently controlled heat zones
Stainless steel tube burners
The Patio Series 36″ does weigh 265 pounds. I would consider this grill more of a stationary griddle top than one you want to move from place to place. It does have wheels for easy transport, just not as easy of a move as other models.
The next step down from the 36-inch would be the 28″ XL griddle. They have 3 independently controlled burners rather than the typical 2 burner griddle that the standard 28-inch has. The flat-top cooking space is 28 1/2″ W x 21 1/2″ D. This space can hold a whopping 25 burgers or over 100 hotdogs.
Just over 610 square inches of cooking surface.
Piezo Igniter
Magnetic toolbar plus added hooks.
3 Heat controls.
Paper towel holder
Roomy side shelves
48,000 BTU
Rear grease trap
Two burner range top
Deep fryer basket
Ample cabinet storage below to store the propane tank on one side and storage on the other. The door even has shelves to store herbs, squeeze bottles, and other essential cooking supplies.
The more popular and cost-effective outdoor cooking griddle on the market is the 28″ model. The 2 burner flat top grill is perfect for a family or small gathering outdoor cookout. The cooktop dimensions are 28 3/4″ W x 18 1/4″ D. This can cook a whopping 20 burgers or 85 hotdogs!
Just about 525 square inches of griddle top
(2) adjustable heat controls
(2) side shelves
(2) wheels for easy moving
Rear grease trap
Attached hood to close the griddle while cooking.
If you prefer to opt out of the hood model Blackstone also makes the 28″ Griddle with a Hard Cover
original series 28″
like 524 square inches on the cooktop, 2 heat controls, rear grease trap, and attached hood. The additional features include:
Magnetic tool bar and hooks
Foldable side shelves
4-quart air fryer and warmer
4 wheels for moving easily.
Towel holder
Once you get into the 22″ griddles or smaller, the Blackstone flattop truly becomes transportable. Having an on-the-go grill is awesome. We love to take our flattop camping. Since we have a rooftop tent (not a camper with a kitchen) having something easy to transport and also able to cook every meal on is pure perfection.
360 square inches of cooking surface
24,000 BTU
Hood with a latch
2 burners
Legs that fold up
2 wheels to easily move around
griddle combo unit
is really useful for travel. Having many of the same features as the 22″ flattop like 360 square inches of griddle space and 24,000 BTU, this griddle also has a range for cooking. It is important to note that the
Blackstone 22″ Combo griddle
does not
come with legs. This model is meant to be placed on a table or other safe cooking areas.
On the Go 17″ Blackstone Griddle Grill Combo
Blackstone 17″ Griddle Grill Combo
is very unique. The dimensions are 20.5″ D x 22.1″ W x 38.1″ H. This griddle has:
(2) Individual cooking zones

Griddle area
Grill box area with cast iron grates.

Scissor foldable legs
Side Table
Rear grease trap
Total of 30,500 BTU

12,000 BTU stainless-steel flat top
18,500 BTU powerful round burner
There are 2 sizes in the Blackstone E-Series Griddle, the 22″ and 17″ griddles. Both put out awesome power to grill the perfect meal. Let's compare:
1600 Watts of power
Just over 300 square feet of cooking surface.
LCD digital display
Ceramic titanium-coated griddle surface
Grease cup that is machine washable
2 independently controlled heat zones
The Blackstone 17″ Electric Griddle is the first electric griddle for indoor and outdoor grilling
1500 Watts of power
Just over 220 square feet of cooking surface
(1) Temperature control knob
Ceramic titanium-coated griddle surface
Grease cup that is machine washable
Does Blackstone Make a Pizza Oven?
Blackstone Pizza Oven with the cart
,
Pizza Oven without the cart
, or a
22″ griddle pizza oven attachment
really changed the pizza oven game.
How to Season a Blackstone Griddle
To season a Blackstone griddle, clean it thoroughly, apply a thin layer of cooking oil, heat until it smokes, let it cool, and wipe off excess oil. The best oil to season with is a high-heat cooking oil like canola oil or vegetable oil. Repeat periodically for optimal results.
How to Clean a Blackstone Griddle
To clean a Blackstone griddle, scrape off any food debris, and use warm soapy water with a non-abrasive scrubber to clean, rinse, and dry thoroughly. Cleaning all flattop grills is an important step in maintaining your griddle.
What are the most popular Blackstone Grill Accessories?
There are so many gadgets when it comes to Blackstone grill accessories. A few must-haves would be:
Other Blackstone Articles
How to Clean a Blackstone Griddle