When it comes to versatility and all-around practicality, the infrared grill is a class of grill that you should strongly consider as an addition to your outdoor kitchen.
The hallmark of infrared grills are grills that utilize infrared technology – which heats your food with infrared waves as opposed to traditional grills, which use burners to heat air, which in turn heats your food.
Because of this, the infrared heat can't actually touch the grates of your grill – so heat radiates and is distributed evenly throughout the cooker.
In this post, we'll highlight the best infrared grills on the market today. We'll also touch on some buying tips, things to look for, and infrared grill's pros and cons to assist you in your research.
In a Hurry?  Here's Our Top Picks:
Infrared Grill or "Infrared Grill"?
Before we begin, it's important to note that not all infrared grills are created equal.
A true, proper infrared grill is a cooker where at least one of the main burners utilize infrared technology.
A common feature amongst higher end gas grills – they'll have a rear infrared burner that pairs with a rotisserie kit. These grills may be marketed as "infrared grills" – which is technically true – but the main burners cook with traditional heat, not infrared burners.
One of these configurations is not necessarily better than the other, it's just important to be aware that not all brands mean the same thing when they use the term.
We'll do our best to point this out as we go through our list of the top grills that feature infrared cooking technology.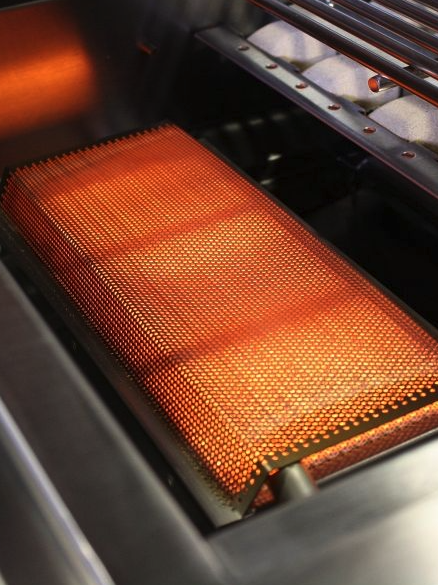 Top Infrared Grills – Our Picks
When it comes to all around quality and performance, it's hard to dispute that the TEC Sterling Patio 2FR infrared grill isn't one of the absolute best infrared grills on the market.  The main downside of this grill is that it's quite expensive – but if you have the coin you're handsomely rewarded with a commercial grade grill.
The other thing is that all of the burners on this grill are infrared burners – unlike many other grills that only feature one or a couple of infrared burners while the others are traditional.
TEC actually invented infrared grilling over 40 years ago – and they have remained at the forefront of innovation ever since.  All of their grills are proudly made in the USA with a high level of craftsmanship.
These grill are powered by powerful burners – their flagship grill is 44 inches wide on the cooking surface with 592 square inches of cooking surface area, but only has 2 burners.  Many other grill brands would have 3 or maybe 4 burners powering a grill this size.  Even though there are only 2 here, the burners can get up to a scorching 900ºF.
TEC offers a ton of accessories to elevate this grill too – they have a smoke rack that essentially turns your grill to a smoker, a pizza rack, a fry pan, and much more.
Their grills come in 1 burner and 2 burner options, and each comes in a built-in or freestanding configuration.  So no matter what your ambitions are for your outdoor kitchen, odds are they have a grill that will fit in.
If you're interested in a deep dive, check out our TEC Grill Review resource next!
The Napoleon Prestige Pro 500 Grill is an all-around beast, there's really no other way to put it.  You can do absolutely anything with this grill, and if we were strictly talking about performance – it's hard to beat.
The only downside of this grill is that it's pretty expensive.  At Own the Grill, we try our best to take bang for your buck into account.  You won't be disappointed at all if you purchase this grill, but we also recognize that it might be outside of some budgets.
With that said, let's get into the features of this bad boy.  There are 4 stainless steel main burners that can crank out an impressive 48,000 BTU's across 500 square inches of primary cooking surface.  There's also a 260 square inch swing away rack that you can use for keeping food warm.
That's impressive, but where this grill really shines is in its secondary cooking areas.  First, it features a 140 square inch infrared side zone sizzle burner that can heat up to 1,800(!!) degrees and is perfect for searing a steak or making a sauce.
Second, and this one is my personal favorite, there's a rotisserie infrared rear burner that's designed to let you cook perfect rotisserie food.  I don't know if you've ever cooked your own rotisserie chicken before, but it's spectacular.
You can also use the rotisserie basket for chicken wings and other similar styles of food.  And the infrared technology will ensure that you get a perfectly even cook every time.  A heavy-duty rotisserie kit is included with every purchase.
It also comes will all of the basic features you'd expect from a quality infrared grill.  There's a built-in thermometer gauge, a quick ignition button, and plenty of cabinet storage space for your grill accessories.
We have experience with the next size up of this grill, so be sure to check out our review if you want to learn more about the Prestige Pro series at Napoleon.
Pros:
48,000 BTU's heat and 500 square inches of primary cooking.
Swing away warming rack and infrared side burner.
Infrared rotisserie rear burner adds ultimate versatility.
Stainless steel, durable design.
Lots of extra working and storage space.
Cons:
It's expensive, but you get what you pay for.
The Saber Deluxe 500 is definitely on the more expensive side of the spectrum, but if you have the coin you're handsomely rewarded with a top of the line infrared grill.  There really isn't much that you can't accomplish on this grill.
It also comes equipped with a 10,000 BTU side burner that can be utilized to whip up a side sauce or sauté healthy veggies on the grill while the main course cooks on the primary grate.
The entire unit is constructed of high quality 304 stainless steel – so if you care for your grill properly you can expect this thing to last you for years and years.
One really cool feature of this grill is that it actually has three separate grate level temperature gauges built in to it.  This essentially means that you can set up multiple temperature zones and know exactly just how hot each section of your grill is – which is extremely valuable information to have handy.
Pros:
500 square inch primary cooking area.
3 grate level temperature gauges
304 stainless steel construction throughout
Rotisserie kit, side shelves, tool holders, and towel bar add to versatility
Heavy duty locking wheel casters
Cons:
If you're looking on a smaller budget, Char-Broil also makes a cart style gas infrared grill that won't break the bank.  It's made of a stylish stainless steel and is built to last for years and years.
The grill obviously features infrared technology, which prevents flare ups and ensures extremely consistent temperatures across the entire cooking surface.  The even heat distribution also helps your food lock in delicious juices as it cooks.
With the Signature TRU-Infrared 3 Burner grill, you're treated to 450 square inches of primary cooking space, which is more than enough to handle the needs of most cookouts.  Remember with the infrared technology, you're getting even heat throughout that entire space.  There's also a 150 square inch swing away warming rack to assist in your grilling.
Features wise, everything in the design of this grill is made with the grill master in mind.  An electronic ignition system allows quick and reliable ignitions at the push of a button.  There's also a 10,000 BTU lidded side burner that's great for sautéing veggies or keeping a sauce warm.
Pros:
Traditional cabinet grill with infrared technology built in.
420 square inches of primary cooking area.
24,000 BTU's of heat across 3 primary burners.
Swing away warming rack and side burner add additional cooking space.
Even heat throughout and no flare ups.
Lid mounted temperature gauge.
Cons:
Some assembly required, but it's not too difficult.
Great for back yard or patio, but not ideal for frequent transport.
Solaire is a lesser known brand in the world of grilling, but don't let that scare you off.  They actually specialize in infrared grills though, so if you go with one of their products you are in good hands.
What we like most about their SOL-EV17A model is that it's by far the most portable infrared grill on the market today.  The entire unit weighs only 15 pounds and is 20 inches wide, so it's the perfect grill for space savers or if you are buying for camping trips or tailgating.
Now obviously, you sacrifice a little bit of cooking space to be able to have a grill that's so portable.  This model only has 140 square inches of primary cooking area, which is definitely less than some of the other options on this list.
That's enough space to grill up to 6 burgers at once though, so if you're rarely going to need more space than that, there's no reason that this grill can't be a great fit for you.
In addition to infrared technology, this grill is kitted with unique v shaped grates that help to enhance flavor and lock in juices to your burgers, steaks, and other cuts of meat.  These features also virtually eliminate flare ups.
Pros:
Extremely lightweight and portable
Perfect for camping, vacations, and tailgating.
14,000 BTU's of heat.
Slim profile is rare for a grill with this much power.
V shape grate and infrared technology combine for even cooking.
Assembly takes about 2 minutes.
Cons:
Only 140 square inches primary cooking space.
No grease management system or easy clean system.
The Magma A10-918-2GS Newport 2 is a professional grade option if you're looking for the best infrared grill.  From an all-around perspective, it does everything you need it to and the polished stainless-steel finish makes it one of the most aesthetically beautiful infrared grills on this list.
The unit is constructed of 100% 18-9 marine grade mirror polished stainless steel and has a built-in thermometer gauge.  As far as portable infrared grills go, it's got a respectable 162 square inches of primary cooking space.
In addition, the Newport 2 features a removable, front access grease tray to help with cleanup.  This is a great thing to have and isn't always included with many portable grills.  The legs are foldable and the unit uses standard 1 pound propane tanks to make transportation as easy as possible.
Another neat feature – this grill is actually designed to be mounted on a boat with a separate mounting kit.  So if you happen to be looking for a boat grill, this one is a great choice.
You can also buy a serving shelf that's sold separately which will can effectively double your workspace.  All things considered, this is a great choice and one of the best infrared grills.
Pros:
Extremely lightweight and portable
Aesthetically beautiful polished stainless steel finish.
Super convenient serving shelf is a great accessory.
Foldable legs and 1 pound propane tank input.
163 square inches of primary cooking space.
Grease management tray accessed from the front of the unit.
Cons:
Serving shelf is sold separately.
Char-Broil has been making grills for over 70 years, and you don't stick around that long without making spectacular products.  The Char-Broil Big Easy TRU-Infrared Grill gets our vote for the best infrared grill due to its versatility, outstanding features, and reasonable price.  It's a perfect option for turkey, ribs, roast, or any other cuts of meat you enjoy grilling.
The Big Easy lets you grill, smoke, and roast all in one unit thanks to a 180 square inch grilling surface which removes to reveal a roasting basket which fits large cuts of meat – up to 21 pounds.  This can be a great option to roast a Thanksgiving turkey!
Additionally, a side mounted smoker box opens up from the outside of the unit.  This lets you add wood chips easily during your cook without having to mess with the lid.  It's super nice to be able to add that delicious smoky flavor without the hassle of building a fire in a charcoal grill.
The Big Easy also couldn't be easier to use.  It weighs less than 23 pounds and features handles on either side, which makes transporting the unit a breeze.  All you need to do to get cooking is connect a propane tank, then turn two knobs to light the flame.  There's also a removable grease tray to help with cleanup.
The temperature range goes from 9,000 BTU's to 18,000 BTU's, which is a great range for both low and slow cooking along with hotter temperatures needed to sear a steak.  As you'd expect from the best infrared grill, the Big Easy has no flare ups, cooks food perfectly evenly, and locks in an incredible amount of juiciness on every cut of meat.
Pros:
Versatile with the ability to be a smoker and grill combo.
Very light and easy to transport.
Temperature range from 9,000 to 18,000 BTU's.
180 square inches of cooking area plus roasting basket.
Even heat throughout and no flare ups.
Great option for tailgating or camping.
Cons:
Some assembly required, but it's not too difficult.
A few customers have had issues with the quality of the smoke box handle.
If gas grills aren't your thing, the Char-Broil Patio Bistro is an electric grill alternative that still features the infrared technology you are looking for.  It has a respectable 240 square inch primary cooking area (enough for about 10 burgers) with an 80 square inch warming rack to boot.
As with most Char-Broil grills, it has porcelain-coated cast iron grates that are easy to clean and have anti rust qualities.  Operation wise, it's super easy to use since it's an electric grill.  All you have to do is plug it into an outlet and you are ready to go.
For how big the unit is, there's actually quite a bit of storage and shelf space, which makes prep and organization much easier.  There's also a cord management system built in and an easy to remove grease tray for easy clean up.
You really couldn't ask for a more simple, easy to use grill than this one.  It's a great option for beginners or anybody who doesn't want to mess with gas or charcoal grills.
Pros:
Good price point for budget shoppers.
Electric grills can be great for people who don't want to deal with gas or charcoal.
Lots of shelf space.
240 square inches of primary cooking space.
Grease management tray is easy to remove.
Cons:
Decidedly less horsepower than the other grills on this list.
Electric grills result in different flavor profiles vs gas or charcoal grills.
Infrared Grill Pros and Cons
We've touched on specific pros and cons for individual grills on our best infrared grill list, but we want to take a moment to talk about the good and bad things about infrared grills as a product class.  Here's a look at infrared grill pros and cons:
Infrared Grill Pros
Uniform Heat: most notably, infrared grills will create an environment where heat is distributed uniformly throughout the grill.  This is a really nice feature, because you can cook with the confidence that your food is being cooked evenly.  This virtually eliminates the possibility of cold spots on your food.
Uniform heat also helps to lock in juiciness in your food.  With non-infrared grills, you run the risk of the air around your food being inconsistent.  Infrared grills perfectly crisp the outside of your food to keep all of that delicious juice in.
Reduced Flare Ups: Especially for beginners, flare ups and flame management can be a difficult thing to stay in control of.  Even for more experienced grillers, flare ups can easily happen if you get distracted during your cook.  In that regard, infrared grills are safer because the technology ensures that the flames never reach the grates and get out of control.
Quick Heat Up:  On average, infrared grills heat up much faster than charcoal or gas grills, which is in part due to the uniform heat distribution.  Quick heat up means you can spend less time waiting around and get to searing or cooking your meat faster!
Great for Outdoors:  One of the best infrared grill attributes is that they are largely unaffected by wind and gusty weather.  On a charcoal or gas grill, a windy day can seriously damper your outing and slow down the heating process of your grill.  That's not a worry with infrared grills, as the technology creates a cooking environment that is not affected by wind.
Because of this, we think infrared grills are the most reliable class of grill for camping, tailgating, and any other outdoor setting where you are traveling with a grill.
Safety:  We've touched on elements of safety a little bit, but it's important to reiterate that infrared grills are one of the most safe ways to cook your food.  Infrared grills do use electromagnetic energy, but it's in such low levels that there is absolutely no risk associated health wise with using an infrared grill.
Infrared Grill Cons
Generally Best for Meat:  This might not be necessarily a con for you, but since infrared grills run so hot and heat up so quick, it's a lot easier to cook meat on them.  If you aren't careful, things like fish or veggies can get burnt or over cooked really quickly.  That's not to say you can't use an infrared grill for foods like this, but it takes a little practice and a lot of focus to get it down.
Quality of Build:  Frankly, there aren't a whole lot of quality infrared grills out there at an entry level price point.  Most of the quality infrared grills out there have a four figure price tag on them.
I don't know why that is, but you just have to be careful that you don't buy something that is underpowered, cheaply made, or difficult to clean.  Do your research and make sure you buy from a reputable brand.
Of course, we think that this list of our picks for the best infrared grill is a great starting point for your search!
Frequently Asked Questions
Why Are Infrared Grills So Expensive?
Simply put, proper infrared burners require superior materials and design compared to a traditional gas burner. These come at a cost, and the cost is ultimately reflected in the price of the end grill product.
Are Infrared Grills Better Than Regular Gas Grills?
You know, this is a tricky question to answer. The truth is that while infrared grills have many advantages, they also have several disadvantages too…
The pros are as follows. They provide a uniform distribution of heat, there's reduced flare-ups, they heat up quickly, they're great for the outdoors, unaffected by wind, and they're also one of the safest ways to cook.
But on the other hand, there are the cons. The top quality grills are rarely available at a good price point. And while infrared grills are often great for grilling meats, it can be a little too easy to burn veggies on an infrared grill.
Can You Convert an Infrared Grill to Regular?
It certainly is possible to convert your infrared grill to a regular gas grill if you wanted to…
You would have to remove the infrared grill emitter plates, and replace them with stainless steel grill plates that are of the same size as the infrared grill plates were. Then, to make it into a regular gas grill, all you would need to do is to supply the gas, and it becomes a standard grill.
There is a clear drawback to doing this, however. The converted grill will only cook meat on its far side, since the heat will be mostly on the far side only.
So, the real question is why would you want to convert your infrared grill to a regular grill in the first place? Infrared grills have a number of benefits over a regular grill.
They provide a uniform distribution of heat, there's reduced flare-ups, they heat up quickly, they're great for the outdoors, unaffected by wind, and they're also one of the safest ways to cook.
Can You Slow Cook on an Infrared Grill?
We are pleased to confirm that it is, in fact, true. In addition to being able to sear meat at really high temperatures, infrared grills are also versatile enough for low and slow cooking too.
This is because they offer oven-like temperature control, with temperatures as low as 100 degrees Fahrenheit at the lower end of the spectrum. While the typical temperatures for low and slow cooking are between 200 and 250 degrees Fahrenheit.
Of course, some cuts of meat lend themselves better to low and slow cooking than others. Be sure to go online to find tips on how to cook your meats low and slow on your infrared grill before you start. And be sure to come to https://ownthegrill.com/ first.
Are Infrared Grills Hard to Clean?
We're pleased to report that infrared grills are not hard to clean. The basics for cleaning an infrared grill are pretty much the same as for a regular grill…
First off, if there's a drip tray, you should clean this out after every use.
You should always wait until the grill is completely cool before handling it for cleaning purposes. When ready, you can remove the grill grate to clean it…
If the grill gate is of a metal construction, all you need to do is use a wire brush to remove any debris that remains from your cooking. If however the grill grate is coated with porcelain, as they often are, then a soft brush is best, and a stiff brush won't be required.
We recommend that you clean your infrared grill out about once every 6 months or so. At the same time, you should check your infrared grill for signs of wear, and especially look out for damage to the heating element.
How Do You Cook a Steak on an Infrared Grill?
How you cook steak on an infrared grill depends very much on how you like your steak. But, here we will provide some general instructions…
First preheat the grill to between 300 and 350 degrees Fahrenheit, and meanwhile season your steaks to taste. Once the grill has preheated for at least 10 minutes, it's time to sear the steaks. Just 60 seconds on each side should cover it.
Then you should use indirect heat to gently cook the insides of the steaks, by moving them further away from the main grilling area. You can do this for anywhere between 5 and 25 minutes, depending on the thickness of the steaks used and how you like your steak cooked.
And remember to let the steaks rest for at least 5 minutes before serving up.
Is Infrared Cooking Healthy?
It's true that infrared heat is a type of radiation, and there are some that claim that this infrared heat penetrates and agitates food molecules within your food…
However, infrared grills simply do not have enough power to alter or denature the protein on foods, thus we can confirm that infrared grills are perfectly safe to cook with and will not endanger your health.
It is generally the oil that you put on the food to cook it that most strongly affects how healthy the food that you grill is for you.
Can You Cook Vegetables on an Infrared Grill?
We're pleased to report that infrared grills are not just for grilling meat, and that you can also grill vegetables there, too. And this is a great way of improving the healthiness of the meals that you grill, since vegetables offer quite a lot in the way of naturally occurring vitamins and minerals.
The best way to grill vegetables on an infrared grill is to set the grill to a medium to high heat and lightly spray the vegetables with olive oil before adding them to the grill. This really adds to the flavor and promotes sear marks, and it also keeps them from drying out and sticking to the grill.
Smaller vegetables such as mushrooms can be grilled whole, while larger vegetables will need to be sliced first, or cut into wedges. To tell if your vegetables are cooked, simply pierce them with some cutlery. If it slides in easily, then you know your veggies are sufficiently cooked.
Final Thoughts
I hope this list of the best infrared grills proves to be beneficial to you in your search.  Infrared grills are a fantastic cooker for lots of people compared to other grill types – most importantly, you can make some incredibly delicious food using one.
Which one did you end up with?  Tell us about it in the comments section below.