This content contains affiliate links.  If you make a purchase after clicking a link on this page, we might receive a commission at no cost to you.
If you've spent any time on a boat before, you know that the lunches and snacks you eat can often times be the exact same every time.  Sandwiches, wraps, and anything else that will fit in a plastic bag or cooler.
Well as it turns out, you don't have to be limited to the same old lunch.  Finding the best boat grill can seriously take your voyage meals to the next level.
As you can imagine, there are a few extra considerations for buying a boat grill compared to other types of grills since you're on a moving vessel that's on the water.
In this post, we've compiled our list of the best boat grills along with buying tips and all of the considerations you should take into account before you make your final decision.
Best Boat Grill – Quick Overview
Just to make sure we're all on the same page – there are two types of boat grills out there.
The first class of boat grill are essentially portable grills which are kitted with accessories that let you securely attach them to a boat.  This type of boat grill can also be used for use camping, tailgating, or taking on the go in addition to on the water.  You should not use a portable grill on a boat unless it is secured and sure to not have a risk of tipping over.
The other class of boat grill are the type that actually mount to your boat to become a more permanent fixture.  These grills are less portable but totally necessary if you regularly navigate bumpy or choppy waters.
Which type is the best boat grill for you depends on quite a few factors.  Most notably, the type of boat you have, what your boat rides look like, and how many people you typically cook for.  We'll cover grills that fall into both of those categories.
Best Boat Grill Reviews
Magma Catalina II Gourmet Series Gas Grill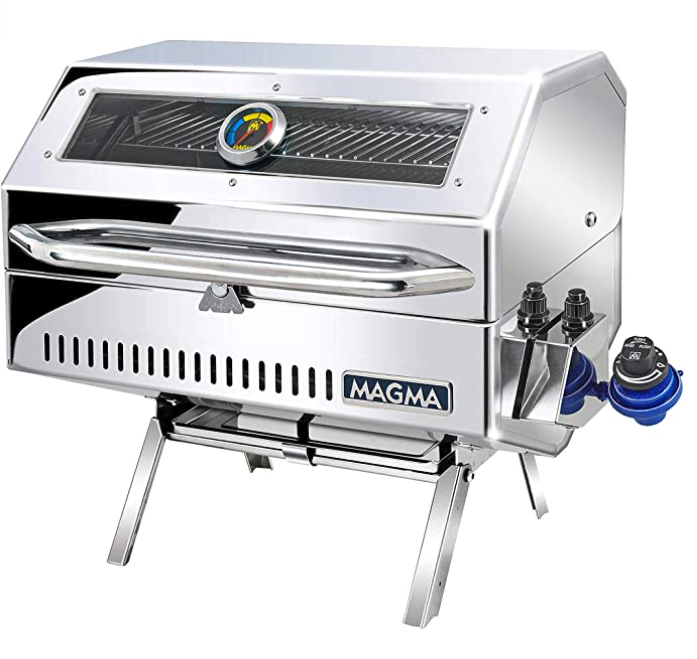 Our top choice for best boat grill goes to the Magma Catalina II Gas Grill.  It's a fantastic grill that comes with everything you want to see to take her out on the boat.
It's completely constructed of marine grade stainless steel that's been mirror polished and has a tempered glass viewing window.  A full double lined lower shell also adds a layer of durability and insulation to keep heat distributing evenly throughout the cooking chamber.
The polished steel holds up beautifully to the spray of sea water, and won't rust or corrode over time.  At the end of each ride or cook, all you need to do is wipe it down – that's it!
It comes pre equipped with fold away legs, and is light weight which makes it the ideal portable grill.  In addition, you can purchase a mounting kit separately if you'd like to affix it to your boat.  The mounting kit is reliable and incredibly easy to install.
The Newport II has 162 square inches of cooking surface area, which isn't a ton if you're comparing to a full size grill.  But as far as boat grills go, it's a generous enough amount of space to work with and will definitely get the job done.
Safety is always on my mind when I'm out on the boat.  Especially when you start to combine a boat and the fire of a grill – it's easy to see how some would get nervous.  The infrared grill technology in the Newport II however makes this grill one of the safest boat grills on the market.
In short, infrared technology ensures that your flame never reaches the grill grates and completely eliminates the possibility of flare ups from happening.  Just one less safety issue to worry about.
Last but not least, this grill is fueled by propane – specifically the lightweight 1 pound tanks.
Things We Like
Incredibly lightweight – yet very sturdy
Polished stainless steel exterior holds up to sea spray and is easy to clean
Can be used as a table top grill with fold away legs or can attach to your boat with a mounting kit
Relies on infrared technology which eliminates the possibility of flare ups
Fueled by portable 1 pound propane tanks
Made in the USA
Things We Don't
Mounting kit must be purchased separately
Magma Marine Kettle Gas Grill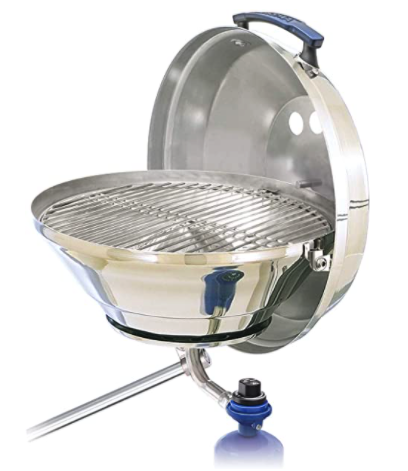 Magma has another contender for best boat grill with the Magma Marine Kettle Gas Grill.  Instead of a barrel style design, it has a kettle design that's akin to the look of some classic charcoal grills.
Even though it has that look, it's a propane grill that's fueled by portable 1 pound fuel tanks.  The exterior is polished stainless steel that's marine grade, and it comes with a wind baffle and easy to remove grease pan which comes in super handy when it's time to clean up.
The cooking surface is circular and comes in 13 inch, 15 inch, and 17 inch diameter options depending on how much cooking surface area you need.
13 inch diameter grill – 132 square inches of cooking surface area
15 inch diameter grill – 176 square inches of cooking surface area
17 inch diameter grill – 226 square inches of cooking surface area
A swiveling control valve was put in place on this grill to ensure that you can place the fuel valve wherever it's the most safe and convenient.  An indexed bowl and lid can also be rotated to act as a windshield in gusty wind conditions – making this an ideal grill for your boat.
The mounting kit for this grill is sold separately, so that's something to keep in mind.
Things We Like
Offered in 3 different sizes depending on what your needs are
Grease pan is easy to remove for hassle free cleanup
Marine grade polished stainless steel
Wind baffle and indexed bowl/lid design can be rotated to shield from gusts
Swiveling control valve to place fuel tank wherever is safest
Cool to touch handle
Things We Don't
Mounting kit sold at an extra cost
This grill is really only effective as a grill that's mounted to your boat (i.e. it's not a portable tabletop grill)
Weber Q1000 Liquid Propane Grill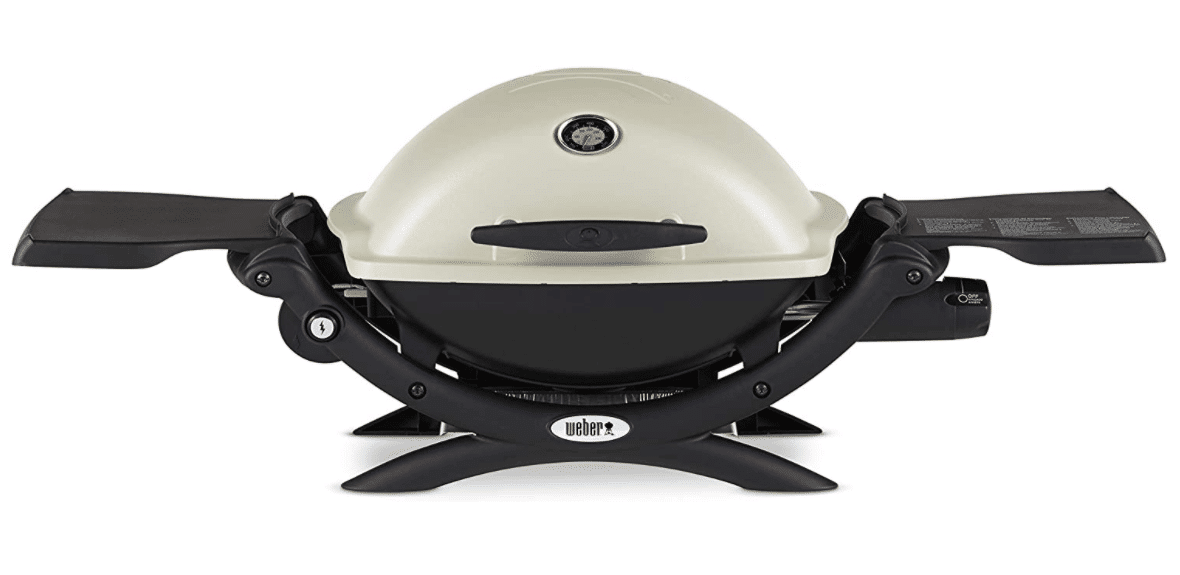 Switching gears for a moment, the Weber Q1000 Liquid Propane Grill is a portable grill that doesn't mount to your boat, but nonetheless is a great option for on boat grilling.  It's also a great budget grill and gets our vote for best boat grill for the money.
It has one high quality stainless steel burner (8500 BTUs) that's fueled by 1 pound propane tanks and can get up to temperature in as little as 10 minutes.  At around 25 pounds, it's an ideal grill to take with you on the go and can be used on many situations in addition to boating.
Build wise, the cooking grates are porcelain enameled cast iron and the body and lid are a cast aluminum.  These materials are sturdy, but you have to be careful to clean and wipe them after each use – otherwise the shell might be prone to rusting over time.
It has 189 square inches of cooking surface area, which is a generous amount for the boat and definitely enough to feed your passengers quickly.
One of my personal favorite features of this grill is that you can purchase a griddle top separately to convert this grill into a griddle.  This adds versatility and lets you cook breakfast, lunch, and dinner all with the same cooker!
Things We Like
189 square inches of cooking surface area
Great price point
Very lightweight and portable – ideal for any type of on the go grilling
Can convert to a griddle
Weber is a trusted brand in the grilling industry
Quick ignition at the push of a button
Things We Don't
No mounting kit option
You have to take extra care with the cast aluminum lid and body
Extreme Marine Products Cuisinart Grill Modified for Pontoon Boat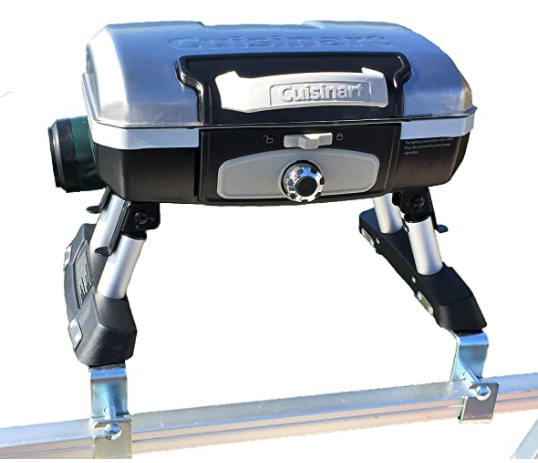 The Extreme Marine Products Cuisinart Pontoon Boat Mod is a fantastic grill if you're looking for a budget friendly choice.  Really this grill is the result of a very straightforward, yet simple concept.
They've taken the Cuisinart Petit Grill and modified it with a pontoon boat mount.  It's very important to note here that the mounting kit is designed to mount onto 1.25″ open square pontoon boat rails – not the circular rails you'd find on many other boats.
What's great about this product is that the mounting brackets are included in the cost, and there's no tools needed for a secure installation – unlike many of the other boat grill mounts you'll find out there.
As far as the grilling itself goes, the Cuisinart Petit Grill has 145 square inches of cooking surface area, and is fueled by the standard 1 pound propane tank that's ideal for on the go grilling.  It's not the most cooking surface area, but it's enough to handle about 6 medium sized burgers at once.
Things We Like
Great price
Mounting brackets included
No tools required to install the brackets – very easy installation
Cuisinart Petit is a great grill that cooks thoroughly and evenly
Things We Don't
Only mounts to 1.25″ open square pontoon boat rails (great if that fits your needs, but not helpful if it doesn't)
145 square inches of cooking surface area is on the smaller side
Giantex Propane Tabletop Gas Grill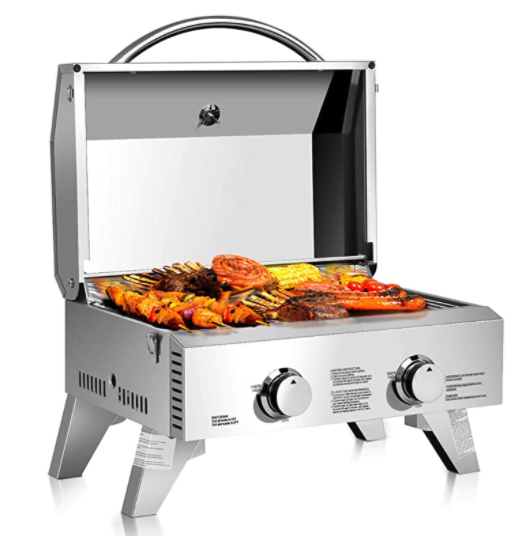 If a tabletop grill for your boat is more your speed, then the Giantex Propane Tabletop Grill is worthy of your consideration.  Out of all of the best boat grill choices on our list, this one has the most cooking surface area with 266 square inches to cook on.
What's great is that even though you get a generous amount of cooking surface area, the product itself is still extremely lightweight and portable.  At only 26 pounds, it's really easy to take with you on the go – whether that's the boat or the camp site.  The foldable legs are sturdy for table top grilling – although this is not an ideal choice for boat grilling on choppy waters.
All of the surfaces are made of stainless steel and will stand up to sea spray – and are also very easy to wipe down when your day on the water is finished.
Two powerful burners (10,000 BTUs each) are ignited with the press of a button, and each is independently adjustable.  Within minutes your grill will be up to a cooking heat and you'll be well on your way to happy, full bellied passengers.
Last but not least, a concealed pull-out drip pan can be easily removed when it's time to clean up.  It's a great feature that minimizes the amount of time and hassle you have to spend on the clean up process.
Things We Like
266 square inches of cooking surface area to work with
Lightweight, portable, yet quite sturdy to cook on when placed on a flat surface
Powerful burners that are independently adjustable
Quick start ignition system
Removable grease pan
Things We Don't
Burners can run really hot, you need to make sure your heat adjustors are on the right setting
Not great for use in bumpy or choppy waters as a tabletop grill
Cuisinart CGG-180 Petit Gourmet Portable Gas Grill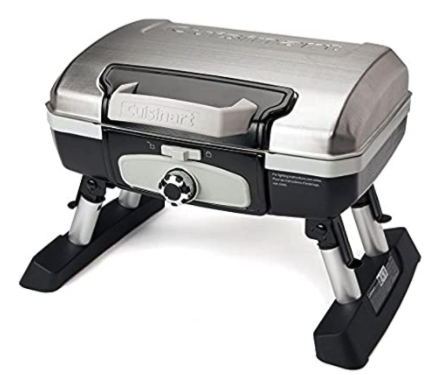 The Cuisinart CGG-180 Petit Gourmet Portable Gas Grill is another great choice for boat grilling.  This is Cuisinart's highest quality petit series grill, and it features 160 square inches of cooking surface area (enough for 8 burgers at once) on porcelain enameled grates.
A unique feature of this grill is that it can convert between a freestanding and a table top grill easily thanks to a highly adjustable leg design.  The freestanding style of grilling is especially nice to use if you're fortunate enough to be grilling on your boat while the waters are calm.
The entire grill also weighs only 17 pounds, making it the most lightweight grill of any best boat grill choice on this list.  It's an ideal grilling companion to take with you in any on the go situation.  The footprint is also extremely small, so it can be stored while taking up minimal space.
A 1 pound propane tank fuels this grill, which has a 5,500 BTU burner, a twist to start electric ignition and an easy to read temperature gauge.  All of those features make the ease of use factor really high here.
Things We Like
Great price, excellent budget boat grill
Unique design allows you to convert between freestanding and tabletop grill
Weighs only 17 pounds, highly portable
Tiny footprint when all folded up
160 square inches of cooking surface area is great considering the size of this grill
Things We Don't
The burner isn't particularly strong
Due to the light weight, it's not an ideal choice for grilling in choppy waters
Best Boat Grill – Buying Tips
When it comes to finding the best boat grill for you, there are a lot of factors to consider.  Here are a few of the top factors and features you should pay attention to when you compare your top choices.
Mounted or Tabletop
Does your ideal boat grill mount to your boat?  Or is it just a portable tabletop grill that comes with you from time to time on your voyages.
Much of this comes down to personal preference, but you should definitely consider how choppy your boat rides typically to help answer this question.
If you're the type of boater who likes to ride out to a cove and anchor down for a float, then either type of boat grill can work great for you.
But on the other hand, offshore boaters or anybody who regularly navigates bumpy waters should strongly consider a mounted grill.  Even with seemingly minor bumps, a tabletop grill can turn unsafe very quickly if it slides around or falls over while passengers are on your running boat.
Cooking Surface Area and Grill Size
How many people will you typically cook for on the boat?  Having the right amount of cooking surface area can make all of the difference.  As fun as grilling is, you don't want to spend all of your boat time manning the grill.  With that in mind, make sure you purchase a grill with enough cooking area to reasonably accommodate a full boat.
On a similar note, you should think about the size of the grill, and how it will fit into your boat.  Going with a tabletop grill?  Make sure you have a flat surface on your boat that can safely handle it.  Prefer a mounted boat grill?  Think about how much space it will take up and where it will go on your boat.  Ideally in a spot that's equally easy to access but also won't take up any seating or prime viewing area on your boat.
Price
Obviously price is a large consideration in any purchase.  For the best boat grill, it's reasonable to expect to pay anywhere between $150 and $6oo depending on the type of grill and quality you want to go for.  You can find great grills at all price points, but the more expensive ones will typically have more boat specific features and higher quality builds.
One note I would add is that you should add all of the costs associated with a grill into the price when making a comparison.  Many of the grills on this list require a separate purchase of a mounting kit for example – this cost should be added to the cost of the grill itself when comparing to other products.
Weight
The last thing you want is an extremely heavy grill that weighs down your boat.  Especially if you're going with a portable table top grill for your boat, pay attention to how much it weighs.  After all, you're the one who's going to have to lug it around.
Ideally, the best boat grill will weigh 30 pounds or less.  If you're getting a mounted grill, you can get away with something a little heavier since you won't have to transport it after it gets installed to your boat.
Warranty
Last but not least, you should do some research to see if the grill you want to acquire is covered by a warranty.
After all, protecting your purchase never hurts.  Not only that – in our extensive experience with grills, we've found that the products which are covered by the best warranties are typically covered by the most generous warranties.
It makes sense if you think about it.  If you made a quality product, you wouldn't be afraid to put your money where your mouth is, right?
Final Thoughts
I hope this list and guide to the best boat grill has helped to point you in the right direction in your search!  Buying a grill for your boat is a fun process, and if you end up with the right one it will lead to a lifetime of great memories out on the water.
Just remember to weigh all of the factors we outlined above, and you'll be in great shape.
Which grill did you end up with?  We'd love to hear about it – reach out to us in the comments section below!