When I first got into grilling and cooking steaks, I had no idea how many different types of meats there were out there in the world.  I quickly learned that not only can you enhance your steak experience by trying different cuts (like a NY strip or a ribeye), but you can elevate your game by choosing meat from certain types of cattle.
Not all beef is created equal.  When it comes to the best of the best, there's a pretty unanimous consensus that Japanese Wagyu is the gold standard in beef.  The catch?  It's very rare and difficult at times to get ahold of, not to mention it's pretty expensive.
Enter Holy Grail Steak Co.  They are an online purveyor of rare beef and their product offering features some of the rarest and most spectacular steaks you will ever find.  And while their cuts of meat aren't priced at bargain bin levels (I'd be concerned if they were!), the price of the beef is pretty reasonable for what you get in return.
Why I Decided to Try Holy Grail Steak Co.
Even though Japanese Wagyu might sound like a pretty specific type of beef, the category includes quite a few sub breeds which are raised in different regions of Japan.
One type of wagyu in particular, Kobe Beef, is regarded by many best of the best within the already elite category of Wagyu.  This is the type of stuff you would have to spend a fortune on to get some at a steakhouse or fine dining establishment.
I was fascinated by Kobe Beef and wanted to know why it was so special – so I made it my mission to acquire some.
Turns out, it's pretty easy thanks to Holy Grail Steak Co.  I decided to dip my toes into Kobe Beef with their 8 oz A5 Kobe Strip Hibachi Steak.
Spoiler alert.  It the experience and beef were good that a few months later I came back for seconds and ordered an A5 Kobe Ribeye.  Here is my experience ordering outstanding quality beef online from Holy Grail Steak.
What to Expect Ordering Online From Holy Grail Steak
I have ordered beef online before so I was comfortable with the process generally, but for those who haven't done it before I can understand why it might make you a little nervous.
Rest assured, Holy Grail Steak does an outstanding job of getting your beef to you quickly and safely.  All of their products are vacuum sealed and shipped frozen.  They pack a cooler with your sealed meat and plenty of dry ice to make the journey to your doorstep.  Both of the times I ordered from Holy Grail my food arrived frozen solid, which is a good thing.
Their user experience on their website is what you'd expect from a quality online retailer nowadays.  It's easy to navigate and select from their wide offering of food products.  After you've chosen your products you go through a pretty standard check out process.
How Shipping Works
Shipping wise, you have to choose the date you want your beef delivered (deliveries are Tuesdays-Fridays).  Make sure to choose a date that somebody will be available to take the shipment inside because you don't want your cooler sitting outdoors all day.  Unless you are ordering during peak season, there is typically availability to deliver beef the week after your order.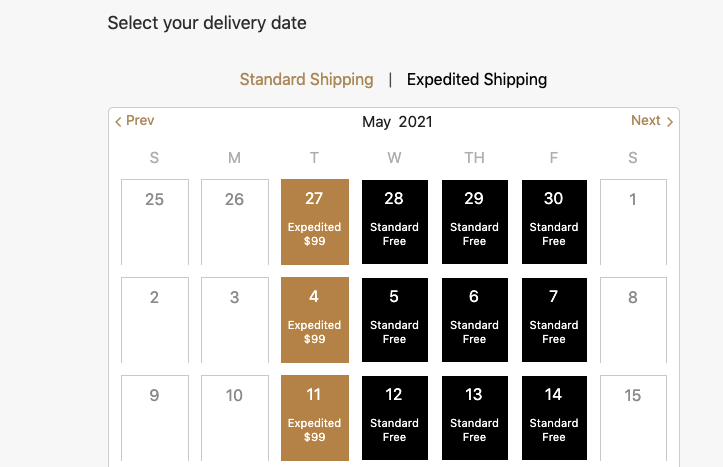 The Arrival
All of your beef is shipped in a sharp, clean looking box.  The box itself is coated with insulation and contains a cooler.  Inside the cooler you'll find the good stuff wrapped up alongside a little bit of dry ice (there is a chance the ice has evaporated by the time delivery is made but it should still be very cold inside the cooler).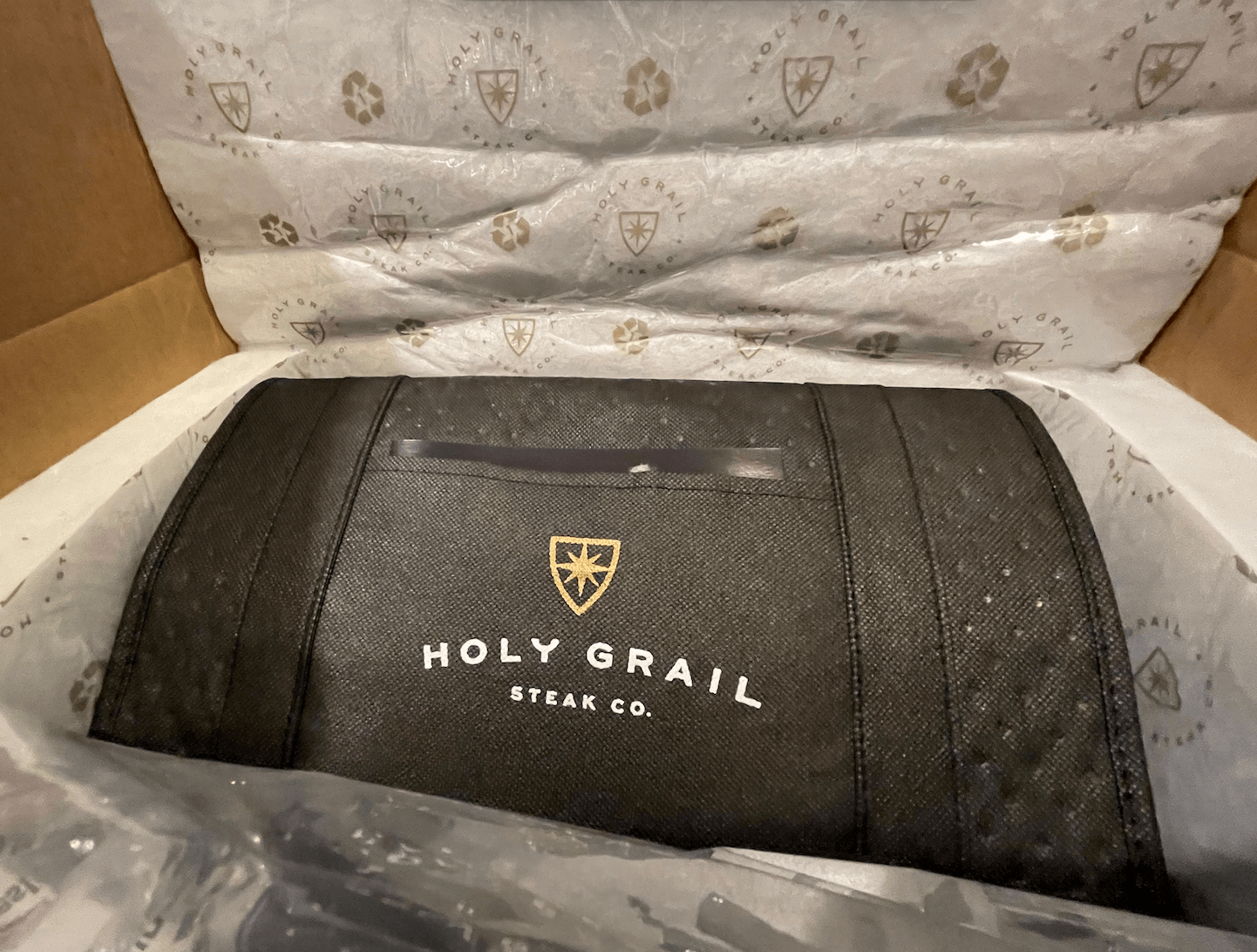 Simply unzip your cooler and transfer your meat to the fridge if you plan to cook it soon or to the freezer if you are saving it for later.  The cooler is reusable so be sure to hang on to it and put it to good use in the future!
Here's a look at what the meat looks like upon arrival when it's frozen and vacuum sealed:
A5 Kobe Hibachi Strip Steak
(Apologies for the sub-par photo here, I did not do a good job taking photos on my first order!)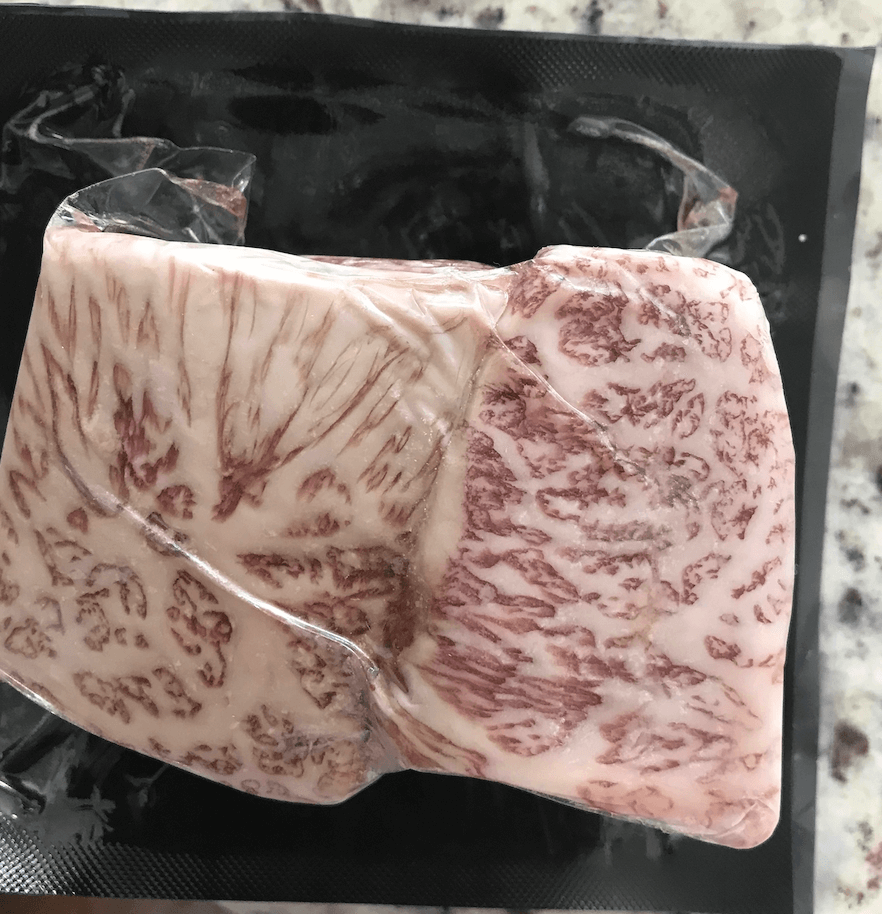 A5 Kobe Ribeye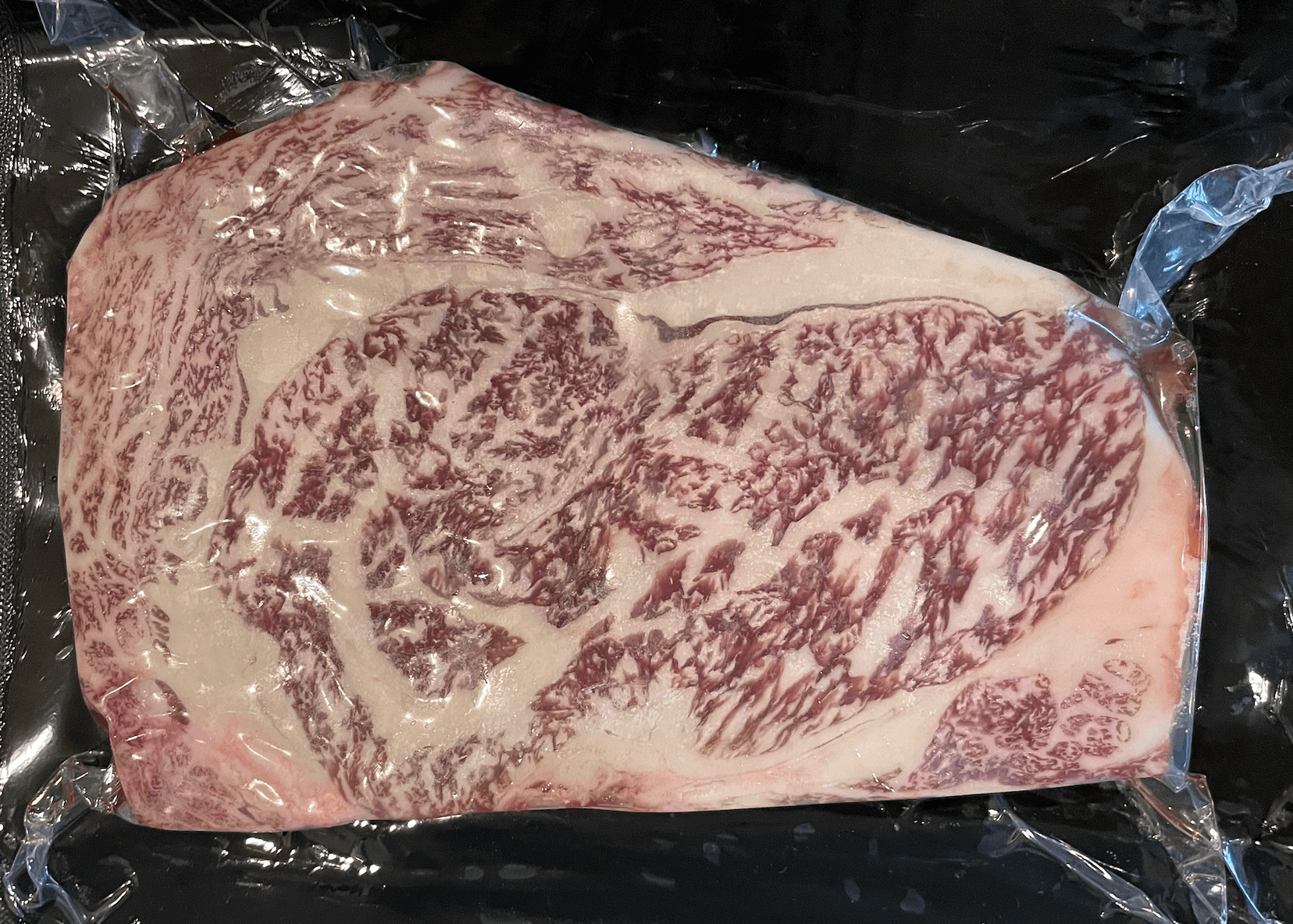 The cuts were as beautiful, if not more beautiful than advertised in person.  The marbling was just spectacular and I could not wait to cook and taste both of these cuts.
Tips for Cooking Kobe Beef From Holy Grail Steak
I love firing up the grill as much as the next person, but high quality Japanese Wagyu is one of the few types of beef that I would NOT recommend cooking on the grill.
The reason is because the beef flavor is so unbelievably good and there is so much fat marbling on the beef that you don't need (or really want) to get too many extra flavors absorbing into the beef.  Specifically with the grill we want to avoid smoke flavor penetrating into the steak.
So I'd recommend cooking this type of beef on a skillet (cast iron or quality stainless steel work great!) or if you happen to own a flat top grill or griddle that works really well too.
Seasoning wise, I just use a pinch of kosher salt and a pinch of coarse black pepper.  You really don't want to overdo the seasoning here and you can always add more at the end if you want to.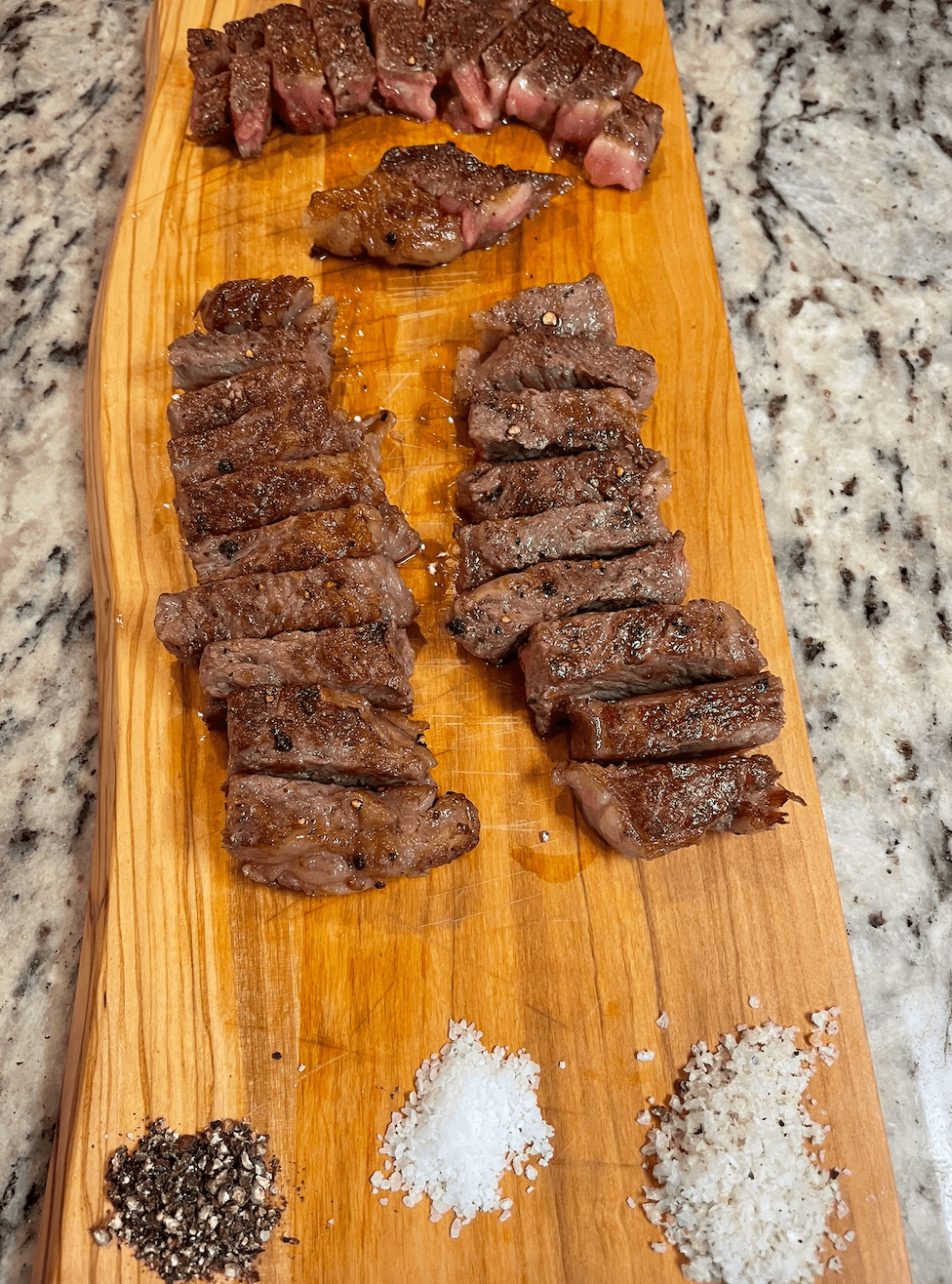 Instead of lining my pan with butter or olive oil I just cut off a small piece of fat from the steak and slid it across the pan.  The fat melts pretty quickly and provides a perfect base in the pan to sear your steak.
I usually am good for somewhere in between medium rare and medium with my steak doneness but I went with a true medium rare with each of these cuts.  After about 4 minutes of searing per side on high heat I removed the steak from the pan and then sliced and served.  That's it!
I'm not going to try to attempt to describe how good this beef was because my description will inevitably fall short.  But I will say that this beef lived up to lofty expectations and is definitely in a class of its own – felt way different than any steak I had eaten before.
Would I have this steak every week?  No, and a large part of that is because of how expensive it is.  But I will definitely be ordering it again for special occasions and celebrations – it's a perfect treat yourself steak.
Pros and Cons of Holy Grail Steak Co.
Things I Like
Excellent selection of hard to find and rare cuts of meat.  You simply aren't going to find the kind of selection Holy Grail Steak has at many other online retailers.  They are the only online purveyor of authentic Kobe Beef.  Even within the Japanese Wagyu category they offer Kobe, Hokkaido, Sendai, HidaGyu, MiyazakiGyu, Sanuki Olive, and a handful of others that can be extremely hard to get ahold of.
Wide variety of other cuts of meats offered.  Even though I'd say Holy Grail is best known for their rarer cuts of beef, they also offer other quality meats such as Kurobuta pork, American wagyu, Australian wagyu, prime black angus beef, Sonoma lamb, and more.  I have not personally tried their other products but have heard second hand that they are really good (and much more affordable).
Top notch user experience.  Everything from ordering on their website, to receiving your shipment, to the quality of the meats you order is top of the line.  Holy Grail does not miss a beat when it comes to the process of delivering high quality meats to your doorstep.
Things I Don't
Availability of rare cuts can be sporadic.  It's hard to really blame Holy Grail Steak for this because their products are in demand and they can only source a certain amount of each type of beef.  With that being said you might need to check in every so often if there is a particular type of wagyu you want to try to make sure you don't miss out on releases.
Price.  Again, this is not Holy Grail's fault but you can't get around the fact that a lot of their beef is pretty expensive.  However, when compared to the price you'd pay to acquire the same type of beef elsewhere, the prices are relatively good.
What Can You Get at Holy Grail Steak?
Personally I have only ordered Kobe Beef from Holy Grail, but that is far from the only type of meat they offer.  Here is a quick rundown of what you can get ahold of at Holy Grail Steak Co.
Beef
Japanese Wagyu
American Wagyu
Australian Wagyu
Prime Black Angus
Grass-fed Prime
Various steak flights and gifts
Burgers
Pork
Lamb
Final Verdict
As far as I'm concerned, Holy Grail Steak Co. is one of the best places to buy beef online, and it's because they offer such rare and unique beef that you just can't really find other places.  And to be able to enjoy cuts of meat like that at home is pretty special.
The "downsides" of Holy Grail are all things that to me aren't really in their control and just kind of come with the territory of dealing in high end meats.
Nobody disputes that the prices are higher than your average grocery store steak, and availability of certain cuts of beef can be spotty.  But that's just kind of how it works when we are talking about the best of the best and the rarest of the rarest.
If you are on the edge about trying one of Holy Grail Steak's rare cuts of beef solely because of price, I'd encourage you to give it a shot at least one time in your life for a celebration or some other big life occasion!