This content contains affiliate links.  If you make a purchase after clicking a link on this page, we might receive a commission at no cost to you.
(The above photo is of a beautiful Picanha steak that Certified Piedmontese was kind enough to send to me!)
Steak is a meal that you pretty much cannot go wrong with. There are multiple cuts of steak and you can select whatever you prefer. There are special ways to cook some of the different cuts and there are even cultural differences for preparing them.
One specialty steak worth taking a closer look at is the picanha steak. This cut of beef is very popular in Brazil but it is flavorful and delicious. In the U.S. you might know of this steak as a rump cap. You might even be enjoying it when you eat things like round steak or the loin, it's just cut differently by the butcher.
You may have never heard of picanha steak. Or maybe you heard the name and it piqued your curiosity! That's why we're here! In this guide, we will share with you just what picanha steak is and provide you with a few different ways for how you can cook it as well.
By the time we're finished, you will be well prepared and ready to cook this delicious steak at home!
What is Picanha Steak?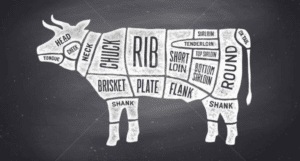 Picanha steak is the most popular in Brazil. In fact, in Brazil is one of the favorite cuts of meat to cook. This cut comes straight from the top of the round of the cow. It has a layer of fat over it and that fat is left intact until the steak is cooked and served. In Brazil, the fat is left on the steak. In the U.S. the fat is often removed.
You may also know of this cut as a top sirloin cap or a rump cap. Many butchers cut it differently based on the preferences of the location and culture for which it is being cut. When you hear these names, you should know that the top sirloin as well as the tri tip are not the same as the picanha.
Tri tip is often considered to the most similar or perhaps the best substitute but it truly is a different cut. The flavor is pretty similar to sirloin. The fat on the meat makes it incredibly tender and juicy.
Picanha is highly-sought after because it has a lot of natural flavor. When you look at the meat, there is very little fat inside of the meat itself.
This meat can be challenging to cook. Since there is little fat in the meat, it can be challenging to cook it just right and not find yourself with a tough piece of steak when you're finished. The good news is if you know how to cook it properly you probably won't mess it up!
You can cook picanha on the grill. This is our preferred method. You can also cook it in the oven using a slow-roast method. If you do cook it in the oven, we recommend searing it first for the best results and look. You could also use your stovetop, griddle, or flat top grill as well.
We will get into each of these methods individually for you.
How to Cook Picanha Steak on the Grill
If you want the very best option, we recommend that you cook this steak on the grill. It is the most flavorful way to cook it and it really doesn't take all that long to cook to perfection. With the grill, you get the best flavor plus you get those grill marks and color that you simply can't mimic with other cooking forms.
There are different methods to follow when you use picanha steak for skewers rather than using them for steaks. Both of these are cooking on the grill for the best results but we will share the differences shortly.
Steak Grilling Method
If you have a picanha cut of meat, you may need to slice it into steaks. It all depends on what you ordered from the butcher. As you are trimming, leave the fat cap in place. This is where the flavor comes from during cooking. You can always trim the fat off when the cooking is completed.
This meat requires very little seasoning. It is flavorful on its own. Season it as you like but we recommend just a light layer of salt and pepper. You can season after you've cut the steaks for the easiest route. You can score the fat cap if you prefer.
To cut your steaks, be sure to slice with the grain. This cuts your steaks properly to prepare for cutting into your steak when they are finished and you are ready to eat them!
We are going to walk you through a basic grilling process but be aware that you can also prepare these sous vide or with a reverse-sear method if you prefer.
Here are our grilling instructions for a steak cut:
Oil your grill grates. You can rub them with the fat cap or you can use a light oil. This will help prevent sticking
Heat up your grill as appropriate. You will want it set to a high temperature, probably somewhere near 475 – 500 degrees.
Start by cooking the steaks with the fat side up. You will let it cook to a seared color. Be careful not to overcook it. You should plan to turn the steaks every 5-7 minutes.
Once the bottom is cooked, turn it and cook each of the sides for similar time frames.
Finally, finish the cooking with the fat side down. You will want to move it away from the direct flame.
Let steaks rest for about 10 minutes before serving them.
Again, be careful not to overcook. Even if you prefer well-done steak, we recommend not cooking past medium doneness. This is because the steak is meant to be lightly cooked and juicy. This is what makes it so delicious and flavorful!
Skewer Grilling Method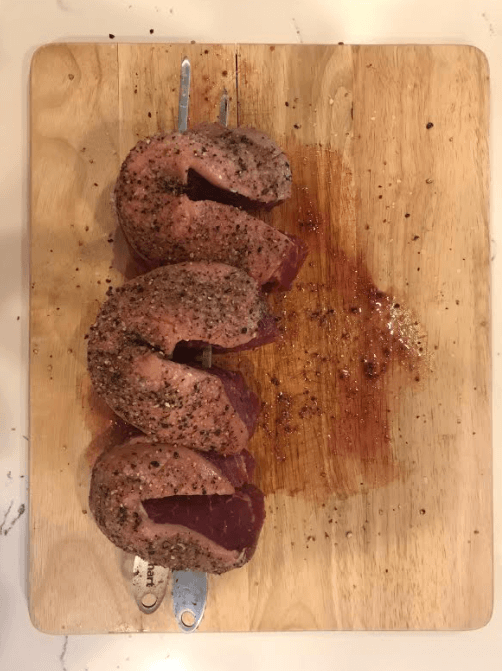 Many people like to cook picanha on a skewer. You can skewer just the picanha or you can skew it with your choice of vegetables and such.
Use a long, fully metal skewer capable of placement on a grill for this task. If you are going to skewer the picanha, it will need to be cut differently than you cut the steaks.
Skewering picanha is normal and it is often cut in large pieces and then folded and skewered for cooking. When you skewer picanha, you are most likely just skewering the meat for cooking.
To cut for skewering, take the picanha and cut it into 3 equally-sized pieces (or as close as you can get). You will cut against the grain for this method – and any chef's knife will do. We still recommend that you score the fat to really let it soak into the meat.
You can add your seasoning before you cut it or after you skewer it. We recommend waiting until you skewer it so you're not rubbing off any seasoning while cutting. Just like with the steaks, we recommend a simple salt and pepper for seasoning purposes.
Take the cut slices and fold each section in half. You will fold with the fat side facing out. Once folded, place each piece on the skewer, going through the fatty exterior layer from your fold. Season if needed.
Prepare your grill grates with a light amount of oil to prevent sticking. You will preheat your grill to high heat of 450°F. When you are ready to place the skewers on the grill, you will want to reduce the heat of the burners nearest the steak or turn off the front burners and leave only the back burners on while placing the skewers near the front.
Place the skewers on the grill away from the direct high heat. Close the lid and cook the skewers for about 20-25 minutes total. You will need to flip the skewers every 5-7 minutes to allow them to cook evenly. There is no special directional placement for skewers.
Cook to desired doneness and remove from the grill. Let the skewers rest for about 10 minutes before serving. If you want to slice them, you will slice against the grain for serving purposes.
Again, we recommend only cooking to about medium rare or medium at the maximum. If you prefer well-done steaks, give medium a try and see how you like it! Medium rare is 128 to 130 degrees internally measured with a probe thermometer.
Here's a great video outlining the process for preparing delicious picanha skewers:
Expert Tip: Many people think they can just cut right into the meat without resting it. They assume that it's still rested before it is served so it's sufficient. The trick is to rest the meat for 5-10 minutes BEFORE you cut into it.
The resting period is one of the most important steps in the process. It allows the muscle fibers in the meat to fully relax, which means your steak will be juicier, more tender, and more flavorful when you serve it.
In Brazil, picanha is served with the fat but you can cut it off if you prefer not to have fat on the meat you are eating. Just don't cut it off until you're serving it!
Slow-Roasting Picanha in the Oven
To really get the most of the flavor, we recommend a slow-roast method if you cook picanha in the oven. You can also sear and then bake as well if you like that grilling look and want to maintain the exterior appearance of the steak.
This process will walk you through how you can slow roast your picanha and have a delicious meal. While grilling only takes about 30 minutes of cooking time, this process is more likely to take 2-3 hours
This method does include some pre-searing steps because we really feel like this is the best way to draw out the flavor and get the juicy, perfectly cooked picanha you're after. You won't need to cut the steak in this method until you're ready to serve it.
You can roast potatoes with it as well if you want to. They make a really nice side dish to accompany the meat.
Here are our steps for slow-roasting picanha in the oven.
Prepare your beef ahead with seasoning or marinade to your tastes. Cooking in the oven, you may want to use a marinade to help keep it tender and juicy but picanha does not require heavy seasoning as the fat makes it naturally juicy and flavorful.
Let the picanha come to room temperature.
Heat a pan to medium heat. If you did not use a marinade, we recommend adding some butter or oil to your pan. You won't need a lot just enough for moisture.
Place the picanha fat side down in the frying pan and allow it to cook at medium heat for about 20 minutes, depending on the size of the meat cut.
Flip the beef over and let it sear on the other side for 2-3 minutes or until it turns a slight golden brown in color.
Transfer the meat into a baking pan and pour the juices from the frying pan over it. You should place it in the baking pan fat side up.
Preheat your oven to 250 degrees.
Bake picanha in the oven at this temperature for 1-2 hours depending on the size of the meat cut. It will probably be somewhere between 2-4 pounds but could vary. Start with 1 hours and check it every 20 minutes after that.
Cook to an internal temperature of 130-140 degrees.
Remove from the oven and allow to rest 5-10 minutes before you cut into the meat. Cut against the grain to serve.
As with grilled picanha, we recommend cooking to a doneness of no more than medium. This is the best temperature to maintain the juicy flavors this meat is loved for.
Grilled Picanha Steak Skewers
A classic recipe for tasty and beefy grilled picanha
Ingredients  
1

Picanha steak

3-4 lbs

1

tbsp

kosher salt

1

tbsp

ground black pepper

1

tbsp

olive oil

to lightly brush beef
Instructions 
Slice Picanha steak into 1 inch thick slices, cutting against the grain

Score the fat with your knife, about a quarter of an inch deep

Fold each section of beef in half, with the fat side facing out. Once folded, place each piece on the skewer, poking through the fatty exterior of the beef

Brush skewers lightly with olive oil then sprinkle salt and pepper mixture on top to season the beef

Preheat grill to 450°F – if possible create two temperature zones on your grill

Place skewers on grill grates, ideally over the indirect heat side of the grill. If you have to place the skewers directly over a burner just be sure to check on your beef every couple of minutes to ensure grill does not flare

Close the lid and cook the skewers for about 20 minutes, flipping every 5-7 minutes

Remove skewers from grill and allow them to rest for about 10 minutes, then serve and enjoy!
Nutrition
Final Thoughts
No matter which way you slice it, picanha steak is a treat and a fantastic way to get some tasty beef on your dinner plate.  And if you cook it right, the flavor can stand up to some of the most popular steak cuts like NY Strip and Ribeye.
How do you prefer to cook it?  On the grill, with skewers, or roasted and why?  We'd love to hear from you in the comments section below.