This content contains affiliate links.  If you make a purchase after clicking a link on this page, we might receive a commission at no cost to you.
The jerky making process is made much simpler with one key piece of equipment.  The best food dehydrator for jerky is a must have when it comes to grilling accessories.  They practically do all of the work for you!
Not only that, but you aren't just limited to making jerky with your dehydrator.  It's also the best way to make homemade fruit snacks, veggie snacks, herbs, and even dog treats.
Why Get a Food Dehydrator for Jerky?
If the case for why you should have the best food dehydrator for jerky isn't so obvious to you, here are a few reasons why you should strongly consider acquiring one.
First, a dehydrator for your home will give you complete control over your snacks.  You can customize the recipes and flavors you use to make the ultimate homemade treats.   You decide which ingredients you use.  Want to try out a sweet and spicy jerky?  Go for it!  Want something a little beefier?  All you have to do is prepare it your way.
On top of all of that, making your own snacks at home with a food dehydrator has its nutritional benefits too.  Store bought jerky and snacks almost always have preservatives and extra components from when the food gets processed.  With the best food dehydrator for jerky, you can be sure that your ingredients are fresh and that no preservatives are added.
In addition to being delicious and nutritious, beef jerky is a practical snack too.  Jerky is great because it's lightweight and keeps for an incredibly long time.  It also takes up almost no space, so you don't have to dedicate an entire section of your pantry to store it.
Last but not least, store bought jerky is expensive!  A lot goes into the manufacturing process, which costs money that you as the consumer eventually pay for.  If you're a jerky fanatic you'll save a little cash long term by making your own at home.
Best Dehydrator for Jerky – Our Reviews
COSORI Premium Food Dehydrator Machine
Top Dehydrator for Jerky
When it comes to all around quality, it's hard to argue with the COSORI Premium Food Dehydrator Machine as our top pick for best dehydrator for jerky.
Designed in the USA, this unit comes with 6 stainless steel shelves, a mesh screen, and a fruit roll sheet all for you to make your delicious snacks on.  There's also a glass window built into the front side to let you check on the progress of your food while it's in process.
The COSORI is also super easy and intuitive to use.  A digital control panel allows you to easily set your timer in 30 minute increments for up to 48 hours – so long snack making sessions are very possible with this unit.  The temperature setting can be precisely set between 95-165°F, which is a perfect temperature range for making jerky.
You also won't hear this dehydrator while it gets to work.  One of my least favorite things in the kitchen is when appliances are annoyingly loud – and that's definitely not the case here.  In fact, the noise level remains under 50 decibels, which wouldn't even get you in trouble in a library!
Last but not least, when it's time to clean up all of the stainless steel shelves are removable and dishwasher safe.  The tray liners can also be placed on the top rack of your dishwasher for easy cleaning – you just need to make sure to remove them before the drying cycle begins.
Things We Like:
Plenty of space to work with across 6 stainless steel racks
All components are ETL listed and FDA compliant
Mesh screen and fruit roll sheet included for extra versatility
Glass viewing window on the front
Easy to use – everything from starting, to cooking, to cleaning is straightforward and intuitive
Runs quiet
Things We Don't:
Although not the most expensive, the price is higher than some other choices out there.  We think the value is still there with the COSORI though
NESCO FD-75A Snackmaster Pro
If you're on a tight budget, the Nesco Snackmaster Pro Food Dehydrator gets our pick for the best dehydrator for jerky for the money.  Frankly, I'd be surprised if you found another product with this level of quality at the offered price.
The design of this dehydrator is a little unique in that it's expandable.  Specifically, the base unit comes with 5 trays – but you can actually purchase extra trays to add more space and make more snacks at once.  The Nesco Snackmaster Pro can fit up to 7 additional trays for a total of 12.
An intuitive dehydrating system is built in to this appliance.  Basically, the air is forced down an exterior pressurized chamber.  The hot air is then forced horizontally through each individual tray for very even drying.  Thanks to this system, there's never a need to rotate your trays mid cook.
Ease of use is also great here, with a simple control station on the lid of the dehydrator.  From there, you can set your temperature between 95-160°F in 10 degree increments.
Things We Like:
Great price and excellent value for the money
Comes with 5 shelves but can be expanded to 12 total shelves
Dehydrating system ensures even drying and no need to rotate trays
Small footprint, won't take up a lot of space on your counter
Nice temperature range of 95-160°F
Things We Don't:
No built in timer.  I know it's pretty easy to use a phone timer, but I prefer to set timers on the appliances themselves
No viewing window if you're the type who likes to check on progress mid cook
Presto Dehydro Electric Food Dehydrator
If you're really on a budget, the Presto Dehydro Electric Food Dehydrator is the cheapest choice to make this best dehydrator for the jerky list.  It lacks a few of the features you'll find on other units, but it certainly can get the job done.
Food can be dried across 4 small trays, each of which is dishwasher safe.  For an extra cost, you can also acquire 4 extra trays to expand your total space to 8.  The top is see through so that you can monitor at least the top tray during the cooking process.
A bottom mounted fan and and heating element do a pretty nice job of evenly distributing hot air, which leads to consistent results for your jerky.
The knock on this dehydrator is first, that it doesn't even have an on/off switch – let alone a timer.  It turns on when you plug it in and off when you unplug it.
Second, and probably more importantly, there are no temperature settings.  This unit only runs at 165°F.  While that's fine for many jerky recipes, it's not ideal for many of the snacks you'd normally make in a dehydrator – like fruits or veggies.
So while the Presto Dehydro is definitely a cost friendly option, it comes with a few clear drawbacks that you should be sure to consider.
Things We Like:
Very inexpensive price
Simple and straightforward to use
Can purchase extra trays to expand cooking space
See through top layer to monitor your food
Things We Don't:
No on/off switch (turns on/off when you plug in/unplug)
No timer
Can't change the temperature from 165° – that's the only heat setting
Excalibur 2400 Electric Food Dehydrator
In terms of all around efficiency, the Excalibur 2400 Electric Food Dehydrator is without a doubt a top choice.  The design is simple and to the point, and lets you make a ton of jerky for the amount of space it takes up.
It comes in both 4 tray and 9 tray options.  Each tray in the design has 1 square foot of surface area to make snacks on, so the 4 tray unit has 4 total square feet and the 9 tray option has 9 total square feet of snack making space.
An adjustable thermostat lets you control your temperature anywhere from 95-165°F, so you have tons of versatility to make meat jerkys, fruit snacks, veggies, and herbs alike.
The magic of the Excalibur 2400 really comes with the fan and ventilation system, and how well they distribute hot air to each of the racks.  Compared to the other best dehydrator for jerky choices, this one does just as good of a job if not better than all of them at consistently drying your food evenly.
Things We Like:
Dries food very evenly – great fan and ventilation system
Lots of cooking area considering the dehydrator's footprint (efficient design)
Backed by a 5 year limited warranty
Ideal temperature range of 95-165°F
Made in the USA if you care about that sort of thing
Things We Don't:
More expensive than some of the other choices on this list
LEM Products Food Dehydrator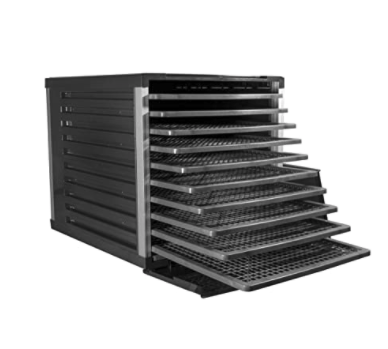 If you're running a commercial jerky operation or do some serious snack prep at home, we have a great suggestion.  The LEM Products 1153 Food Dehydrator is known for having a ton of surface area to make your snacks all at once.
In total, it has almost 16 square feet of cooking surface area to work with across 10 different racks.  That's some serious space that can easily eliminate having to make multiple batches of jerky.
On top of that, it also comes with many of the features you'd expect out of the best food dehydrator for jerky.  To name a few it has a digital timer with an automatic shut-off, a clear heat trapping door that lets you monitor your food, and a temperature range of 95-155°F.
Last but not least, it comes with a built in removable drip tray that will catch drippings off of your food during the cooking process.  At the end you can take it out, dispose of the drippings, and easily wash it.  That process is a lot easier than having to clean the inside of your dehydrator after each cook!
Things We Like:
Lots of cooking area – almost 16 square feet
Minimizes the amount of batches you have to cook
Nice temperature range
Digital timer with automatic shut off feature
Clear door to monitor your food
Things We Don't
Large sizes might be unnecessary for some
Price is on the higher end of the spectrum
Wrap Up
If you read our guide about the best cuts of meat for jerky, you know that it's entirely possible to make this delicious snack on your own at home.
I hope this article has been helpful to point you in the right direction!  Choosing the best dehydrator for jerky at home is a big decision, but you really can't go wrong with any of the models above.
Let us know about it in the comments section below.