This content contains affiliate links.  If you make a purchase after clicking a link on this page, we might receive a commission at no cost to you.
I know I'm guilty of defaulting to what's easy and convenient most of the time.  Especially with the availability of ground meat at grocery stores. But there's something just so good about a burger that you make from scratch at home and when you use a meat grinder to prepare it makes all the difference. 
Just like other grilling accessories, a meat grinder is a great way to simply enjoy fresher meat! Manually grinding your own meat and making your own burgers can be a lot of fun – and you're rewarded with higher quality and better flavor too.
In this post, we've compiled our best manual meat grinder choices to help you get started down the path of grinding at home!   .
Best Manual Meat Grinder Reviews
If you want the gold standard when it comes to the best manual meat grinder, the Huanya Meat Grinder & Sausage Stuffer gets our number one vote.  It checks all of the boxes you want to see when it comes to the best manual meat grinder, with the only downside being that it's on the expensive end of the spectrum.
Huanyu's product is made of thickened 304 stainless steel, which is strong enough to never crack under pressure or continued use.  It's designed to last for 10 or more years with regular use without having to replace any parts.
A steel clip and suction cup help to fasten the grinder to your work surface, so all you need to worry about is the actual grinding with the crank.
Speaking of the crank, it's designed with an incredibly comfortable handle and smooth mechanism.  All of this makes the grinding process as easy and non labor intensive as possible.  That's a big plus when it comes to manual meat grinding.
Things We Like:
Heavy duty – stainless steel everything, with a thickened 304 stainless steel body.  The material is anti rusting and built to last for a decade or more.
Versatility – not only can you grind meat, you can also very easily make sausage with all needed accessories included.
Suction cup base – instead of a clamp-on mechanism which has potential to damage your counters, the quality suction cup base secures the unit to your workspace.
Works for any kind of meat – it's really a great unit for all sorts of applications.  You can even crush bones if your needs call for that!
Things We Don't:
Price – this is by far the most expensive product on our list.  With that being said, the quality is definitely there.
Top Budget Choice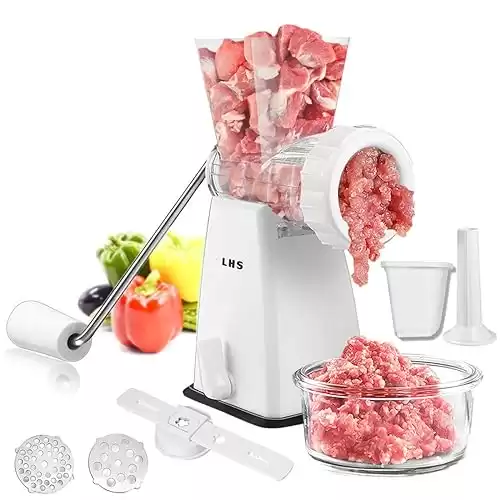 Our runner up goes to the LHS Manual Meat Grinder. At an extremely reasonable price point, this grinder comes with all of the features and power you need to make burgers, meatballs, and much more at home.
By default, some manual work is going to be involved when it comes to the grinders on this list.  What's important in the best manual meat grinder is how easy it makes the actual process of cranking and grinding the food.
This model is extremely easy to use.  You simply place your meat of choice into the grinder bowl and turn the hand crank.  The crank itself leverages well and is quite easy to turn.
Construction wise, it's made of heavy duty plastic and stainless steel, which provides a lightweight yet durable structure.  The blades are fully enclosed so it's also very safe to use.  A suction cup on the bottom of the unit affixes the grinder to your counter while you get to work!
Things We Like:
Ease of use – everything about the design is simple and intuitive.  The crank is easy to operate and leverages well.
Quality – the heavy duty plastic and stainless steel build mean a lightweight design that's built to last you for years.
Price point – as far as appliances go, the price here is about as good as you're going to see.
Safety – the unit is designed with safety in mind, all blades are fully enclosed and a suction base anchors the grinder while in use.
Things We Don't:
Not the best for super tough or frozen meats – some customers have had trouble with frozen meats or anything requiring a heavier duty build.  Just something to keep in mind depending on what your needs are.
If you're looking for something heavy duty that can handle just about any type of food, the LEM Stainless Steel Clamp-on Hand Grinder is a great choice and worthy of it's place on our best manual meat grinder list.
Aesthetically, it's got an old timey kind of feel to it.  Don't let that fool you though – it's more than equipped compared to modern manual meat grinders.
The finish is a shiny stainless steel that will stay that way for many years.  Stainless steel is obviously an anti-rusting material, so you don't have to worry about the durability of this grinder.
The clamp-on design means this grinder is designed to attach to almost any counter or table top.  A mechanism secures it to whichever surface is most convenient, and from there you can get to grinding.
The knife, stuffing tube, and plates are all quality stainless steel for a consistent, smooth grinding operation.  Another nice little feature, this manual meat grinder comes with 3 sausage stuffing tubes – 1/2″, 3/4″, and 7/8″ in diameter.
Things We Like:
High quality – everything is stainless steel, durable, easy to use, and built to last.
Clamping mechanism – it's versatile, attaches to almost any counter or table top, and is straight forward to use.
Wooden crank – the wooden crank is both comfortable to use and also quite durable.
Ease of use – the unit is easy to clamp, grind with, then clean after use.  It disassembles with a few simple steps for cleaning.
Things We Don't:
Price point – compared to the other products on this best manual meat grinder list, the LEM #10 is on the expensive end of the spectrum.
Similar to the LEM, the CAM2 Manual Meat Grinder features an all stainless steel construction that's anti rust and built to last.
This grinder also features a clamp-on design, which lets you secure it to any counter or table top to get the job done.  It comes with two stainless steel plates – 3/8″ and 3/16″ in diameter – along with sausage filling tubes.
The CAM2 also comes with two stainless steel blades that can be removed and sharpened, so you can easily change one out with the other when it becomes dull over time.
Another nice little feature included on this grinder is damage preventing rubber pads that protect the surface you choose to clamp on.  This prevents any scratching or damage done to your counter top where you choose to clamp the grinder.
It's also heavy duty enough to handle chicken bones if you plan on using your manual meat grinder for pet food.
Things We Like:
Quality stainless steel construction – all main components including plate, blades, and clamp are anti rust stainless steel.
Built in rubber pads – these prevent scratching and protect both the grinder and your counter tops when clamping the unit down.
Wooden crank handle – it's comfortable, easy to grip, and durable.
Easy to clean – the unit disassembles quite easily for easy cleaning.
Things We Don't:
Small hopper – the hopper on the CAM2 is pretty small, meaning you have to constantly refill it to keep momentum going during your grind.
If you're on a budget, the Lisa Enjoyment iteration gets our vote for best manual meat grinder for the money.
For a low price, you get a grinder that's capable of making delicious ground beef for burgers and sausages.  It's incredibly easy to use and doesn't require any advanced knowledge to get going.
Most of the unit is constructed with heavy duty plastic, then the blades are made of a quality stainless steel.  The suction base is quite strong and will anchor the grinder to any counter or table top.
It's also dishwasher safe so you can spend minimal time tidying up after each use.
Things We Like:
Price point – the price is right on Simple Being's manual grinder if you're on a budget.
Strong suction cup base – makes anchoring the unit a breeze and also makes the grinding process much easier.
Heavy duty plastic and stainless steel – considering the price, all components of this grinder are sturdy and well made.
Dishwasher safe – pretty self explanatory here, you spend less time cleaning with it being dishwasher safe.
Things We Don't:
Not the strongest grinder – this may or may not matter to you.  On tougher meats, it's suggested that you cut your meat into cubes before processing through the grinder, which is an extra step in the prep phase of your food.  It also won't work for grinding bones.
Why Buy a Manual Meat Grinder?
We touched on a couple of reasons you should consider grinding your own food in the intro to this article.  But here, I wanted to share some of the other benefits and reasons that grinding your own meat at home is a good idea!
Taste
The main reason is that nothing beats the delicious flavor of freshly ground meat!  Whether it's beef, chicken, meatballs, or burger patties, you'll be shocked at how much better the food can taste when you grind at home.
After you've tasted food that you ground yourself (and all of that tender love and care that you put into it!), you'll have a hard time going back to store processed meat.
Ingredient Customization
It also becomes much easier to customize your experience.  Personally, I like an 80/20 meat to fat blend for my burgers.  You might want something leaner like a 93/7.
Maybe you want to mix brisket into your burger (pro move!).  All of that is possible and quite easy when using a manual meat grinder.
You can also have complete control over which types of meat go into your food.  For burgers, meatballs, and sausage, it's incredibly fun to try different mixtures and flavors and figure out what you like.
Satisfaction
On a similar note, there's just something special about putting work and effort into your own food.  Aside from the food tasting better (and it does!), it's incredibly rewarding to make your own burgers or sausage from scratch.
Quality
When you grind your own meat, you have 100% control over what goes onto your plate.  With store bought ground meat and sausage, you frankly have no idea if it's mislabeled and what exactly you are buying.
Want to make sure your burger patties are all grass fed beef?  You can know for certain by choosing to grind your own meat at home.
Want to ensure you're supporting local farms and small businesses?  You can also make sure that's what happens when you know exactly what has gone into your grinder.
Freshness
Although I do believe this trend is beginning to shift, most grocery stores don't actually grind their own meat in the store.  It's done off site in some factory, likely a few days or possibly over a week before.
The problem with this is that processed meat which has been exposed to the air has a higher probability of bacteria to make its home in your beef – and the quality of your food deteriorates quickly after it's been processed for a few days.
By purchasing a cut of meat and grinding at home, you have a little more control and knowledge about the freshness and quality of your food.
Price
Even though relatively speaking ground meat is pretty inexpensive, it's actually more expensive on a per pound basis than an identical meat that hasn't been processed.
It makes sense if you think about it, it costs money and takes time to grind meat, so that cost gets passed on to you.
While the best manual meat grinder is certainly an investment, big or small, it is a one time cost that will save you ongoing food costs in the long run if you choose to use it.
Best Manual Meat Grinder – What to Look For
Here are a few buying tips and things to look out for when you're looking for the best manual meat grinder for your needs.
Build Quality
At the end of the day, a meat grinder is an appliance that you plan to rely on in the kitchen.  Since there is a manual element to a manual meat grinder, build quality is extra important.  If you buy something that isn't well made, the process of setting up and turning the crank will be toilsome and no fun.
Generally speaking, stainless steel and heavy duty plastic are the most common building materials used with manual meat grinders.  The blades are almost always stainless steel.
Stainless steel units are typically going to be more heavy duty and will be able to handle tougher meats and potentially bones.  They're also more likely to last longer.
Plastic units can also be well made and last a long time too, just make sure to read other customer's feedback about how easy it is to use before you buy.
Performance
It might sound obvious, but you should research the performance of the products you are shopping for.  The best manual meat grinder will be easy to use, ergonomically designed, and won't require tons of physical effort or strain to grind the meat.  Just because it's manually operated doesn't mean it should be difficult.
The blades and grinding discs in any grinder you buy should be stainless steel – any lesser metal just simply won't do a great job or frankly last a very long time.
Anchoring and Safety
Since a manual meat grinder revolves around physically cranking a handle and leverage, it needs to have a system in place to anchor it to your workspace, whether that's a counter or table top.
The two most popular types of anchoring mechanisms are suction and clamp.
Suction anchors rely on suction cups which vacuum seal the bottom of a unit to the top of your counter or table.  They are great because of how simple, quick and easy they are to use.
The downside of suction is that it doesn't work very well on uneven or non-smooth surfaces.  If you're not careful, they can also come off or wobble with too much side to side movement.
Clamps on the other hand, are probably a more sturdy way to affix your grinder while you go to work.  They take a little longer to set up though, and you need to be sure to use rubber protectors or something of the like to make sure you don't damage your counter or table if it's wood.
Also be sure to make sure your counters are built to fit a clamp.  Some might not protrude out far enough or be too thick to hold a clamp anchor.
Cleaning
While cleaning can be a hassle, it's one of the most important areas of focus when it comes to grinding your own meat.  You absolutely cannot risk a non-sanitized meat grinder and open the possibility of bacteria festering in your appliance.
With that in mind, it's incredibly important to keep your grinder clean and to do a thorough job of sanitizing it after every use.  Be sure that your product can easily be taken apart for cleaning after each use.  If it's not, you're going to spend a lot of time on cleaning.  Bonus points if it's dishwasher safe.
Cost
Obviously, you should consider cost when it comes to finding the best manual meat grinder for you.  There's a pretty wide spectrum for price, as cheaper units cost around $25 and more expensive ones can run close to $200.
Think about what your needs are and do a cost benefit analysis.  The more expensive units are typically more heavy duty and built to last for years and years.  If you think you'll only use your grinder occasionally and for lighter jobs, then something cheap might get the job done for you.
Extra Features and Attachments
Grinding meat is pretty straight forward, but there are actually a few attachments and features that I put to use quite often.
Having a selection of different size grinder plates is a really nice feature.  Different size plates allow you to customize the coarseness of your meat so you can do what's most ideal for your burgers, meatballs, or sausages.
Speaking of sausage, some of the well kitted units will come with tubes and attachments that make the process of creating homemade sausage incredibly easy.  If this is something that interests you about grinding meat at home, be on the lookout for a grinder that comes will all necessary attachments.
Manual Meat Grinder Pros and Cons
You might be trying to decide if you want to buy a manual meat grinder or an electric one.  Either way, I figured it would be helpful to list out the manual meat grinder pros and cons.
Manual Meat Grinder Pros
Price: compared to electric meat grinders, you will be able to find much more price friendly grinders that are manual.  It makes sense if you think about it, manual meat grinders don't have electric components or a motor.
Reliability: on that note, the lack of a bunch of extra electric components and motors means that you don't have to worry about those components failing.  Manual meat grinders are simpler, more straight forward, and well made ones generally come with less problems.
Compactness: manual meat grinders often have a slim profile and don't weigh very much, especially when compared to electric grinders.  This makes them ideal for a lot of reasons, especially if you are short on space or are a hunter and need to grind the meat on the go in a remote area.
Use it anywhere: a manual grinder doesn't rely on a power connection, so you can use them literally anywhere you can find a flat surface.
Manual Meat Grinder Cons
Requires physical effort: I personally don't mind putting a little physical effort into my food, but I can certainly appreciate that this is a turn off for some people.  Especially if you have a large quantity, your arm might be cursing you after you're done!
Time consuming: on a similar note, manual grinding typically takes longer than an electric grinder would.  If you're cranking out a half dozen burgers it's not that big of a deal, but for larger cookouts it might be overwhelming.
Reliance on an ideal surface: since manual meat grinders are anchored by suction cups or a clamp, you need to have a counter top or table top that works with either of these types of anchors in order for you to safely use your manual grinder.
Final Thoughts
Hopefully, this best manual meat grinder list works as a great starting point for you in your search!  I always like to hear which units people end up with, so if you make a purchase let us know about it in the comments section below.
Either way, I hope you'll consider grinding your own meat at home.  Even though it's a little extra work, it's fun, and you can make some incredibly delicious food doing it.