This content contains affiliate links.  If you make a purchase after clicking a link on this page, we might receive a commission at no cost to you.
Gift baskets are excellent presents to give loved ones. By compiling a number of small items and packaging them all up in a gift basket, it lets the receiver know that they mean enough to you that you would go through all that trouble to make them a gift. 
Gift baskets can come in a range of sizes and shapes, with a different theme for the gifts inside. You can make fruit gift baskets, pamper gift baskets, and even grilling gift baskets.
So if somebody you know loves grilling, look no further than our top grilling gift basket ideas.
Why a Grilling Gift Basket?
Gift baskets give the impression that you spent time and put thought into a gift. It looks professional when all you did was bundle some items into a basket and called it a day – what could be better? 
Below are our favorite grilling gift basket ideas depending on the skill level of the recipient. After all, you don't want to be giving a seasoned griller a number of basic utensils that they already have! 
Gift Basket Ideas for Beginners: Essential Tools for Grilling
This type of gift basket is perhaps the easiest to create, thanks to beginners not having many tools of their own yet. Fill the basket with essentials such as grilling tools, utensils, and spices. 
Basic tools could include a grill spatula, tongs, a barbecue knife, a barbecue fork, a basting brush, an apron, and much more. The list goes on! 
You might choose to personalize the gift basket further by choosing tools that reflect something about the recipient – whether that be their favorite sports team colors or decorated with pictures of their favorite things. 
Gather a few items and place them into a basket and fill any gaps with spices, BBQ sauces, and rubs. 
If you're not a grilling expert yourself and are wondering what tools a beginner might need, here is a list of the tools that will prove to be the handiest.
Grilling Tongs
Grill tongs are essential and will be used on basically every time you fire up the grill. We always recommend stainless steel tools with heat-resistant rubber handles to avoid burns.
Spatula
On a similar note, a spatula is a must-have tool that will get plenty of use. It's the best tool to use for grilling burgers, amongst other applications.
Probe Thermometer
A probe thermometer is a grillers best friend because it is the only sure fire way to know that your food is cooked to perfection. Especially for foods like chicken, the only way to know for sure that your meat is cooked all the way through is by probing the center of the meat.
Metal Kebab Skewers
Sure, you can make kebabs with single use bamboo skewers. But metal kebab skewers are sturdy, should last for years, and open up the possibility to skewer larger meals (such as traditional picanha).
Warming Rack
If your loved one's grill doesn't have an elevated grill rack, it may be worth picking up a warming rack. These racks allow you the flexibility to rest some food(s) while another food cooks.
Charcoal Chimney Starter
For those who grill with a charcoal grill, a chimney starter is an absolute must. It's by far the safest and most effective way to light charcoals.
Grill Brush
A proper grill brush makes clean up after each cook a breeze. Plus, regular scrubbing of your grill will lead to a longer shelf life and fewer maintenance considerations when you are 3+ years into owning your grill.
Some of these tools will be easier to fit into a basket than others. For example, we think that a chimney might be out of the size range (and the price range!) that you were looking for.
However, most of these tools are rather affordable and required for anyone looking to get into the world of grilling.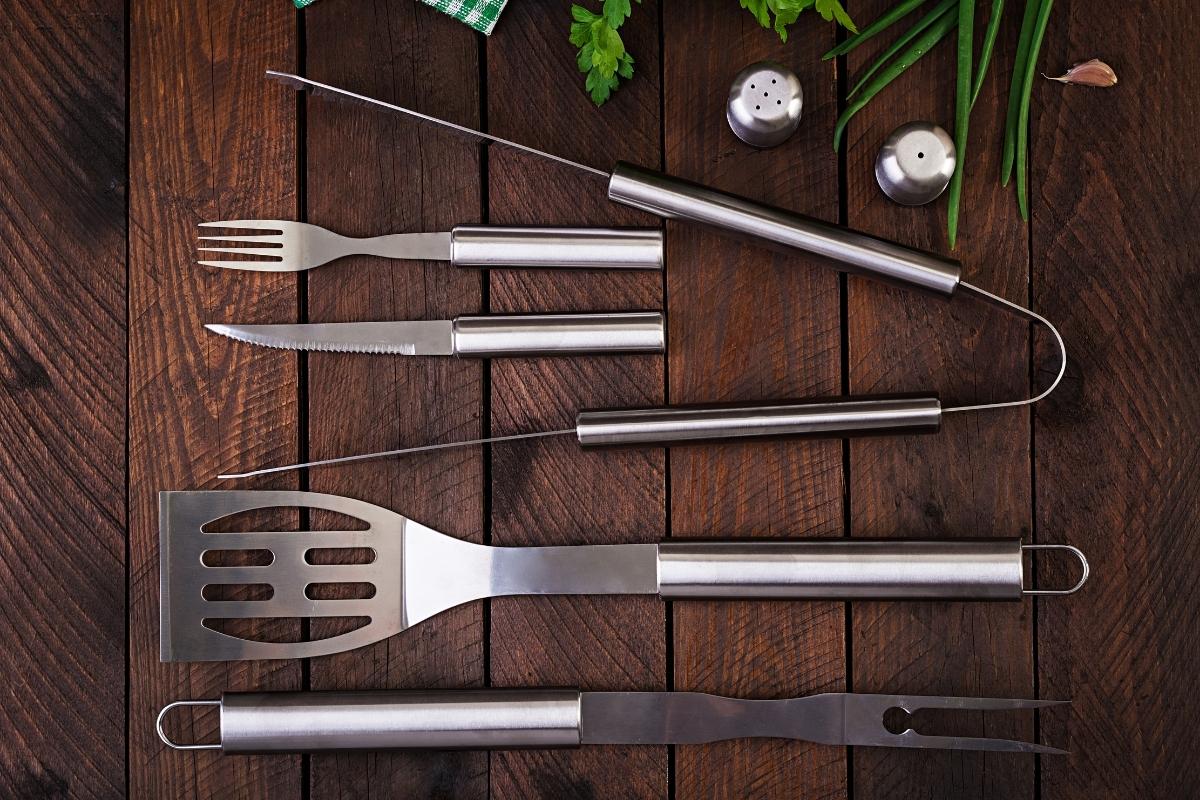 Gift Basket Ideas for Intermediate Grillers
If the person who you're giving a gift to is somewhat knowledgeable around a grill, chances are that they'll already have tools and utensils. If they're happy with them, then you shouldn't waste your money by putting more into your gift basket. 
However, if they are still using beginner tools that they bought for cheap in case they didn't get into grilling, then you might be able to replace them with better ones. We always recommend stainless steel grilling tools thanks to their durability and reliability of them. 
So, if you're upgrading their tools, then fill the basket with them and complimentary condiments as we mentioned above. 
However, if they're happy with their tools, you'll need to think of something else. Instead of buying them the necessities, this basket would be about enhancing their experience with their grill. 
Some examples of these enhancements could include:
Digital Thermometers
Perhaps your griller has an analog probe thermometer but could use an upgrade. Most digital thermometers nowadays utilize bluetooth technology, so you can monitor your grill from a distance.
Top Wireless Thermometer
Cedar Planks
Cedar planks are a single use accessory that enhance the flavor of food that's cooked on top of it. Check out our cedar plank salmon recipe for an example of how planks can make a meal special.
Beer Can Chicken Holder
A beer can chicken holder is cheap and essential to a properly cooked whole beer can chicken. It's a fun and memorable accessory to include in a grilling themed gift basket!
Filling the basket with a lot of fun little gizmos can enhance their grilling experience and give them something to look forward to next time they get it out. Again, fill any gaps with rubs and spices – you can never have too many!
Must-Have for Beer Can Chicken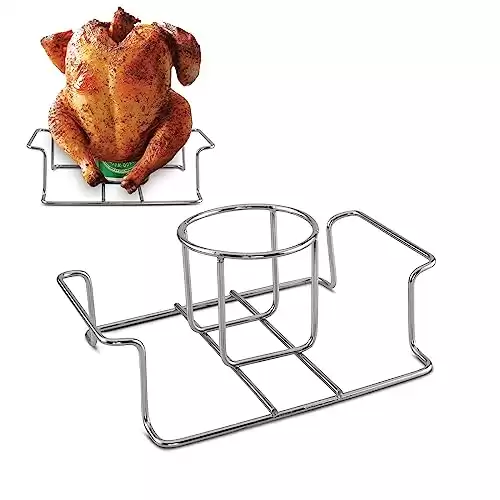 Gift Basket Ideas for Seasoned Grillers
This might be the toughest category to buy for, as you might be thinking that the recipient has everything to do with grilling already! However, we're certain that you can still create a thoughtful grilling gift basket for any occasion. 
So, if they already have every gadget under the sun for their grill, why not fill the basket with condiments? Any seasoned griller is constantly going to be running out of spices, rubs, and sauces, so why not find the most unique and interesting ones out there and fill a basket with them?
Gourmet Spices
Many expert grillers are likely to make their own rubs and seasonings from scratch, so maybe steer clear of premade store bought rubs unless you know they will like them.
What you can do instead is gather high quality ingredients so that they can make impeccable rubs on their own. Don't be afraid to add things like sea salt, pepper, smoked paprika, etc. into the gift basket.
Knives/Cutlery
Knives are always a great gift – perhaps a boning knife to help trim meat, or just a nice looking chef's knife to add to your griller's existing repertoire.
Wine and Spirits
To enhance the basket, why not add a few bottles of their favorite wine to have with steak? Or beers with some glasses? A few bags of snacks might also go down well to prevent anyone from becoming hungry as they wait for the grill to warm up.
A Note on Spices and Rubs
Rubs are blends of spices that you can add to chicken, beef, and other types of meat to enhance the flavor. Using the right rubs will quickly make grilling your preferred method of cooking all of your meals! 
You can find grilling rubs both in-store or online, each containing unique ingredients to create mouthwatering flavors. Our favorites contain things such as garlic, chilli peppers, and honey. 
Spices can be marketed towards different meats. For example, a rub designed for chickens might not be so tasty on pork or beef. 
Others might be tailored to different areas in the world. If you were creating a gift basket for seasoned grillers, you might choose to make a theme such as Middle Eastern cuisine or tastes around the globe.
If you know the kind of flavors that your recipient likes, you might want to stick to them so that you know that your gift will be well received. Or, if you know that they're not fussy about what flavors they eat, you might want to push their boundaries and include spices that they've never tasted before.
Prepackaged or Homemade?
With gift baskets becoming so popular nowadays, more companies are creating their own gift baskets and selling them already made.
While this sounds great in theory, they often cost much more than it would take to make a gift basket. After all, you are paying for the convenience of not having to make it yourself! 
What's more, is that the prepackaged gift baskets seem to be much smaller than if you were to make it yourself, but still cost much more.
So, if you're looking for a last-minute gift and don't have time to make your own gift basket, then go ahead and find one online. They mostly all contain spices and rubs rather than tools, although grillers of any experience level can get the most out of a rub gift basket.
Making Your Gift Basket
Making a gift basket could not be easier – all you're going to need is a little time. Gather your basket and gifts that you're putting in it, and let's get to work!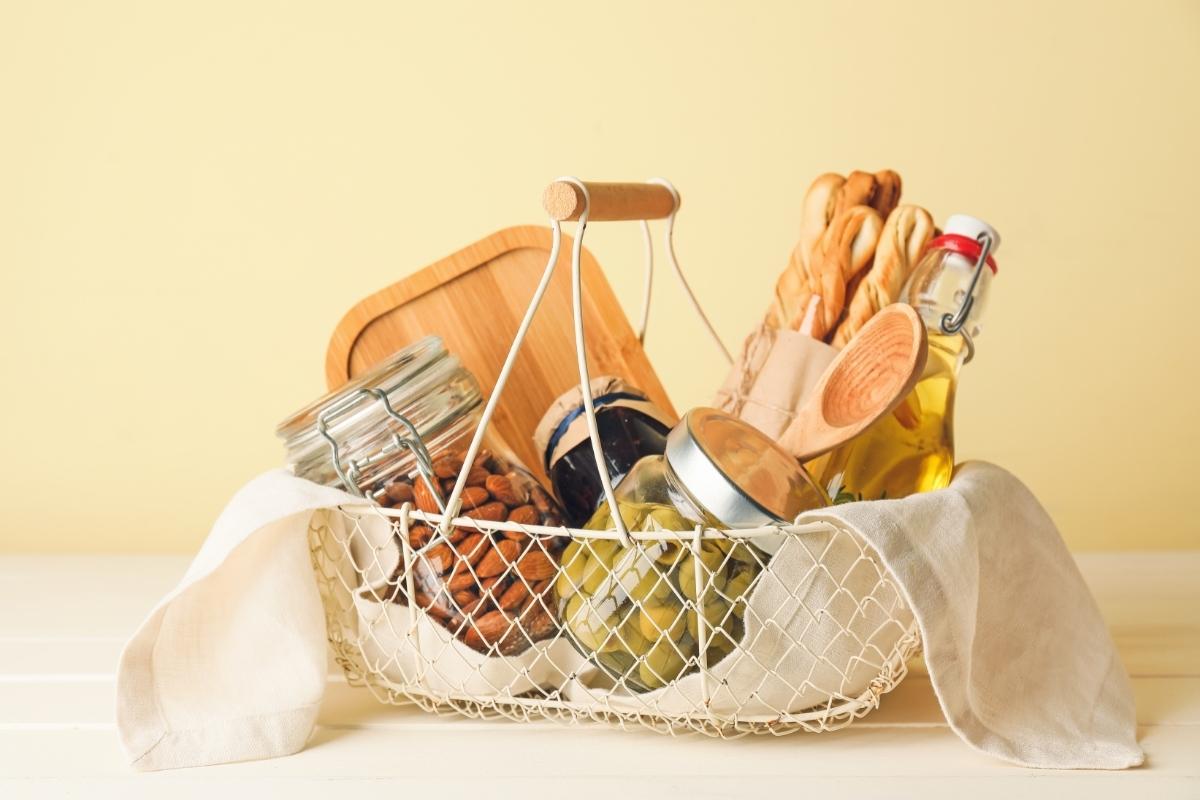 Choosing a Basket
Some people choose to use a basket from a previous gift for their gift hamper. You might be surprised at how many baskets you have lying around the house! If you don't have a spare, though, don't worry, as you can get them online for relatively cheap. 
Alternatively, some people like to get a little more imaginative with their choice of the basket. You could use a toolbox instead, or even a fish and vegetable grilling basket! That way, your basket doubles as another gift. 
Lining the Basket
Many pre-packaged gift baskets are lined with shredded paper to give it a fuller and more professional look. You can get shredded paper online for cheap, or make your own at home. Alternatively, you could line the basket with an apron, making it another gift again! 
Gift Placement
Now it's time to add the little items that you chose to go into the basket. The great thing about gift baskets is that you don't need to wrap the items (unless you want to!) so you can save time there. 
Once you're done putting the gifts in, you can choose whether you want to add a cellophane exterior or not. This is a look more suited for food hampers, and we personally would skip it altogether, but it's your choice if you want a more finished look.
Final Thoughts
And there you have it – some ideas to hopefully spark inspiration for you to give to a grilling lover. No matter what expertise level they are, a gift basket is always a great option for any occasion. 
Remember that if you're short on time, you can look into pre-packaged gift baskets online. Just be wary that these are often more expensive than making the gift basket yourself, although they are great when you're in need of a gift at the last minute. 
We hope that your recipient loves their grilling gift basket!