Unlike paring and utility knives, chef knives are definitely indispensable for any serious cook. Their curved blade makes them rock easily on a chopping board. At the same time, the broad heel area gives it the necessary strength to cut through the thickest meat and veggies.
Contrary to common belief, you don't have to break the bank to buy a quality chef knife. In this article, we've done the work and compiled a list to help you find the best chef knife under $100. Read on to take a look at our top choices!
At the end of this article, you'll also find a bonus section discussing the things you need to bear in mind before buying. So stick around till the end!
Best Chef Knives Under $100 – Our Picks
In each of the following reviews, I'll dive deeper into every knife to find out about its materials, design, performance, etc. I'll also highlight any negative aspects that may have been pointed out by other customers.
Dalstrong Gladiator Series 8-Inch Chef Knife
I must say, the first time I saw the Gladiator knife from Dalstrong, I was instantly hooked!  Dalstrong also makes a couple of other appearances on this site, as they have a great brisket knife and also a nice Damascus chef knife as well.
Dalstrong also has an affordable chef knife that retains a high level of quality and luxury. To top it off, they flawlessly polished the tang and bolster, which contrasts well with the black handle.
As for the handle, it features a Spanish pakkawood build, a timber that's valued for sturdiness and durability. But since it doesn't do well against moisture, Dalstrong added a G-10 epoxy lamination.
Like most chef knives, the triple rivets give a better sense of stability and strength. What's unique here is the middle signature Dalstrong rivet. Although it doesn't partake in function, it adds a nice classy touch.
Back to the blade. To ensure durability, Dalstrong partners with ThyssenKrupp, the largest steel manufacturer in Germany. Their forging process raises the hardness to an impressive 56+ HRC. Many customers confirmed that this knife lives for years without prominent weathering.
To provide the best value, this knife comes with a black perfect-fit sheath. I like the small golden details printed on both sides; they enhance the premium feel even more.
Pros
The steel is sourced from Germany's largest steel producer
High hardness rating
Attractive, smooth finish
Cons
J.A. Henckels International Classic Chef's Knife
I won't be exaggerating if I say that J.A. Henckels is the among the oldest and most authentic brands of today. It's enough to say that their trademark was registered in 1731! In their International Classic series, they allow cooks to see what a true chef knife can do without paying a fortune.
Because Henckels was based in Germany, they're currently renowned for using a robust steel formula with high carbon content. The traditional polymer handle, alongside its three rivets, completes the classy, professional look.
I like that Henckels opted for the typical, non-tapered full bolster. In addition to balancing the knife, this bolster also provides a convenient guard to protect your fingers from slipping over the blade.
Speaking of the blade, Henckels designed it a bit broader than usual. You may disagree, but I think the added weight chops through raw potatoes and dices apples with the least effort. I only wish if they had made the bevel slightly steeper to increase the edge sharpness. Then again, that's just how the classic version goes.
Pros
High-carbon steel construction
Full bolster to protect your fingers against slippage
Broad heel to effortlessly slice through dense food
Cons
Some customers reported receiving counterfeit knives
Global Oriental Chef's Knife 7-Inch
Do you like forged knives? Well, how about taking things to the next level? Instead of the regular polymer handle, Global designs the Oriental knife with a full metal handle. At first glance, it may feel like a collectible rather than functional cookware. But this couldn't be further from the truth.
The Oriental won't slip easily from your hand thanks to the dozens of simple dimples carved on the sides. What's more, the handle has the same regular molding found on most chef knives.
Lucky for us, this knife isn't only about the looks. The best thing about it is how sharp it is, out of the box. The secret lies in the edge design. Instead of applying the usual shallow bevel, Global grind its knives to have a more or less straight edge with an acute angle.
This simple design tweak makes a world of difference! It retains the sharpness way longer since the chopping pressure dissipates over the sides instead of the edge itself.
To ensure better overall durability, Global used Cromova 18 stainless steel. Although they don't disclose the exact alloy composition, many reviewers confirmed its wear-resistant superiority over other, cheaper knives.
Pros
The metal handle looks premium and unique
The almost-straight edge provides exceptional sharpness
Highly wear-resistant Cromova 18 steel
Cons
Mad Shark Pro 8-inch Chef's Knife
Do you like the unmatched precision of Japanese knives? If so, I think you'll love this ultra-affordable knife from Mad Shark.
Between the various Japanese styles, Mad Shark chose the Santoku with its steep beveling and thin blade. This makes it perfect for slicing delicate food that western knives may crush.
The spine of this knife curves down onto the nearly straight blade, which forms a blunt point. As a result, you may find it hard to make puncturing cuts with this knife. Moreover, the chopping will lose its satisfying rocking movement.
On the positive side, Mad Shark placed a bunch of convenient hollow divots right above the blade's edge. This improves the slicing speed because it prevents food from accumulating and sticking.
Like other Santoku knives, this one features a small handle. This will be super handy if you have small hands that struggle to grip the normal-sized knives.
But surely, you can't expect to pay this little without having a couple of annoying downsides. First, although Mad Shark claims this is a high-carbon steel knife, I'm sure it's just a marketing gimmick.
My doubts turned out to be true when I found many users complaining about insufficient sharpness, which is typical for cheap steel knives.
Pros
The miniature handle suits folks with small hands
Highly affordable
Follows the Japanese Santoku style
Features hollow divots that boost effortless slicing
Cons
A normal steel alloy marketed as high-carbon
Wüsthof Classic 6 Inch Cook's Knife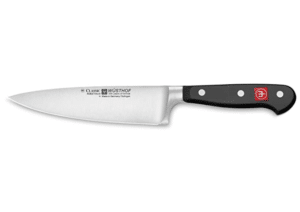 Generally speaking, most cooks own 8-inch chef knives because they balance well between agility and strength. However, when dicing or mincing delicate shallots, I'd recommend using this 6-inch knife. In this regard, finding a brand better than Wüsthof would be pretty hard.
With their headquarters in Solingen, Germany, you can rest assured about the alloy quality. The blade is built with high-carbon stainless steel that guarantees durable performance over a long time. What's more, the Precision Edge Technology (PEtec) provides 20% sharper blades with twice the edge retention.
The handle features the regular synthetic polyoxymethylene (POM) build that you can find in lots of other commercially famous knives. However, Wüsthof's formula is unique for its tighter molecular structure that can resist fading and discoloration for years to come.
Unfortunately, some customers reported some issues in quality assurance. Wüsthof has been delivering a non-negligible number of defective products that don't live up to its huge name. I'm pretty sure this is just a temporary issue, but it's still quite disappointing.
Pros
The blade is 20% sharper and 2x more durable than usual
The handle retains its color and integrity for years on end
The short blade suits delicate food
Cons
Several instances of defective shipments
Victorinox Swiss Army Cutlery Rosewood Chef's Knife
There's nothing I hate more than cutting meat with a short knife. It messes up the sizing, ruins the texture, and takes too long. That's why I like to use a 12-inch chef knife whenever I carve pork, poultry, beef, or lamb. My favorite one in this category is Victorinox's Rosewood.
As the name implies, Victorinox designed the handle of this knife with true, luxurious rosewood. This type of timber is highly valued for its durability and heaviness, which you'll definitely need with such a long blade.
If you prefer the forged design, you should consider a different knife with a shorter length, for what it's worth. The thing is, as the blade gets longer and wider, it must become thinner. Otherwise, it'll feel annoyingly heavy and unbalanced. That's why Victorinox opted for a stamped design.
Like any stamped knife, this one doesn't have a bolster. But this shouldn't be a major issue if you've owned a similar design before.
If you've tried the good old Swiss Army Knife from Victorinox, you should know that Victorinox's quality is second to none. To my surprise, one of the Amazon reviewers said that this knife lived for decades! He didn't have to replace it until it lost too much thickness after the repeated sharpening.
Pros
Exceptional durability
Well-balanced, lightweight design
Lifetime warranty
Cons
The rosewood might smell bad in the first weeks of use.
TUO Damascus Chef's Knife
If a unique knife that really catches the eye is what you're after, I think you'll love this knife from TUO Cutlery.
The core of the blade is made of AUS-10 steel. To be honest, this may not be the best alloy out there in terms of inherent sharpness, in spite of what TUO claims. However, if sharpened by a professional, it'll retain its honed edge longer than most of the other alloys.
Over the top, TUO adds a cladding of Damascus stainless steel. Best of all, they meticulously engraved some wavy, Arabic patterns that add a mesmerizing luster to the already-premium knife. As an additional perk, this cladding boosts the resistance to rust and corrosion.
The handle is made of military-grade G10 Garolite, a material that excellently resists heat and moisture, living for years without noticeable changes. Instead of the regular molded handle, this one is built as a solid cylinder. Some cooks like that because they can skillfully swivel it while slicing delicate food. Nevertheless, it may feel a bit challenging for novices.
Pros
A durable AUS-10 steel core
Lustrous Damascus stainless steel cladding
Premium design with a golden rivet
Retains its sharpens for a long time
Cons
The cylindrical handle may feel challenging for beginners
A bit expensive compared to other knives on this list
Kyocera Revolution Series 7-Inch Chef's Knife
If you've been in the market for chef knives for a while, you've probably heard of the state-of-the-art ceramic build that supposedly competes with steel. Unless you want to be left out, I'd suggest going with the hype by trying this knife from Kyocera.
The ceramic build here is certainly different from your mug. Kyocera made this knife from Japanese zirconium, a material that's unique for its super fine molecular size. This attribute is what makes its edge way sharper than steel.
Better yet, this sharpness is guaranteed to last 10x longer than other knives. This can be traced back to its unmatched hardness and superior strength.
Here comes the catch. Unfortunately, high hardness means more brittleness. If you were unlucky enough to drop your knife on the ground, you may permanently damage it.
Some users were unhappy with the rounded point of this knife, claiming that it disrupts the smoothness of puncturing cuts. While this is somewhat true, I don't think a pointed knife would've been good. With that superior sharpness, you'd be amazed by how often you might accidentally poke yourself!
Pros
Marvelous edge sharpness that lasts 10x longer than usual
Unique matte-black blade
The rounded heel facilitates the chopping motion
Cons
May shatter into pieces if you drop it
The handle isn't riveted, which may affect the stability
Mercer Culinary Stainless Steel Chef Knife
If you're really tight on budget, I don't think you can find a more affordable knife than Mercer Culinary.
Luckily, Mercer paid enough attention to the design to avoid looking too cheap. With the pakkawood handle, some people will definitely believe you paid a fortune for this knife.
What's more, Mercer ships the knife in a premium black box with a red foam padding. I wouldn't recommend it, but this package will certainly come in handy if you decide to gift this knife to one of your friends.
When it comes to performance, you'll start realizing that you do get what you pay for. Almost all customers said the knife showed acceptable sharpness at first, only to find things going south after about 3 months. The blade started bending, the edge became too dull, and the handle started to fade.
Mercer claims they used a high-carbon stainless steel alloy with 0.6%-0.75% carbon. However, it doesn't take an expert to figure out that this is just a marketing gimmick. Even before the functional issues, the blade looks way too matte for a carbon steel build.
Pros
The most affordable price tag on the market
Attractive design
Pakkawood handle
Ships in a premium package
Cons
Poor durability
The handle has no rivets, which may affect the stability
What to Consider Before Buying a Chef Knife
Can't make up your mind? The following tips should help you choose a knife that truly fits you!
Forged vs. Stamped Knives
Forged and stamped knives differ in their design and construction. By extension, every type has its own set of benefits and shortcomings.
Forged Knives: Exceptional Strength With Extra Weight
As the name suggests, forged knives are made by press-forging a single piece of metal from the point to the rear. The handle is then riveted in place to promote comfort and stability.
Forging, from a metallurgical point of view, boosts the strength and thickness of the metal. That's why forged knives are usually valued for their incredible power and durability.
By the nature of the beast, such a heavy construction will cost way more than stamped knives. Furthermore, some cooks don't like the added weight, explaining that it stands in the way of the skillful maneuvers.
To identify a truly forged knife, look for the following characteristics:
A thick blade that tapers down gradually until the edge
A bolster
Full tang
Stamped Knives: Lighter, But Less Durable
Manufacturing stamped knives is pretty similar to using cookie cutters. The blades are cut into the final shape from a single sheet of uniform steel. And just like their forged counterparts, handles are added afterward.
The most crucial benefit of stamped knives is the lightness. Some cooks prefer how quickly these knives can handle different tasks without weighing down their hands. And of course, lots of people choose them to save some cash.
For a long time, stamped knives have been associated with a poor reputation. It was pretty rare to get a knife to last for more than 6 months. The good news is, this is gradually changing! Some brands have been adjusting the raw steel sheet to promote the final knife quality.
The following attributes can help you spot stamped knives:
No bolster
Partial or no tang
Uniformly thin blade
The Bolster Improves Safety and Stability
If you're unfamiliar, the bolster is the thick shoulder that can be found in front of the handle. Full bolsters extend through the full width of the heel: from the spine to the edge.
With that shoulder in place, injuries will be kept at bay. No matter how slippery things get, the bolster will always act as a trustful guard that protects your fingers.
However, since full bolsters shorten the length of the usable blade, some people opt for semi-bolsters. These ones don't typically extend beyond the width of the handle.
Thanks to the extra weight, a bolster also balances the blade. However, some people may hate the overall heaviness of these knives.
Based on the information I introduced earlier, bolsters are exclusive to forged knives.
Look for a Balanced Heel
In case you haven't heard about it before, the heel is the thickest part of the knife. It's located at the rearmost part of the blade, just before it meets the handle.
As you probably know, this is the part that you mainly use to chop through hard carrots or chicken bones. That's why it should have enough thickness and heftiness. Nevertheless, whenever you rock it over a chopping board, it should never produce a prominent thud that disrupts your motion.
To be honest, judging on this issue can be quite tricky. There's no one-size-fits-all answer since it can be hugely affected by the nature of your chopping motion. If chopping with your new knife feels awkward, this is probably the culprit.
Search for a Thick, Polished Spine
Generally speaking, all quality knives feature a thick spine — the top part of the blade — that feels satisfyingly smooth. Although this might seem like a negligible detail, it's pretty crucial.
Cheap knives that have awkwardly thin spines with a rough finish may impair your grip to some extent. This gets especially significant for folks who like to grasp the rear part of the handle whenever they attempt precision cuts.
Get a Handle With Enough Clearance
Deeming a handle as "comfortable for everyone" is a bit of a stretch. Every cook grasps the knife differently. A knife that feels awful in my hand could feel like heaven-on-earth for you. That said, if your old knife is still around, try to choose a handle that has similar molds and indentations.
The good news is, it's not all about guesswork. There's an analytical and measurable attribute that can affect the handle comfiness. I'm talking about the clearance.
The clearance is the underside space of the handle when you hold it over a chopping board. The blade should be long enough to provide enough clearance for your knuckles. Otherwise, it'd be almost impossible to chop with enough speed.
Think About the Length
Just like the handle, cooks vary in their preferences when it comes to the knife length.
Commercially, you can find chef knives ranging from 5" to 12".  A 5-inch knife can be somewhat similar to a paring knife. It should be a good fit if you tend to do lots of delicate work.
On the other extreme, a 12-inch knife has a long, flat blade that can act like a cleaver. But surely, the lighter build won't deliver the same quality.
Can't decide? Well, I'd recommend opting for an 8-inch knife. This is favored by many cooks because it has the best blade-to-mass ratio.
Japanese vs. Western Chef Knives: Which One Should You Get?
If you've been considering chef knives for a while, I'm pretty sure you've bumped into lots of Japanese-styled ones. As you probably noticed, Japanese knives notably differ in shape from their western, aka German, counterparts. But there's more to them than meets the eye.
Japanese Steel Is Harder
As of this date, steel is the most common material for knives. However, brands compete by varying the carbon and iron percentages in the steel alloy to enhance the hardness, sharpness, etc.
Without getting into too technical details, Japanese knives use alloys that contain higher percentages of carbon. This results in higher strength and thinner blades at the same time. In other words, Japanese knives can slice through food, especially fish, with agility and precision.
"What's the catch," you might ask? See, the higher hardness inadvertently results in more brittleness. That's why Japanese knives are known for requiring more frequent sharpening. To make matters worse, sharpening those knives should be done in a certain way to guarantee durability.
But Western Knives Aren't That Bad
When I said that "Japanese steel is harder," I wasn't implying that western knives are awful. With less carbon content, they'll hold their edge longer. And yes, they're usually blunter when compared to the Japanese marvels, but they're still good enough for recreational cooks.
Western Knives Are Curvier
When you hold both knives in hand, you should notice a broader curve with the western ones. With a somewhat curved heel, rocking over a chopping board will feel smooth as butter.
On the other hand, Japanese knives will typically have an almost straight profile that promotes precision, pretty much like samurai swords! In addition to the awkward thuds while chopping, these knives will probably lack the balance required to split chicken bones.
Japanese Knives Usually Have Tapered Tangs
To complement the lighter, more agile blades, Japanese chef knives come with a tapered tang that ends with a cylindrical shape. By extension, the handles can also have a tubular outline. This makes it much easier for the cook to swivel the knife inside his hand.
Although western knives can have full, partial, or no tangs, the most popular design is full tangs. The wider surface area can bear the higher loads required to chop challenging food.
How About Ceramic Chef Knives?
Ceramics have been invading every inch of our lives recently. It's just about right to see them in our household blades.
To put it simply, ceramic knives feel like an upgraded iteration of the Japanese predecessors. Not only are they thinner, but they're also way sharper. And the good news is, they can hold this sharpness even longer than western steel knives!
Are they for everyone? Absolutely not! The zirconium construction of ceramic knives can shatter into pieces if it slips over your kitchen counter. Plus, when they turn dull, you'll have to hire a professional since the regular sharpening stones can't abrade zirconium.
That said, ceramic can't replace steel knives, not now and probably not in the near future. Instead, think of them as complementary tools. They should be your go-to choice when filleting salmon, carving steak, or slicing squishy tomatoes. Squashes, raw potatoes, and chicken bones will require the robust chopping potential of steel.
The Verdict
As it turns out, chef knives don't have to be that expensive. After my elaborate search, I can say that J.A. Henckels makes the best chef knife under $100. Holding this knife is comfortable and secure thanks to the addition of a full bolster. You can forget about accidental cuts forever, fingers crossed!
Want to stay up-to-date? You have to try Kyocera Ceramic Revolution Series 7-Inch Chef's Knife. The fine molecular structure of zirconium gives a blade that's a lot sharper than steel. It also maintains that impeccable honing for years. The catch? This knife may shatter into pieces if you accidentally drop it.
Last but not least, I highly recommend adding the 12-inch Victorinox Swiss Army Cutlery Rosewood Chef's Knife to your collection. Not only does it look cool, but it also carves meat and cuts watermelon with clean outlines.