This content contains affiliate links.  If you make a purchase after clicking a link on this page, we might receive a commission at no cost to you.
One of the most useful, and frankly affordable grilling accessories that I use is the pellet smoker tube.  These contraptions are designed to house food grade wood pellets and to burn them slowly and methodically to fill your cooker with a delicious smoky flavor.
So if you're the type who appreciates and enjoys the addition of wood fired smoke flavor to your food, this is a must have accessory for you.
In this article, we've highlighted some choices for the best pellet smoker tube.  From there, we'll go over some helpful tips and tricks to get the most out of your pellet smoker tube.  By the end, you should have a really good idea of how these things are used and how they can add value to your outdoor cooking toolbox.
What is a Pellet Tube Smoker Used For?
What makes a pellet tube smoker so great is that it gives you a way to utilize hardwood pellets outside of the pellet grill.  Here are a couple of practical ways that you can utilize the benefits of the best pellet tube smoker:
Cold smoking.  Pellet tube smokers are fantastic cold smoke generators.  One of the biggest challenges with cold smoking is exposing flavored smoke to your food without heating your cooking chamber.  If you're cold smoking cheese, for example, heat will cause your cheese to melt.  A pellet tube smoker is extremely portable and you can set it far away from your cold smoked food with ample ice and water trays in between the tube and your food.
Converting a gas grill to a smoker.  Gas grills are a very common type of grill that rely on a connection to propane or natural gas to ignite burners.  These grills are capable of making delicious food, but the knock on them is that they can't deliver the traditional smokey flavor to your food that many people associate with grilling.  A pellet smoker tube can help with that.  Whether you want to add smokey flavor to a steak or you want to full on convert your gas grill to a smoker, the way to do it is with a pellet tube.
Supplementing your charcoal grill, pellet grill, or smoker.  Maybe you have a traditional smoker or a charcoal grill already.  Pellet smoker tubes can still have a place in your tool box – they are a great way to supplement smoke and precisely control which flavors make it into your food.
Best Pellet Tube Smoker Reviews
When it comes to the top pellet tube smoker choice, it's hard to argue with the 12 inch Pellet Smoker Tube by Lanney.
The goal with any pellet tube is to provide a consistent supply of smoke into your cooking chamber.  The Lanney is designed with a hexagonal shape and a perforated design which in combination help your wood pellets stay lit and burn evenly.
Dimensions wise, this tube is 12 inches long and 2 inches wide, which is enough to hold enough pellets for about 5 hours of consistent smoke.  That's plenty of capacity for many smoking jobs, and even for a 10 hour brisket smoke you'll only have to refill one time to get the job done.
A high quality 304 stainless steel was used to construct the tube, which will last a long time even with heavy use.  Even though it's durable, the Lanney Pellet Smoker Tube is very lightweight at only about 10 ounces – so it can be easily transported and used in combination with many types of grills and types of smokers.
Last but not least, it comes with a basting brush, tube cleaning brush, and a couple of S hooks to help conveniently hang the tube while it's not in use.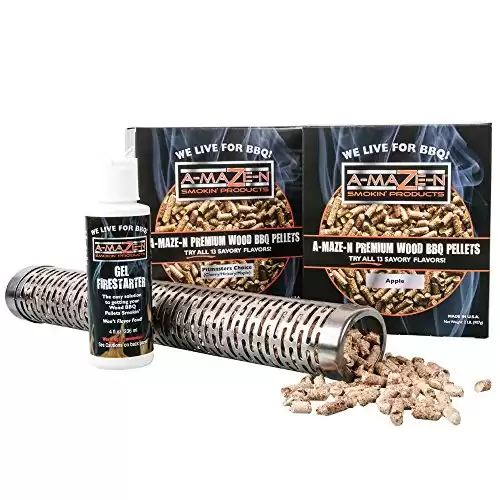 Alright, so the A-MAZE-N Maze Pellet Smoker isn't technically a tube, but it deserves a place on this list because it serves the exact same function as the best pellet tube smoker.  In many ways, it even performs better.
The maze design allows you to get up to 12 hours of consistent smoke, which is enough to handle even the longest brisket smoking sessions.  Most other pellet tube smokers have about a 4 hour smoke capacity.
Not only that, but the maze is 5 inches by 8 inches and weighs less than a pound.  Because of that, it's incredibly easy to store and take on the go if you ever need to.
A worthy competitor is the LIZZQ Premium Pellet Smoker Tube, which shares a lot of the same characteristics of the Lanney tube.
It shares identical dimensions and a very similar weight, so the results you'd get are going to be pretty similar.  Stainless steel is the material of choice and will last for years with proper care.
The hexagonal shape is ideal for a few reasons.  First, it ensures that your tube will remain in place while you grill or smoke, unlike the circular shaped tubes out there.  Not only that, but the shape also promotes a slow and even burn of your wood pellets – guaranteeing a steady and predictable output of smoke.
Sometimes a full size pellet smoker tube isn't necessary, and when it's not the KampFit 6 Inch Pellet Smoker Tube is a great choice.  At only 6 inches long, it's even easier to take on the go and is ideal for taking with you camping or tailgating.
Not only that, but it can be ideal for some of your smaller cold smoking cooks.  For example, when you cold smoke cheese you don't necessarily need a total 5 hours of smoke.  Using a smaller tube like this can make things just a little bit easier and more manageable.
Of course, a smaller tube comes with its limitations.  The most obvious one is the tube's wood pellet capacity.  You can expect for a fully loaded tube to provide about 2 hours of smoke, less than the 4 or 5 hours you can get off of a 12 inch tube.
All around, this is a great choice for the best pellet smoker tube if something a little smaller and more portable fits your needs.
If you're looking for maximum smoking time, the A-MAZE-N Oval Expanding Pellet Tube is a great choice.  It features an innovative design that allows for you to adjust the tube length between 12 inches and 18 inches long.
While in the 12 inch position, the tube will hold enough pellets for about 4 hours of smoking.  But when extended, the 18 inch position will house enough wood pellets to smoke for up to 6 hours at a time.  The extra space can come in really handy for those longer BBQ smoking jobs.
Even though this tube features a round design, it's actually oval and not a circle.  So when it is placed on the broad side of the oval it will stay in place and not roll away.
Dimeshy Pellet Smoker Tube – 12"
The Dimeshy Pellet Smoker Tube is another solid choice for the best pellet smoker tube and is made of sturdy 304 stainless steel.
Instead of a circular or round shape, this tube is square and most certainly won't be a risk to roll around inside of your grill after it's lit.  The opening of the tube is 2 inches wide and holds enough pellets to provide a solid 4 hours of smoke per refill.
On top of that, this tube comes with a scrub brush and is backed by a lifetime warranty.  It's also dishwasher safe if it ever gets dirty enough that you feel like it needs to take a run through the dishwasher.
A Quick Note About Wood Pellets
Wood pellets are hardwood fuel capsules designed originally for use inside smoker grills.  With the explosion in popularity of pellet grills over the last decade, wood pellets have become more widely available and affordable as a fuel for outdoor cooking.
Because of this, people began to naturally find other applications for wood pellets, which is how pellet smoker tubes came about.
If you want to learn more about wood pellets, check out our comparison of wood pellets and wood chips next.
Final Thoughts
I hope by now you have an idea of what the best pellet smoker tube can do for you!  Pellet tubes are one of the most versatile and often used tools in my outdoor kitchen.  Whether it's a simple flavor add or a full on BBQ smoking session, nothing beats the addition of a little bit of wood fired flavor.
Did we miss any products in our review?  Let us know what your suggestions are in the comments section below.