This content contains affiliate links.  If you make a purchase after clicking a link on this page, we might receive a commission at no cost to you.
Who doesn't love a juicy burger or perfectly charred steak? But foul weather, apartment bans on grills, or just limited outdoor space often come between us and those tasty grill marks. We love flat top griddles and are so excited to share the best smokeless indoor grills that let you cook up your favorite foods 365 days a year.
These compact wonders enable grease-free, smoke-free grilling right on your countertop. No more battling the elements or getting smoke alarms raging. Just quick and easy meals with that quintessential grilled flavor we all crave.
In this guide, we'll cover everything you need to know to find your perfect indoor grill. First up, we highlight our top-rated picks for every budget and need. Then we'll answer common questions and provide tips to keep your new grill looking brand new. 
Top Smokeless Indoor Grills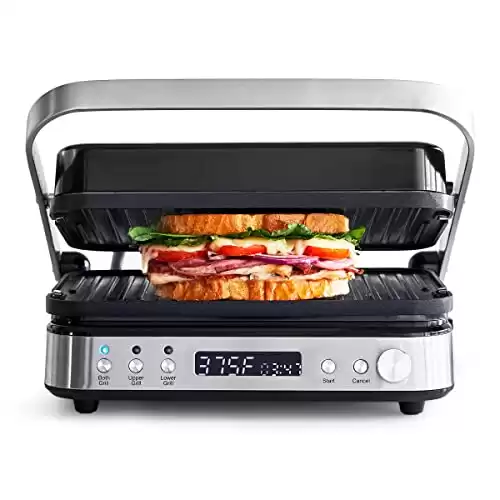 The GreenPan Grill & Griddle is the ultimate 6-in-1 multitasker designed to handle all your indoor grilling needs. This innovative appliance can be used as a contact grill, contact griddle, panini press, mixed grill/griddle, open grill, and open griddle. With six modes in one device, it's a compact short-order kitchen ready to cook up anything.
At the heart of this grill is Thermolon Volt, a durable ceramic nonstick coating that can withstand high grill temperatures. The PFOA-free nonstick surface cooks with little to no oil for healthier meals and cleans easily after use.
The unique lay-flat design allows both plates to open completely flat, giving you a more usable cooking surface. The height-adjusting lid adapts to fit everything from paninis to thick steaks. Simply pop off the reversible grill and griddle plates after cooking for a quick cleanup. Both plates are dishwasher safe for added convenience.
An LED display with adjustable temperature and timer knobs gives you precise control over your grill settings. The powerful 1600W heating system delivers fast, even cooking across the entire surface. And the integrated drip tray can be removed separately for a quick rinse after grilling.
With six cooking modes, premium nonstick plates, and smart design features, the GreenPan Grill & Griddle unlocks the potential for restaurant-quality meals from home. Take your countertop cooking game to the next level with this innovative indoor gril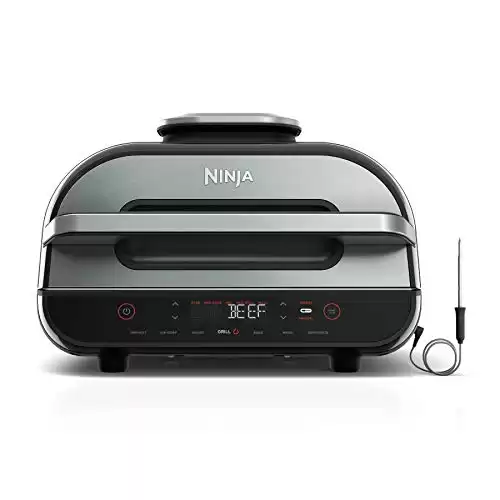 With its generous cooking surface and ability to not only grill but also air fry, roast, and more. The Ninja Foodi is a multitasking maven. Its 500°F maximum temperature delivers mouthwatering sear marks fast. And the non-stick plates pop right in the dishwasher for fuss-free cleanup.
This highly-rated grill has everything you'd need to make any type of meal. You'll notice the unique design of the Ninja Foodi 6-in-1 Indoor Electric Grill that sets it apart from other candidates. It is on the heavier and bulkier side of the spectrum, but many people think it's a small price to pay if you can do so much grill.
This unit is powered by a 1760-watt motor, producing temperatures up to 500°F. Thanks to Cyclonic Grilling Technology, the hot air circulates around the grill to thoroughly cook food on the inside.
The front control panel displays a digital reading of the temperature and lets you adjust the degree and time needed to cook your meal. Additionally, there are buttons so you can choose different modes including Dehydrate, Bake, Air Crisp, and Roast.
The frying basket of this 6-in-1 smokeless grill has a 4-qt capacity, using 75% less oil than traditional deep fryers to make your fried food healthier. The Ninja Foodi features cooking surfaces that are ceramic coated, non-stick, and free of PTFE/PFOA.
Specs
Power: 1760 watts
Cooking area: 100 square inches
Maximum Temperature: 500°F
Weight: 14.5 pounds
Key Features
Powerful motor
High-quality construction
Many cooking options
Healthy air fry mode
Dishwasher safe
Intuitive digital control panel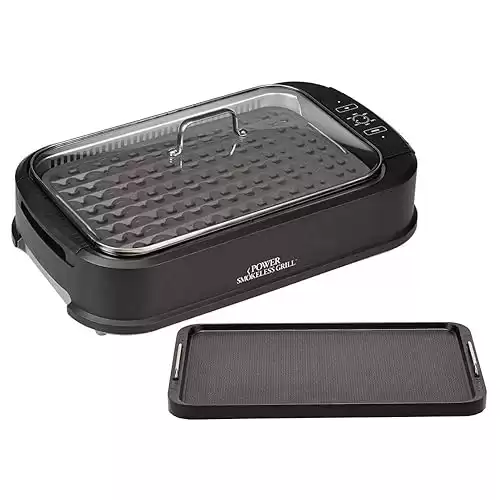 A tempered glass lid speeds up cooking while keeping food warm at the table. The smoke extractor fan does its job to prevent annoying alarms. Plus, the dishwasher-safe plates make cleanup a cinch. All at a really great price.
We've also found the PowerXL Smokeless Grill has thousands of positive reviews.
This indoor grill efficiently traps heat. Being see-through, you can also check on your food at a glance to know exactly when it's done. Moreover, a lid allows you to cover your meal after grilling so it stays warm while you're setting the table or talking with guests
The way the PowerXL Smokeless Grill deals with smoke is another superb aspect of the product. Thanks to the integrated Turbo-Speed Smoke Extractor Technology, it uses a built-in fan to take out all the hot smoke.
This indoor electric grill is powered by a 1500-watt motor, heating up its surface to a maximum of 450°F. The 108 square inches cooking area gives you plenty of room to feed around 6 people, and the digital controller on the side allows you to set the temperature to one of 6 levels.
The sturdy PowerXL grill comes with a grill and a griddle plate for extra versatility. It's also rather easy to clean owing to the non-stick coating, removable parts, and dishwasher safe materials.
Specs
Power: 1500 watts
Cooking area: 108 square inches
Maximum Temperature: 450°F
Weight: 10 pounds
 
Key Features
Comes with a transparent lid
Built-in fan to minimize smoke
Digital temperature control
Easy to clean
Great value for money
The Baumann Living Indoor Smokeless Grill makes it easy to enjoy delicious, perfectly grilled meals right in your own kitchen. This countertop grill features a spacious 16.85" x 8.35" cooking surface to accommodate all your grilling needs. The integrated smart LED touchscreen gives you precise control over temperatures from 212°F to 482°F and cook times up to 120 minutes.
Advanced turbo smoke extraction technology and uniform heating work together to provide a smoke-free indoor grilling experience. No more worrying about smoke alarms going off mid-cook! The ceramic non-stick grill and griddle plates allow for healthy cooking with less oil and make cleanup a breeze. Both grill and griddle components are dishwasher safe for super simple cleaning.
With tempered glass lid options and innovative smokeless technology, the Power Smokeless Electric Indoor Grill delivers indoor grilling perfection. Grill up your favorite meals year-round without the mess and fuss of traditional grills. This smart indoor grill provides the key to fast, convenient cooking that's healthy and delicious.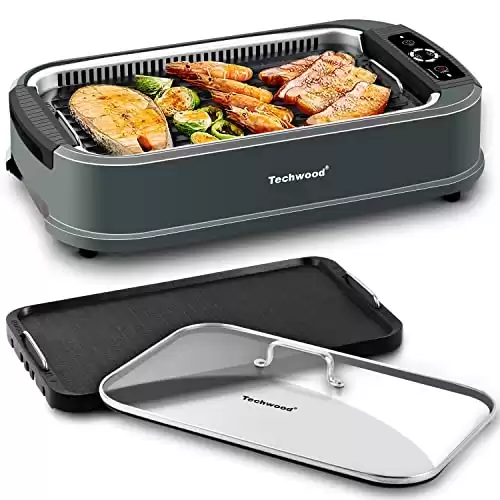 The Techwood Electric Grill makes it easy to throw a fun BBQ bash whether you're hosting a big group or keeping it casual with just a few friends. With 200 square inches of grilling space, this versatile grill has room to cook up a feast.
The included grill and griddle plates let you customize your meal options. Grill up sizzling burgers and dogs on one side while preparing veggies or breakfast staples on the griddle. The non-stick cooking surfaces ensure even heating and easy clean-up too.
A tempered glass lid traps in heat for faster cooking times. And the built-in drip tray keeps things neat while you cook. Rated at 1500W, this powerful grill heats up quickly and cooks food to tender, juicy perfection. Those trademark grill marks that make everything taste even better? This grill delivers.
Whether you consider yourself a grilling guru or just an occasional backyard chef, the Techwood Electric Grill makes it easy to play host. Cook up your next crowd-pleasing BBQ spread indoors or out with this do-it-all grill.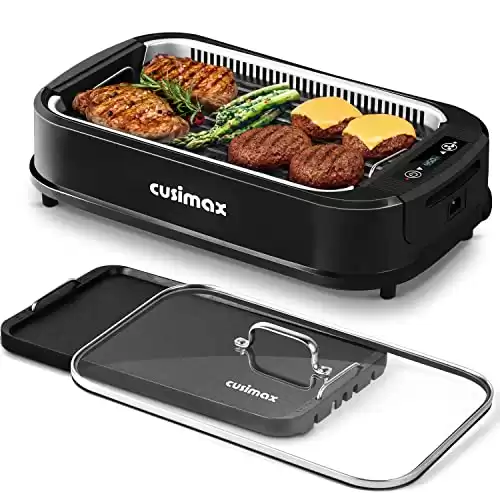 The versatile 2-in-1 design features a grill plate and griddle plate so you can cook anything from pancakes to salmon. Switch out the plates to match what's on the menu. The glass lid speeds up cooking by locking in heat. And it's convenient to check your food's progress without lifting the lid.
This grill heats up fast and distributes heat evenly across the surface for consistent results. Perforations in the grill plate let grease drain away for healthier cooking while still getting those nice grill marks. An LED display with adjustable temperature settings up to 450°F makes it easy to achieve perfect doneness.
Clean up is so easy with dishwasher-safe removable parts including the lid, plates, and drip tray. Non-stick surfaces allow food to slide right off without leaving a mess behind. Plus, the grill looks sleek on your countertop when not in use.
Cusimax also stands behind their products with lifetime support and a 180-day return policy. Say goodbye to weather worries and welcome convenient home grilling with the Cusimax Electric Grill.
If you're searching for an indoor grill that offers amazing versatility without breaking the bank, then the GoWISE USA 2-in-1 Smokeless Indoor Grill can be a fantastic solution for your cooking needs. One thing to note -The GoWISE indoor grill does not have a lid. 
Featuring a generous 133 square inches cooking area, the GoWISE USA smokeless grill comes with 2 removable trays; one grill and one griddle, so you choose the most suitable cooking surface according to your meal.
Both trays are coated with a non-stick ceramic layer to allow you to pick up the food smoothly without hiccups and to leave you with an easier cleaning task. Not to mention, the components are dishwasher safe to save you some extra effort.
This indoor grill heats up to a blazing 482°F, already higher than most of its competitors on the market. It even does a decent job maintaining a constant temperature, complete with a side knob for simple heat control.
The GoWISE USA Indoor Grill and Griddle are equipped with a built-in fan specially designed for reducing smoke and unwanted cooking vapors. To get you started on your grilling fun, the purchase includes a cooking book with 10 grill recipes and 10 griddle recipes.
Specs
Power: 1300 watts
Cooking area: 125 square inches
Maximum Temperature: 482°F
Weight: 10 pounds
Pros
Comes with a grill plate and a griddle plate
Ceramic coated surfaces
Has a built-in fan
Mid-tier price
Last but not least, the BELLA Non-Stick Electric Griddle has managed to rightfully snatch the Best All Griddle title thanks to its premium-quality non-stick surface and generous grilling area.
This handy griddle offers 210 square inches of cooking and serving space, which is plenty for you to feed about 7 people. The 1500-watt motor heats the griddle up to 400°F, with an adjustable thermostat to let you choose from a range of temperatures.
The unique ceramic non-stick coating is 8 times more durable and lets you cook 30% faster than standard non-stick coatings as per company claims. It's reinforced with titanium to improve strength and scratch resistance.
The handles of the BELLA griddle are cool-to-the-touch to keep your hands safe while moving the unit, and the base has a built-in ledge with a backstop for extra stability. The drip tray is designed to allow for simple detachment just by sliding it out, so cleaning becomes more convenient.
This griddle isn't dishwasher safe, but clean up is still pretty easy; just run it under your kitchen faucet with some soap and it'll be as good as new. The BELLA Non-Stick Smokeless Electric Griddle is free of BPA, PTFE, and PFOA, with a 2-year warranty to back it up.
How Do Smokeless Grills Work?
Most smokeless grills have built-in fans or extractors that whisk away excess smoke during cooking. Many also have water trays that help absorb smoke. The result is little to no billowing smoke to trigger fire alarms or stain walls.
Additionally, you can almost always find a water tray underneath the grill. Once you fill this tray with some water, it'll also absorb the leftover smoke during cooking. As a result, very little to no smoke is left on the grill or griddle plates, providing you with a smokeless grilling experience.
Since smoke is out of the equation, you don't have to worry about your indoor grill triggering the fire alarms while in use. You'll also end up using fewer propane refills or charcoal smokers, creating a more eco-friendly environment in your house.
Why Should You Buy a Smokeless Indoor Grill?
There are several reasons why grilling enthusiasts often prefer to buy a smokeless indoor grill even if they own a charcoal or gas grill for outdoor cooking. So if you're not really sure whether or not a smokeless indoor grill is right for you, here are some advantages of such a purchase:
You Don't Have to Be Outside
If you're a sucker for a good BBQ meal like a savory burger or a juicy steak, chances are you've had your fair share of food prepared outdoors by charcoal or gas grills.
As delicious as they can be to cook food with, it's simply not feasible in some situations.  Some parts of the world get way too cold to grill during winter, or you could be in an apartment that doesn't allow grills.
You Get a Smoke Grilling Experience
Some models of indoor grills do a better job than others when it comes to reducing the amount of smoke produced during grilling and cooking, But still, all indoor grills are designed to generate much less smoke than conventional outdoor grills, if any at all.
This is mainly due to the fact that they're almost exclusively electrically powered using no charcoal or gas. Some models rely on the heat from a stove, not even electricity.
This can be a huge advantage for people suffering from asthma or allergies because smoke from grilling is known to be rather irritating, even to a regular person. Moreover, smoke can leave behind nasty stains and odors if it's trapped inside without air vents, which means a smokeless grill is best for indoor use.
You Can Take it Anywhere
Indoor smokeless grills are designed to be much more compact and lightweight compared to outdoor models, making them quite portable and easy to store. As a result, smokeless indoor grills are excellent for trips, camps, travel vacations, hotel rooms, and college dorms.
How to Choose the Best Smokeless Indoor Grill?
When shopping for the best smokeless indoor grill, a random choice isn't a good strategy. These machines are built with certain features and designs that you need to consider before making a purchase so you end up with the right model for your needs.
Which Style Is Best for You?
Stovetop
This type of grill sits up on top of your kitchen stove. You can then use the heat from your electric or gas-powered stove to heat up the surface of the grill. The shape of a stovetop grill is often similar to the grill or griddle design of an outdoor grill.
The advantage of using this type of grill is that it gives you easy control over the temperature you want to cook at. Using the knobs on your stove, you can simply set the heat to your desired temperature.
One of its disadvantages, however, is that you'll have a hard time preventing grease or juices from spilling on your stove. You'll need to manually clean it up after cooking.
Open Countertop
This type of smokeless grill is designed to be placed on top of your kitchen counter. Unlike stovetop grills, it's capable of generating its own power via a motor to achieve high temperatures. It functions kind of like hot plates but with a griddle or grill design.
The advantage of using an open countertop grill is that it offers a larger cooking surface. It's typically equipped with buttons or dials so you can control its temperature. This means you can heat up your favorite food temperature using a range of different temperatures.
Most of the best smokeless indoor grills we reviewed are of this type.
However, open grills come without a lid. A downside of this is that oils and grease tend to splatter out from them. This is why some people considered them to be messier than the closed countertop type of grill.
Closed Countertop
This smokeless indoor grill is also designed to sit on your kitchen countertop. It generates its own power for the grilling surface to heat up as well.
The difference between closed and open countertop grills is that this type comes with a practical lid. With this lid closed, you can prevent grease, oils, and other liquids from splattering outside.
Additionally, the lid helps to speed the cooking process because more heat is trapped in. You can also cook different types of food such as vegetables, fish, chicken, paninis, and sandwiches. Since the lid is usually transparent, you can easily keep an eye on the food as it cooks.
The disadvantage of using a closed countertop grill is that it seems to be less versatile compared with open grills. You'll probably have to cook your food as thinly as possible to secure the lid properly, and you'll often get a smaller cooking area.
Cooking Area
The first thing you should consider once you've decided on a grill type is how many people you're planning to feed. This is important so you can choose a grill that offers a cooking area large enough to accommodate your needs.
Smokeless indoor grills come in a range of various dimensions with different serving capacities. Some models provide a grill space that's less than 100 square inches, such as the Philips Smokeless Indoor BBQ Grill. These are usually a good choice if you intend to feed 2 or 3 people.
Other models offer more than 200 inches of cooking area, such as the BELLA Non-Stick Electric Griddle, with plenty of room to cook for around 7 people. You'll find a lot of models with capacities falling somewhere between both numbers.
Maximum Temperature
To properly cook steak and chicken, the grilling surface needs to be hot enough to provide a nice sear and also to shorten the time it takes for the meat to get done. How high of a temperature your smokeless indoor grill can reach is a significant factor in your cooking experience.
Generally speaking, you'll find smokeless indoor grills usually offer more than 440°F maximum temperature. The highest ones on our list can heat all the way up to 500°F. These are the Ninja Foodi 5-in-1  and the AWLLY Teppanyaki Grill.
Temperature Control
Next, it's time for you to make up your mind regarding the temperature control of your indoor grill. This means deciding whether or not you want to be able to control how hot the grill gets.
Some people prefer a smokeless grill with a preset grilling temperature that you simply wait for the plate to reach.
With these grills, you don't need to worry about adjusting the temperatures. This can be great for elderly people or those who aren't particularly gifted in the cooking department.
Other cooks like to be in control of the heat so they can choose the ideal temperature for grilling different kinds of meat and veggies. Here, an indoor grill will offer a control knob, dial, or buttons with multiple temperatures to adjust accordingly.
Cleaning
Of course, no one wants to be stuck with a grill that takes forever to scrub clean. That's why your smokeless indoor grill should be easy to clean to save yourself the time and effort spent scrubbing off grill residue.
Look for an indoor grill that can be simply disassembled to let you clean its components thoroughly. Additionally, the cooking surface should be non-stick. This makes it easier for you to pick up the food and helps you avoid dealing with charred remnants stuck on the grill.
We also recommend models that are dishwasher safe since cleaning will be a breeze if you can just toss the grill plate and drip tray in a dishwasher and have it do the work for you!
On/Off Switch
One thing you don't want to overlook is the presence of a power switch on your smokeless indoor grill. It's a good idea to buy a model equipped with an On/Off switch instead of one that works directly when plugged into a wall outlet. The latter models present a higher risk of causing a fire.
How to Clean a Smokeless Indoor Grill?
As we mentioned above, one of the greatest benefits of a smokeless grill is the cleaning process and how it's miles easier than a traditional outdoor grill. A smokeless indoor grill is designed in a way that makes cleaning take less time and effort.
Since the grill and/or griddle plates, dripping tray, water tray, and glass lid are usually detachable and dishwasher safe, no scrubbing or scraping is needed to clean them off.
It is recommended, however, that you wait for at least 30 minutes to give the grill a chance to cool off before cleaning it.
After unplugging the power cord, you can proceed to wash the base using a warm, damp cloth and cleaning liquid. Do not use any abrasive tools or harsh cleaners on the grill and griddle plates. You can use a plastic scrubbing pad instead.
Final Thoughts
Choosing the best smokeless indoor grill can get pretty confusing, especially with so many models available and even more features to consider. However, we're confident that our top 10 list and informative buying guide will ease your mission to make the right decision.
At the end of the day, this type of grill is a fantastic option for the right person.  It's a hassle free, no fuss alternative to traditional outdoor grills that require a fuel source and produce smoke.
Smokeless grills are a perfect way to sear a steak or some burgers at home just right there in the kitchen.
Which model did you go with?  Did we leave something out in this article?  We'd love to hear from you in the comments section below.