This content contains affiliate links.  If you make a purchase after clicking a link on this page, we might receive a commission at no cost to you.
The idea of making a delicious smoked chuck roast may seem intimidating if you haven't spent much time around a smoker.
The process is much easier than you may be expecting, especially since you don't have much work to do once the roast is on the smoker.
Let's jump right in and take a look at a recipe for a delicious smoked chuck roast that is simple enough for beginners to handle.
The Easiest Smoked Chuck Roast You'll Ever Make
One of the best parts of summer, especially in the south, is BBQ. Brisket, sausages, pork shoulders, there's just nothing better than a hunk of meat that's been cooking low and slow in the smoker. This smoked chuck roast is the perfect main dish for your next get-together with your friends or family.
But what if you have never smoked anything before and you're not sure where to start? You are certainly in the right place! Step by step, we're going to go through everything you need to know to successfully make one of the best meals you have ever made. Take a look at the recipe below to see what we're talking about.
Getting Ready
Before you even put seasoning to the beef, make sure your smoker is on. Preheat it to 250°F.  This may seem like a low temperature but trust us, low and slow is the way to go when it comes to roasts.
I use my pellet grill, the Camp Chef Woodwind WiFi, for this recipe, but any smoker type will do!  As far as wood type goes, I like to use hickory (medium smoke flavor) , cherry (lighter smoke flavor), or mesquite (stronger smoke flavor) for this cut of beef.
The result of slowly cooking the meat and allowing the fats and tissues to break down will result in the most tender, juicy cut of meat you will ever taste.
One of the best things about this recipe is how simple it is. When you have a good roast, you don't need a lot of outside influences brought in to improve the meat.
While your smoker is heating up, take a bowl and mix up the ingredients for your dry rub. You should already have the ingredients in your pantry, but if not they are available at any grocery store.
The dry rub is 2 tablespoons of kosher salt and 2 tablespoons of coarse ground black pepper. That's it for our simple Texas style recipe!  For a little more flavor, we'll add garlic powder from time to time too.  Sprinkle your rub over the surface of the meat and massage it into the beef.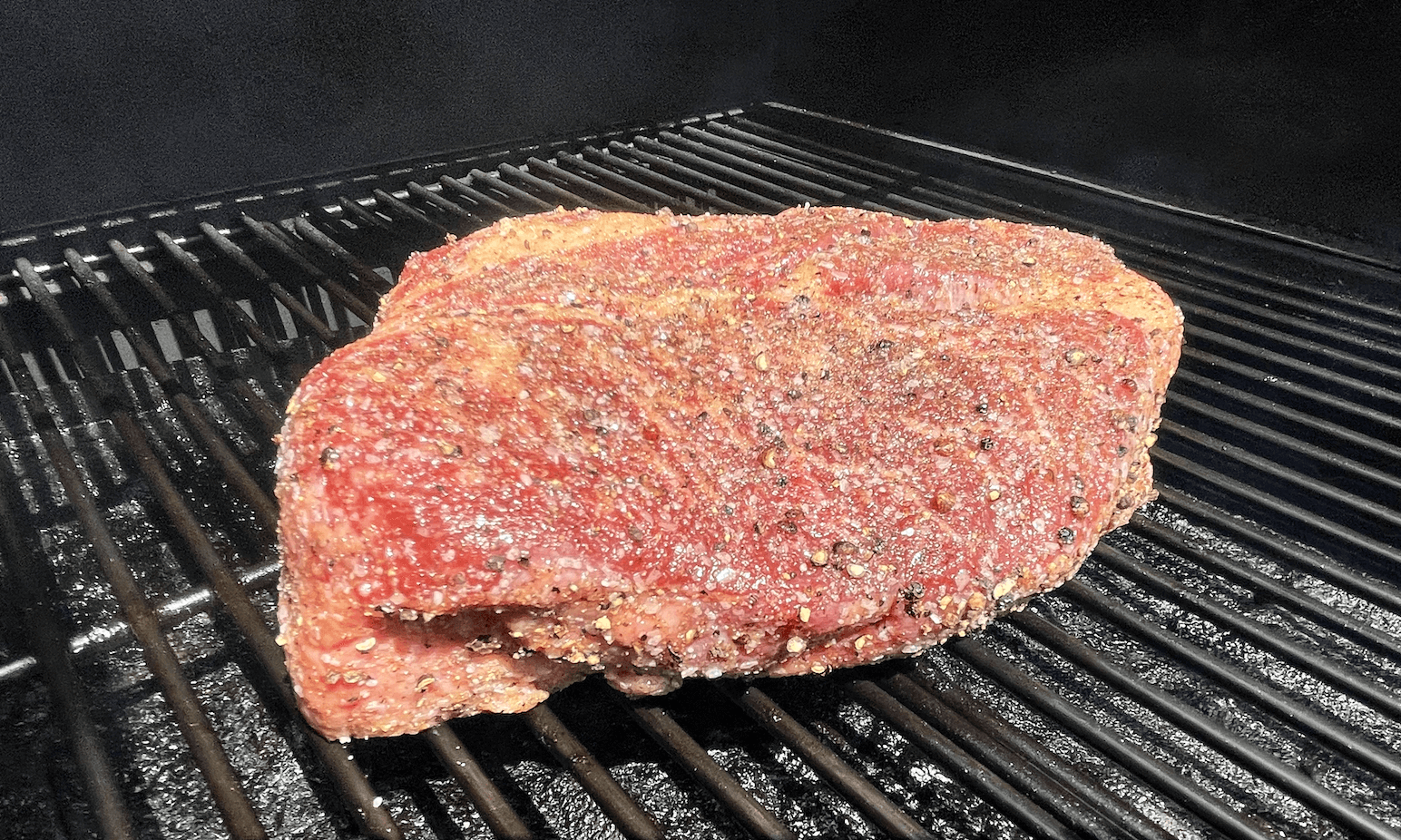 Why Do It Dry?
When it comes to smoking meats, dry rubs are king. They not only act as a dry brine but rather than being rinsed off, the dry rub is left on the meat during cooking and helps create that perfect seared crust on the meat.
The big draw to using a dry rub is that it does not add any additional moisture to the exterior of the meat as a marinade does.
This is important to get a good bark or crust on the meat that you are cooking because if the meat goes into the heat wet, it needs to evaporate that surface moisture, and that can delay searing and actually contribute to drying the meat out.
Now, the benefits of avoiding surface moisture only apply to pre-cooking meat treatments. This is why we use the apple cider vinegar in the spritzer to occasionally baste the meat.
When you incorporate a liquid element into your cooking after you have some browning going, you can give the meat an absolutely amazing finishing texture and smoky flavor. Not only does it help the meat stay nice and moist, but it can create a complex layered flavor profile that will leave you wishing you make twice as much.
Is Bigger Better?
Some people might wonder about using a larger roast. While you certainly can get a bigger cut of meat for your meal, larger cuts are harder to keep moist and tender when cooked for long periods of time.
Since we are doing this one in a smoker, and that is usually pretty foolproof in regards to keeping the meat moist and tender, you can probably use a roast up to four or five pounds, just make sure you keep it basted often, and cook it low and slow, with plenty of that apple cider vinegar.
If you do decide to use a larger cut of meat, try to get one that has its bulk spread over a larger area, in other words, look for a wider and flatter cut. This will allow you to get a more even heat distribution in the meat, leading to more complete and thorough cooking, with no cool spots or dry edges.
Smoking Your Roast
A quick high level overview.  I like to keep things simple with the rub – which is why I use a Texas style salt and pepper mixture.  Part of the reason why I like this rub is that it compliments the BBQ bark that I'm hoping to achieve really nicely.
The goal with this smoke is to develop a nice bark during the first half of the cook, then to wrap up the beef in butcher paper to almost let it braise in there and get nice and moist
Great for Smoking BBQ
After you apply your dry rub to your roast and get that massaged into the meat, it's time to cook! Head out to your smoker with your roast and place it on the smoker, fat side facing the heat source.
The first half of the cooking process, you will go out every hour and liberally spray your meat with the apple cider vinegar. It will take around 6 hours for your chuck roast to cook completely, so be sure you don't have plans to leave while it's cooking.
Once you hit the 3 hour mark, you will give the meat another generous mist of apple cider vinegar, then wrap it in two layers of butcher paper. Close the lid and allow your chuck roast to cook for another 2-3 hours.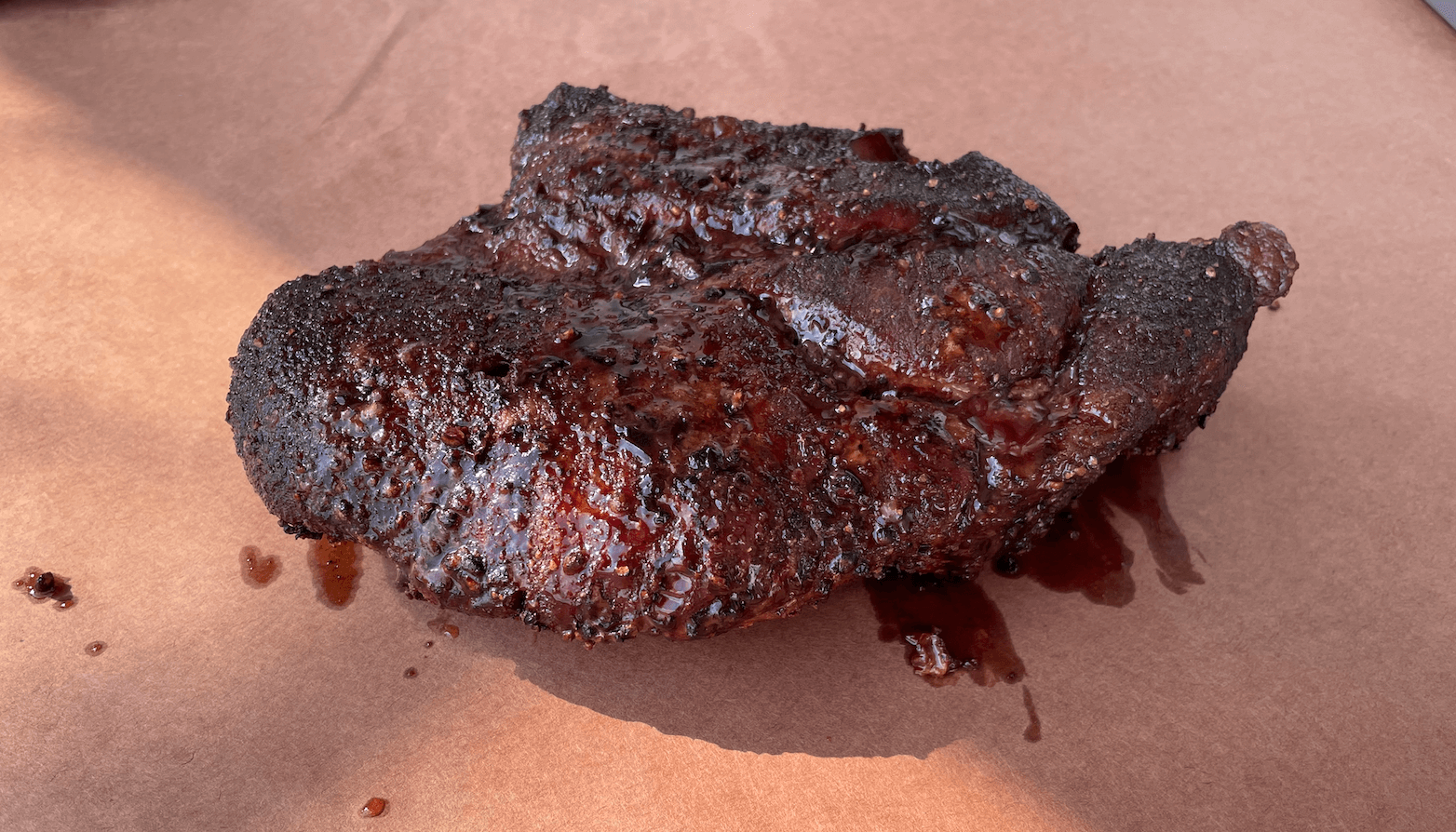 As you reach the point where your roast has been cooking for 5 hours, it's time to slide a probe thermometer into the meat and keep an eye on the temperature. You are looking for your beef to have an internal temperature of 203° F. After you see the meat reach the temperature goal, remove it from the smoker.
We recommend leaving it wrapped and placing it in an empty cooler to rest for about half an hour. The insulated box will keep the heat in and let your meat stay nice and hot while it rests.
Shred Your Smoked Chuck Roast and Serve
After your meat rests for 30 minutes, carefully remove it from the cooler, unwrap it, and let it rest at room temperature for about 15 minutes.  Then it's time to pull it apart. The meat should be juicy and so tender that it is falling apart.
Shredded smoked beef is delicious with barbecue sauce, served with all the fixin's. Because of the simplicity of the dry rub, you can use leftover meat and season it to use for tacos, BBQ, or even add it to your favorite soup or pasta recipe.
As you can see, making the most delicious smoked chuck roast is a much easier process than you imagined. Your friends and family will be lining up for seconds.
By the way, if you want a variation of smoked chuck roast that's not pulled or shredded, check out our poor man's burnt ends recipe next for another great way to cook this cut of beef!
Smoked Chuck Roast
Make incredibly delicious pulled or shredded beef with this smoked chuck roast recipe
Ingredients  
Rub Ingredients
2

tbsp

kosher salt

2

tbsp

ground black pepper

coarse

2

tbsp

garlic powder
Instructions 
Mix rub ingredients and apply evenly to the outside of the chuck roast

Place rubbed beef onto smoker, with the fatter, thicker side facing the direction where the heat comes from in your smoker

Close the lid. Every hour, spritz the beef generously with apple cider vinegar

After 3 hours, spritz the roast one more time then wrap with two layers of aluminum foil

Cook for about 2-3 more hours. After 5 total hours on the smoker, place a probe thermometer in the beef to gauge the temperature

Once the beef has reached an internal temperature of 203°F, it's ready to come off of the smoker

Place foil package in a warm cooler and shut the lid. Let the beef rest for about 30 minutes

Remove it from the cooler and let it rest another 15 minutes

Pull it apart using forks or meat claws. Then serve and enjoy!
Nutrition
Final Thoughts
This recipe is about as simple as it gets, yet it produces some pretty incredibly tasty results.  Did you try it out?  What do you think?
Better yet, what's your favorite smoked chuck roast recipe?  Do you prefer to add other spices like garlic powder or paprika?  We'd love to hear your thoughts in the comments section below.