If you're in the market for or researching smoker grills, odds are you've come across the Camp Chef name.
They're without a doubt one of the top brands in the game when it comes to outdoor cooking.  And in particular, they make an incredibly strong pellet grill that helps backyard pit masters across the world make delicious BBQ.
They've recently released a new line of pellet grills that really take things to the next level.  In this article, we're focusing on the Camp Chef Woodwind Pellet Grill line, which is a fantastic cooker that's absolutely loaded with features.
So read on to learn more about Camp Chef's most feature packed grill, and to see if it might be the right fit for you.
Why Trust Our Reviews?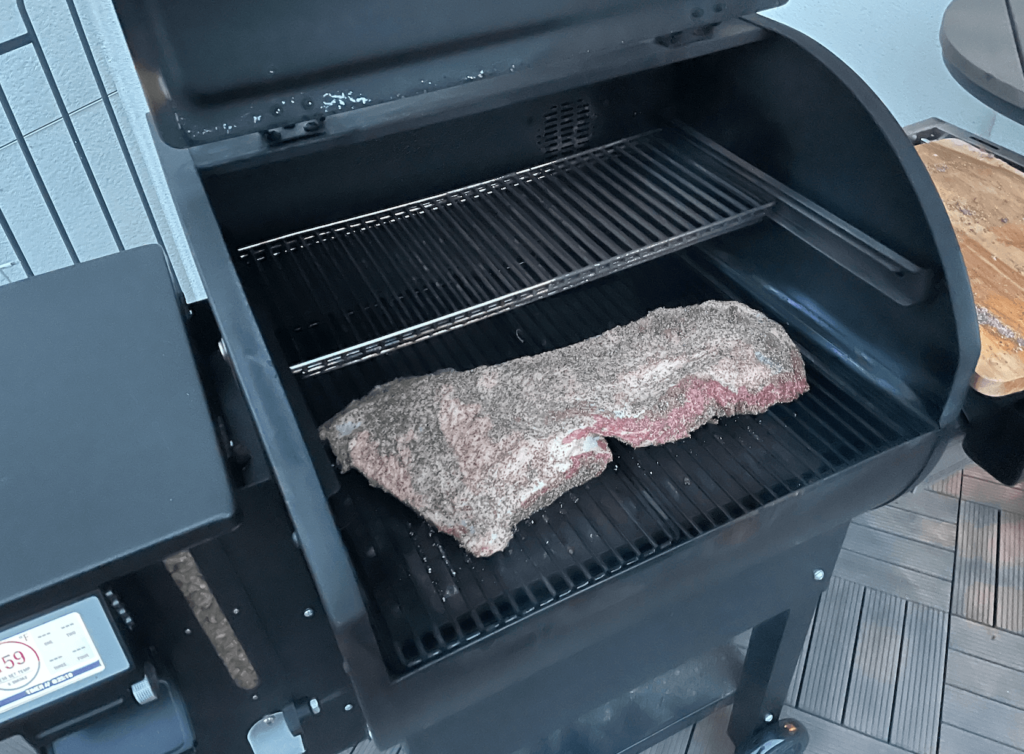 At Own the Grill, our staff have had exposure to just about every grill on the market.  I have also personally owned the Camp Chef Woodwind WiFi 24 for over 2.5 years and still love it to this day.  It has stood the test of time, and we get lots of use out of the sidekick power burner – the pizza oven attachment in particular is a favorite at my home!
So with all of that being said, I am intimately aware of the Woodwind's strengths and limitations. Read on to learn more!
A Quick Brand Overview of Camp Chef
Back in the early 1990's, Camp Chef founder and avid outdoorsman Ty Measom noticed that there was a genuine lack of quality when it came to the outdoor cooking equipment specifically catered towards adventurers.
As any great entrepreneur would, he set out to create a product to solve this issue and serve the needs of outdoorsmen and women who wanted to enjoy delicious food while they adventured.
Eventually, he produced a camping stove that was incredibly portable, durable, and high quality.  It received rave reviews, and the Camp Chef brand was born.
Over time they've expanded their line of products – nowadays you can find dutch ovens, camping stoves, flat top griddles, pellet grills, and much more on Camp Chef's website.
No matter which of their products you're looking at, one thing remains the same.  The quality of their products is at or near the top of the list, regardless of which type of grill or piece of equipment it is.  They place a large amount of design, care, and craftsmanship into every single one of their products.
Camp Chef Woodwind Pellet Grill Review
The Camp Chef Woodwind Pellet Grill line encompasses 3 different sizes of grill – all of which share in similar features and design aesthetics.
We'll quickly go over the specs for each size of Camp Chef Woodwind Pellet Grill then from there, we'll take a look at some of the incredible features you'll find on all three of the different sizes.
The Camp Chef Woodwind WIFI 24 is a fantastic pellet smoker, and thanks to a slimmer profile it's a great fit on just about every porch or patio set up.
At 4,850 cubic inches of capacity in the cooking chamber and with 811 sq. in. of cooking surface area, you're afforded a generous amount of space to get all of your grilling and smoking done.  Day in and day out, you'd be hard pressed to find a better grill that will consistently deliver great results.
One of the most unique features of this grill is the ability to configure the side shelf – you can choose a basic shelf, a sear box station, or Camp Chef's patented sidekick.
The sidekick is probably the most popular choice because it is the most versatile. Functionally, it turns this cooker into a bona fide pellet and gas combo grill.
The burner is fitted in such a way that various attachments can fit on top – and Camp Chef has created a pizza oven, a flat top grill, and a sear box attachment that you can switch in and out any time on the sidekick.
Not to mention, the sidekick burner is powerful enough to heat a large pot for a seafood boil or something of the like.
Last but not least, the Woodwind connects to a phone app where you can manage all aspects of your cook from your phone. The LED display control panel on the grill itself is also sleek, intuitive, and easy to use.
Specs:
If you're looking for a big grill or smoker with lots of cooking surface area and volume in the main chamber, then the Woodwind WIFI 36 is worth a look as the largest grill in the series.
At about 7,000 cubic inches of space in the cooking chamber, you'll have plenty of space to get to work cooking for large groups of people.  It's also ideal for smoking big cuts of meat like whole briskets, full racks of ribs, and much more.  I'd honestly be surprised if you found a cut of meat that you couldn't fit on this grill.
Specs:
The last size available on the Camp Chef Woodwind Pellet Grill series is the WIFI 20, which is a much more compact model that still is loaded with great features.
The biggest selling point on this grill though is its slim profile.  If you're tight on space or simply don't want your grill to take up a ton of space on your patio, it's a great option for a small grill that still packs a punch in terms of cooking ability.  Since it's smaller and lighter than the other models, it's also a fairly easy grill to roll around, transport, and store.
The downside of the 20 is definitely its smaller hopper capacity, and it's only offered with a side shelf option.  So if you were interested in a Sidekick or Sear Box attachment (more on that below), then this one might not be for you.
Specs:
Camp Chef Woodwind Pellet Grill Features
Now that we've taken a look at the overview of the Woodwind series, it's time for the fun part – all of the features you can expect to find on these grills.
This is the part where the Woodwind grills really set themselves apart.  A lot of the features that you'll find below definitely do not come standard on other brands and types of pellet grills.
Camp Chef Connect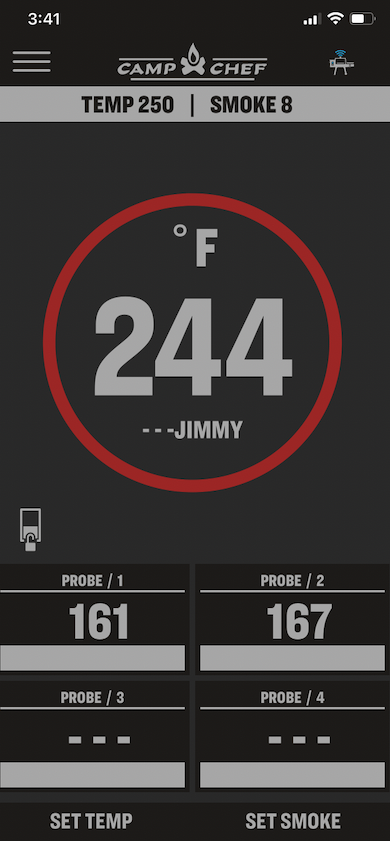 You've probably already noticed that "WIFI" is found in the name of all of the products we listed about above.
That's because each of these grills have built in WiFi capabilities – and you grill will actually connect to a phone app (Camp Chef Connect).
From the phone app, you can easily manage all aspects of your cook.  You can set your temperature to 5°F increments, set your grill's smoke levels, and monitor your food's internal temperature all from the same display.  This feature alone makes the Woodwind series one of the best, easiest to use pellet grills on the market.
It's also worth pointing out here that each of these grills comes with 4 probe meat thermometers that are all ready to plug in and send data to the phone app!
PID Controller and Smoke Control
One of the best things about pellet grills in general is the ability they give you to precisely control your temperature.  The Woodwind series grills take precision to the next level.
Most pellet grills allow for you to set your grill's temperature in 15°F or 25°F increments – but Camp Chef grills let you set your temperature in 5°F increments.  A proprietary grill controller that utilizes PID technology allows for you to easily and precisely set your temperature with the turn of a dial.
Camp Chef has made managing your smoke levels incredibly user friendly too.  They've created a smoke number system where you can choose how smokey your grill can get on a scale of 1-10 to impart the perfect amount of flavor onto your food.  There really isn't a better way to dial in the taste of your BBQ than by precisely controlling your smoke setting like this.
Attachment Options
Here's another area where Camp Chef sets itself apart in the world of pellet grills.  A side shelf comes standard on all of their grills, but their Woodwind 24 and 36 grills are also compatible with side attachments that can really enhance what you're able to accomplish on the grill.
The first attachment option is a sear box, which is essentially a propane fueled side burner that can reach scorching temperatures of 900°F.  Since pellet grills are convection style cookers, it can sometimes be tougher to achieve a traditional sear on your meat – so the sear box is designed to make sear marks on your food.  It's the perfect way to sear a steak, burgers, or even to bake a pizza right there on the side of your grill.
The second attachment option is a sidekick griddle, which is basically a compact version of a Camp Chef flat top grill right there on the side of your main chamber.  A griddle is an excellent addition to any outdoor cooking set up and they open a whole world of options – you can easily make everything from burgers, to sautéed veggies, to breakfast on the sidekick attachment.
Slide and Grill Technology
Most pellet grills operate with a convection style cooking method where a fan circulates heat and smoke from smoldering wood pellets around your grill's chamber.
Camp Chef has created a feature in their grills to help recreate a direct heat method of grilling – which can be useful if your goal is to make a crust on your grilled food.
All you have to do is pull a knob, and a sliding door opens to expose a portion of your grill grates to open flames.  Using this setting also allows for your grill to achieve temperatures up to 650°F.
Ash Clean-out System
Naturally, your pellet grill will fill up with ash as your pellets burn as the result of each cook.  If your cooker has a poor design, it can be a huge pain to get leftover ashes cleaned out.
Camp Chef has an intuitive ash clean-out system built into the Woodwind series grills to help make the clean up process as pain free as possible.
All you have to do is pull a knob to release all of your ashes into a removable cup on the bottom of your pellet grill.  It's incredibly easy to do this after each cook and to keep your grill in fantastic shape for the next time you cook.
Warranty
If you've spent any time on this website, you know that I'm a big advocate of paying attention to the warranty offered by the manufacturer of your grill.
Not only is it nice to have protection and coverage in case something goes wrong with your grill, but a strong warranty is often a signal of a strong underlying product.  Think about it, if you were confident that you were selling a quality product, you wouldn't be afraid to back it up with a warranty.
Camp Chef Woodwind pellet grill models all come with a 3 year warranty which covers pretty much all parts and the shell of the grill.  All in all, it's a generous warranty and above industry average.
How Does the Camp Chef Woodwind Pellet Grill Stack Up?
When it comes to all around quality and capabilities, I'm not exaggerating when I say that the Camp Chef Woodwind Pellet Grill is one of the top pellet grills on the market.
There really isn't a stone left unturned in the design of these grills.  Not only that, they are true set it and forget it cookers – which comes in especially handy for longer BBQ smoking sessions.
You can be cooking delicious food all the while monitoring your grill and food from the convenience of a phone app with precision and accuracy.
If you want to see how Camp Chef stacks up to some other pellet grill brands, we've created a couple of resources where we do side by side brand comparisons here:
[optin-monster slug="tnxx7wq84kenca3q0jgu"]
Final Thoughts
At the end of the day, the Camp Chef Woodwind Pellet Grill is one of the bona fide rock stars in the grilling world.  It has every feature you need to grill, sear, bake, smoke, or roast with ease – all on the same cooker.  In addition to being laden with features, it's incredibly precise too.
When you start to talk about the extra features and technology that's built in… it just completely takes things to the next level.  And comparatively speaking, the prices aren't all that bad either – especially considering what you get in return.
What do you think of the Woodwind series?  Do you have one?  We'd love to hear from you about your experience in the comments section below.