This content contains affiliate links.  If you make a purchase after clicking a link on this page, we might receive a commission at no cost to you.
When it comes to all-around versatility for outdoor cooking, it's hard to beat a pellet grill.
They're designed to handle all of your outdoor cooking needs – everything from smoking low and slow to searing a steak at high temperatures is possible on smoker grills.
If you're looking for a new one, Camp Chef and Traeger are two of the best brands on the market.  You might be wondering what the similarities and differences are, and which brand is better between the two.
In this post, we hope to help with the answers to all of your questions with a complete brand comparison of Camp Chef vs Traeger.  By the end, you'll know about what makes each brand unique, and what the pros and cons are of each.
On top of that, we'll take a close look and review the best individual pellet grills that both brands offer.
A Quick Look at Our Top Picks:
Camp Chef
Traeger
1. Camp Chef vs Traeger – Brand Overviews
Traeger
When it comes to pellet grills, Traeger is the brand that comes to mind first for most.
It's for good reason too.  Traeger was the first and original pellet grill.  Back in the mid 1980's, Traeger designed, patented, and produced the very first pellet grills to ever hit the market.
On the outside, the first Traeger grills aesthetically were very similar to a traditional offset smoker.  In place of a smoke box though, they placed a wood pellet hopper.  An internal system and auger then ignited the wood pellets to create heat and smoke, which is how the grills actually cooked food.
This new technology developed by Traeger revolutionized outdoor cooking and changed the trajectory of the history grilling.  In 2006 Traeger's patent expired, which opened the door for competing grill manufacturers to develop their own pellet grills relying on the same technology that Traeger put on the map.
All of that to say, Traeger grills are the original pellet grills.  They have a long standing reputation of innovation, high quality products, and a trusted brand name in the grilling community.
Camp Chef
Camp Chef's brand history has a slightly different arc.  The company was founded in 1990 and initially aimed to create products for an underserved audience.  Namely, outdoorsmen (and women) who loved to camp and be outdoors, and make dang good food while they were doing it.
At first, that meant things like camping grills, flat top grills, and portable grills.  They make incredibly high quality products and excelled at just about every design they tried, which over the years has included pizza ovens, Dutch ovens, outdoor stoves, and much more.
Shortly after Traeger's patent expired, Camp Chef tried their hand at pellet grills.  They brought their same signature workmanship and attention to detail to pellet grills, and the result has been some of the best products on the market.
2. Camp Chef vs Traeger – Side By Side
Before getting into individual grill reviews, let's do a high level comparison of the attributes of each brand.  Hopefully, this will help to clarify some of the similarities and differences in this comparison conversation!
Temperature Control
Pellet grills are essentially smokers and grills, and to perform both of those tasks well temperature control and consistency are incredibly important.
Temperature control means two different things.  First, the grill should retain heat extremely well – leaked heat will lead to inconsistent results at best.
The second factor we consider for temperature control is how precisely you're able to control your temperature while grilling, and how easy it is to do so.  A lot of recipes require specific temperatures for long periods of time, so your grill should help to make doing that as easy as possible.
Traeger
Traeger grills across the board do a fantastic job of temperature retention.  We read through a lot of product reviews and customer feedback, and temper retention is never an issue with Traeger grills.  They are perfect vessels for long term cooking and will cook your heat consistently and evenly.
You can manage your grill's temperature via an LED interface built into the grill.  Setting and changing your temperature in increments of 15°F is literally as easy as turning a knob.  On top of that, modern Traeger grills feature the ability to manage all aspects of your temperature from the convenience of a phone app.
That means you can change grill temperature, monitor food temperature, and add smoke all from your smartphone or tablet while you watch the game inside!
Camp Chef
Camp Chef grills are similar to Traeger in that they do an outstanding job of retaining heat.  Very rarely, if ever, will you hear a complaint about a Camp Chef pellet grill not cooking food evenly.
They also have an easy to use, bright LED display to monitor the temperature of your grill.  A simple knob allows the pit master to manage your temperature.  From the LED display you can also toggle to see your food's internal temperature measured by included probes.
Verdict (Temperature Control):

Tie
At the end of the day, both of these brands make grills that retain heat extremely well.  Both also include intuitive, easy to use knobs and LED displays to manage all aspects of your cook.
Temperature Range
Pellet grills are advertised as all in one grilling solutions, so with that in mind temperature range is incredibly important.  The sweet spot for smoking meat is 225°F, give or take, and the honey hole for searing is 500°F or more, although it can be done at temperatures in the 400's.
With that in mind, the best pellet grill should be able to easily maintain temperatures at both ends of the smoking and searing spectrum.
The temperature range of most Traeger grills is 180°F to 400°F.  On the other hand, most Camp Chef pellet grills have a temperature range of 160°F to 500°F.
Verdict (Temperature Range):

Camp Chef
The winner here is obvious.  While you can get just about anything done that you need to on a Traeger, Camp Chef simply offers a better temperature range.  Things like achieving a delicious crust when searing your steak in particular will be a little easier on a Camp Chef.
Cooking Surface Area
Both of these brands have pretty robust lines of grills, and you can find a grill that suits your needs in regards to how much cooking area you want.
So as far as the availability of cooking surface area goes, it's a tie.
What's probably more important though is bang for your buck.  In other words, which brand gives you more cooking area per dollar spent?
Verdict (Cooking Surface Area):

Traeger
Pretty much across the board, your dollar goes further with Traeger specifically in regard to cooking surface area.  You'll find that when there are similarly sized grills between the two brands, the Traeger option typically has the better price.
Warranty
One of the first things I look for when I'm shopping for anything, especially grills, is a manufacturer's warranty.
Not only does it protect your investment, often times the manufacturers with the most generous warranties are the ones whose products have the lowest probability of defects.
Verdict (Warranty):

Tie
In the case of Camp Chef and Traeger, both brands offer a 3 year warranty.  Compared to the rest of the industry, this warranty length is pretty standard.  In this brand comparison though, there's no warranty advantage between the two.
Hopper Capacity
The hopper capacity is another feature that might not sound like the biggest deal, but it can make a huge difference in your overall grilling experience.
If your pellet grill has too small of a hopper, you'll have to refill it quite frequently.  It's not a difficult task, but it can get a little obnoxious to have to do it over and over.
Camp Chef's smaller units have hoppers with 18 pounds of capacity.  Some of their larger grills have 22 pounds of hopper capacity.
Traeger grills on the other hand all are kitted with a hopper that can handle 18 pounds of pellets.
Verdict (Hopper Capacity):

Camp Chef
The extra 4 pounds might not sound like a lot of a difference, but with a bigger grill that burns more pellets, the extra 20% can make a difference.  So if you're buying a smaller grill it might not matter as much, but for larger grills Camp Chef gets the edge here.
Extra Features
When we evaluate extra features, we're really looking for things that take the grilling experience to the next level.  Most every brand offers things like grill covers, side shelves, and basic add on's.
It's hard to pick a true winner here as neither brand particularly differentiates itself.  Traeger's phone app is pretty cool.  Camp Chef offers models that include propane fueled side burners that have griddle attachments to create maximum versatility in your grilling space.
While each brand offers different extra features, it's hard to definitively say one is better than the other because this category in the Camp Chef vs Traeger debate largely comes down to personal preference.
Verdict (Extra Features): 

Tie
A year or two ago, this category would have gone to Camp Chef – but Traeger has really stepped up their game as of late, especially with their Ironwood series.
3. Camp Chef vs Traeger – Overall Winner
When it comes to the overall winner, it's an extremely close call to us.
But based on all of the factors we outlined above, we have to give a slight edge to Camp Chef.
Traeger is the OG and is still a leader in our mind at delivering pellet grills that create superior flavor in your food.
But Camp Chef products just come with extra features that put them in a class of their own – namely the pizza oven, flat top grill, and sidekick burner attachments.
Take all of this with a grain of salt!  At the end of the day, you should do the research and figure out which brand Camp Chef vs Traeger is best for you personally.
In order to help you do that, we've compiled some grill reviews for both brands so you can see from both brands in a product by product comparison.
4. Camp Chef vs Traeger – Grill Reviews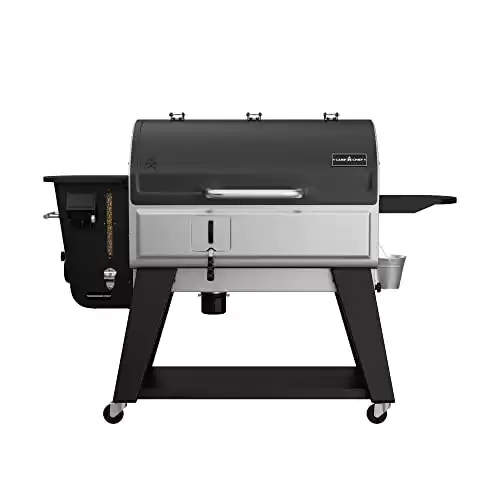 When it comes to all around versatility and quality of construction, it's hard to get much better than the Camp Chef Woodwind WiFi.  This style of grill comes in both a 24-inch wide cooking chamber and a Camp Chef Woodwind WiFi 36-inch wide cooking chamber.
The Woodwind 24 has 811 square inches of cooking surface area across two cooking racks whereas the Woodwind 36 has a whopping 1,236 square inches of cooking surface area.  The temperature range is 160-500°F.
Other than size, both share quite similar characteristics.  Each grill is loaded with a PID controller to set your temperature and smoke levels (you can customize smoke strength on 10 different settings), which also connects to a phone app via WiFi or Bluetooth.  That means that you can control every aspect of your cook from the convenience of your phone.
Furthermore, this grill has 4 built in probe thermometers that allow you to monitor 4 separate cuts of meat that you might be smoking, all at the same time.  The temperature data is also visible on the phone app.
The hopper capacity is 22 pounds of pellets, which is plenty to get through 10-20 hours of cooking, depending on what temperature you are working with.
Perhaps most impressive is the Camp Chef's Sidekick setup.  These grills come with a high quality, powerful cast aluminum burner (it can heat a pizza oven up to 750°F) that is fit for some pretty cool extra attachments like a flat top grill, sear box, and even a pizza oven.  For a lower price, you can also get this unit with a regular side shelf in place of the Sidekick.
All of these features make it one of our favorite grills on the market, regardless of type. Check out our complete review of the Woodwind here.
As someone who cut their teeth smoking meat the old fashioned way with charcoal and wood chunks, I'll admit I was skeptical when my buddy first showed up with one of these new fangled pellet grills. But after he let me spend an afternoon grilling up ribs on his SmokePro DLX, I was convinced this was more than just a gimmick.
Right off the bat, I appreciated the sturdy build quality and easy to use digital interface on the DLX. Assembly was straightforward even for a novice like me. Once I got it fired up and loaded with pellets, what really won me over was the smoke flavor rich, smoky goodness without having to constantly tend a firebox. The temperatures stayed rock solid too, even on a blustery day.
With 570 square inches of grill space, I had plenty of room to smoke up a full load of brisket, pork shoulders, chicken halves, and more all at once. The results were consistently juicy and delicious, better than what I could pull off on my old offset smoker. Plus you just can't beat the convenience of those hopper fed pellets.
At around $500, the DLX isn't the cheapest grill out there, but I think it's worth it for the quality construction and how it simplifies producing authentic wood-smoked BBQ. If you take your barbecue seriously but want to ditch the babysitting, this Camp Chef pellet grill is a great fit in my experience. Just get ready for some envious looks from the neighbors!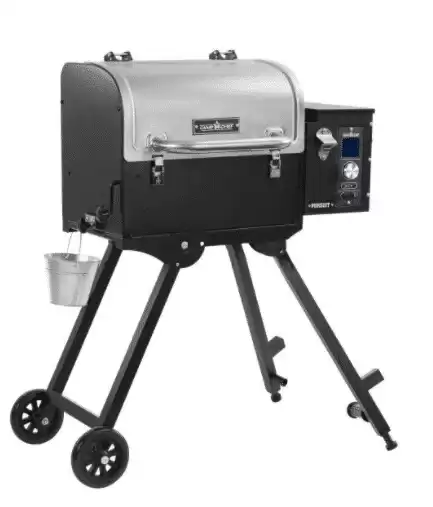 Camp Chef makes one of the best portable grills on the market, period, with their Pursuit Portable Pellet Grill.
One of the main downsides of pellet grills has to do with how heavy they are.  Most weigh in the ballpark of 150 to 200 pounds, so you're really buying something that will probably sit in one spot on your patio.
Camp Chef seemingly pulled off the impossible and designed a practical, high performance portable pellet grill.
It features slide and grill technology along with 501(!!) square inches of cooking area.  All around it's a fantastic option to take on the go, whether that's camping or tailgating.  It's never been easier to travel with delicious wood fired flavor.
When I first saw the Timberline 1300 in person, I have to admit I was a little intimidated. This grill is an absolute beast! With 1,300 square inches of grilling space, stainless steel construction, and a towering double-walled frame, the Timberline 1300 gives off a vibe like it should be commanding a starship instead of parking on my backyard deck.
But once I fired it up and heard that first satisfying sizzle of the pellets being ignited, the Timberline 1300 proved itself to be more than just looks. This thing is a smoking machine! It has enough room inside to take on any task – I managed to smoke 2 briskets, a rack of ribs, and corn on the cob all at once with space to spare. Having the dual temperature zones is a clutch for handling both low and slow smoking as well as hot and fast searing all in one go.
I'll admit the high dollar price tag had me gulping a bit. But with that said, Traeger clearly put some serious engineering into making the Timberline live up to its name as its flagship model. If you're looking for a wood pellet Cadillac that you can hand down to your kids one day, this is it right here. Just go ahead and clear some space – this beast deserves to be the centerpiece of any backyard barbecue!
As someone who loves smoky, flavorful barbecue but doesn't have the patience for babysitting a smoker, I was eager to try out this WiFi-enabled Traeger Pro 780 . With 780 square inches of grilling space, it looked like it could handle some serious cookouts for my crowd.
After assembling this beast and loading it up with gourmet wood pellets, I fired up the Traeger app on my phone and started dialing in the temperature. I'll admit, being able to walk away from the grill and monitor temps from my phone gave me a sense of wizardly power!
But what really sold me was that authentic wood-fired taste. Whether I was smoking pork shoulders low and slow at 225°F or cranking the heat up to 500°F for a perfect sear on steaks, the Pro 780 consistently pumped out some mouthwatering barbecue. The WiFIRE technology kept temperatures rock solid too – barely any spikes or dips during hours of unattended smoking.
While it ain't cheap, I'd say this smart grill is worth the investment for tech-loving pitmasters. If you want that wood pellet flavor without having to stand watch, the Traeger Pro 780 has you covered. Just be ready for some serious backyard envy from your neighbors when they get a whiff of what this WiFi wonder can cook up!
I was pumped to get my hands on the Traeger Tailgater. Now don't get me wrong, this isn't the biggest or most decked-out pellet grill on the market. At around 300 square inches and 62 pounds, the Tailgater is made to be portable.
But just because it's smaller doesn't mean this grill skimps on that signature Traeger wood-fired flavor. During my first road test smoking up some baby back ribs at a tailgate, I was amazed by how juicy and tender the meat turned out using those Traeger wood pellets. Having the smartphone app to dial in temps was handy too when I needed to step away from the grill.
My main gripe is that you can't get too ambitious with the limited cooking space. Forget smoking a full packer brisket on the Tailgater. But for what it's designed for – easily transportable backyard and campsite grilling – I think Traeger pretty much nailed it. At under $400, it's an affordable way to get that smoky flavor on the go. Just be prepared to get creative with space when cooking for a crowd. Or be the most popular guy at the tailgate when everyone smells those ribs!
Note – if you want to see how Pro series grills stack up to Ironwood grills, check out our comparison of Traeger Ironwood vs Pro Series grills next!
Frequently Asked Questions
Which company was the original creator of pellet grills?
Traeger invented and patented the first pellet grills in the 1980s. They were the pioneers of pellet grill technology.
What is the temperature range on most Camp Chef pellet grills?
Camp Chef grills typically have a temperature range of 160°F to 500°F, giving them an edge for searing at higher temps.
What size is the cooking surface on the Camp Chef Woodwind WiFi 36?
The Woodwind WiFi 36 has a large cooking surface of 1236 square inches.
What technology does Traeger use for remote monitoring and control?
Traeger grills use WiFIRE technology that connects to an app on your smartphone for wireless control.
Which brand offers a more portable pellet grill option?
Camp Chef's Pursuit model is a highly portable choice at just over 50 lbs with a 501 sq. in. cooking surface.
Where are Camp Chef and Traeger grills manufactured?
Both brands outsource their manufacturing to China, despite their American brand origins.
When can you find Camp Chef grills on sale?
The best time to find sales on Camp Chef is around major holidays like Labor Day weekend.
What is the most affordable Traeger pellet grill?
The Traeger Tailgater is their most budget-friendly portable model at around $400.
Is Traeger Made in China?
Yes, Traeger grills are now manufactured in China. This is something that a lot of people aren't actually aware of, and this is mainly because Traeger was once an all-American brand. This was made clear by the company in all of its marketing material, so how did this all-American company end up producing its products in China?
In 2006, Traeger Pellet Grills LLC was bought out by another company. Up until this date, all Traeger grills were produced in the company's production facilities in Oregon. However, with the sale of the company, manufacturing began to be outsourced to China, where it is much cheaper.
However, the company's Oregon manufacturing facilities remained open until 2010. So, if you own a grill that was produced before then, there is a good chance that it was made in America. But, all grills produced since this date would have been made in China.
Is Camp Chef Made in China?
Another big American company well-known for its grills is Camp Chef. But, what you might not know is that their grills are actually made in China. The company was founded in the 1990s and quickly became one of the big names in grilling, but they actually outsource all of their manufacturing work to China.
That being said, the majority of the company is still based in the USA. All the designs and research for products is conducted in America, and even the prototypes are created here. But, when it comes to mass production, all the work is completed in China then shipped to the USA to be sold.
So, yes, in short, Camp Chef is made in China. From all accounts, it seems that production for this company has always taken place in China, despite Camp Chef being well-known as an all-American company.
Do Camp Chef Pellet Grills Go on Sale?
Camp Chef pellet grills are undoubtedly one of the best products on the market when it comes to grilling. But, there is also no denying that these grills also come with a pretty hefty price tag. So, do they ever go on sale?
Yes, Camp Chef does run sales for their pellet grills. However, these sales are often hard to spot as they do not happen all that often.
Unlike other companies who run sales regularly throughout the year, Camp Chef only reduces the cost of their products on big sale days. In particular, the best time of the year to pick up a Camp Chef pellet grill in the sale is on Labor Day weekend.
So, yes, Camp Chef pellet grills do go on sale. But, remember, these grills are insanely popular. So, if you want to pick one up at a good price, you will need to act quickly.
[optin-monster slug="tnxx7wq84kenca3q0jgu"]
Camp Chef vs Traeger – Wrap Up
At the end of the day, you can't go wrong with either of these brands.  Both make super high quality products, and both have a great reputation in the grilling community.
The answer to which is better between the two really depends on your individual preferences.  For our taste, Camp Chef gets the slight edge but if you got me a Traeger, I definitely wouldn't be upset!
Which one did you choose?  Let us know in the comments section below.
Looking for more pellet grill comparisons?  Check out our comparison of Camp Chef vs Rec Tec or Rec Tec vs Traeger Pellet Grills next!