This content contains affiliate links.  If you make a purchase after clicking a link on this page, we might receive a commission at no cost to you.
Having an outdoor pellet grill only makes your summer better. Long summer cookouts with friends and family are common with many of us sharing a drink while cooking up some delicious food for everyone to enjoy.
However, with so many grills available on the market, picking the right grill out can be difficult, especially if you're torn between the Traeger Pro and Traeger Ironwood models.
After all, the characteristics, capacities, and purposes of both grills are almost identical.
To help you better understand what each type of grill offers, we have put together this guide. Here, we will teach you everything you need to know about both types of Traeger grills, so you can make the best decision for your needs, preferences, and budget.
If this sounds like something that could come in useful to you, be sure to keep reading!
What Are Traeger Grills?
You may already have heard of Traeger, but before we start looking at the Ironwood and Pro Series Grills Traeger produces it is probably a good idea to get a better understanding of who Traeger are and what we can expect from their grills. 
Traeger grills came about in 1985, when Joe Traeger, Traeger's founder, accidentally burned his 4th of July chicken on his gas barbecue. This made him realize that he could do things a lot better and that's exactly what he did.
Later that year Traeger Grills was born, and Joe Traeger invented the world's first wood pellet grill.
In the years since, Traeger have developed and released more and more pellet grills to the market, with each one being designed with the latest grill technologies to ensure the best possible performance. 
In regards to what we can expect from any Traeger Grill, Traeger has an impressive reputation. They are typically known for making incredibly reliable grills that cook meat to perfection, needing little effort from us.
With a Traeger grill, you can expect reliable, great results every time. While their grills use wood as their fuel source, Trager has ensured that their grill still has digital control to simplify the cooking process.
From a whole host of grills, two of the most popular models are the Ironwood and Pro Series grill. These are the two we will be looking at.
The Grills We Will Be Comparing
There are a number of different grills that make up both series of these Traeger Grills. So that we don't overload you with information we will just focus on two of the most popular grills from each series.
From the Ironwood series, we will be talking about the Ironwood 650 and Ironwood 885. From the Pro Series, we will be discussing Pro 575 and Pro 780.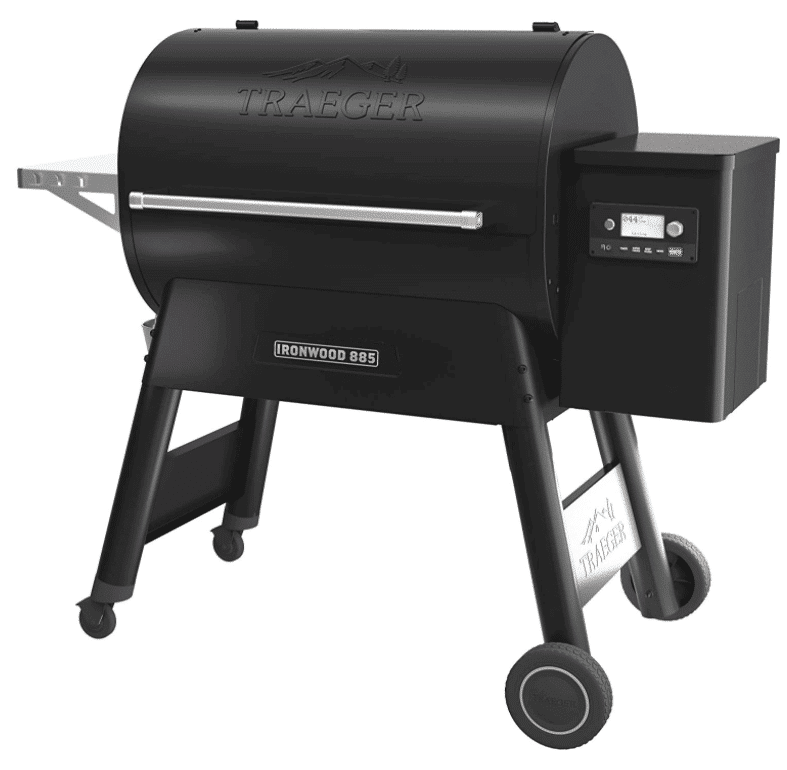 Traeger Ironwood vs Pro Series (What We Need To Consider)
The easiest way to compare Traeger's Ironwood and Pro Series pellet grills is to consider their most important features and functionality. By doing so we will be able to gain a better understanding of what the two grills offer and how they are different.
To do this we will look at key things like capacity, cooking features, accessories, and how moveable each grill is.
Let's take a look at the first point of interest!
Cooking Capacity
Most compact pellet grills are easy to move around your backyard, but they don't usually have a very large capacity when it comes to cooking.
This shortcoming significantly impacts what you can do with your grill and how much food you can cook at a time. This typically leads to longer grilling times and very frustrated party guests.
Luckily, if you decide to purchase a Traeger Ironwood or Traeger Pro Series grill you won't have this problem. Both the Traeger Ironwood and Traeger Pro are decent-sized grills that aren't that compact.
Depending on which model you pick, you can expect to enjoy a large cooking space ranging from 575 square inches to 885 square inches. 
In terms of the Pro Series grills, the Pro 575 has a capacity of 575 square inches, and the Pro 780 has 780 square inches (can you see the theme yet?).
When it comes to the Ironwood grills, yep you guessed right, the Ironwood 650 has 650 square inches, and the Ironwood 885 has 885 square inches.
As you can see from these figures, the Ironwood 885 is the best grill for high-capacity grilling. On the other hand, the Pro 575 is better for low-capacity cooking.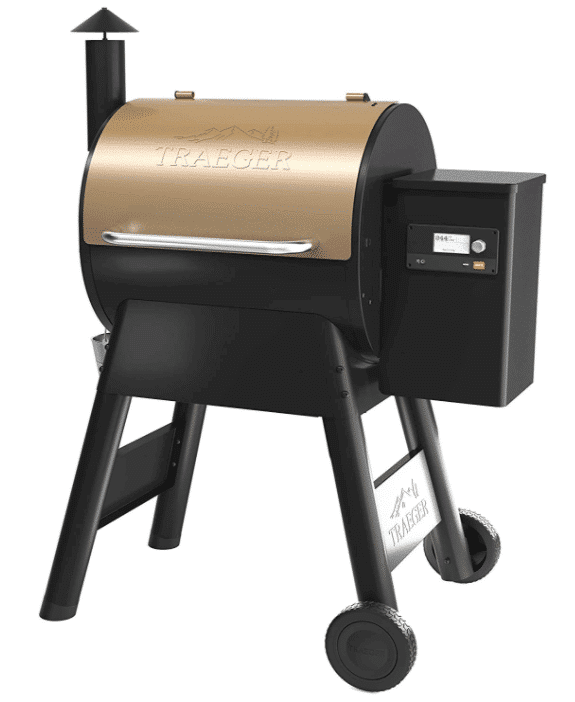 Top Features 
Pellet grills always come with a wide range of useful features that either make the grilling process a lot easier or simply make the grill a more appealing purchase. These features can be crucial when it comes to deciding which grill you want to buy.
In terms of the Traeger Ironwood and Pro Series grills, both models offer very similar features. These features include:
TurboTemp
D2 Controller
WiFIRE capabilities
Hopper cleanout door
Lockable, all-terrain wheels
If you choose to buy an Ironwood Traeger grill, you can also expect to receive a grill that has a pellet sensor, a side shelf, and a Super Smoke Mode. 
It is also good to know that the Traeger Pro has a built-in chimney. The Ironwood models don't have this type of exhaust.
Let's now look at how these features impact the overall performance and functionality of each grill.
TurboTemp
If you've used a grill before then you more than likely know the frustration that comes with waiting for the grill to preheat to your required temperature.
Generally speaking, propane-fueled grills reach desired temperatures pretty quickly, but wood pellet or charcoal fueled grills tend to take a lot longer and can be a lot more challenging to get right.
Traeger's neat TurboTemp feature helps to speed up the time it takes for the grills to reach a specific temperature. It also makes them capable of holding temperatures within a range of 5°.
This level of preciseness makes your grilling experience a lot safer, quicker, and enjoyable. Since all Ironwood and Pro Series Traeger grills are equipped with this feature they are both level on this score.
D2 Controller and WiFIRE
Both the Ironwood and Pro Series grills are fitted with a D2 controller. This makes it a lot easier for home grillers to operate the grill. This feature has a decent-sized display screen, selection feature, and ignite button to allow speedy operation.
The only difference between the two models when it comes to the D2 controller is that the Pro Series has fewer buttons.
The Ironwood grills have one up over the Pro Series grills because they include a handy timer button, and the ability to set the grill to 'keep warm' and 'standby'.
There is also a Super Smoke button on the Ironwood's D2 controller. This allows the user to fill the grilling chamber with extra smoke to give their food a more intense smoky flavor.
WiFIRE technology allows you to control your grill's operations and temperature remotely through the Traeger app. This makes it even easier for grill masters to operate the grill whilst also enjoying the party with family and friends. 
Both types of Traeger grill are fitted with this feature.
Hopper Cleanout Door
It's fair to say the worst part of any grilling session is cleaning your grill out afterward. Removing all the pellet ash from the grill can be an arduous task as the most common types of pellet grill only have small chutes and solid immovable walls. 
Traeger has made life easier for us all by adding features to the designs of both Ironwood and Pros Series grills that reduce this problem.
To help us easily empty the grill, Traeger has fitted each grill with a hopper door. This nifty feature makes it a lot easier to remove the ash from the grill.
Found on the right-hand side of each grill, once the grill is cool, users can simply lift the grill to slide any ash and waste pellets out. Though this is quite easy, we must say this is a little more challenging with the Ironwood as it has no side handle.
Pellet Fill-Level Sensor
Unlike the Traeger Pro Series grills, the Ironwood comes with a useful pellet sensor. This pellet sensor allows users to monitor the grill's fuel level remotely.
This feature comes in incredibly useful which is why you should always look out for it if you grill large quantities of meat or grill fairly often. 
Found inside the grill's pellet hopper, the sensor can occasionally malfunction when the levels of smoke get too high. Having said that, the tool is believed to be extremely reliable, guaranteeing maximum efficiency.
Side Shelf
A handy feature that can come with your grill is a side shelf. A side shelf is a perfect place to hold any essential grilling tools you may need during the grilling process.
Having all of this conveniently in one place makes it a lot easier to keep your things organized and speeds up your ability to grill.
The Ironwood grills from Traeger come with a shelf that holds tools really well. This shelf also has hooks that make it even easier to hang up your tongs and grilling brushes. 
Although the Pro Series grills don't have a side shelf, it is important to note that in its place they have a handle. This makes it a lot easier to move the grill around or clean out the hopper.
All-Terrain Wheels and Mobility
Both the Ironwood and Pro Series Traeger grills have all-terrain wheels. These wheels are useful because they give the user more freedom to move the grill around without having to struggle.
This can be very useful when it comes to storing away the grill when summer has ended. 
When you consider that both types of grill weigh approximately 150lbs this makes so much sense. To transport, move, or simply put your grill in place would be extremely tiring and difficult without the addition of strong wheels. 
Personally, we believe this is one of the most important features a grill can come equipped with.
Traeger Ironwood Vs Pro Series: What Are The Differences?
The main distinction between the Traeger Ironwood and Pro Series grills is in their designs. The Traeger Pro 575 and 780 have a chimney exhaust pipe, unlike the Ironwood grills which have a downdraft exhaust vent.
The Traeger Pro Series grills also don't have the Super Smoke feature. As a result of these design features, the Pro Series models of Trager grill doesn't produce as strong a smoke flavor.
Another difference between the two types of Traeger Grill is that the Ironwood grills are equipped with a handy shelf to place all of your cooking essentials and some food.
The Traeger Pro grills don't have this feature, so a side table may be required. Instead of this feature, the Pro grills come with a useful handle to help move and empty the hopper. The Ironwood grills don't have this feature.
Yet another key difference between the two is the difference in cooking capacity. Traeger's Ironwood 885 grill has a capacity of 885 square inches, whilst the Pro 780 only has 780 square inches. That is 100 square inches of more cooking space!
However, the price also has to be taken into consideration. The Traeger Ironwood Grills may have more cooking capacity and a few extra handy features, but they also cost hundreds of dollars more than the Pro Series grills.
This isn't necessarily a bad thing, but it is something that should be considered, especially if you're running on a tight budget.
Frequently Asked Questions
Are Traeger Grills Worth It?
Yes, Traeger Grills are definitely worth it. Traeger Grills may be expensive, but this is only because they are designed with more advanced technology that makes the grilling experience a lot more enjoyable and more importantly easier.
How Hot Do Traeger Ironwood Grills Get?
To account for all of your grilling and smoking needs, the Traeger Ironwood grills are capable of reaching heat from 165° to 500°. With such a big range in temperatures, you have the versatility needed to meet all of your grilling and smoking needs with little effort.
How Often Should You Clean Your Traeger Grill? 
To make sure your grill works correctly for longer, we recommend cleaning the grill thoroughly once for every 5 times you use it. By doing this your grill will be easier to maintain, living a longer, happier life.
Final Thoughts
So what do you think? On the whole, we think both the Traeger Ironwood and Traeger Pro grills are amazing choices. They are both wood pellet-styled grills that offer wonderfully competitive cooking capabilities in a unit that is stylish, easy to use, and packed with features. 
Now you've read through our guide, you hopefully have a better idea of what the Traeger Ironwood and Traeger Pro grills offer and how they compare to each other.
With a bit of luck, we have even helped you lean towards the grill that might suit your needs and requirements perfectly. If not, why not take the points from our guide and start comparing them with other grills you find yourself interested in. Good luck!