This content contains affiliate links.  If you make a purchase after clicking a link on this page, we might receive a commission at no cost to you.
If you have read any of the hype surrounding pellet grills, you will no doubt be aware of what an efficient, convenient and consistent innovation they have been.
Pellet grills have changed the outdoor barbecuing game for the better, but that doesn't mean that they can't be improved on.
Though wood pellet grills are able to achieve consistent temperatures and sustain them over prolonged cooking periods, allowing you to slow cook and smoke meats until tender and juicy, they are also notoriously slow to heat up.
Plus, they can be a little high maintenance and need to be cleaned out often.
And though they create very little mess compared to a charcoal grill, and are amazingly hands-off in functionality, many models are unable to reach temperatures high enough to be able to sear meat like a gas grill can.
Gas grills are fast to heat up, and can hit seriously high temps that are perfect for searing meat to crisp, caramelized finishes. That is why a smoker combo grill that combines both pellet and gas fuel sources is the latest development you have to try.
These pellet smoker gas grill combos allow you to reach a greater temperature range, fan flames hot enough for searing, work slow enough for smoking, and everything in between.
In this article, we list the best gas and pellet combo grills available to buy online today, and also take you through a comprehensive buyer's guide explaining what you need to look out for when making your choice. Let's go!
Best Gas and Pellet Grill Combo – Our Choices
Camp Chef Woodwind WiFi 24 with Sidekick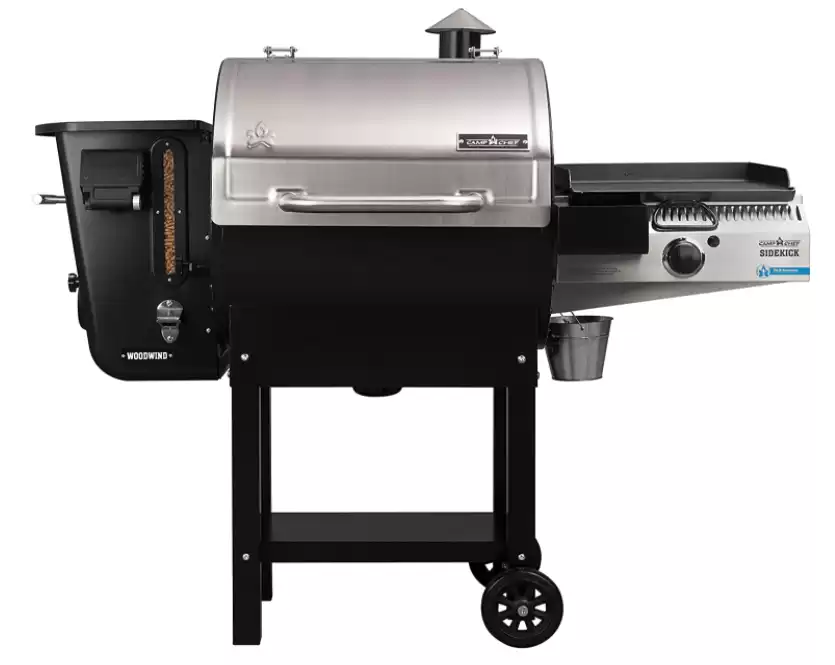 When it comes to true do it all cookers, it's hard to not point to the Camp Chef Woodwind Wifi as a leader. The base unit is a pellet grill only, however the inclusion of Camp Chef's Sidekick attachment makes it a bona fide pellet/gas grill combo.
The Sidekick is essentially a power burner that is fueled by propane gas. The shelf is fitted for a variety of attachments – most notably a griddle plate, a sear box, and a pizza oven. You can sear on the power burner at temperatures up to 700ºF.
Lots of great features are included to help with ongoing maintenance and clean up. The Sidekick has its own dedicated drip pan, as does the main cooking chamber. The main chamber also has an easy to use ash cleanout system.
On top of all of this, you're afforded all of the features you love to see in a modern day pellet smoker. This grill has WiFi/Bluetooth capabilities, so you can control all aspects of your cook from your phone. It also comes with 4 probe thermometers built-in and has 811 square inches of cooking surface area across two cooking racks.
Pit Boss Sportsman 1230 Pellet/Gas Combo Grill
| | |
| --- | --- |
| Weight | 203.48 Pounds |
| Dimensions (L x W x H) | 69.54 x 31.69 x 50.17 inches |
| Fuel Type | Wood and propane |
| Temperature Range | 180 – 500 Fahrenheit |
| Cooking Space | 1261 square inches |
| Hopper Capacity | 21 pounds |
| BTUs | 30,000 |
Next up, we have the 1230 Sportsman gas grill smoker combo by Pit Boss, and these guys really are the experts when it comes to any kind of smoker grill combo.
The 1230 Sportsman gets our vote for one of the best overall pellet smoker grill combos because it is sleek looking, seriously well constructed, and does everything you could possibly want it to without any fuss.
The 21 pound pellet hopper allows you to load up and leave the unit to do its thing for hours at a time, whilst the 30,000BTUs on the gas side offers fast and furious temperatures for a wide range of cooking processes.
It comes with two meat probes included, so you can achieve accurate temperatures and perfectly deliciously cooked cuts of meat. Sure, it's expensive, but the results are so worth it.
Pros:
Large cooking area over 50/50 gas-pellet split
Two Meat Probes for accurate cooking
180°F to 500°F temperature range
21 lb. hopper capacity
8-in-1 versatility to grill, smoke, roast, bake, braise, barbecue, char-grill, and sear
Cons:
Size of each cooking chamber small relative to the size of the entire unit
Camp Chef SmokePro DLX Pellet Grill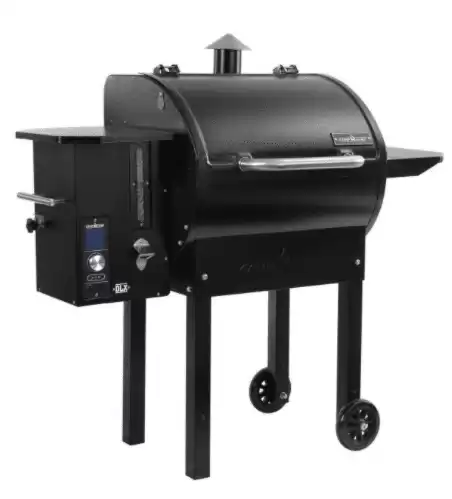 | | |
| --- | --- |
| Weight | 127 Pounds |
| Dimensions (L x W x H) | 40.5 x 25 x 22 inches |
| Cooking Surfaces | 573 square inches |
| Temperature range | 160 – 500 Fahrenheit |
| Hopper capacity | 18 pounds |
Next up, we have something for those of you who don't have tons of space to spare in your backyard and don't want the inconvenience of having to store a huge, bulky unit in the garage all winter.
With this offering by Camp Chef, you can enjoy the compact design of their pellet smoker, and the high heat and searing power of a propane grill, without the bulk.
The camp Chef wood pellet grill offers enough cooking space for small family gatherings, and its compact design means that it is a fairly portable pellet grill too.
But crucially, it is compatible with the Sear box and side box attachments, which allow for searing and char-grilling in a way that the smoker does not.
Because the box is detachable, you can choose to use it or decide to leave it aside. It is compact and easy to store, affording you options unlike any other smoker combo can.
Pros:
PID regulator for consistent temperatures of +/- 5º Fahrenheit
Adjustable smoke settings from 1-10,
Low-glare, high-visibility display that is easy to use
Temperature probe included
Ash and pellet hopper cleanout system, plus grease management system
Side attachment compatible (Sidekick or Sear Box) for versatility
573 square inches of rack surface area
Cons:
Sear box sold separately at additional cost
Cuisinart Twin Oaks Gas Pellet Combo Grill
| | |
| --- | --- |
| Dimensions (L x W x H) | 74 x 23 x 46 inches |
| Weight | 207.3 pounds |
| Temperature Range | 180 – 500 Fahrenheit |
| Cooking Space | 900 square inches |
| Hopper Capacity | 30 pounds |
This next smoker grill is from Cuisinart, and it is a great option if you really love taking on extremely long, slow cooks. This is because this smoker grill combo has the largest pellet hopper capacity on our list, allowing you to load up to 30 pounds of pellets in one go.
After setting the unit to work, you can go to bed and let your meat slowly tenderize and cook whilst you get a good night's kip! This results in delicious food for very little hands-on effort, which is always a win!
Of course, being a smoker grill combo means that this unit also has the capability to fire up fast and high, allowing you to grill, smoke, or griddle to your heart's delight. And since gas grilling is so convenient, you can opt for a quick and easy cooking process should you wish to.
It has an impressive cooking capacity split over a primary cooking space of 684 Square Inches, and a secondary cooking space of 216 Square Inches. This means you can cook multiple cuts in multiple ways, simultaneously. ideal!
Pros:
Huge hopper capacity
Easy Connect BBQ smartphone app allows you to search recipes and monitor your meat's progress
Large LCD controller and display
Super easy and convenient ash clean out system
dual fuel option affords convenience and delicious flavor in one unit
10 Watt bulbs allow you to carry on cooking well into the evenings without losing light
Impressive cooking area: 900 Square Inches
Cons:
Thin folded sheet construction
Expert Grill Concord 3-In-1 Pellet Grill & Gas Griddle
| | |
| --- | --- |
| Dimensions (L x W x H) | 74 x 23 x 46 inches |
| Weight | 170 pounds |
| Temperature Range | 180 – 450 Fahrenheit |
| Cooking Space | 1001 square inches of cooking space |
| Hopper Capacity | 24 pounds |
And finally, here is a smoker grill combo that has an affordable price tag, for all those who want to enjoy the joys of advanced backyard barbecuing without breaking the bank.
This wood pellet grill has all the fantastic features of a premium model, including a smartphone app and Bluetooth connectivity, allowing you to control the settings from afar. It has an in-built PID temperature control system, which keeps your cooking consistent for delicious results.
As well as a 647.3 square inch pellet cooking area, this unit has an additional 353.9 square inch griddle cooking area, which means you can simultaneously cook using different methods.
As well as low, slow smoking, you have high searing temperatures too, so you can keep everyone happy no matter what their tastes are.
The unit comes with meat probe included, an easy clean out ash management system, and easy hopper clean out too.
Where its affordability begins to show is in the construction. The rolled steel is slightly flimsy in places, but considering the jump down in cost, we still think this combo grill is excellent value for money.
Pros:
Bluetooth Technology and smartphone app
PID Control panel
Affordable price
Griddle section
Wide range of temperature settings provide versatile cooking options
Electronic ignition for super quick auto start-ups
Ash cleanout and hopper cleanout system
3-tier cooking grids for additional space on which to cook your favorite foods
Cons:
Flimsy construction in areas
Pit Boss Platinum KC Combo Grill
| | |
| --- | --- |
| Dimensions (L x W x H) | 69 x 27 x 61 inches |
| Weight | 262.3 pounds |
| Temperature Range | 180 – 500 degrees Fahrenheit |
| Cooking Area | 1001 square inches |
| Hopper Capacity | 26 pounds |
| BTUs | 27,000 |
Now, we have yet another Pit Boss unit for you (we did say they are the experts!), and this time it's the Platinum KC combo smoker grill. This unit takes the prize for most convenient, thanks to the technology that Pit Boss developed alongside it.
As well as having Bluetooth connectivity, this combo grill has a Smoke IT app that allows you to control the temperature and settings of the grill from your smartphone.
You can monitor the stats and make changes without having to leave your garden chair, and this leaves you much more time to spend chatting to guests or kicking back in the sun.
Better still, this unit has built-in temperature gauges and precise temperature control thanks to its PID technology.
This means that the unit responds to changes in atmosphere, smoke level, and heat distribution and maintains an exact temperature for consistent cooks. This is great when you are slow cooking food over a long period.
The convenience doesn't end there, as this grill also has a fully digital control board, heat detector and alarm system, and an easy access hopper for quick, painless clean outs.
If you like a huge cooking capacity and all the cooking versatility, with minimal effort and hassle, then this wood pellet grill & smoker is for you.
Pros:
11-in-1 Cooking process versatility means you can bake, braise, grill, char-grill, smoke, scramble, roast, sear, barbecue, sauté, and stir-fry
Removable griddle means LP cooking area can be used as standard grill
Whopping 1001 square inches of cooking space
Smoke IT app and Bluetooth capability
Solid construction Stainless-Steel Build
Fully Digital Control Board
Key Component Alert System
PID (Proportional-Integral-Derivative) Technology
Easy Access Hopper Cleanout
Cons:
Walmart's shipment often causes damage
Pit Boss Memphis Ultimate Charcoal
| | |
| --- | --- |
| Weight | 141 Pounds |
| Dimensions (L x W x H) | 48.5 x 30 x 23 inches |
| Fuel Type | Electric, Liquefied Petroleum Gas, Charcoal |
| BTUs | 36,000 |
| Cooking Space | 2,167 square inches |
Next up, we have a total beast of a unit in this Memphis Ultimate charcoal and gas combo by Pit Boss.
Now, strictly speaking, this unit isn't a wood pellet grill as it uses charcoal and wood to smoke, however, it is such a versatile and impressive example of a combo design that we simply had to include it.
If you love throwing big barbecues for all your friends, family, and neighbors, then this unit has the cooking capacity to do it.
With a combined cooking space of 2167 square inches, you can smoke large cuts and briskets, racks of ribs, sear fish, and grill as many sausages as you can lay your hands on.
The Memphis combo has a super sturdy construction, with all the racks and grilling surfaces coated in porcelain for durability and easy cleaning. And the 4-in-1 design means it can be used as a charcoal grill, liquid gas grill, an infrared searing burner, or a smoker firebox.
Pros:
Total 2,167 square inches of cooking area
3 stainless steel burners
36,000-BTU LP gas grill
Charcoal grill with adjustable charcoal grate and air dampers
Adjustable vents allow smoke to fill LP or charcoal chamber for offset smoking through indirect heat
Can be used as a 4-in-1 smoker for BBQing fun!
Cons:
Buyer's Guide
When it comes to choosing the best pellet gas combo grill, there are many things for you to consider, to ensure that you make the right choice for your personal needs.
Cooking Capacity
This is probably the most important thing when buying a pellet grill. You need to be sure that you get enough cooking area to cater for your family's needs. If you plan on having friends or relatives round for dinner, then you will need to buy more than just yourself!
It is also worth noting that if you are going to be using your pellet grill to smoke meats like brisket, you may find that you need to increase the size of your cooking area.
Ease Of Use
You should also check out the ease of use of the grill. Some models are easier to use than others, and some require more maintenance than others. For example, if you are not confident operating the controls, then you may prefer a simpler design.
Technology
Another factor to consider is the technology used by the grill. There are several types of technology used in pellet grills, such as WiFi, Bluetooth, etc.
These technologies allow you to connect your phone to the grill via apps, and therefore allow you to control and monitor the grill from anywhere.
Other Features
There are many other features that you should consider when purchasing a pellet gas combo grill. Things like the number of burners, the type of fuel used, the number of racks, and built-in heat detectors all play a part in determining the overall quality of the grill.
Durability & Reliability
Finally, you should check out the durability and reliability of the grill. This is particularly important if you intend to leave the grill unattended while you go away on holiday. It is also essential to check that the manufacturer provides a warranty for the product.
Frequently Asked Questions
Is Smoking Better Than Grilling?
Yes, smoking is definitely better than grilling. Smoked meat has a much deeper flavor than grilled meat, and this is because the smoke penetrates into the meat more effectively.
How Do I Know What Temperature To Set My Grill?
The ideal temperature for grilling is between 350°F and 450°F. However, if you want to cook something slowly, then you should lower the temperature to 300°F.
What Kind Of Wood Pellets Should I Use With My Grill?
Pellets made from hardwood are generally considered to be the best option. They provide a long-lasting smoky taste which is perfect for grilling. Pellets made from softwoods, however, tend to produce smoke rings which are less desirable.
Which Brand Of Pellet Grill Is The Best?
This really depends upon what you are looking for in a pellet grill. The main factors include price, portability, storage space, and the ability to cook multiple dishes at once.
You can check out our resource on all of the pellet grill brands A to Z for a look at what's available on the market.
Are Smoker Combos Worth It?
Smoker combos are great for those who love smoked meats. They are very easy to operate, and they are often cheaper than standalone smokers.
However, they don't offer quite as much versatility as standalone smokers, so you won't be able to cook everything that you would be able to with a dedicated smoker.
Conclusion
When choosing a pellet gas combo grill, there are many things to think about. You should take into account the size of the grill, the type of food you plan to cook, and how durable and reliable the grill is.
Ultimately, you cover more bases and afford yourself more versatility with these grills. Sure, they might cost more, but for barbecuing enthusiasts, these units are the future!