This content contains affiliate links.  If you make a purchase after clicking a link on this page, we might receive a commission at no cost to you.
Pellet smokers have taken the outdoor cooking scene by storm and surged in popularity over the last decade.
In case you didn't know, pellet smokers rely on an electronic system and auger to feed wood pellets into the smoker.  This system heats your food supplies the optimal amount of smoke and heat so you can cook your food in a near-perfect cooking environment – and get some incredible smoke flavor imparted into your food along the way.
You might hear us and others refer to these units as smoker grills,  pellet grills, or pellet smokers.  That's not by accident – due to the versatility of these cookers, they are pretty incredible at both smoking and grilling.
So if you're in the market for a simple yet excellent grilling experience, enjoy the delicious flavor of wood fired food, and want a set it and forget it style grill and smoker, then the rest of this article is for you.
In the rest of this post, we'll give our thoughts on the best pellet grill smokers on the market today.  Pellet grills come in many shapes, sizes, and price points – so there's something for everybody.
From there, we'll get into some major factors to consider when acquiring the best pellet smoker and then we'll wrap up with answers to some frequently asked questions!
Quick Look at Our Best Pellet Smoker and Grill Top Picks
Best Pellet Smoker Reviews
Let's get into why we chose these particular pellet smoker models: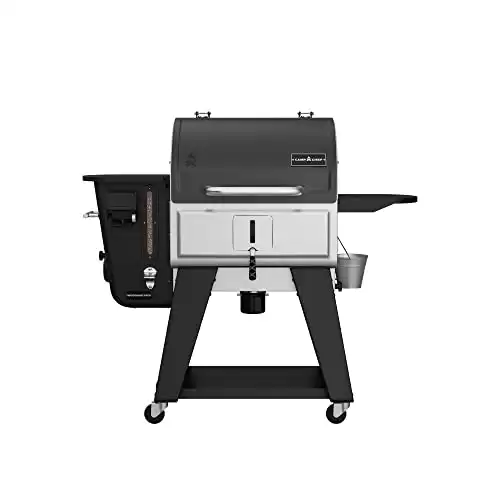 Our top pick for best pellet smoker goes to the Camp Chef Woodwind Wifi 24 for a few different reasons.  I've owned this grill for a little over two years now (check out my detailed review of the Woodwind Pellet Grill and it still works like a champ – and we get tons of use out of the extra features.
From a high level, it offers the most advanced features when it comes to grilling and smoking.  There's nothing you can't do cooking wise on this grill.
As far as basic specs go, you're afforded a generous 811 square inches of cooking area.  That's split across a lower rack area (429 square inches) and an upper rack area (382 square inches).  The chamber's wide design actually features 3,778 cubic inches of cooking space – so this is an ideal cooker even to smoke large briskets or beef rib racks.
The hopper capacity is 22 pounds of pellets, which is an above average and generous size – certainly enough to not have to worry about refills during long smoking sessions.
This cooker also has the widest temperature range of any pellet grill on our list.  With a range of 200-600°F, it's possible to get this pellet grill up to scorching heat that's perfect for a delicious sear or baking pizzas.
Speaking of searing and baking pizzas, this particular model is compatible with a bunch of accessories that Camp Chef has designed to enhance this grill.  They call it the Sidekick, but it's essentially a high quality propane fueled burner that powers a variety of add ons.  You can cook on a griddle top, sear box, or even a pizza oven right there on the side of your pellet grill.
\One of the best features here is Camp Chef's patented ash clean-out system.  They set up a system where all you have to do is pull a lever to remove ash in between cooks.  That's a huge time saver and an especially nice feature if you plan to frequently grill or smoke on your pellet grill.
The digital control system is also pretty advanced and about as intuitive as it could be.  A Smart temperature control and well designed auger work together to produce precise heat and optimal smoke levels while you cook.  That way you can truly set it and forget it while your food cooks!
The grill will also connect to a Camp Chef smartphone app via WiFi or Bluetooth, so you can manage all aspects of your cook from the convenience of your phone!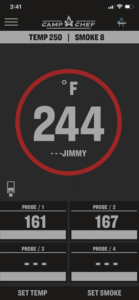 Things We Like:
Considering everything you get with this grill, the price is incredibly good.  It's a premium grill with a mid-level price
Tons of cooking space – with 811 square inches of grill grate surface area and 3,778 cubic inches of cooking space in the chamber, there isn't any type of food that this cooker can't handle
Outstanding temperature range – most pellet grills top out at 450°F or 500°F, which is fine.  But for the ultimate searing and baking experience, the SmokePro gets up to 600°F thanks to a built in induction fan
Sidekick can sear up to 750°F on the sear box attachment.  Can also cook on a griddle top or make Neapolitan style pizza with a pizza attachment.
Ash clean out system is simple and minimizes the amount of time you spend cleaning up.  Over time the savings really add up
Digital control is simple, straightforward, intuitive, and easy to use
Backed by a 3 year manufacturer's warranty
Things We Don't:
Prices have increased recently – still a nice value but maybe not worth it unless you think you'll get use out of the extras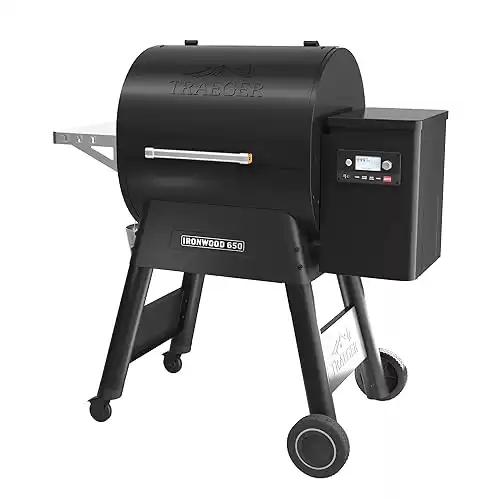 In case you aren't up to date on your pellet grill history, Traeger is the OG of pellet grills.  They were the first to develop pellet smoker technology and first began manufacturing in the 1980's.
For a while, they were the only manufacturer thanks to patent protection, but it expired in the early 2000's which led to a bunch of competition entering the market.
I bring this up to illustrate that Traeger has the most history when it comes to making pellet grills.  They have stuck around and still are one of the most popular pellet grills in the world despite the influx of competitors in the pellet grill space.
All of that to say, Traeger is probably the most well known brand in the world of pellet grills.  They were the first to make them and held a patent on the technology from the late 1980's through the 2000's.
So you can understand why they make excellent products – they've had decades worth of experience and expertise put towards refining their products into better and better versions of themselves.
The Traeger Ironwood Series is undisputedly their most premium grill.  It has everything you want – WiFi capabilities, excellent temperature range (180-500°F) and a premium construction that almost never leaks heat.
This series comes in two different sizes, one with 650 square inches of cooking surface area and one with 885.
If there is a downside to this grill, it's the price.  The Ironwoods are definitely on the high end but they are worth it if you're in the market for a premium pellet grill.
Our team has tested out the Traeger Ironwood 650 – you can check out our thoughts here if you want a closer look at this grill.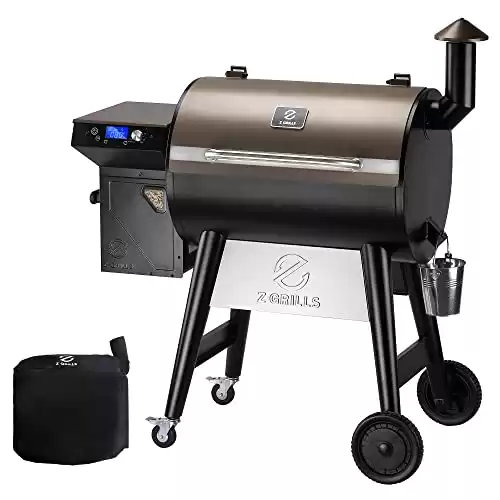 The Z Grills ZPG-7002E is a budget friendly pellet grill and about as entry level of a price as you'll get for a quality pellet grill.  A friend of mine has owned an older version of this grill for close to three years now and loves it.
Even though the price is super reasonable, many aspects and components of this smoker are high quality.  You can make some good food on these cookers!
As far as features go, they're for the most part pretty standard.  The temperature range goes from 180-450°F, which is reasonable and wide enough to get lots of smoke, grill, or sear sessions done.
Across a main cooking area and a warming rack, you're afforded a pretty generous 700 square inches of total cooking surface area.  The hopper capacity comes in at 20 pounds which is on par with the other choices on this list.
It's even backed by a 3 year limited manufacturer's warranty that's pretty generous considering the asking price.
Things We Like:
Entry level price point for a pellet grill that's solid in quality – Z Grills is the best bang for your buck in pellet grilling
Backed by a 3-year manufacturer's warranty
Easy start ignition and easy to use LED display and interface for managing your temperature
20-pound hopper capacity and 700 square inches of total cooking surface area
Things We Don't:
Pretty basic in terms of temperature range and extra features included with the grill
Some customers have complained about quality control issues with heat retention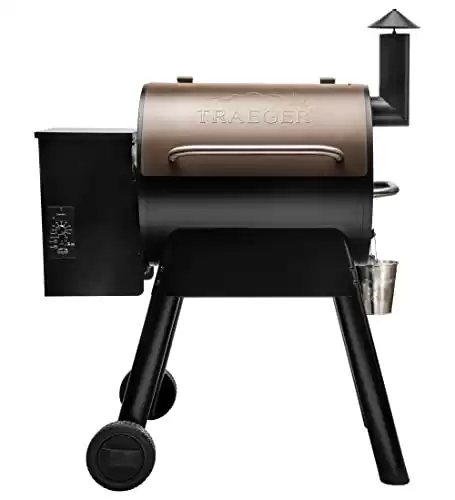 The Traeger Pro Series 22 Pellet Grill is one of Traeger's most solid units and is a great choice for just about anybody.
It has a temperature range of 180-450°F, which is a nice range to handle just about anything you could need out of your cooker, although slightly higher temperatures might be ideal for baking pizzas.
With 572 square inches of cooking area, you have enough space for 4 chickens, 5 racks of ribs, or 24 burgers.  So it's a great size if you plan to cook for lots of people at once.
It comes with an 18-pound hopper capacity and easy to use LED interface for managing and setting your temperature.  All around it's just a solid grill and is backed by a 3-year manufacturer's warranty.
Things We Like:
Solid design and reasonable price for what you get
Traeger brand name is well respected, and they back their product with a 3 year warranty
A temperature range of 180-450°F is perfect for smoking, grilling, and searing
Consistent, reliable results
572 square inches of cooking space is plenty for the needs of a big family or group of friends
Things We Don't:
No grease or ash management system in place to help with the clean-up process
Lacks features that really "wow" you – just an all around solid cooker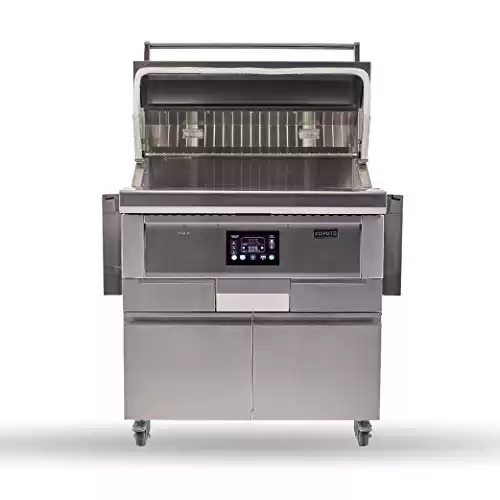 If you're looking to build a pellet grill into a custom outdoor kitchen, the options are pretty slim – there aren't as many built-in pellet grill options out there as say, built-in gas grills.
Thankfully, Coyote has stepped up to the plate and delivered an excellent option with their 36-inch Built-In Pellet Grill.  It's constructed of high-quality 304 stainless steel and built to last through years of constant use.
The temperature control lets you set your heat anywhere between 175ºF and 700ºF – a massive range to smoke a brisket, bake a pizza, sear a steak, or simply keep a side dish warm before serving.
There's interior grill lighting and a LED display that makes grilling at night a breeze.  The downside to this grill in our mind is the hopper size – at only 15 pounds you'll be refilling wood pellets somewhat frequently – but this grill is extremely efficient which offsets the effect of the small hopper size a bit.
Pit Boss has a few different pellet smokers, but for our taste, the Pit Boss 820 is the best they have to offer.
At 820 square inches of cooking area, you're afforded a generous amount of cooking area at a really nice price.  Strictly from a cost per square inch of cooking area basis, it's the best pellet smoker on the market.  The navigator also comes with a whopping 27 pounds of hopper pellet capacity.
Otherwise, it comes with all of the basic features you'd expect, along with a 180-500°F temperature range and a dial temperature control with a LED readout.
On top of that, it comes equipped with a meat probe thermometer and a sliding diffusor plate that allows you to grill your food over direct flames.
Things We Like:
Great price per square inch of cooking area ratio
27-pound hopper
820 square inches of the cooking area is plenty for almost any grilling task
Open cart design with built-in wheels works great for storage and transport when necessary
The nice temperature range at 180-500°F
Things We Don't:
Some customers have complained recently that the grills they were shipped were blatantly damaged
Pit Boss has generally declined in quality over recent years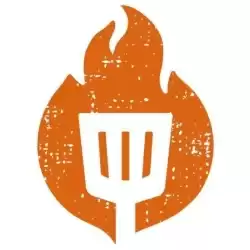 Camp Chef makes another appearance on our best pellet smoker list with their Camp Chef SmokePro DLX Pellet Grill.
With 429 square inches of main cooking surface area, it's a more compact alternative to some of the other cookers we've listed so far.  That could come in handy if you're a little tight for space on your patio.  There's also a 144 square-inch warming rack which adds a little extra working area.
As you'd expect from a Camp Chef, it comes with their patented ash cleanout system so you don't have to worry about devoting a lot of time to your cleaning efforts.
The hopper has an 18-pound capacity, which is a pretty standard but generous size.  It's more than enough to be able to feed pellets into your auger for extended smoking sessions without having to refill.
Camp Chef also has a great line of add ons and premium attachments that are compatible with this grill and add versatility.  Two great ones that come to mind are the Sidekick Griddle and the Searbox which can get up to 900°F for scorching sear jobs.
Things We Like:
High-quality build and design
Premium attachments are available that add value and versatility to your grill
The fair price point for a quality pellet grill
Camp Chef's patented ash cleanout system included minimizing the amount of time spent maintaining
573 square inches of the total cooking area is a perfect number for small to medium-sized families or groups of friends
Things We Don't:
The add-on attachments can get a little pricey
For some reason with this unit in particular there have been a few customer complaints about inconsistent temperatures.  If this happens reach out to Camp Chef.  They have great customer service and stand behind their products with a 3-year warranty.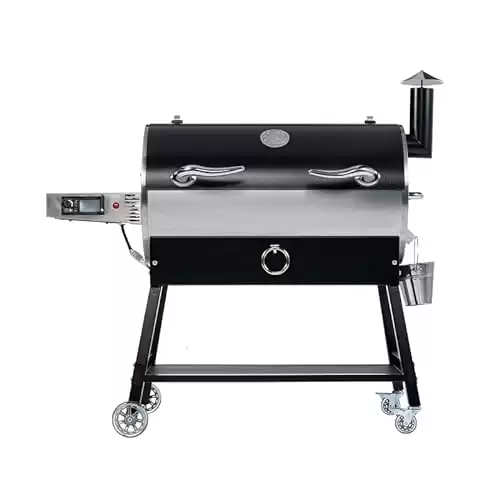 Rec Tec is a premium manufacturer of pellet smokers and their Rec Tec Grills RT-700 is one of the top choices you could end up with.
The RT-700 definitely falls on the premium end of the scale.  While the price of one of these units is pretty high, you're handsomely rewarded with some of the best design features on the market.
Most impressively, this smoker comes with a 40-pound capacity hopper – which is larger than any other grill on the market.  It's also backed by a 6-year manufacturer's warranty, which is also best in class compared to the other grills available.
Additionally, you're given built-in meat thermometer probes, a 200-500°F temperature range, and a generous 702 square inches of cooking surface area.
All of the components and parts are well made – most are constructed of 304 stainless steel.  If all of that wasn't enough, it also comes with a bundle of pretty much everything you need to get going with your grill or smoker.  A grill cover, 2 grill mats, and 200 pounds of pellets are all included with this bundle.
Things We Like:
Rec Tec is one of the best pellet grill manufacturers and makes an incredibly high quality product
The package includes lots of extras like a grill cover and 200 pounds of pellets to get started
40-pound pellet hopper capacity is huge
6-year manufacturer's warranty is best in class and very generous, so you can be confident that your purchase is protected
702 square inches of the cooking area is a lot of space to smoke even the largest cuts of meat
200-500°F temperature range comes in handy for all of your smoking, searing, and baking needs
LED temperature readout and phone app connectivity.  Managing all aspects of your grill is made incredibly easy
Things We Don't:
This is the most expensive unit on our list – the value is there but it just costs a lot of money
Produces slightly less flavor than other premium grills like Traeger
For these last few reviews, we're going to focus on portable pellet grills that can take the pellet smoking experience on the go.  The Green Mountain Grills Davy Crockett Pellet Grills is one of the best due to its ability to deliver lots of horsepower while remaining portable.
What I mean by that in particular is that this grill has a temperature range of 200-500°F, which is crazy good for on the go pellet grilling.  Most of the time when you gain portability, you have to sacrifice a little bit when it comes to performance.  That's not necessarily the case here.
It also comes with a digital WiFi controller that lets you manage temperature from a distance through a mobile app.  A meat probe, a peaked lid for rib racks, and a one-piece convenience tray with utensil hooks are also built in to help set you up for success.
Power wise, this grill does need to be plugged into a 12V or 120AC power supply, which is something to take into consideration.
When it's time to pack up, foldable legs and an included grill cover and tote carry bag to make the transportation and storage process as easy as possible.
Things We Like:
Portable design that doesn't sacrifice performance in terms of temperature range
WiFi controller, meat probe, convenience tray, and utility hooks are all built in
Ideal for camping, tailgating, hunting, or boating as long as you have electrical outlet access
A tote bag included and foldable legs make the grill pretty easy to break down and take with you on the go
Things We Don't:
Reliance on a power outlet isn't ideal for a lot of situations
Not very much cooking area included
Unless you are really strong, it might require 2 people to move around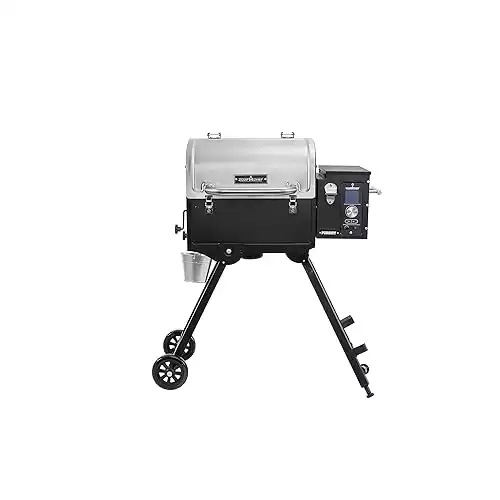 Camp Chef makes their third appearance on our list with their Camp Chef PPG20 Pursuit Portable Pellet Grill.
It's a portable grill with the same Camp Chef quality you've come to expect.  A dual shelf cooking chamber design helps to maximize the amount of cooking area you have to work with.  There's actually a pretty shocking 500 square inches of area across these two grates.
Temperature range wise, this grill has a fantastic 180-500°F range to handle all of your outdoor cooking needs.  The digital controls are the same quality controls you'd find on bigger units, and 2 temperature probe slots are also built in.
The grill is pretty heavy, but the legs break down and built in wheels allow you to roll the grill around when it's time to transport.  This is a much more efficient way to do things, and a lot easier on the back!
The hopper capacity is 10 pounds, which is pretty standard for a portable pellet grill.
Things We Like: 
High quality Camp Chef build and design
500 square inches of cooking area is awesome for a portable grill
Suitcase style wheel design makes transport really easy
180-500°F temperature range is on par with some of the best pellet grills period
Backed by a 2 year warranty
Things We Don't:
A little bit pricey for a portable grill
Even though the wheels help a lot, the unit weighs about 82 pounds which is heavy for something portable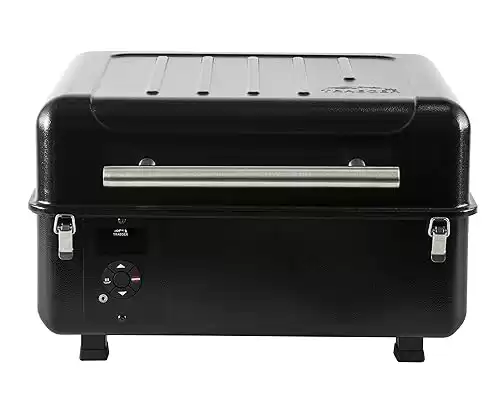 Last but not least on our best pellet grill list is the Traeger Ranger Portable Wood Pellet Grill.  This is by far the smallest footprint of any of the choices we've gone over so far with dimensions of 21 x 20 x 15 in.
Despite the small profile, this bad boy can reach temperatures of 180-400°F and is a bona fide means to delicious wood fired food.  There's also a pretty generous 184 square inches of cooking area across a main grate and heating rack.
A digital display and easy turn dial helps for you to monitor and control your temperature while you cook.  When it's time to go, a locking lid and built in handle make lugging this 70 pound grill around pretty easy.
Things We Like: 
Very small footprint – doesn't take up very much space
184 square inches of cooking area is more than you'd expect for the size
Locking lid and carry handle built in
180-400°F temperature range is great for a portable grill
The ultimate on the go pellet grill for campers
8 pound hopper capacity
Things We Don't:
Other than for camping, you'd probably be better off with a different portable grill simply because of the lack of cooking area
70 pounds is still pretty heavy for a small grill like this
12. Weber SmokeFire EX6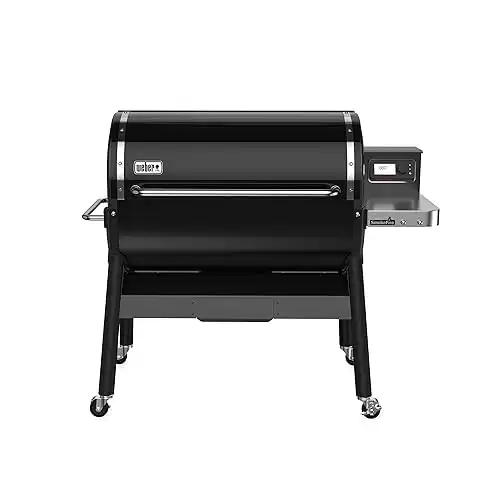 Weber is one of the most reputable brands in the outdoor cooking industry, but they're a new kid on the block when it comes to pellet grills.  In fact, Weber Pellet Grills were first released in February 2020.
Even though they don't have a ton of history, the Weber SmokeFire EX6 Wood Pellet Grill is worth your consideration, although with a fair warning.
Weber pellet grills had been experiencing an alarmingly high amount of quality control issues – they have since recalled the initial release and now sell an updated model that has been performing better.  Customers had been complaining about faulty parts, and in particular, it seemed that it was near impossible to manage your temperature on some of the units.
Now that it appears Weber has sorted these issues out, their SmokeFire series is worth considering.
Similar to the Camp Chef SmokePro, the Weber SmokeFire EX6 boasts a best in class temperature range of 200-600°F.  This means anything is possible when it comes to smoking, searing, grilling, or baking on this pellet grill.
Like a lot of other Weber grills, the EX6 has its signature high quality porcelain enameled finish.  This finish does a great job of preventing rust, and cracks, and resists weather elements quite well.
Cooking space wise, you're afforded a whopping 1,008 square inches of cooking surface area.
Under the hood, a DC powered engine does a fantastic job of keeping things running smoothly and is also specifically made to prevent auger jams.
An easy to read, weather resistant LCD display is located next to your 20 pound capacity hopper.  The display is intuitive and easy to use – every aspect of your temperature and smoke levels can be managed here.
Weber also designed a phone app called Weber Connect that actually allows you to manage all aspects of your cook from your phone.  Everything from setting your temperature, creating timers, and monitoring the internal temperature of your food can be done from the convenience of your smartphone.
If all of that wasn't enough, the EX6 comes with flavorizer bars, an easy ash and grease management system, and smoke boost technology.  It's also backed by a 5 year manufacturer's warranty.
Things We Like:
No stone is left unturned when it comes to design and features
Lots of cooking area.  1,008 square inches is a LOT of space to smoke and grill
Advertised temperature range of 200-600°F just like the PG24MZG
Advanced ash and grease management system
Flavorizer bars and smoke boost technology add extra layers of delicious flavor to your food
Easy to use – manage all aspects of your cooker through an LED display or Weber's phone app
Backed by a 5 year manufacturer's warranty
Things We Don't:
Way too many quality control issues
For the price and considering the inconsistency of customer reviews, you'd probably be better off sticking with another brand unless you're a Weber enthusiast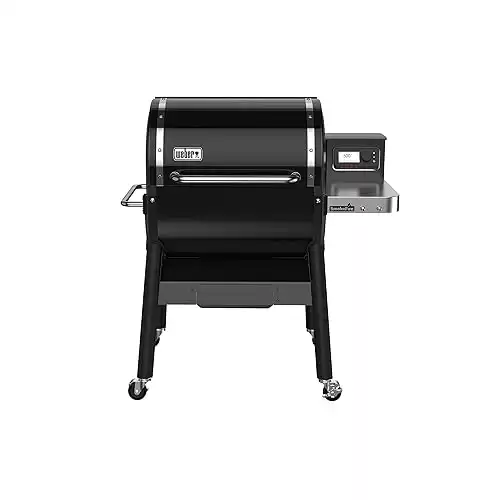 Similar to the EX6, the Weber EX4 has been experiencing quality control issues since its launch in February of 2020.  I have a feeling once Weber refines their manufacturing process for pellet grills, this one will wind up as one of the best pellet smokers on the market.
For all intents and purposes, it's quite similar to the EX6 but just a little more compact and affordable.  It has 672 square inches of cooking area, which is still a lot relative to most pellet grills.
The hopper's capacity is 20 pounds, and all of the other features included are pretty much the same as the EX6.
That is, a porcelain enameled surface, DC powered engine, 200-600°F temperature range, flavorizer bars, Weber Connect phone app connectivity, and an easy ash/grease management system.
Things We Like:
An ultimate, premium pellet grill experience.  No stone left unturned when it comes to design and features
672 square inches is plenty of cooking surface area to handle almost all grilling or smoking tasks
Great temperature range
Advanced ash and grease management system
Flavorizer bars and smoke boost technology add extra layers of delicious flavor to your food
Easy to use – manage all aspects of your cooker through an LED display or Weber's phone app
Backed by a 5-year manufacturer's warranty
Things We Don't:
Even though it's cheaper than the EX6, this grill is still firmly on the expensive side of the spectrum.
Quality control issues are way too common
We cover the Weber EX Smoker grill in full detail and why the 2nd generation is the way to go.
Overview Of The Best Pellet Grill Brands
We are pellet grill obsessed!  Here's a quick list of the top brands on the market, along with various links to articles we've written that compare the nitty gritty of each brand's lineup to one another.
By the way, we've written a more thorough guide to all of the pellet grill brands on the market today.  Head on over there for a more comprehensive list of the names you can find out there.
[optin-monster slug="tnxx7wq84kenca3q0jgu"]
Camp Chef
Camp Chef was founded in the early 2000's and started out as a company that catered to the ultimate outdoorsman.  Their products were all geared around giving campers, hikers, and adventurers access to world class food while they were outdoors living their dream.
This meant a lot of camp grills, portable grills, and flat-top grills.  They made incredibly high quality products and over time people noticed.  As they were increasing in popularity, they decided to make a pellet style grill.
Nowadays, pretty much everything Camp Chef makes is worthy of your consideration.  When it comes to overall design and build quality, they are second to none.  They also offer a lot of great add-ons to their cookers.
Additional Resources:  Camp Chef vs Traeger Brand Comparison & Camp Chef vs Rec Tec Comparison
Traeger
I mentioned earlier that Traeger is the maker of the first and original pellet grill.  They come with a long reputation of quality and still to this day are a great brand when it comes to pellet grills.
The note I'd make about them is it seems like they've maybe fallen a little behind the curve in terms of innovation.  A lot of these newer companies are pushing the envelope with technology, phone applications, and better design.  It's not that Traeger doesn't do that, they just aren't leading.  They tend to mimic the improvements of other companies now instead of innovating on their own.
That's just my two cents!  Obviously if you find a Traeger Grill which suits your needs, you should get it!  At the end of the day they're great grills.
Z Grills
Z Grills is yet another "newer" brand that's not as well known in the broad outdoor cooking community.  They pretty much stick to pellet grills.
The nice thing about Z Grills is that they offer the most entry level price point while still offering a reliable, quality pellet smoker.  You won't find the sort of quality and features with Z Grills that you would with some of these other brands, but if you're on a budget this is a great place to start.
Of course, there are other pellet grill brands out there who make fantastic cookers!  The best pellet grill brands in our opinion are Camp Chef, Traeger, Rec Tec, and Z Grills.
Additional Resource:  Z Grills vs Traeger Brand Comparison
Coyote Grills
If money is less of a consideration, or if you're looking for a built-in pellet grill to complete an outdoor kitchen, Coyote Grills are the way to go.  They specialize in high end pellet grills and are one of the very few options on the market that offer a built-in pellet grill configuration.
Pit Boss
Pit Boss is another brand that's worth looking at – they are definitely on the more affordable end when it comes to the best pellet grills.
Their products are solid, but they just don't come with any extra features to speak of.  What you see is what you get – so if you're on a budget or you're not the type to fall for the bells and whistles, then Pit Boss is definitely worth a look.
Additional Resource:  Pit Boss vs Traeger
Rec Tec
Rec Tec is also a newer brand in the outdoor cooking world, but it quickly gained a reputation as one of the best pellet grills on the market.  Their brand positioning is definitely on the premium side, and if you're looking for a budget smoker they probably won't be a great fit for you.
But if you've got the coin, a Rec Tec is one of the best pellet smokers you could ever end up with.  Every single one of their models is easy to use and is oozing with premium features.
Weber
Weber is new to the pellet grill world, but what they have going for them is a sterling reputation and a long history of making quality outdoor grills and smokers.
Frankly, they got off to a tough start – and their initial launch of pellet grills in early 2020 was a total failure.  A bunch of their customers have complained that it's impossible to hold a steady temperature and that these grills can get out of control hot if you aren't extremely careful.
As bad as that might sound, I'm optimistic that Weber will fill it out and be in the best pellet grill conversation within a couple of years time.  They are a class brand and I have faith that they will get things figured out.
At the moment, they only have two models, the SmokeFire EX4 and SmokeFire EX6, although I'm sure they'll expand their product line if those two models sell well.
Choosing the Right Pellet Grill for You
As you can see, a quality pellet grill isn't particularly cheap.  If you're in the market for one of these smoker grill combos, that likely means you value quality, versatility, ease of use, and that delicious wood fired taste.
Since you're committing to spend your hard earned dollars for something that serves an important purpose (putting delicious food on your plate!), there are a few things you should consider while you search.
Cooking Surface Area
One of the first things you should consider is how many people you cook for, and what types of foods will you grill or smoke.
The answer to both of those questions will inform the answer of how much cooking surface area you need.  If you just plan to grill the weeknight burger or steak for a quick and tasty dinner, you might not need a lot of cooking surface.
On the other hand, if brisket is one of your favorite meats to smoke, you're going to need more space.  Things like brisket and beef ribs are huge cuts of beef – so if you want to smoke those you should make sure your cooking chamber is big enough to accommodate.
Temperature Range
Pretty much every pellet grill manufacturer in the world markets their product as an all in one solution.  That is, you can smoke, grill, roast, and bake all on the same unit.
While that's mostly true, I have a few notes to add.  The searing process technically starts around 350°F – but from personal experience you want to have at least 450°F and ideally around 500°F as your temperature for truly ideal searing conditions.
If you don't want a standalone outdoor pizza oven and want to use your pellet grill instead, you really need to be able to crank it to 500°F or above for the best results.
Most pellet grills can reach at least 450°F, but if you plan to sear frequently or bake pizzas you may want to make sure you acquire the best pellet grill that can get to 500°F.
Hopper Size
This one might sound a little nitpicky, but hopper size is definitely something to consider in my eyes.  Look for something with 18 pounds minimum in pellet capacity.
Anything less than that, you're going to have to refill annoyingly frequently – especially if you have long smoking sessions that last for hours and hours.
Of course, if you're in the market for a portable pellet grill you should set your hopper size expectations at around 10 pounds.
Warranty
I harp on this all the time – warranties are one of the most important features of any big purchase.  They protect you in the unlikely event that you get a faulty unit.
More so than that, a generous warranty is generally a good signal that the manufacturer you're buying from is making a quality product.  After all, a warranty is a way that they put their money where their mouth is at.
Ash and Grease Management
Cleaning up after you cook is a drag – but it's an incredibly important step in the process and will greatly increase the shelf life of your grill.
Any grill that has built-in features to make that process as quick and easy as possible is doing something right.
A lot of the top of the line units will have built-in removable ash pans, or similar features that make the cleanup process simple and efficient.
Pellet Grill Size
Pellet grills are typically pretty large and heavy – so that's something to take into account.
Ideally, a full sized pellet grill should go on a first floor patio.  They're a massive pain to get up and down stair flights unless you decide to acquire a mid size or even portable pellet grill.
In any case, make sure you measure out how much space you have for your cooker and make sure your desired pellet grill is the right size.
Extra Features
Read about the extra features associated with each grill and smoker.  Things like accessory hooks, foldable working trays, add on sear stations, and phone apps to manage your temperature are all features that can greatly enhance your grilling experience.
At the end of the day, it's important to pay attention to those things so that you can customize your grilling experience and truly end up with the best pellet grill for you.
Customer Support
Another aspect of buying any grill or smoker is how good the customer support from the brand you buy from is.
In an ideal world, everything is great and you never need them.
But in reality, things happen and from time to time things go wrong.  Even if things don't necessarily go wrong, a good customer support team can enhance your experience.
Maybe you want to know some good pellet grill recipes.  Or you want to learn about some add on features and need to lean on their expertise.
No matter what the case is, good customer support doesn't hurt.  If you read customer feedback for each pellet grill brand, it's pretty clear which ones have good support and which ones don't.  I will say from personal experience that I know for a fact both Weber and Camp Chef have GREAT customer service.
What Can You Cook On a Pellet Grill?
Just about anything!  In fact, we have quite a few pellet grill cooking guides on this site that are worth checking out – here are some of those resources:
[optin-monster slug="tnxx7wq84kenca3q0jgu"]
Which Wood Pellets Should I Use?
For a quick high-level overview of pellets, the first thing is to make sure you're using food grade wood pellets designed for use in a pellet grill.  Do NOT use heating pellets designed for pellet stoves – these have chemicals and toxins that can potentially poison your food and harm you.
Food grade wood pellets are great because they're pretty cheap and very widely available.  They come in lots of different flavors, but the most common ones are:
Hickory
Maple
Cherry
Apple
Oak
Alder
Mesquite
Pecan
Each flavor of the wood pellets will impart a slightly different flavor on your food.  Half the fun is experimenting and figuring out which pellets are your favorite for which foods.
Pros and Cons of Pellet Smokers
Overall, pellet grills are undoubtedly one of the most popular types of grills or smokers you could have.  But with that being said, there are some distinct advantages and disadvantages to even this class of grill.
Pellet Grill Pros
Set it and forget it grills and smokers.  Pellet grills work in a way that the grilling and smoking process is about as easy as it can get thanks to technology that automatically feeds pellets to fuel your fire.
You are working with a wood fire which means your food is flavored with delicious wood fired smoke.
Ongoing costs are low thanks to the relatively inexpensive cost of wood pellets for pellet grills.
Hoppers are very easy to reload and you don't have to actively manage a fire.  If your pellets are getting low, simply add more of them to your hopper.
Minimal ongoing maintenance, especially if you do a good job of quickly cleaning after each time you cook.
They don't produce a lot of ash, so cleaning your ash pan after each use should be relatively easy.
Pellet Grill Cons
Adding more pellets to your hopper can become a hassle if you have a small hopper and frequently grill or smoke.
You're relying on electronics and at the end of the day, electronics can break.  Cheaper models will be prone to auger jams.
Relative to other types of grills and smokers, pellet grills are on the expensive side.
Pellet grills are really heavy and generally hard to move around.  So plan on having one home for your pellet smoker.
How Do Pellet Smokers Compare to Other Types of Smokers?
For the most part, pellet grills do a really nice job of taking the best qualities from many types of grills and combining them into one unit.
Compared to a gas smoker or an electric smoker, a pellet smoker has the same benefit of being a "set it and forget it" type of low-maintenance smoker but with the added benefit of wood fired food.  So from that perspective, pellet grills are superior to gas or electric smokers.
The "catch" of course is that you're going to have to spend more on a pellet smoker compared to a gas or electric smoker.
When you compare pellet smokers to kamado grills or traditional charcoal and wood fired grills, pellet grills are way easier to use on a day to day basis since you don't have to actively manage a fire.
Of course, some people love the process of starting and making their own fire.  Not only that, many would argue traditional charcoal, lump charcoal, and wood logs impart a truer and more complex smokey flavor to your food.
I can't say that I disagree – even though wood pellets are in fact wood, there's just something about lump charcoal and wood log fires that can't be replicated.
With all of that in mind, pellet grills generally pull the features from all different types of grills and smokers.
Frequently Asked Questions
Can You Leave Pellets in a Hopper?
As a general rule, we do not recommend leaving wood pellets in your hopper. They are formed from compressed sawdust. If these pellets were to get wet, they would absorb a lot of moisture and completely disintegrate. This makes them completely useless for your grill.
As they absorb water they will also expand, which can lead to them completely blocking up your auger. This will require a lot of time and effort to reverse.
During drier times of the year, when the rainfall and humidity are low, there is much less of a risk. They are unlikely to rot or disintegrate and will probably be fine for a short period of time. That being said, the official advice from all pellet grill manufacturers is to remove any unused pellets in between uses. It does not take much time or hassle to do.
Do Pellet Grills Use a Lot of Electricity?
Pellet grills require a supply of electricity to function. This is not an excessive amount, but it is necessary for them to operate. The electricity is used to feed the pellets through an auger system and to operate the controls of the thermostat.
Electricity is also required to operate the combustion fan, providing an airflow that assists with temperature regulation.
Some pellet grills have systems that allow them to use a car battery or a generator as the power source. This is ideal for tailgating and any other event that you wish to take your grill to.
Can You Cook/Sear a Steak on a Pellet Grill?
Yes, you can cook and sear steaks using a pellet grill. It will give you beautiful grill marks and a unique texture and flavor profile. There are convection fans within wood pellet grills which are said to accelerate the cooking process at a rate of 20%.
The steak is placed on top of the hot grate and the areas of contact begin to heat up. The cooler temperature of the steak reflects back onto the grill, slowing the heating process on the areas that are not in contact with the metal. This is why you see sear marks on the meat, as the heating process is not even.
The browned sear marks are formed as a result of a process called the Maillard reaction. Scientists are still not sure of the specifics of this, but essentially it is a series of small chemical reactions that occur simultaneously. The brown color and distinct flavor are a result of the sugars and proteins in your food changing due to the presence of heat.
Can You Cook Burgers on a Pellet Grill?
Yes, you can cook burgers on a pellet grill. You should set the temperature to between 425 and 450 degrees Fahrenheit. This is the optimal range to generate a smoky flavor and a seared outer crust. Close the grill lid and allow it to heat up fully before you add on your burgers.
Once heated, we recommend adding in the burger patties and closing the lid once more. Patience is key at this point, as opening the grill too often will allow the hot smoke to escape and ruin the cooking process.
Allow the burgers to cook on one side for 8 or 9 minutes before you flip them. Cook the patties for a further 8 or 9 minutes and then remove them from the grill.
We advise checking the internal temperature using a meat probe. You want it to reach at least 160 degrees Fahrenheit.
Do Pellet Grills Give a Good Smoke Flavor?
Pellet grills are known for their reduced smoke production, meaning that the air quality in the immediate area is cleaner. This is great from an environmental standpoint, but what about flavor?
Pellet grills burn wood pellets as fuel, which means that some smoke will still be produced. This can impart a mild smoky flavor to whatever you are cooking. There are some ways to maximize this flavor though.
It is recommended that you use meat with not too much fat. This is because the fat will absorb the smoke more readily than the meat, meaning the flavor is weaker. Cooling the meat in the refrigerator will mean that it takes longer to cook, allowing more smoke to enter the meat fibers.
You can also try to use a more strongly flavored pellet. We recommend hickory and mesquite, or other dark hardwoods.
Should I Get a Gas or Pellet Grill?
Both pellet and gas grills are very convenient and easy to use. The main advantage of a pellet grill is that you can leave it to do its thing with little intervention. They have been likened to an outdoor oven, ideal for cooking food at low and slow temperatures. A pellet grill will give your food a slightly smoky flavor.
Gas grills are ideal for cooking at mid to high-temperature ranges. They heat up incredibly quickly, meaning they are ready to cook on in no time. They are not as effective at cooking at lower temperatures though, and there is less insulation. This means that they can be hard to use for smoking.
Pellet grills tend to be more expensive than the more conventional gas grill. It can also be harder to find the pellets to use as fuel. Gas grills come in a variety of price points with very easily sourced fuel.
Final Thoughts
I hope this article has helped shed some light on the best pellet smokers and what makes a good fit for you!  I know this is a long guide, so feel free to contemplate the information and then revisit again before you make your final decision.
Remember, these things aren't exactly cheap – so while it's exciting to get a brand new cooker you should definitely do your research before buying.  Consider all of the factors we outlined in the article and the best pellet grill for you will become clear.
Which one did you end up with?  We want to hear about it!  Let us know which pellet grill you got in the comments section below.  Did we leave a worthy grill off of our best pellet smoker list?  Let us know about that too!