This content contains affiliate links.  If you make a purchase after clicking a link on this page, we might receive a commission at no cost to you.
As a longtime Weber loyalist, I couldn't wait to get my hands on their new SmokeFire pellet grill and take it for a test drive in my backyard. I've grilled on Weber kettles and gas models for years, so I was curious to see how their first pellet offering would stack up.
The promise of wood-fired flavor with the ease of a turn-key electric smoker definitely got my attention. But Weber's first swing at pellet grills definitely had some strikes against it. Like that one uncle who shows up to the family barbecue a little too overeager, the SmokeFire still needed some time to get seasoned.
From temperature control issues to frustrating pellet jams, the initial reviews were a little rough. Now after years of tweaks under the hood, has Weber finally smoothed out the kinks and stepped up its smoker grills game?
I decided it was time to cast my own vote and spend a season putting the upgraded SmokeFire to work. The results surprised me, not just in terms of performance but also the authentic BBQ taste. Here's my hands-on review after months of smoking everything from ribs to roasts on the new and improved Weber SmokeFire.
Weber Brand Overview
Weber is one of the most well recognized brands in the world of grilling – they've been making grills for over 60 years and have built up a reputation for creating top-quality grills that are built to last, all at a reasonable cost.
Weber's core business is definitely the manufacturing of charcoal and gas grills, but with the pellet grill craze taking the world by storm over the past few years, Weber wanted to try their hand.
They kept things simple at first with only two pellet grills – which share almost all of their features and differ mainly in size.
We'll dive into each 2nd generation Weber SmokeFire EX4
and the Weber SmokeFire EX6
.  From there, we'll go over the SmokeFire series from a high level to highlight the shared features across all Weber pellet grills.
Weber SmokeFire Pellet Grill Reviews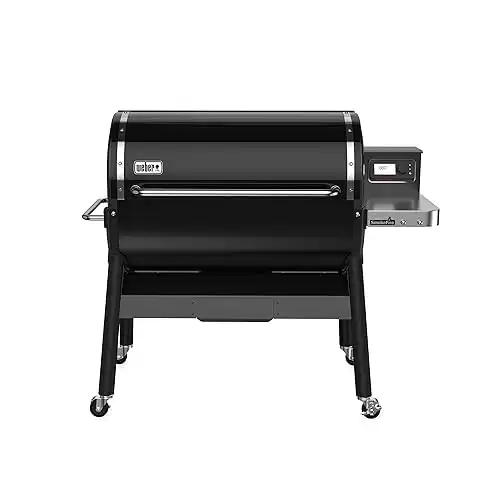 The Weber SmokeFire EX6 is a grill that isn't particularly cheap – but it's sleek, functional, and capable of making great food.
As far as cooking space goes, there's a whopping 1,008 square inches of cooking space distributed across a main grilling grate and a secondary area near the top of the main chamber.  Its dimensions are 57 x 30 x 46 inches and it weighs 207 pounds – so it's the kind of grill that will basically be a fixture in your outdoor cooking area.
The EX6 heats incredibly fast and has a wide temperature range between 200 and 600 degrees.  A range that wide allows you to just as easily sear or smoke different types of food, and everything in between.
A bunch of super convenient features are built in to make life easy for the grill master.  You can change and monitor the temperature of your grill and food from a phone app.  A large capacity hopper lets you fill up with over 22 pounds of hoppers at a time so there isn't a constant need to refill.
Perhaps my favorite feature is the design of the grease management and clean up system.  All grease and ash is funneled away from the flame and into a pan in a removable drawer that could be easier to clean when it fills up.
Key Features:
Heavy duty, incredibly sturdy design is long lasting and retains heat
1,008 square inches of cooking area is a ton of space to get to work!
Powerful engine prevents auger jams and provides reliable, consistent heat
Flavorizer bars and Smoke Boost add extra delicious flavor to your food
Everything about your grill and food can be managed from the convenience of your phone or the built in LED display
The large capacity hopper holds over 22 pounds of pellets at a time
3 year warranty included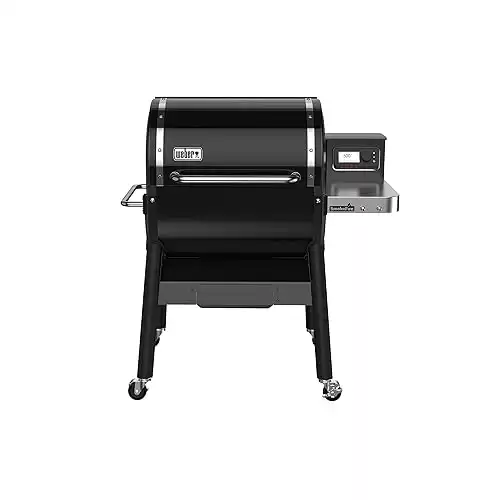 The Weber SmokeFire EX4
is an incredibly well designed pellet grill with a sleek, modern, aesthetically pleasing design.
It has 672 square inches of cooking area split between a larger lower grate and a smaller upper rack.  That's plenty of space to smoke a brisket, multiple racks of ribs, or multiple chickens.  If you're consistently cooking for your family, it's more than enough space to comfortably get the job done.
Dimensions of the EX4 are 45 x 30 x 46 inches – so while I wouldn't consider it compact per se, it's definitely small enough that you can fit it into decently tight spaces.  It won't completely overtake your patio or our outdoor kitchen.  A heavy duty porcelain enameled finish is used on most of the grill surface which not only looks good but has anti-rust and weather-proof properties as well.
Since there's a lot going on under the hood of a pellet grill, they unfortunately weigh a lot.  This one weighs 186 pounds so that's a consideration if your dedicated grilling space isn't easy to access.  Heavy duty caster wheels are built in though to help a little bit with transportation.
We'll dive deep into the features that are shared across all Weber pellet grills here shortly – but this grill is loaded with everything you need as the pit master and more.
Key Features:
Heavy duty, incredibly sturdy design is long lasting and retains heat
Powerful engine prevents auger jams and provides reliable, consistent heat
Flavorizer bars and Smoke Boost add extra delicious flavor to your food
Everything about your grill and food can be managed from the convenience of your phone or the built in LED display
Large capacity hopper holds over 20 pounds of pellets at a time
3 year warranty included
Weber SmokeFire Series Overview
One of the best things about modern day pellet grills is how well designed and technologically advanced they are.  Everything is set up to make life as simple and easy as possible for you as the griller, and most (if not all) grill functions can be managed from a phone app.
The Weber SmokeFire Series is about as sophisticated as it gets and comes with some pretty exciting features – and they stack up pretty well to the Traeger Ironwood Series.
Weber Connect
The aesthetic and design of the Weber Connect phone app is simple and clean.
The primary function of the app is to be able to control and monitor the temperature of your grill and of your food as you cook from the convenience of your phone.  It really is an incredibly convenient way to grill.  You can get other tasks done or watch the game while you manage your food.
The app also has some really nice optional features built in that are geared toward beginners.  You can select which type of meat you're cooking and then receive flip and serve notifications, food readiness countdowns, and doneness alerts automatically to your smartphone.
It really helps to take the guesswork out of the equation if you're cooking meat you haven't cooked before!
All of the Weber Connect functionality also comes via an easy to read, weatherproof LED display that's built into the grill.  So if you're the type who prefers to hang out by the grill and check on your food with your own eyes, you're able to manage everything from the LED display.
Temperature Range
One of the absolute best things about the pellet grill class in general is versatility when it comes to temperature range.  The Weber SmokeFire Series family of pellet grills is no different, and comes equipped with possibly the best temperature range of any brand of pellet grill.
Both of the Weber pellet grills have a temperature range of 200 to 600 degrees Fahrenheit.
That temperature range opens up a world of possibilities.  Down near 200-275 degrees is the ideal temperature for smoking, and 550-600 means you can sear as well.  It's incredibly convenient to have the capability to sear, smoke, and anything in between – and to do it well.
Overall Construction
With any grill or smoker, the quality of construction is of the utmost importance.  You need something that will retain heat so that you can achieve consistent results with your food.
A well made grill will also be weather resistant, anti-rusting, and last a long time with proper care.
Weber knocked it out of the park with the design of their pellet grill.  Their porcelain enameled finish is one of the most weather resistant surfaces used on any grill on the market.
Rusting, cracking, and chipped paint are not worries at all here.  It also does a really nice job of retaining heat which ensures even and consistent heat distribution for cooking your food.
Clean Up Features
One of the few gripes I have with pellet grills in general is that broadly speaking, they aren't the easiest to clean compared to other grills.
Some other brands don't help things out much with poor design features.  Things like placing a grease pan under the cooking grate that blocks the flame's direct heat and collects grease and ash.  Or a side mounted grease bucket that is messy and easy to bump into.
Weber pellet grills address a lot of these common issues with a design that's geared towards making cleanup as easy as possible.
Basically, systems inside the grill direct all ash and grease to a dedicated grease pan.  The grease pan sits in a removable drawer well away from the flame and your food.  All you need to do to remove grease is simply open the drawer, remove the pan, and dispose of the built up ash and grease.
Flavor Boosting
There are actually two features on Weber pellet grills that help to enhance the flavor of your food.
The first is unique to the Weber brand and is also featured on their Spirit and Genesis grills.  V-shaped "flavorizer bars" serve a couple of functions.  They direct heat across the entire cooking area to help with even heat distribution.
They also get pretty hot when you grill at high heat, so when food drippings fall through the grates and land on the flavorizer bars, the drippings sizzle and vaporize.  The resulting steam rises back up to the food and boosts the flavors you'll find in your food.
The second feature is unique to the SmokeFire line of pellet grills specifically.  There's a Smoke Boost setting on the Weber Connect LED display and app.  As the name suggests, selecting this setting at the beginning of your cook will cause the grill to smolder pellets for extra smoke.
If you crave that traditional BBQ smoky flavor – you can add more at the press of a button with Weber pellet grills.
Hopper
The hopper of a pellet grill is a really important piece of tech.  It's the vessel through which the fuel pellets feed into a fire and heat your food.
Weber's hoppers are big enough to hold over 20 pounds of pellets – which means you won't have to constantly refill every time you cook.
It's also designed with a DC-powered "Responsive Incline Drive engine" which was specially designed to help prevent auger jams.  Basically, you're highly unlikely to run into any hopper or auger issues with any of the Weber pellet grills.
Warranty
I'm a huge advocate for purchasing products that are backed by manufacturer's warranties.  Not only does it protect you in the unlikely event that you receive a faulty item, but it's a sign of competence and integrity from the brand itself.
Weber is one of the best brands in outdoor cooking.  They back it up with their 3-year warranty for their SmokeFire series pellet grills.
Does Weber Make Wood Pellets?
They do!  The Weber website does sell wood pellets.  As with any pellet grill, you should feel free to use any type of wood pellets made for smoking in a pellet grill with your Weber pellet grill.
[optin-monster slug="tnxx7wq84kenca3q0jgu"]
Weber Pellet Grill Review – Wrap Up
Are you going to be one of the first to own a Weber pellet grill?  If you are, let us know about it!  We want to hear your feedback and which model you chose in the comments section below.