So you're trying to decide which grill is best for you, and you've narrowed it down a little bit but are still unsure which will be the best fit for you.
Well, if you're comparing the Weber Jumbo Joe vs Go Anywhere, you're already off to a great start.  These charcoal grills are two of the best on the market, and two of the most practical as well.
In this article, we'll give our complete comparison and rundown of the similarities and differences between the Weber Jumbo Joe and Weber Go Anywhere charcoal grills.  By the end, you should have a clear picture of what the similarities and differences are – and most importantly, which is the best fit for your needs!
Weber – Brand Overview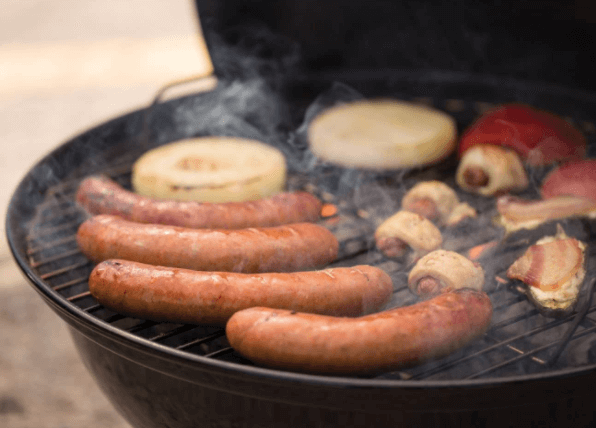 Before we dive into the specifics of the Weber Jumbo Joe vs Go Anywhere, it's worth taking a moment to talk about the brand that each of these products are made by.
Weber is a name that's been around for an incredibly long time in the outdoor cooking scene.  In 1952, Weber's founder George Stephen invented the kettle grill – which at the time revolutionized the grilling game.
The Jumbo Joe actually is very similar in many regards to the original kettle design – but is a more modern take with a few improvements.
Weber reinvested their successes back into the company and over time have launched dozens of different grill models across all of the different types of grills.  They have a reputation for innovation, and have consistently been at the top in terms of grill popularity and quality for decades.
I own a Weber currently, and can personally attest to the genuine quality and craftsmanship that their grills have to offer.  One of the things I love about Weber is that they put their money where their mouth is – they are an industry leader in terms of warranties.  All of their products are backed by a limited 10 year warranty, which blows much of the competition out of the water.
Weber Jumbo Joe vs Go Anywhere
Here we'll take a closer look at the Jumbo Joe and Go Anywhere grills!  Afterwords, we'll highlight the similarities and differences between the two.
Weber Jumbo Joe Review
One of the most attractive features of the Weber Jumbo Joe is its ability to cook incredibly delicious food on the go.  It's made possible by a compact and lightweight design (18 pounds) that's designed for portability as well as cooking ability.
Even though it's portable, you don't necessarily have to sacrifice a ton in terms of cooking surface area.  The cooking grate is 18 inches in diameter, which translates to about 254 square inches of cooking area to work with.  For reference, that's enough to comfortably fit about 8 burgers at once.
The lid is the star of the show for the Jumbo Joe.  It's porcelain enameled and won't ever rust or peel.  It does a fantastic job of retaining heat and features a vent that allows you to control your air and smoke flow.
Additionally, the lid lock design actually doubles as a lid holder – so you never have to put the lid on the ground.  Obviously, that's a huge help when it comes to on the go grilling, especially at a campsite or tailgate.
Dampers are part of the ventilation system that allow you to easily control your grill's temperature.  Simply light your coals with a chimney starter, adjust your dampers, and get to cooking!
Last but not least, built in legs and an aluminum ash catcher are underneath the cooking chamber.  The legs are sturdy and will support the grill on just about any tabletop surface.  When it's time to clean up, the ash pan is incredibly easy to clear out and wipe down.
Things We Like:
Classic kettle design is ideal for charcoal grilling
Lightweight and sturdy
Lid is incredibly well made.  Porcelain enameled and retains heat well
Steel cooking grate and steel charcoal grate
Lid lock design holds the lid off of the ground
Lid handle with heat shield
Ash management system
Covered by a 10 year warranty
Things We Don't:
Would like to see a higher quality material used for the handle
Weber Go-Anywhere Charcoal Grill
The Weber Go Anywhere Charcoal Grill is another portable unit that's well suited for on the go charcoal grilling.
Instead of a kettle shape, this one features a rectangular prism like cooking chamber.  The stainless steel grate is 16 inches by 10 inches for a total of 160 square inches of cooking surface area.  That's enough space for up to 6 burgers at a time.
As the name suggests, the Go Anywhere is designed to be lightweight and portable so that you can, well… go anywhere with it.  The lid locks easily for portability and the unit weighs about 15 pounds all in.
Weber includes their signature porcelain enameled lid and base on this grill which does a fantastic job of retaining heat during your cook.  It also is designed to withstand the test of time and won't rust or peel – even if it's exposed to the elements.
Things We Like:
Weighs under 15 pounds
Porcelain enameled lid and base
Stainless steel cooking grates
Lid locks for easy transportation and storage
No ash pan but it's very easy to clean out ashes from the unit itself
Entry level price point for a quality grill
10 year warranty
Things We Don't:
Only 160 square inches of cooking surface area (might work for you though depending on what your needs are)
Charcoal basket isn't super deep so at times it can be tough to create a robust fire (if it's windy out, for example)
Weber Jumbo Joe vs Go Anywhere – Similarities & Differences
Now that we've had a closer look at each grill, let's take a step back and revisit what the similarities and differences are of these two grills.
Similarities
Each grill is a portable grill, and uses charcoal as its fuel source.  Charcoal as a fuel source gives you the opportunity to impart delicious smokey flavors onto your food.
Both of these grills are very cost efficient, and great choices especially if you're on a budget for a new grill.  The Go Anywhere is a little cheaper than the Jumbo Joe, but both are close to one another in price and on the very low end of the price spectrum in terms of quality grills.
Both are table top grills – in other words they're designed to not only be portable but also to stand on their own on a flat surface.
Each grill has stainless steel cooking grates (which is a great thing) and has a porcelain enameled lid/body just like all other Weber grills.
Both of these units have a locking lid mechanism and a safe touch handle.
A 10 year limited warranty covers both of these grills.
Differences
The Jumbo Joe is a kettle grill (circular) and the Go Anywhere is rectangular.
Size wise, the Jumbo Joe has 254 square inches of cooking surface area and the Go Anywhere has 160.
The Jumbo Joe weighs 18 pounds and the Go Anywhere weighs 15.
Jumbo Joe has a built in ash pan and the Go Anywhere does not.
The Jumbo Joe has a deeper and more spacious charcoal pan
Final Thoughts
I hope this comparison of the Weber Jumbo Joe vs Go Anywhere has helped to clear up the air about which might be the best fit for you!  At the end of the day, these are both great grills that are well suited for on the go charcoal grilling.
Whether you plan to take it to the camp site, to a tailgate, or to another outdoor adventure, you really can't go wrong with either.
Which one did you end up with?  We'd love to hear about it in the comments section below!