This content contains affiliate links.  If you make a purchase after clicking a link on this page, we might receive a commission at no cost to you.
When it comes to charcoal smokers, the Weber Smokey Mountain Cooker is one of the most popular and widely owned smokers out there.  It's praised for its simplicity, ease of use, and most importantly – its ability to smoke incredibly delicious food.
No matter whether you're new to smoking or simply are trying to compare the different types of smokers out there, this is a great place to start.
In this article, we've compiled a complete and thorough review of the Weber Smokey Mountain Cooker.  We'll go over all of the product features, and give our opinion about what makes this cooker so great.
Weber – Quick Brand Overview
If you've been around grills or smokers at any point in your life, odds are you've at least heard of the Weber brand.
They're a staple in the outdoor cooking community, and have been manufacturing grills ever since George Stephen invented the revolutionary kettle grill back in 1952.  Ever since then, they've constantly aimed to innovate.  Over the ensuing decades, they constantly added more cooking products while also tweaking to improve products already in their catalog.
Today, the result is a company that is at or near the top in terms of quality on just about every single product they manufacture.
One of my absolute favorite things about Weber is that they offer hands some of the best warranty terms of any brand in the outdoor cooking market.  Not only are their products high quality, but they put their money where their mouth is and stand behind their workmanship.
The Weber Smokey Mountain Cooker specifically boasts a 10 year warranty on the bowl, lid, and center ring, a 5 year warranty on all plastic parts, and a 2 year warranty on everything else.
What Exactly is the Weber Smokey Mountain Cooker?
To kick things off, it's important that we take a step back and talk about what the Weber Smokey Mountain Cooker is exactly.
This cooker is a smoker that uses charcoal as its fuel source, but more specifically it's a bullet smoker, or as some refer to it – a vertical water smoker.
The "vertical water smoker" name came about because of a design feature within the smoker.  Namely, there's a water pan that sits above the charcoal fire whose purpose is to create an even distribution of heat, maintain a moist cooking environment, and catch drippings that come off of your food.
Vertical water smokers in general are a great choice of smoker for beginners because the water pan does a lot of the work for you and sets up your cook for success.
The Weber Smokey Mountain Cooker Might be for You If…
There are a few things that this cooker is truly great for.  For me, it really boils down to the fact that you can easily smoke deliciously charcoal flavored food at a very reasonable price.
Ease of use is a little bit subjective, but as far as smokers go – you really aren't going to be able to find a charcoal or wood fired smoker that's easier to use than this one.
Propane smokers or electric smokers would probably be the only types that are easier to use than this one – but these types of smokers sacrifice quite a bit in the flavor department.  The taste of your food that's smoked on a Weber Smokey Mountain Cooker will be that authentic flavor that many of us love.
The other main reason that people love the Smokey Mountain series is that it's a very manageable size and weight.  So it takes up a very small footprint on your patio, and it's also ideal for on the go smoking.  These are great charcoal smokers to take camping, tailgating, or wherever else you'd want to take BBQ with you.
Weber Smokey Mountain Cooker Review
Now for the fun part – let's dive into the specifics of the Weber Smokey Mountain Cooker!
Aesthetically, this smoker is pretty basic looking – and it's also fairly short.  That's not a bad thing!  At the end of the day, flashy looks isn't what gets you deliciously smoked food.
It has a black porcelain enameled finish that's a signature Weber feature.  It's a shiny finish that withstands weather and time and will continue to look good even after years of use.  Right off the bat, there are a few great noticeable and practical features that can be seen from the outside of the smoker.
A temperature gauge is built into the top lid of the smoker, and a pass through for probe thermometers is also built into the side of the smoker.  This way, you can precisely monitor the temperature of your food while it cooks.
There's also a fuel door on the side of the barrel that allows you to easily add charcoal or wood chunks mid cook.  It's also how you refill your water pan – both of these tasks are made quite easy with the smart placement of the side fuel door.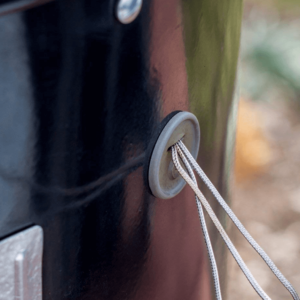 On the inside of the smoker there are two cooking racks that total 726 square inches of cooking area to work with on the 22″ model.  It's not exactly the amount of space you'd need to smoke a whole brisket or feed a huge crowd – but more than enough to smoke a half brisket or enough food for the family.  You can certainly cook a full rack of ribs – but it might be ideal to cut them in half to make things more manageable.
The key to any quality smoker is temperature and smoke control.  This is primarily managed by controlling airflow through your smoker via a ventilation system.  In the case of the Weber Smokey Mountain cooker, there are strategic vents built into various parts of the smoker.
The base has three adjustable vents which serve as the primary controls for airflow intake.  The lid has one adjustable vent where smoke exits as it rises through the cooking chamber and past your food.
One really nice touch is that each Weber Smokey Mountain Cooker comes with a custom fitting cover included.  It might not sound like a big deal – but a lot of other smokers require for you to purchase a cover extra to the tune of an extra 50 or 100 bucks.
The Weber Smokey Mountain Cooker comes in 3 different sizes with the below specs:
14 Inch – 31.4″H X 14.7″W X 14.7″D, 23 pounds, 286 square inches of cooking surface area
18 Inch – 41″H X 19″W X 21″D, 39 pounds, 481 square inches of cooking surface area
22 Inch – 48.5″H X 23″W X 24″D, 68 pounds, 726 square inches of cooking surface area
So the great news there is that no matter what your needs are, there's a size that will fit perfectly.  The 14″ in particular is great to take on the go and is super portable thanks to its light weight.  If you have the space on your patio, the 22″ iteration can get some serious smoking done.
Things We Like:
Very easy to use compared to many other smokers, so it's a great choice for beginners in that regard.  Even for experts who smoke day in and day out, the ease of use makes it an ideal go to smoker.
Two grate setup essentially doubles the cooking area you have to work with, so each of these smokers have a lot of space to work with relative to their size.
Fuel door makes managing your fire and smoke mid cook super easy.
Light and portable enough to easily take with you camping or tailgating.  On the go smoking has never been easier!
Built in access for probe thermometer wires.
Generous warranty which covers the bowl, lid, and center ring for 10 years, plastic parts for 5 years, and a 2 years on everything else.
The price is right – for the amount of cooking area you get and the quality this charcoal smoker produces, the price is incredibly fair.
Comes with a cover, which is an extra cost when purchasing most other smokers.
Things We Don't:
Rides low to the ground.  It might sound a little nitpicky since this is by design, but you may have to bend down a little bit to add to your fuel box.
Difficult to see water level while in use.  This also isn't a huge deal since the water pan can hold enough water for a 10-12 hour smoke, but it would be nice to be able to easily check levels.
No ash clean-out system.  Clean up isn't hard (more on that later), but it could be a little bit easier with a built in removable ash pan.
What Comes With the Weber Smokey Mountain Cooker?
Here's a complete list of what you can expect to come in the box with a Weber Smokey Mountain Cooker purchase:
Porcelain enameled base
Middle section for cooking and lid – and access door
2 stainless steel cooking grates
Charcoal chamber and charcoal grate
Water pan
Legs and lid handle
Nuts, bolts, and washers
Owner's manual
The coveted smoker cover
Which Type of Fuel Should I Use?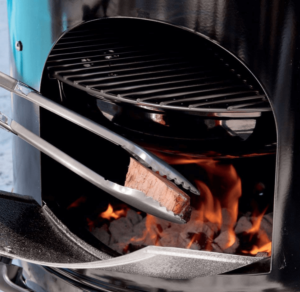 For the Weber Smokey Mountain Cooker, the fire fuel of choice is charcoal briquettes for most people.  Briquettes are simple to use, widely available and pretty cheap as far as ongoing fuel costs go.
Most people will also add wood chunks for extra flavoring.  Different types of wood will produce different flavor notes to be absorbed by your food.  If you don't know where to start, we like to recommend hickory as a great, all purpose wood that works with just about any meats you can smoke.
If you really want to take your fuel to the next level, a "step up" from charcoal briquettes is lump charcoal.  Essentially, lump charcoal is an organic wood based charcoal that imparts a pure, clean, delicious flavor profile onto your food.
It Doubles as a Grill!
One of the lesser advertised features of the Weber Smokey Mountain Cooker is that it actually doubles as a grill!  With a few easy tweaks, it sets up very nicely as a direct heat charcoal grill.
The steps are even mapped out in the owner's manual.  All you have to do is:
Remove the water pan and bottom cooking grate.
Place the charcoal grate and charcoal chamber in the middle cooking section, where the water pan normally sits.
Light your charcoal using a chimney starter and place lit charcoal on the charcoal grate.
Place the top cooking grate in its normal position.
With just a little bit of extra work, you can also have deliciously seared steaks, burgers, and many more grilled foods on this cooker!
How to Clean the Smokey Mountain
We mentioned that there isn't a built in ash clean-up system in the Smokey Mountain.  It's a feature we'd certainly like to see, but removing ash build up isn't too difficult to do as is.
Basically, you have to disassemble the unit and from there, you can dump out any ash that's built up in the bottom portion of the smoker.  That might sound like a hassle, but the Smokey Mountain is actually designed to disassemble easily as a portable smoker.
Other than that, rinsing your smoker and grates with warm soapy water and wiping it down is all there is to it!
Getting the Most Out of Your Smoker
Here are a few tips to get the best performance out of your Weber Smokey Mountain Cooker:
Line your water pan with foil before each time you smoke meat.  Doing this will make the clean up process significantly easier and quicker – you won't have to scrub down the pan this way.
Don't open the lid unless absolutely necessary.  Doing so will let valuable heat and smoke escape.  Utilizing a smoker thermometer can help keep your curiosity from getting the best of you!
If you use both cooking racks at the same time, be sure that the food on the bottom rack isn't so big that it blocks heat and smoke from reaching the top.
Use wood chunks to add extra layers of flavor to your food.
Wrap Up
At the end of the day, the Weber Smokey Mountain Cooker has everything you want in a smoker.  It's easy to use, makes delicious food, and can be easily taken on the go.  It doesn't even take up much patio space!  All around it's one of the most practical smokers out there.
No matter which smoker you choose, I hope this post has at least helped to point you in the right direction!  At the end of the day, you need to make the choice that's the best fit for your needs.
Have any feedback on this review?  Did you end up getting the Weber Smokey Mountain?  What are your thoughts?  We want to hear about it, don't be afraid to let us know in the comments section below!