This content contains affiliate links.  If you make a purchase after clicking a link on this page, we might receive a commission at no cost to you.
Cooking brisket can be a daunting prospect when you've never done it before, as getting the timing wrong can result in meat that is miles away from the tender brisket you'd hoped for.
However, if you've never prepared a brisket before, you might be wondering: Where do you probe a brisket?
In this article, we will cover some key information about cooking a brisket, including where to probe a brisket. So, next time you're cooking your BBQ, you know exactly when it's done.
Let's get into it.
Where to Probe a Brisket
To probe a brisket, you will need to take your meat probe and insert it into the thickest part of the brisket point, which is the thicker section of the brisket found next to the flat. You can read more about the anatomy of a brisket here.
If you happen to have multiple probes – you should stick the second one in the thickest part of the flat section of the brisket.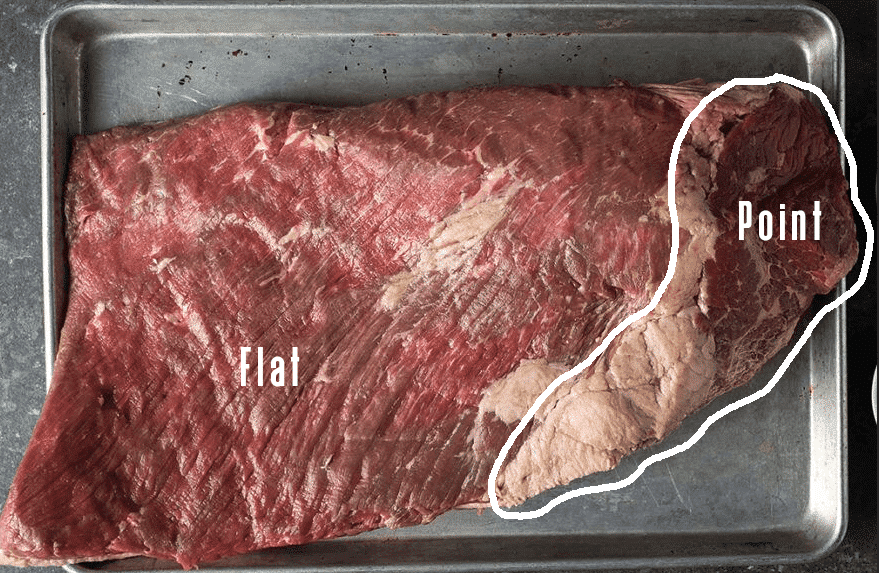 The thickness of the meat is measured by the brisket fat cap. The fat cap is the layer of fat that surrounds the muscle tissue in the center of the brisket.
When it comes to cooking the perfect brisket, you need to be aware of the fact that the point and the flat reach a safe internal temperature at different times, which often catches inexperienced cooks out. This simply comes down to the fact that the flat is thinner than the point.
The internal temperature of the brisket should be between 190 and 205ºF before it comes off of the smoker. The majority of people try to achieve a temperature that lands in the 200 to 205ºF ballpark.
That being said, the exact temperature that you are targeting will entirely depend on your personal preferences and how you like your meat cooked.
However, you will want to make sure that you aren't taking your brisket out too soon, which is usually indicated by how tender the meat is.
What Tools Do You Need to Probe a Brisket?
So, what are the best tools for probing a brisket? You'll want to use a meat thermometer to measure the internal temperature of your brisket. There is a wide range of meat thermometers on the market, and you can find them online or at most kitchen stores.
Top Wireless Thermometer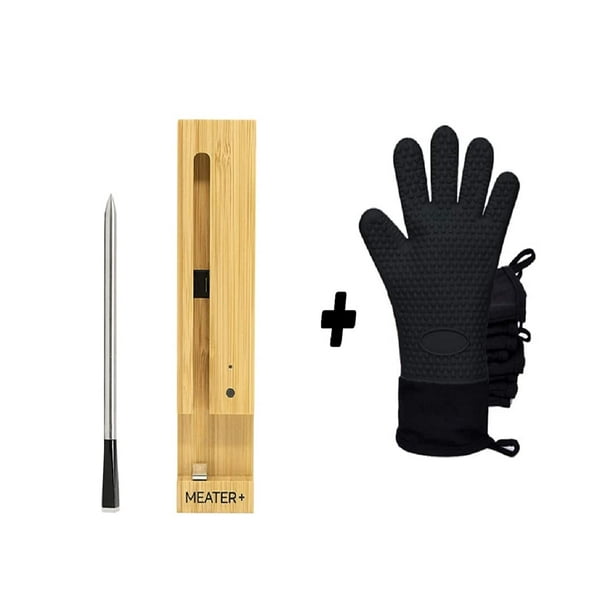 Many of these meat thermometers are known as digital instant-read thermometers that have a digital display, so you can easily read the temperature.
This means that you don't have to guess how long it took to reach the desired temperature. Some of them also have a handy auto-shutoff feature. This means that it automatically shuts off once the desired internal temperature is reached. 
Other meat thermometer choices include leave-in thermometers. These thermometers are great for pieces of meat that take longer to cook, such as briskets.
They are safe to keep inside the meat whilst the brisket is cooking, allowing you to track the progress of your meat literally as it cooks. This can be super handy towards the end of the cooking process.
When choosing the right meat thermometer, make sure that you do your research and opt for a durable one that will withstand the test of time.
How Do You Know When a Brisket is Done?
While the temperature is a great guide for checking when your brisket is done, tenderness is also one of the biggest indications of whether the brisket is done and ready to remove from the oven.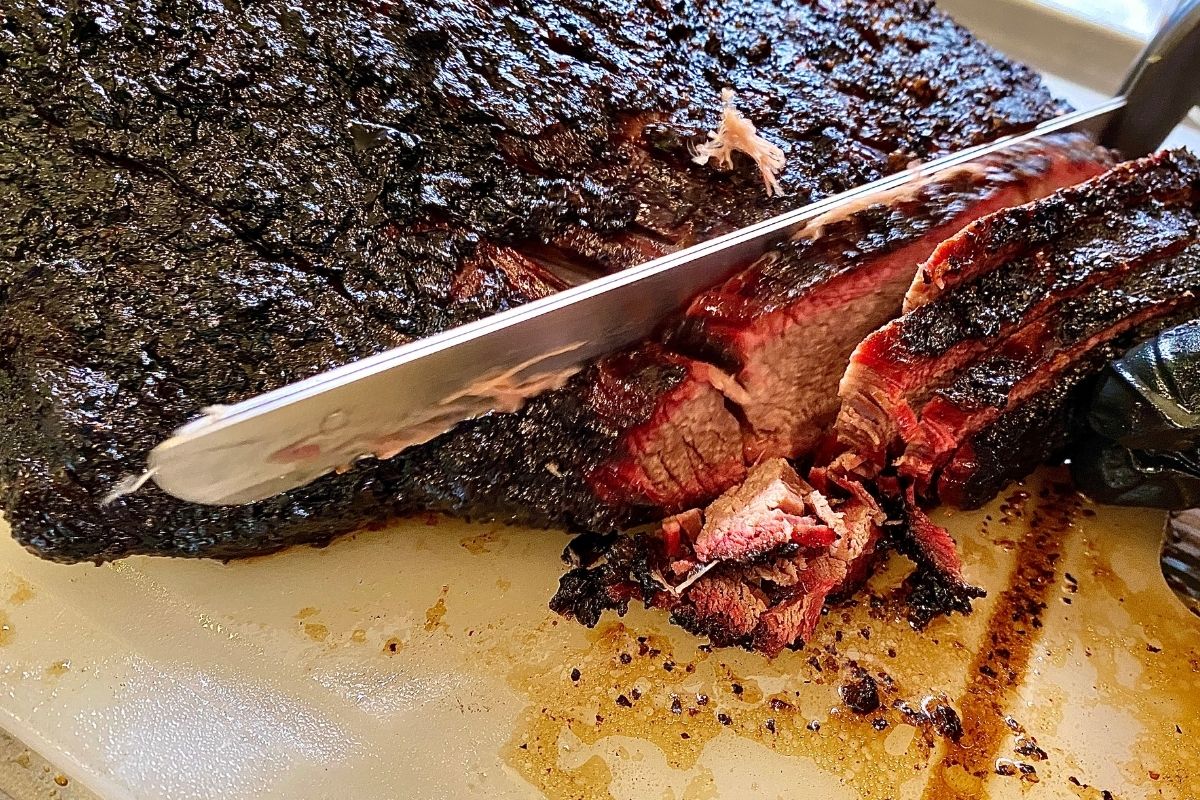 Brisket is a tough cut of beef, but if it is cooked correctly, it will become super delicious and tender. The meat needs to be cooked low and slow for many hours in order to achieve this melt in the mouth tenderness, so you have to remain patient while the meat is in the oven.
For the best results, you should wait until the brisket is incredibly tender to the slice, and the outside is sticky with a nice barky color around the edges.
Most of the time, your brisket will be wrapped in either aluminum foil or butcher paper when it comes off of the smoker. It will need a couple of hours to rest, ideally in a cooler, before you slice and serve your BBQ.
When you transfer your brisket from the smoker to a cooler is a great opportunity to double check that your brisket is a proper tenderness. It should have something of a jiggle to it and be tender to the touch at this point in the cook.
How Do You Clean a Temperature Probe?
For the maintenance of your temperature probe, it is essential to clean it regularly. This is important because, over time, bits of food and grease can get stuck to your temperature probe, which can lead to inconsistent cooking times as a direct result.
To clean a temperature probe, all you need to use is a sponge and a bowl of soapy water. The water should be hot, so make sure that you are wearing a pair of kitchen gloves to ensure that you don't accidentally burn yourself during the cleaning process.
To begin, you will first need to dip your probe in the soapy water and allow it to soak for a few minutes. The soaking process will help to remove any stubborn bits of meat and grease, especially if you've been using the temperature probe throughout the cooking process and the meat juices have dried on there.
Once you have allowed your temperature probe to soak, dip the sponge in the soapy water, and begin scrubbing the end of your temperature probe. The dish soap will help to cut through any grease and grime leftover on your temperature probe. 
If you're still struggling to remove any stubborn bits of meat, use a scouring pad to help you along the way, and this should remove any last little bits.
Once you have thoroughly cleaned your temperature probe, make sure that you dry it properly with a clean dishcloth before you put it away again.
This will ensure that you are keeping your temperature probe in the best condition possible and that it's ready to go next time you need to use it.
You should make sure that you are cleaning your temperature probe after every single use so that it is clean and ready to go the next time that you want to use it.
Final Thoughts
You should probe your brisket probe and insert it into the densest part of the brisket point at least, and ideally the flat as well if you have two probes.
Knowing where to probe your brisket will lead to consistent results, meaning that you minimize the risk of overcooking your brisket. After reading this article, I hope you have a better idea of where to probe your brisket.
Good luck cooking your delicious brisket!