This content contains affiliate links.  If you make a purchase after clicking a link on this page, we might receive a commission at no cost to you.
Let's face it, there are so many pizza lovers out there, and if you clicked on this article, chances are you are one of them.
In fact, a little over 5 billion pizzas are delivered across the globe annually – that's a lot of dough. Many people order pizza from their favorite factory pizzeria that will make your pizza with complex machines, for this is the only way to keep up with the massive demand for pizza.
The term artisan wasn't invented until the practice of hand-making a pizza in a wood-fire oven had already been significantly reduced by machine-made competitors.
The tradition of making a pizza the old school way became known as artisan and was transformed into an art form that is practiced by only the best pizza makers today.
Many times, quality artisan pizzas cook faster and are healthier because they usually use fresh ingredients and sauces unique to the pizza's design.
If you are curious about the history of artisan pizza, the types of artisan pizzas you will likely find today, and the making of a genuine wood-fire cooked pizza, then you have come to the right place.
*Note* If you have grand ideas to make artisan style pizza at home for epic pizza nights, check out our top picks for the best outdoor pizza ovens next!
Pass Me the Focaccia Bread: Humble Beginnings
Many historians that have loved pizza enough to research the beginnings of the tradition will disagree where the first pizza was made.
Many historians agree that this tradition has roots belonging to the Ancient Romans, Ancient Greeks, and the Ancient Egyptians. Any qualified researcher will tell you that the history of pizza making goes back thousands of years.
Many of these societies would bake on a bread they called focaccia, a flatbread that they would treat with oils and spices.
Focaccia, also known as Pisna which has a direct translation of stretching, could be squeezed and stretched to add custom toppings, and these treats would be sold on streets to passers-by.
These "flat-breads" were cost-efficient and practical to even peasants of these societies, as one could enjoy a fresh focaccia flatbread without the luxury of a plate. They could even take their food with them on the go.
Focaccia bread creations were a very innovative and helpful snack that could be sold at affordable prices at the time. Many working-class citizens in Naples were poor and could not afford to buy expensive meals, so this flatbread option became popular there in the early 1700s.
When people started adding more toppings on focaccia bread, the concept swept through Europe, as the simple bread dish was cost-efficient and more appetizing than other cheap food options for peasants of the day.
When the industrial revolution swept across America and other parts of Europe, focaccia bread, now commonly known as pizza, was made a common-place commodity. Machine-made pizza made it easier to process large amounts of food than their wood-fire grilled counterparts, now known as Artisan pizza.
The Makings of an Artisan Pizza
There are many things that make an artisan pizza a unique and special hand-crafted treat.
You have already learned that an Artisan pizza is hand-crafted and cooked in a wood-fire grill, but what are the other factors that define an Artisan pizza?
Flavorful Crust to Match a Delicious Design
Any professional wood-working pizza maker will tell you that one of the biggest secrets to a deliciously made Artisan pizza is in the crust.
Premium Italian wheat that has a purity score near Grade (or Tipo) 00 will have great tasting dough. Culinary masters only use the freshest and highest-quality ingredients for their Artisan masterpieces.
All it takes is a little bit of flour made from the best wheat, water, and salt, and you are on your way to creating an authentic Artisan pizza crust.
This dough will be very malleable, and because of the unique hand-made design, you can be sure that the dough will match your preference.
Whether you like chewy deep dishes or crispy flatbreads, a true Artisan master will be able to suit your preferences.
Tasty Toppings for Even the Most Refined Pallets
Are you curious as to what toppings you will find on an Artisan pizza? Well, the answer is: just about anything!
As long as the ingredients are fresh, they will go well on your uniquely crafted Artisan pizzas. Just as a masterful wood-fire pizza maker will choose the best wheat to make your dough, they will also only pick the freshest ingredients to top your Artisan pizza.
Many Artisan pizzas are topped with fresh tomatoes, unique herbs and spices, onions, olives, peppers, and just about anything else that you can think of! Your flavor design will be unique, and most Artisan pizza makers have a recipe that is unique to their culinary style.
Because each pizza is hand-crafted and features fresh ingredients, you will be sure to get the best combination of flavors imaginable.
Creativity for the Chef
One of the best things about Artisan pizza is that it is hand-crafted and that each topping is usually gracefully placed to give you certain flavor combinations that work well together.
Just like every pizza cook will be different, expect a slightly different experience each time you enjoy a hand-crafted wood-fire grilled pizza.
Originality is a part of the flavor design, and even your favorite recipe will taste slightly different each time you order it or make it in your own wood-fire grill.
Embrace the unique experience and celebrate the uniqueness of your own flavorful creations!
Health Benefits and an Unforgettable Flavor
We are pretty excited that the Artisan pizza trend has taken flight over the past few years.
Many people have started to buy wood-fire grills to cook their own Artisan combinations and ensure that smokey flavor that you can only get with a proper wood-fire grill. This type of grill can run hotter than household ovens, and they will give you a better crust and crispier toppings.
You cannot replicate the smokey flavor that is incorporated into each bite of the delicious hand-made dough, for machine-made pizzas usually run at a lower temperature in a gas or electric oven. The smokey flavor is a cornerstone taste landmark to look for in a wood-fire made pizza.
Did you know that eating healthy toppings on the best quality bread could have health benefits? Most machine-made pizzas are anywhere from 300-500 calories, but most artisan pizzas range from 150-350 calories.
Treat yourself right and invest in a wood-fire pizza oven. Your tastebuds and body will thank you when you have tasty, affordable, and healthy pizza anytime you wish.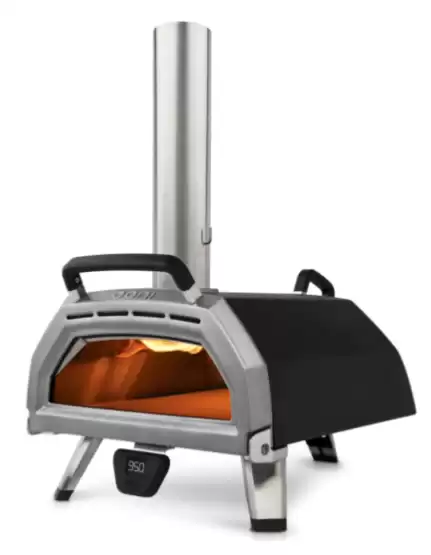 More Flavor with Each Bite
As we have mentioned earlier, the making of an Artisan pizza is a long tradition of creating unique and healthy flatbread snacks. A true wood-fire Artisan pizza master will balance flavor combinations with only the freshest ingredients.
As more and more companies compete to make better quality machine-made pizza, no company will be able to replace the legendary design and convenience of a true wood-fire baked Artisan pizza.
Now that you know what to expect for a fresh and flavorful Artisan pizza design, do not settle for factory-made pizzas with unhealthy toppings.
Invest in your health and pizza expertise by getting your own wood-fire grill and experiment with your own daring and delicious hand-crafted pizzas. Even if you have not ever made an Artisan pizza, you can learn recipes online or experiment with your own pizza designs.
There is nothing like a good slice of pizza, so invest in the best of the best, and buy yourself a hand-crafted Artisan pizza.
Final Thoughts on Artisan Pizza
With more and more grills supporting pizza baking (see Kamado Joe and the Camp Chef Woodwind pizza oven attachment), artisan pizza making is becoming a more common tradition for the BBQ savant.  Heck, many folks are cooking pizza directly on grill grates nowadays.
I can't say that I'm upset about.  Pizza is one of the few foods that is pretty much loved by everybody – no matter what your taste preferences are, there is a pizza for you out there.
We hope you've enjoyed this history lesson and guide to artisan pizza!  Have ideas for us on the topic of pizza?  Reach out to us in the comments section below.