When it comes to quality outdoor cookers, there's no doubt that Kamado Joe is at the tip top of the list.
In terms of design features, versatility, and durability, all of their grills are second to none and bona fide contenders for the best kamado grill, period.
Specifically, we wanted to dedicate an entire article to the Kamado Joe Classic grill, which is one of their best sellers and a fantastic choice for beginners and experts alike.  As you're about to see, there really isn't anything these cookers can't do.
Another topic we'll touch on is the difference between the Kamado Joe Classic II and Classic III.  You might have noticed these two different grills at different price points, so we'll help to clear up any confusion between the two.
Stick around until the end for some Kamado grill knowledge and how to get the most out of your Kamado Joe Classic II or III!
Kamado Joe Classic III Review
The Kamado Joe Classic III is the newest iteration of the "Classic" line of grills.  While many of the features are the same as the Classic II, there are a few upgrades that are definitely worth pointing out.
Perhaps the most noteworthy improvement is the introduction of a technology that Kamado Joe calls their SloRoller Hyperbolic Smoke Chamber.  As the name suggests, it's a hyperbolic chamber that distributes heat and smoke in rolling, recirculating waves.
By doing this, your food gets perpetually surrounded by even amounts of heat and smoke – which enhance the quality and smokey flavor of your end results.  It also virtually eliminates the possibility of hot spots showing up on your grill.
The next upgrade comes with an improved cart.  Not that the cart for the Classic II isn't good, but the III's cart is just frankly better.  Instead of a wiry cast iron, the Classic III has a heavy-duty galvanized steel rolling cart with locking wheel casters.
Last but not least, the Divide and Conquer system actually features 3 layers for you to work with vs just 2 – so you're rewarded with a little bit of extra cooking space with the Kamado Joe Classic III.
Otherwise, this grill includes all of the same design and extra features that the Classic II includes.  The temperature range is similar at 225-750°F, and the easy clean removable ash pan, premium gasket, vent control tower are all basically the same design.
Things We Like:
All around quality of design, ceramics, and other parts is incredibly high.  No stone was left unturned in the design and construction of this grill.
Maximum versatility and a 3 tier cooking system that allows you to cook in different styles.  Everything from smoking low to baking pizzas hot is possible on this grill.
SloRoller Hyperbolic Smoke Chamber is legit and will definitely enhance the quality and smokey flavor of your food.
Heavy-duty galvanized steel rolling cart and side tables come included with your grill, which is a clear step up from the Classic II
Easy to use, especially for a kamado grill.  All of the cooking and clean up features are there to help make your life easier as the grill master.
Temperature management is made easy by a simple and straightforward top vent tower that lets you precisely control airflow.
Lifetime warranty on ceramics and 3-5 year warranty on most other parts.
Things We Don't:
A clear step up in price compared to the Classic II and for some, the added benefits might not justify the cost.  We're on the edge as to whether it's worth it or not.
Kamado Joe Classic II Review
The most prominent feature of any kamado cooker is its egg shaped chamber, which is typically constructed of high quality ceramics.
In the case of the Kamado Joe Classic II, the premium ceramic chamber is a distinct red and does a fantastic job of insulating and retaining heat.
The key to any proper charcoal grill is a quality ventilation system.  The Classic II has an excellent one which is primarily controlled by a top tower vent.
From here, you can precisely choose your desired temperature with visual markers.  The vent will maintain a consistent airflow and setting even when the dome is opened and closed.
Speaking of the dome, in 2017 the Kamado Joe Classic II got a major redesign – and one of the most notable improvements was the addition of an air lift hinge.  The ceramics in kamado grills are quite heavy, and opening your lid is usually a burdensome task.  With the air lift hinge, the dome can be lifted with a single finger with a reduced effective weight of 96%.
We haven't even gotten to some of the best cooking features yet!  The Classic II is designed to consistently maintain temperatures from 225°F to a scorching 750°F.  That's a wide enough range to smoke meats low and slow or to crank up the heat to sear a steak.  It will actually get hot enough to bake Neapolitan style pizza too!
One of the most unique features of Kamado Joe grills is their Divide and Conquer system.  It's essentially a multi level grate with a half moon design on each layer.  Each of the half moons can be mixed and matched with different types of cooking surfaces to suit your needs!  In fact, here's a complete list of the different types of half moon cooking surfaces you can get:
Traditional stainless steel cooking grate
Soapstone
Cast iron cooking grate
Cast iron reverse-able griddle
Fish and vegetable grate
Ceramic pizza stone
Deflector plate (for multiple heat zones)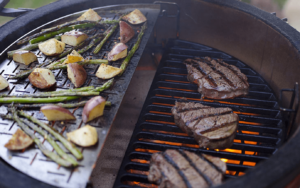 This Divide and Conquer system alone provides the sort of versatility that most other grills can only dream of.  You can literally cook different foods on different surfaces at different temperatures with different styles, all at the same time.
Another consideration is that this system essentially doubles the 18″ diameter cooking surface since it's 2 tiers on the Classic II.  So you have a total of 508 square inches of cooking surface area to work with (you can get up to 660 square inches with an additional expander rack).
The Kamado Joe Classic II is an efficient burner of charcoal, especially if you use quality lump charcoal, so you don't have to generally worry to much about cleaning up ash.  But for when it's time to clean out your ashes, an intuitive slide out ash drawer makes the process incredibly easy.
Many other high quality kamado brands (cough, Big Green Egg) charge you extra for a cart, but Kamado Joe includes a cast iron cart with locking wheels to house your grill.  It makes moving and locking in these heavy units a lot easier, and it's built to last a long time.
There are also some pretty great other features that enhance your cooking and increase the durability of these grills.  Namely, a multi panel fire box, wire mesh fiberglass gasket, folding side tables, and stainless steel latches all help to make your experience as easy and pain free as possible.
The other thing is that as far as premium, high quality ceramic kamado grills go, this price point is about as good as you're going to get.  I say that with a little bit of pause because the Kamado Joe Classic II isn't exactly cheap, but the value for your money is definitely there – especially compared to the quality and price of other brands.
Things We Like:
All around quality of design and construction is spectacular.  No stones were left unturned, and no corners were cut in the creation of this cooker.
Maximum versatility thanks to some intelligent design features and availability of tons of accessories.  Everything from low and slow smoking to baking pizza on scorching heat is possible here.
Easy to use, especially for a kamado grill.  All of the cooking and clean up features are there to help make your life easier as the grill master.
Temperature management is made easy by a simple and straightforward top vent tower that lets you precisely control airflow.
Cast iron cart and side tables come included with your grill, whereas these features cost extra with some other brands.  Everything you need to get going comes standard.
Lifetime warranty on ceramics and 3-5 year warranty on most other parts.
All things considered, the price is pretty reasonable.
Things We Don't:
Even though the price is relatively good and the value is there, it's still a steep price tag for many budgets.
A Brief History on Kamado Grills
Kamado grills are one of my favorite types of grills.  Not only are they high performance cookers, but they have a pretty neat place in history too.
These grills are based on pretty ancient technology that has withstood the test of time.  As early as 3,000 years ago in Asian countries, clay vessels were used to cook food and gradually tweaked and perfected as time went on.
Eventually, a clay pot cooker with a removable lid was created in Japan – which was introduced to Americans after World War II.  Americans were astonished at how good the food was that came off of these cookers.
From there, improvements and modernizations have been made to the kamado grill which brings us to today's designs.  Most modern kamado grills are made of ceramic (although some are made of steel) and utilize tried and true design features to deliver perfect food.
A Brief History on Kamado Joe
Kamado Joe is somewhat of a new kid on the block in the grilling space.  They opened for business in 2009 after Bobby Brennan and Kerry Coker founded the company.  They were dissatisfied with the lack of premium options in the outdoor cooking market and vowed to create a premium brand that delivered a world class kamado grill.
And they've done exactly that.  Kamado Joe has led the industry in innovative features and quality from pretty much day 1 of their existence.  Today, many of the features they first came out with are being copied by other brands who are trying to play catch up.
All of that to say, Kamado Joe is one of the most respected brands in the space.  If you want to see how we think they stack up to other brands, check out our Kamado Joe vs Big Green Egg comparison next.
Getting the Most Out of a Kamado Joe Classic
Whether you end up with a Kamado Joe Classic II or III, there are a few things to keep in mind to help you get the most out of your grill.
The first suggestion we have is to use lump charcoal.  If you've never been introduced to lump before, it's basically an organic, premium type of fuel for your kamado grill – and is somewhat of a hybrid of wood logs and chunks and charcoal.
Lump charcoal is a little more expensive vs briquettes, but kamados are efficient burners so you won't be spending too much for ongoing fuel costs.
Second, we'd suggest utilizing Kamado Joe's extensive line of accessories.  They have some really good stuff that can take your grill into the stratosphere.  We already touched on the different cooking surfaces you can use in the Divide and Conquer cooking setup.
On top of that though, they sell accessories to completely customize your cooking experience:
Rotisserie kit
Pizza stone
Grill expander (more cooking surface area)
Cast iron dutch oven
Cast iron wok
Rib rack
Accessory rack
Final Thoughts
No matter whether you end up with a Kamado Joe Classic II or III, you're ending up with a spectacular cooker that essentially serves as a premium grill smoker combo.  Both of these units are bona fide top of the line grills, and worth every penny (even though they are expensive!).
If you want something with a little bit more cooking area, check out our Kamado Joe Big Joe review next.  The Big Joe shares lots of similarities with the classic, but as the name suggests is bigger!
Which one did you end up with?  Let us know about it in the comments section below!