This content contains affiliate links.  If you make a purchase after clicking a link on this page, we might receive a commission at no cost to you.
When it comes to all-around quality and versatility, the kamado grill is one of the absolute best grill types out there.
Kamado grills have exploded in popularity in recent years and for good reason!  These grills hone over 3,000 years of cooking technology and are undoubtedly a fantastic addition to any outdoor cooking setup.
Most kamado grills are made with ceramic which allows superb insulation for your grill while also not faltering to intense heat over time.  Because of the high level of insulation, kamado grills serve as a fantastic charcoal smoker, grill, roaster, and pizza oven all in one.
Normally, all of that versatility means you're giving something up – whether it's in the quality department or elsewhere.  What makes kamado grills so great is that you don't have to sacrifice to get the best of a smoker, grill, roaster, and oven in the same unit.
You've probably heard of the famous Big Green Egg – but there are quite a few other kamado grill brands out there that make incredible products.
In this post, we'll go over our top picks and brands for the best kamado grill on the market.  If you stick around until the end, we'll touch on pros and cons of kamado grills, along with other helpful information on how to use and care for your grill!
Quick Look at Our Top Picks:
Best Kamado Grill Reviews
Kamado Joe Classic III Charcoal Grill (Overall Best Kamado Grill)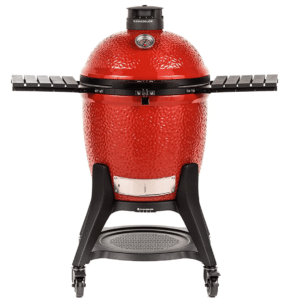 Kamado Joe is undoubtedly one of the best, if not the best brand when it comes to kamado grills.  They are well known and well respected, and have a history of making fantastic, high quality products.  Big Green Egg gets a lot of press but for our taste, Kamado Joe is superior.
They've taken proven design principles that date back thousands of years, and added their own flavor and improvements.  The result is one of the best kamado grill lines in the industry.
In particular, we love the Kamado Joe Classic III grill, which got a fairly major redesign in 2017.
One of my favorite and most innovative features of Kamado Joe grills is their patented divide and conquer system.  Basically, the grates inside of the grill are tiered which essentially doubles the amount of space you have to work with.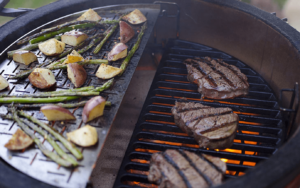 The best part is, the tiered grates allow you to set up multiple heat zones in your Kamado Joe.  An innovative half-moon internal heat deflector can partially block off heat, allowing both indirect heating and an open flame.
Different custom cooking surfaces (like laser cut stainless steel, soapstone, cast iron grate, and cast iron griddle) are also available and can be interchanged to hyper customize your grill.  You can truly cook different foods with different cooking styles and at different temperatures at the same time.
One of the big improvements made in 2017 was the addition of an air lift hinge which reduced the weight of the dome by a staggering 96%.  You can literally open the lid of this thing with a single finger.
The top vent is the main component to control your air flow and temperature.  It's rain and mold resistant and powder coated with aluminum.  The dual-adjustment top vent lets you control your temperature from smoking range (225°F) to searing range (750°F).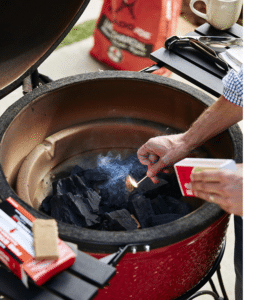 A wire mesh fiberglass gasket provides a truly air tight seal, which is incredibly important, and is build solidly to outlast competitor's gaskets.
As far as ease of use goes, a bunch of other features are included to make like as easy as possible for you, the grill master.  Namely, a multi panel firebox that's quite sturdy and a slide out ash drawer make fire management and clean up easier than it should be.
Other attributes of the Kamado Joe are a built in stainless steel latch, stainless steel cooking grates, a built-in thermometer, and folding side shelves.
On top of all of that, Kamado Joe backs their product with a lifetime warranty on ceramic, 5 year warranty on all metal parts, a 3 year warranty on the heat deflector and a 1 year warranty on other parts.
Things We Like:
Overall design and quality of construction is off the charts good.  This kamado grill is undoubtedly one of the best on the market.
Versatility without sacrificing anything in terms of performance.  You can do everything on this grill, and do it well.
Multilevel grilling might sound a little bit unnecessary or excessive, but I can assure you it's not!  It's one of the best features about this grill and allows you to cook different foods with different cooking styles and at different temperatures at the same time.
Ease of use is as good as it gets.  Fire management is made easy with an intuitive, sturdy fire box and clean up is simplified with a removable ash tray.
You don't need to pay for extra accessories, unlike some other brands (most notably Big Green Egg).  Everything you need comes included.
Things We Don't:
If you're on a strict budget, you might find the amount of grilling area you get with Kamado Joe to be a little less than what you were hoping for the price.
The old adage "you get what you pay for" couldn't be truer in this instance.  Yes, Kamado Joe grills are expensive.  But, they are of the utmost quality and will create a lifetime of delicious food and memories when cared for properly.
Kamado Joe is our pick for best kamado grill brand overall.  Up and down their line of grills, all you see is quality.  They also put a significant amount of time, money, and energy into innovating their product.  So what you see now is the culmination of years and years of improvements and tweaks.
This is the sort of grill that you have to buy one time and you are set.  While the Kamado Joe Classic II is our personal favorite, if you're looking for a different size or maybe an older iteration, Kamado Joe also offers:
*Note, you can also read our complete Kamado Joe Classic and our Kamado Joe Big Joe review right here*
Primo Oval XL 400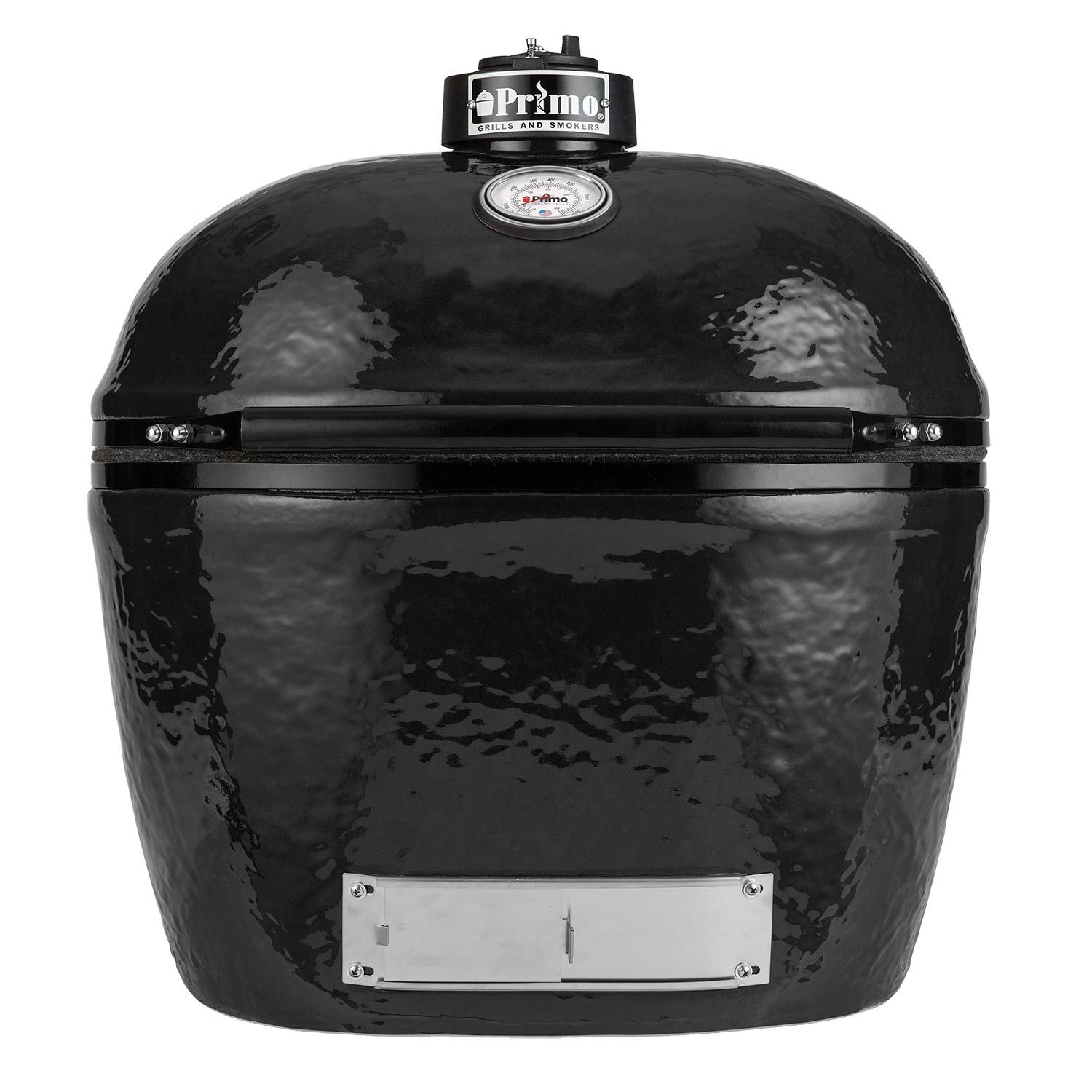 If you're looking for a quality ceramic kamado grill at a price point that's a little more palatable than other brands on the market, the Primo Oval XL 400 is an excellent option.  With 680 square inches of total cooking surface area, it has plenty of space to grill a load of burgers or smoke a big brisket.
Just because the price is good doesn't mean that Primo cuts corners.  They use some of the highest quality ceramics in the business to construct their grills – which means superior heat, moisture, and flavor retention.  Oh and by the way – all Primo products are made in the USA.
Versatility is the name of the game when it comes to the Oval XL.  The lid sits higher than other brands on the market, which means that proper rotisserie cooking is made easy on this Kamado.  Furthermore, elevated cooking grids are half moon shaped which allow for customization of your set up.
On the warranty front, Primo backs their products with a 20 year warranty – so you can be assured that this grill will last for decades!
We've done a deep dive on Primo – if you're interested in learning more about their kamado grills, check out our Primo Review here next.
Blaze Aluminum 20″ Cast Iron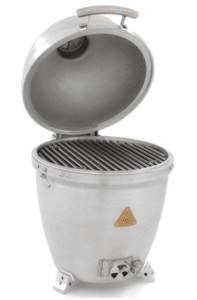 The Blaze Cast Aluminum Kamado is the only grill on this list that's made out of aluminum.  You might think naturally that this is a lower quality material than ceramics or steel.  While that technically is true in a lot of situations, I can assure that Blaze spared no expense in constructing this world beater of a grill.
The aluminum is an inch and a quarter thick in a lot of the parts of the shell, and it does an excellent job of insulating and providing consistent heat and smoke when it's cooking your food.
Temerature control is precise and easy here, and the lid is incredibly easy to open and close.  It fits very nicely so you almost will never have heat escape issues, even in cold and windy weather.
The 20″ diameter gives plenty of space to get to work with on the grate.  Beneath the main cooking grate there is a second 18″ grate that almost doubles your total cooking surface area.  Aesthetically, it's a super sleek unit and a welcome addition to any back patio.  For more on this grill, check out our in depth review of Blaze Kamado grills next.
Big Green Egg, Large (18″)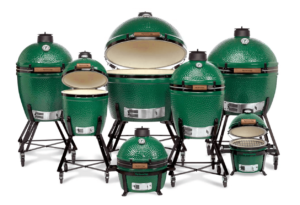 Unless you've been living under a rock, you've likely heard of Big Green Egg at some point over the last few years.
Frankly, their ceramic grills have iconic status and kind of put kamado into the spotlight.  That sort of thing only happens with a truly quality product.
The Big Green Egg comes in 7 different model sizes.  No matter how much space you have or what your cooking needs are, there's a Big Green Egg size that will suit your needs.  Here are all of the sizes offered:
Mini – 10″
MiniMax – 13″
Small – 13″
Medium – 15″
Large – 18.25″
XL – 24″
XXL – 29″
Insulation wise, Big Green Egg grills are first class.  They use the highest quality ceramics and the results show it.  It's shocking how good these grills are at retaining heat, and how easy it is to manage temperature while you grill.  They also come with all of the features you'd expect to see on a high quality kamado grill.
The catch with Big Green Eggs is the monumental prices.  For each size grill they offer, they are the most expensive grill on the market for that size.  Also, those prices aren't even inclusive of a lot of accessories that you'll likely need.
Things like a stand, side shelves, and a chimney cap all come at an extra cost.  It's a little aggravating to buy an extremely expensive grill then have to shell out more cash for features that come standard for other brands (like Kamado Joe).
All of that said, they really are worthy of consideration.  The quality and design are undisputedly at the top of the list, and you'll be equipped to make incredible food if you end up with one.
Things We Like:
Made with the highest quality both from a design and construction perspective.  NASA grade ceramics are used in the construction of the main ceramic shell.  Heat retention and control are off the charts good.
Wide range of sizes offered.  From 10″ diameter to 29″ diameter and everywhere in between, there's a Big Green Egg size to fit your needs.
All around durability.  When cared for properly, a Big Green Egg will last decades.  Even if you don't care for it well, they are designed to last.  Heat and weather exposure won't break down the outer surface of these grills.  (You should take good care of any grill you have though 🙂 )
Trusted brand name.  I'm firmly against paying extra only for the sake of a brand name.  In the case of Big Green Egg, their brand has a long history of quality products.
Things We Don't:
Prices are super expensive, especially considering the fact that you aren't done after buying the grill itself.  Many of the necessary attachments and accessories come at an extra cost.
You can't buy them online.  This is a minor annoyance, and some people prefer shopping in person anyways, but a lot of other brands offer the convenience of online shopping.
If you do end up buying a Big Green Egg, make sure that you do it from an authorized dealer.  If you don't, you won't have a warranty and you won't get help from them by the way of customer service.  They have a list of Big Green Egg authorized dealers on their website.
Pit Boss 71220 Kamado Cooker, 22″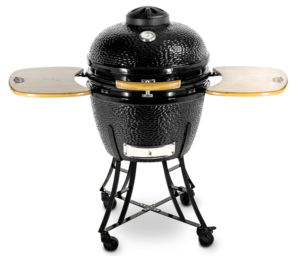 If your heart is set on a ceramic grill but you want something a little less pricey than a Kamado Joe, then Pit Boss is very much worth a look.  Pit Boss is a trusted name in the grilling community, and their brand appears quite a bit on this website!
In particular, the Pit Boss 71220 Kamado BBQ Ceramic Grill Cooker makes a great alternative for a little less cost.
All of the main design and construction features you'd expect from the best kamado grill are there.  Namely, a heavy duty ceramic body and an easy to use tamper to give you full control over the temperature.  When it comes down to it, those two features are at the core of what make ceramic kamado grills so special.
On top of that, the grates have a dual tier feature that actually give you a whopping total of 662 square inches of cooking space.  That's a ton of space for a kamado grill.  I should point out though that the dual tier setup is not similar to the Kamado Joe in that the pit boss is only set up for 1 zone cooking.
Bamboo foldable side tables are a really nice feature along with locking wheel casters.
Things We Like:
Nice price point all things considered for a ceramic kamado grill.  You'll be hard pressed to find something this size and quality for this price.
Core features are great, namely the heavy duty ceramic construction and tamper make temperature control a breeze.  Temperatures can get up to 700 degrees.
Lots of cooking space with a dual tier cooking grate.  662 square inches of total cooking area is a lot for a kamado grill.
Things We Don't:
You have to purchase a heat deflector if you plan on smoking or indirect cooking, which is a tiny bit annoying as both of these cooking methods are part of the appeal of a kamado.
Maintaining consistent low temperatures has been a challenge for some owners.  Pit Boss doesn't specify how low the temperature range goes, but they market this grill as a smoker so we'd reasonably expect for it to go as low as 225°F.  Some owners have mentioned that the fit of the vent made maintaining a low temp tough.
Char-Griller AKORN Jr (Best Portable Kamado Grill)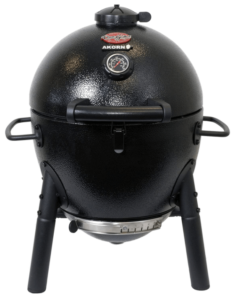 We're going to take it to the low end of the price spectrum here with the Char-Griller AKORN Jr, which gets our pick for best kamado grill for the money.
It's also got a small profile at only 20.5 x 21.5 x 25.3 inches.  So if you don't have a ton of space for a full size kamado (which are typically pretty big), then the E06614 could be a great fit in that regard.
The downside of a smaller grill is naturally the amount of cooking area you'll have to work with will be relatively small too.  In this case, the diameter of the cooking grate is 14 inches, meaning you have a total of 153 square inches of cooking area.  That's plenty for a small family, but if you plan on cooking for lots of people at once this might not be the choice for you.
What I love especially about this kamado is how high quality the construction is, even considering the smaller size.  It's made of steel, but has dual air-flow dampers, a hinged locking lid, and triple wall steel with insulation that allow it to retain heat like a more expensive ceramic kamado grill.
The steel construction does come with a few benefits too – namely it's less fragile than a ceramic grill.  You would never take a ceramic kamado with you on the road.  But due to the size and build of the AKORN Jr, you can achieve the benefits of a kamado in a camping or tailgating setting.
Performance wise the grill has a temperature range of 200-700°F, which more than stands up to some of the bigger, better known kamado grills on the market.
Things We Like:
Entry level price point for a grill that performs like an expensive one.
Steel construction is highly durable and can take a beating.
The most portable and lightweight kamado grill.  This is the one you want to take with you camping or tailgating.
Fuel efficient.  The AKORN Jr heats efficiently and quickly, and can easily maintain high temperatures without churning through fuel.
Things We Don't:
Total cooking surface area isn't super big.  153 square inches is plenty for a lot of situations, but if you need to cook food for a big group of people all at the same time it will be challenging.
Shelf life for stainless steel kamados will be significantly less than a ceramic one.
Chefood 16″ Ceramic Kamado Charcoal Grill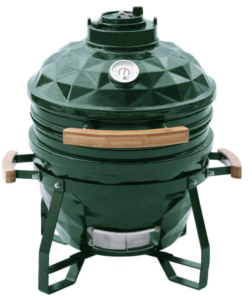 Chefood is a relatively unknown brand, but they do make a really nice kamado grill.  In fact, their 16″ Ceramic Kamado Style Charcoal Grill is a great small ceramic kamado grills.
One important thing to note off of the bat, the 16″ refers to the outside diameter of this unit.  The cooking area is actually only 13.25″ in diameter with a cooking area of 138 square inches.  The grates are made of stainless steel and do a wonderful job of cooking your food.
Because of the ceramic construction, the Chefood 16″ is the perfect small grill, even in cold climates.  The downside of ceramic is that it weighs a lot.  In this case, the unit weighs a little over 90 pounds so while it's small, it's not necessarily easy to transport.
An adjustable bottom air damper and top vent temperature control system make managing your fire and heat really easy.  All in all, this is a really nice ceramic kamado grill at a great value.  If you want to go even smaller, Chefood has a 13″ diameter model too.
Another thing I like a lot here is that a waterproof cover is included with the cost of the grill, so that's one less thing you have to worry about spending on!
Things We Like:
Incredible price for a ceramic kamado.  You'd be hard pressed to find a better price on a ceramic grill.  For that reason alone it belongs in our list.
Compact size is ideal for tighter patio spaces.
Great heat retention thanks to a well made and designed ceramic shell.
Grill cover included, which is one less thing to have to worry about.
Things We Don't:
Not a ton of cooking surface area. If you're going to need to cook for lots of people, the lack of a ton of cooking area might be problematic.
Even though it's small, it's not quite portable.  That's kind of the nature of the beast with ceramic, but part of me wishes this was a little more lightweight so it could be taken on the go.
Char-Griller Akorn Kamado Kooker (Best Kamado Grill on a Budget)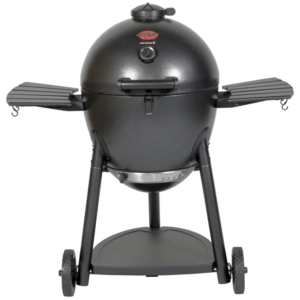 Kamado grills have a perception about them that they are really expensive.  That's definitely true, with an important distinction.  The ceramic ones are super expensive.
Steel kamado grills are a perfectly viable option and are capable of cooking incredible food.  And they're generally way more affordable.  The Char-Griller Akorn Kooker is without a doubt one of my favorite steel kamados.
With dimensions of 26.6 x 24.8 x 21.65 in it's reasonably sized – but features more cooking area than you might expect.  It has 314 square inches of primary cooking space (cast iron grates) along with a 133 square inch warming rack for a grand total of 447 square inches to work with.  That's a lot for a kamado.
The heavy duty 22 gauge steel shell is insulated to help retain heat and provide easy temperature control.
Features like a locking lid, 2 folding black metal shelves, easy dump ash pan, and a built in heat gauge make you feel like you're getting real value out of this grill.  The cart also comes with built in wheel casters that can be locked into place.
If you're ok not going ceramic, this is by far one of the best kamado grills you could end up with.
Things We Like:
Great value.  While this one is steel and not ceramic, the value is still there.
Lots of nice accessories included, like folding side shelves, easy dump ash pan, and a cart.
Heavy duty steel is durable and is not prone to breaking or shattering like ceramic would be.
Generous amount of total cooking area, especially considering the size of the grill.  Definintely more than a lot of similarly sized grills.
Things We Don't:
Longevity – Compared to ceramic, steel grills simply don't last as long.  Make sure you do everything you can care wise to extend the shelf life.
Inconsistency has been somewhat of a problem to some owners who cite missing parts or faulty components upon delivery.
Duluth Forge Kamado Grill, 18″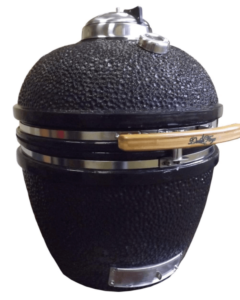 The Duluth Forge 18″ Kamado Grill is for sure an under the radar pick and is a lesser known brand.  But, it strikes a really nice balance of quality and affordability.
If you're set on getting a ceramic grill and on a budget, this one if definitely worth consideration.  It's the cheapest full size ceramic kamado grill on this list.
1.25" thick ceramic walls allow for nice heat retention and good air circulation while you cook.  A dual top vent allows for fast starting, searing, and heat adjustment – with maximum control along the way.
Stainless steel was the material of choice for all bands, hinges, springs and hardware.  A porcelain coated steel cooking grate is non-stick and also very easy to clean.
Like all of the other choices on this list, it's possible to do everything from smoking to searing on this grill.
Things We Like:
A nice value pick, and a really nice price for what you get.  A great option if you want a ceramic but don't want to completely break the bank.
1.25″ thick ceramic walls, are perfect heat retainers and insulators.
Stainless steel bands, hinges, springs, and hardware are durable and give the grill a commercial feel.
567 square inches of total cooking area.
Things We Don't:
Doesn't come with important accessories like a stand.  Unless you have a table pre made to fit your grill, you'll need to purchase a stand separately.
Customer service could be better according to a few owners.  Any time you spend a lot of money on something, you should be able to get in touch with somebody who will help you.
What is a Kamado Grill?
We mentioned at the beginning of this article that the underlying design principles for kamado grills have actually been around for around 3,000 years.
Even though it's been a recent explosion in popularity, it's pretty cool that these pieces of cooking equipment rely on such a tried and true method.
A traditional kamado grill is made from heat resistant minerals (like ceramics or cement) that are incredibly resistant to heat.  As such, kamado grills have extremely good insulative properties and almost never ever fault or crack.
For those reasons, a kamado makes a great smoker or even an oven – which is why from time to time you'll hear people refer to them as a ceramic grill or a kamado smoker.
How Does a Kamado Grill Work?
The science behind a kamado grill is actually pretty simple – which makes sense since the methodology has been around for over 3,000 years!
Charcoal fuel is lit in the cooking chamber as your source of heat.  After you light your fuel, cooking grates and racks are placed.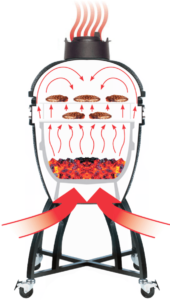 Thick insulated walls retain heat and moisture.  Air finds its way in through an intake at the bottom of the grill.  The intake and vent on the top of the grill can be adjusted to control airflow and by extension, temperature.
Once you light your fire and set your vents initially, your grill will barely fluctuate in temperature if at all.  For beginners, it can take a couple of tries to get the hang of this as it's hard to adjust drastically if you set the wrong temperature initially.
If you're smoking or cooking with indirect heat, you'll use a special heat deflector plate which goes in between the grate and your coals to deflect direct heat from reaching your food.
Kamado Grill Pros and Cons
Just like anything in life, there are upsides and downsides to even the best kamado grill.  For us the pros vastly outweigh the cons, but nonetheless a kamado isn't the right fit for every aspiring grill master.
Kamado Grill Pros
With proper care, a kamado grill will quite literally last you a lifetime.  It's the kind of thing that can be passed down a few generations, which is pretty cool.
They are true all in 1 units.  Thanks to good air ventilation and heat control systems, most of these grills have a temperature range from 200-700°F.  That's a wide enough range to sear, roast, bake, smoke and grill all on the same product.
World class insulation means that you'll achieve consistent results, even if you live in cold or windy climates.  Consistent heat is an uphill battle in colder weather, even with a well made gas grill or charcoal grill.
Due to that insulation, kamado grills are extremely efficient with fuel.  You'll find yourself going through a small amount of charcoal for how often you fire up the grill.
Meat results are super juicy after cooking on a kamado grill.  Because of the airflow design, minimal moisture escapes the main chamber and ultimately remains in your food.
Starting your fire is really easy in a kamado.  The process is a little bit different than other grills, but after the first time you'll have it down and it's super simple.
Many of the best kamado grills have attachments and accessories that really let you do some fun stuff.  Wok pans, baking stones, and many other add ons only add to the versatility of your grill.
Temperature control is pretty easy on the quality grill models.  It's literally as simple as twisting a knob in most cases.
Kamado Grill Cons
They aren't for the budget conscious.  A bona fide ceramic kamado grill will run you close to $1,000 minimum, and it can go up from there.  Steel options are cheaper but aren't quite the same quality as ceramic.
Lots of brands (cough, Big Green Egg) charge extra for accessories that feel like they should come standard with your purchase.  It's a little lame to pay a lot for a grill then have to shell out more for crucial accessories.
Learning how to manage your heat and your coals can be tricky at first.  As long as you stick with it though, you'll eventually learn how to best manage your airflow and heat.
Most kamado grills are not portable.  The ceramic material used in construction weighs a lot – resulting in a 200+ pound grill a lot of times.  Obviously that's not ideal if you need to grill on the go.
Clean up is a pain in many poorly designed models.  An ash tray is an essential component of any charcoal fueled grill, but you'd be surprised how many kamados lack this feature.
Many medium and small models are not suited for 2 zone cooking.  So you really only get maximum versatility from bigger, more expensive models.
Best Kamado Grill – Buying Tips
Any time you're making a big purchase, it's importantly to thoroughly consider all aspects of the product you're about to buy.  We thought it would be helpful to put together the top things to look for all in one place when shopping for a kamado grill.
Construction – Steel vs Ceramic
Perhaps right off the bat, you need to decide whether you're looking for a steel or a ceramic grill.
Ceramic is the superior choice in our opinion, and more true to the spirit and design intent of the kamado grill.  The ceramic material just does a fantastic job of insulation and heat retention.  When taken care of well, a ceramic grill will have a super long shelf life too.  The "catch" is that ceramic kamados are markedly more expensive than steel ones.
Steel grills have a few more benefits than just being cheaper.  Heavy duty steel construction means more durability in the sense that if you drop a steel kamado, it will probably be fine.  Drop a ceramic, and you're out of luck.  Steel is also much more lightweight and portable if that's important to you.
The downside of steel is that generally it's not as good of an insulator and they won't last as long – even if you take great care of it.
Price
On a similar note, think about your price range before you start shopping.  If your budget is $500 or less, you're probably automatically looking at a steel kamado or a small ceramic.
For a "regular" sized ceramic kamado grill, prices start pretty close to $1,000 and only go up from there.  It's just something that's better to think about on the front end instead of getting too excited and worked up about a model that's out of your price range.
Size
Size is another obvious sounding consideration but it's a really important one.  How many people are you going to cook for on a regular basis?  It's important to think about to make sure you get a kamado that's the right size for your needs.
We see models with cooking grate diameters as small as 10″ and as large as 29″ – which is a vast difference in terms of surface area.  Have an idea of what you think you'll need before you start shopping.
Removable Ash Tray
We touched on this a bit earlier, but for me personally a removable ash tray is an absolute must.  Cleaning up after you grill is already a little bit of a drag, and the last thing you need is a complicated clean up process.
Too many kamado grills don't have an easy ash management system.  Be sure to look for a grill that has an easy to remove ash pan.  This will help tremendously to keep your grill clean and prevent ash buildup.
Ventilation System
The two most important design components of a kamado grill is the insulated shell/egg shape, then the ventilation system for airflow management.  Without good airflow management, you'll be out of luck.  It's crucial to have good airflow to control temperature and deliver delicious results.
Vents with double wheels have a little extra precision compared to vents with only one.  Beyond that, you should check to make sure the manufacturer has put sound science behind the design of their ventilation flow.
Cooking Grates
The grate portion of the grill is easy to overlook with all of the other excitement going on with kamado grills, but the grate is also quite important.
After all, it's the surface that comes into direct contact with your food.
Enameled steel, stainless steel, and cast iron grates are all ideal types of grates.
Aside from the material of your grates, it's ideal to have hinged grates.  Hinged grates will let you access underneath the grates while you cook so you can add fuel without having to cause too much trouble to your food.
Warranty
I harp on this all the time on Own the Grill, but a manufacturer's warranty is incredibly important.  Not only does it protect your expensive purchase, but I view it as a sign of competence and higher likelihood that the product itself is quality.  The thinking goes, if the manufacturer is willing to put their money where their mouth is, odds are it's a pretty high quality product.
Trusted brands like Kamado Joe and Big Green Egg come with generous warranties.  If you're buying from a lesser known brand just make sure you do your research into the warranty offered by the grill manufacturer.
What Makes a Kamado Grill Stand Out vs Other Grills
Compared to other types of grills, kamados are different in a lot of ways.  Visually, the egg shape looks pretty different than your traditional charcoal grill or gas grill.
At the end of the day, the best kamado grill stands out because of its versatility.  And it's not just versatility for versatility's sake.  A proper kamado grill truly excels at many different aspects of outdoor cooking.  You can grill, roast, smoke, sear, and bake just as well (if not better) compared to top of the line appliances that are designed to do just one of those things well.
You can't say the same for any other type of grill.  Ultimately, that's what separates kamado grills.
Now, there's a flavor argument to be made too.  Some think ceramic grills make the best tasting food.  That part is more subjective, but I'll certainly say that ceramic grills make some spectacularly delicious food.
Is a Kamado Grill For You?
Most often, I see kamado grills purchased by home grillers as a second grill.
That's not to say beginners can't have success with a kamado, quite the opposite.  It's just that with the price tag of a ceramic grill, you just don't see a lot of first time grill owners laying down that kind of cash.
A little bit of experience also helps for you to truly appreciate all features of the best kamado grill.  After grilling on gas or a normal charcoal grill, a kamado feels like driving a Mercedes – and you have enough personal reference points to appreciate it.
If you're the type who likes to cook lots of foods with many different cooking methods, one of these grills is a perfect choice for you.
Instead of buying separate roasters, smokers, pizza ovens, and grills, you can consolidate and own just one kamado grill without sacrificing at all in the quality department.
If you live in a cold weather climate, kamados are also a great choice.  These things are incredibly insulated because of the ceramic shell.  Where a lot of gas and charcoal grills would falter in cold weather and wind, a ceramic grill will get the job done no matter what the forecast looks like.
How to Use a Kamado Grill
After all of this talk, you might be wondering how exactly to use a kamado grill.  After all, they are kind of intimidating looking to some who haven't been exposed to them before.
In reality, properly using a kamado grill isn't tough at all.  Here's a step by step guide for how to use a kamado grill:
Add Charcoal/Fuel to Your Firebox
Make sure your firebox is clean when you start.  If you cleaned thoroughly after your last cook you should be good, but double check to make sure there aren't any unwanted materials in the firebox.
You don't need to fill the entire firebox.  The amount of fuel you use depends on how long your cook is – but very rarely is it necessary to fill the whole box.  This part will take a few trys to get the hang of the optimal amount of charcoal needed for how long you cook.
Kamado grills use primarily lump charcoal or briquettes. Stack your charcoal into the firebox.  Start with larger pieces on the bottom and work your way to the top of the stack with smaller pieces.  This is important to ensure that smaller charcoal pieces don't fall to the fire grate and obstruct airflow.
Fire it Up!
First make sure your top and bottom vents are completely opened.
Create a small depression in the middle of your coals.  Then, place a fire starter fire starterin the depression.  Light your fire starter.
Once the fire starter is burning strong, begin to place a few lumps of charcoal on top of the fire starter.  Add more coals once the initial coals catch on fire.
After your fire is burning strong, add in any extra attachments and racks that you might need for the type of meat you are cooking.
Adjusting the Vents for Optimal Temperature
This is the part that takes some time and practice to completely master, but here are a few tips for when you get started:
After your fire is burning, close the lid and completely open your vents.
Closely monitor your built in thermometer.  You should start shutting your vents when the internal temperature of your kamado reaches about 100°F below your desired temperature.
Continue to monitor your temperature and gradually close off your vents the closer you get to your target temperature.
Once you are in very close range of your target temperature, the vents should be positioned so that you can make any final adjustments using only the top vent.  Adjust the top vent as needed to fine tune your temperature.
If your temperature keeps rising past your target temperature, close off the top vent even more.
As soon as you reach your target temperature, the beautiful thing is that your flame management is pretty much done!  The best kamado grills are designed to maintain a stable temperature at this point in the process without messing with the vents anymore.
Best Kamado Grill – Wrap Up
I hope that this complete guide and our top picks of the best kamado grill have helped you on your journey to delicious BBQ!  Kamado grills truly are one of the most, if not the most, versatile and high quality buys you can make when it comes to cooking equipment.
In this day and age, there are a ton of cheaply made products.  At the end of the day, you want a grill that is made with the sort of craftsmanship and care that lasts a lifetime.
For anybody who is serious about BBQ, considering a kamado grill is an absolute must.  You just can't ignore how efficient and simply fantastic these things are when it comes to cooking food.