This content contains affiliate links.  If you make a purchase after clicking a link on this page, we might receive a commission at no cost to you.
There's little controversy that Kamado Joe and Big Green Egg are at the top of the list when it comes to the best Kamado grill brands.
In case you're unfamiliar with kamado grills, they're pretty different from your "traditional" grill.  Instead of a barrel-style cooking chamber, these grills look more like eggs in shape and are typically constructed from ceramic.
The question is though; when it comes down to it which is the best between Kamado Joe vs Big Green Egg, who takes the cake?
The answer to that question is definitely up for debate.  Both brands are honestly great and each has a dedicated follower base.
In this article, we'll give our unbiased review of which brand makes the all-around better grill by going over a high-level comparison of each brand.  From there, we'll get into some reviews of individual grills offered by both of these brands.
Kamado Joe vs Big Green Egg – Brand Overviews
Big Green Egg Overview
Big Green Egg is probably one of the most recognizable brand names in the outdoor cooking space.  They first came onto the scene in 1974, when the first Big Green Egg store was opened in Atlanta by Ed Fisher, the founder of Big Green Egg.
Ed was overseas when he was first exposed to food that had been cooked in a domed clay cooker.  He was impacted by how much better the food tasted after being cooked in these looking vessels, and was inspired to create a grill of his own utilizing the same technology.
At first, the simple design was akin to what you'd have found in Eastern cultures thousands of years ago.  Even though the cooking results were spectacular, the clay was brittle and fragile and didn't last long enough to be a viable purchase.
As the cookers gained popularity, Big Green Egg invested heavily in improving their product.  They opened a state of the art manufacturing facility and had skilled ceramic artists design and manufacture their kamado grills.
The modern Big Green Egg relies on quite a few technological improvements compared to the cookers they sold in the 1970's.  They use ceramics initially developed for the NASA space program, and made their design more durable, stronger, and better.
Nowadays their design is one of the best grill designs on the market, regardless of which type of grill we're talking about.  It's well built in every way, and has lots of great features which we'll touch on later in this article.
Kamado Joe Overview
Kamado Joe was founded fairly recently in 2009.  While they have a shorter track record compared to Big Green Egg, their brand more than stands up to the competition.
Kamado Joe was founded by Bobby Brennan and Kerry Coker, who were dissatisfied with the lack of quality options in the grilling space.  They wanted to create a premium brand, founded on the pillars of quality and innovation – to build the best kamado grill in the world.
And Kamado Joe has done just that.  For a little over a decade now, Kamado Joe has constructed some of the finest ceramic grills on the market.  Not only do they sell their signature red kamado grills, but they also have a line of premium lump charcoal and grilling accessories to contribute to the premium Kamado Joe experience.
At the end of the day, you can count on quality and innovation when it comes to Kamado Joe.
Kamado Joe vs Big Green Egg – Grill Reviews
Kamado Joe  Classic Joe III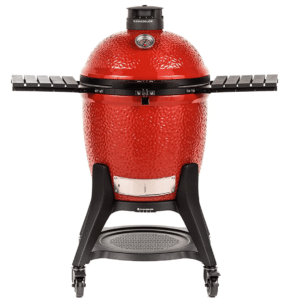 The Kamado Joe Classic III is the latest and greatest, and a newer version of the Classic II.  At 18″ in diameter, it's the same width as the Classic II, but comes with a few extra features.
First, the Divide and Conquer system goes one step further and adds a third layer of grates for even more cooking space.  You're spoiled with 6 half moon style grates that you can customize your cooking experience on.
Second is the inclusion of a feature Kamado Joe calls the SloRoller.  Essentially, it's a hyperbolic smoke chamber that distributes heat and smoke in rolling, circulating waves.  It's hard to imagine a Kamado grill making even tastier food than they already do, but SloRoller technology helps to do just that.
Last, it has a galvanized steel rolling cart that's markedly stronger and more durable than the Classic II's cast iron cart.
As with anything new, it comes at a higher price point compared to the Classic II line, but you're more than rewarded with extra value for the higher price point.
*Note* You can read our more in depth review of Kamado Joe Classic II and III right here.
Large Big Green Egg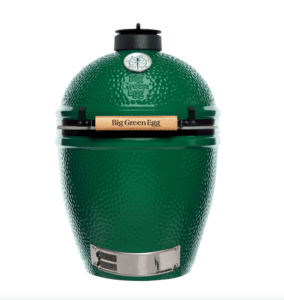 Big Green Egg's most popular iteration is their Large grill, which has a 18.25″ diameter grate for a total cooking area of 262 square inches.
That's enough space to cook a 20 pound turkey, 12 burgers, 6 chickens, 8 steaks, or 7 racks of ribs vertically!
It accommodates Big Green Egg's extensive line of accessories, and is a true all in one solution for weekend cookouts or an impromptu pizza party.
Big Green Egg comes in a wide array of sizes – everything from Mini (10 inch grid diameter) all the way to a XXL size (29 inch grid diameter), and everything in between.
Kamado Joe Big Joe III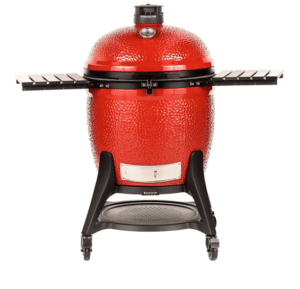 (You can also check out our extensive review of the Kamado Joe Big Joe right here)
Ah, my old friend the Kamado Joe Big Joe III.  She's a beauty and undoubtedly one of the best grills you could ever end up with, period.
With a 24 inch diameter cooking area and Kamado Joe's 3 tier divide and conquer system, you're afforded nearly 1,000 square inches of total cooking area.  On top of that, the Big Joe III features SloRoller technology that enhances flavor and increases consistency while you cook.
It comes with a heavy duty galvanized steel cart that's incredibly durable, sturdy, and easy to move around when it needs to be.
All of the features that come standard in the Kamado Joe Classic grills also come kitted on the Big Joe.
Kamado Joe Classic II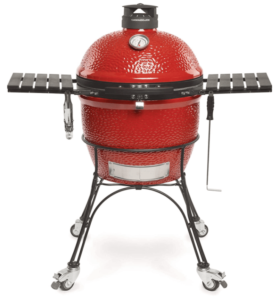 Kamado Joe's bestselling grill is the Kamado Joe Classic II 18″ diameter charcoal grill.  It's a bestseller for good reason and all things considered is our favorite pick as far as Kamado Joe's go.
Everything you need is at your fingertips here, and an included cast iron cart with locking wheels let you move your grill around and secure it into place when it's time to grill.
It has a 2 tier patented Divide and Conquer system, which Kamado Joe developed to allow you maximum grilling space inside of your kamado grill.  A multi level, half moon grate design allows you to easily set up two zone cooking and cook different foods at different temperatures at the same time.
Of course, the two tier grate is great even if you just needed the extra space!  It really maximizes use of space inside of the grill.
Kamado Joe grills also feature an advanced ventilation system that allows you precise control over the temperature of your grill.  You simply light your lump charcoal, adjust your vents to control airflow, and the ceramic cooker does its magic by holding a steady temperature.
On top of all of that, it's capable of maintaining low 200°F temperature ranges for smoking and 700°F+ temperatures for baking pizza and searing.
Kamado Joe Joe Jr Charcoal Grill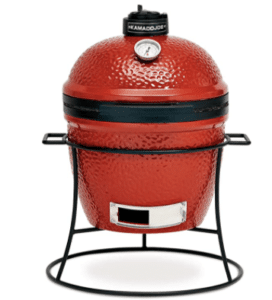 The Kamado Joe Jr is a perfect, miniature alternative for anybody who's tight on space but still wants the enjoyment of ceramic cooked food.
Whether that means you're an apartment dweller, outdoorsperson, or just tight on space on the patio, this 13″ grill has a small profile but delivers delicious results.
Check out our Kamado Joe Jr review here!
Kamado Joe vs Big Green Egg – Features
When it comes to grilling, and kamado grills in particular, there are a few key attributes to compare.  In this section, we'll compare these attributes for each brand to help paint the picture of which brand is best.
Temperature Control
One of the best things about kamado grills in general is their ability to precisely control and retain heat.  A proper ceramic grill can be used as both a grill and a smoker, meaning the same unit can achieve both scorching hot searing temperatures and also maintain lower temperatures around 225°F for low and slow smoking.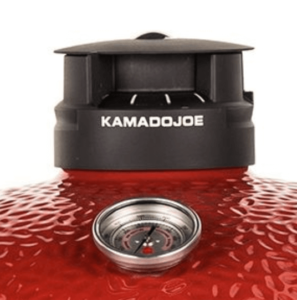 Both Kamado Joe and Big Green Egg do a fantastic job of heat retention and distribution.  Kamado Joe advertises a temperature range of 225-750°F, which is more than enough range to smoke, sear, or even bake pizzas.  Temperature is controlled primarily by a ventilation system they've named the Kontrol Tower Top Vent.
This control vent greatly helps to maintain consistent air flow during all aspects of your cook.  An additional vent at the bottom of the grill lets you control how much air enters the grill too.
In regards to temperature control, Big Green Egg is pretty similar.  Their units are also built to smoke, sear, and bake, and can sustain temperatures in the 225-600°F range, with the ability to max out in the 750°F range.
Temperature control is also quite intuitive on Big Green Egg.  A patented multi-variable top vent allows you to precisely control oxygen flow into your grill, thus allowing you to precisely control your heat.  A draft door at the bottom of the cooker also lets you control how much air flow enters the bottom of your grill.
Winner (Temperature Control) – Tie
You really can't pick one winner over the other here.  At the end of the day, outstanding heat retention and temperature control are both what make Kamado Joe and Big Green Egg so great.  Both of these cookers provide maximum versatility and consistency when it comes to temperature control.
Cooking Surface Area
When it comes to cooking surface area, we really just want to know how many options are out there.  It's important for either brand to offer options suited for different needs – whether you only plan to grill for two or if you consistently grill for big groups of people.
Kamado Joe currently offers the following different main grills:
Big Joe – 24″ diameter (452 sq in primary cooking, 864 sq in with extra grates Divide and Conquer system)
Kamado Joe Classic – 18″ diameter (254 sq in primary cooking, 510 sq in with extra grates Divide and Conquer system)
Joe Jr – 13.5″ diameter (148.5 sq in primary cooking)
Big Green Egg offers the following grill sizes:
2XL Big Green Egg – 29″ diameter (672 sq in primary cooking)
XL Big Green Egg – 24″ diameter (452 sq in primary cooking)
L Big Green Egg – 18.25″ diameter (262 sq in primary cooking)
M Big Green Egg – 15″ diameter (177 sq in primary cooking)
S Big Green Egg – 13″ diameter (133 sq in primary cooking)
Mini Big Green Egg – 10″ diameter (79 sq in primary cooking)
Winner (Cooking Surface Area) – Big Green Egg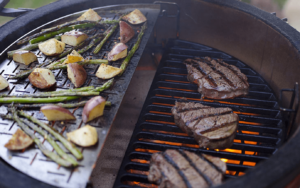 At first glance, this might not seem like that close of a race, but the difference here really isn't that big.
Kamado Joe has found a way to get a lot more versatility out of their products.  They essentially only offer 3 grill sizes, but their Classic and Big Joe lines are designed with the ability to fit two or 3 grates on different vertical layers inside the cooking chamber.
Because of this, Kamado Joe gets a ton more cooking surface area out of their grills than meets the eye.  For example, the Kamado Joe Big Joe has an extra layer of grate that gives you a total of 864 square inches of cooking surface area.
Big Green Egg also offers grill expander attachments that increase your cooking area, but they get the slight edge here simply because they offer so many different sizes of the actual grill itself.
Warranty
I preach on this website all the time that a warranty (or lack thereof) is a pretty telling indicator of how trustworthy a brand is and the level of quality you can expect out of the product covered by the warranty.
Generally speaking, competent brands offer the best warranties.  It's because they stand behind the quality of their product and and put their money where their mouth is.
Kamado Joe warranty covers:
Limited Lifetime Warranty on all ceramic parts
5 year warranty on all metal parts
3 year warranty on heat deflector and pizza stone
1 year warranty on thermometer and gaskets
Big Green Egg warranty covers:
Limited Lifetime Warranty on all ceramic parts
5 year warranty on all metal parts
3 year warranty on heat deflector and pizza stone
1 year warranty on thermometer and gaskets
Winner (Warranty) – Tie
The fine print of each warranty is different, but for all intents and purposes they're the same.  Relative to the rest of the industry, both Kamado Joe and Big Green Egg offer some of the most generous warranties in the grilling space.
Ease of Use
Any time you're dealing with a charcoal grill, there are a few features you like to see to make life as simple and easy as possible for the grill master.
We've already covered temperature control features, which definitely play into the ease of use conversation.  But in this section, we're going to focus on charcoal fire management and clean up features.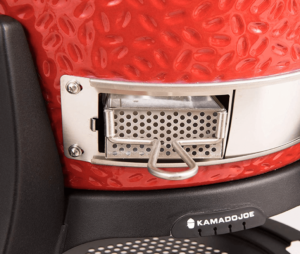 Kamado Joe first features a specially designed built in charcoal basket that makes things incredibly easy to clean after a cook.  The basket allows you to quickly separate leftover and reusable charcoal from ashes.  You can easily dispose of the ashes and be ready to rock for your next cook in minutes.  On top of that, there's a built in, removable ash tray to easily remove any ash build up underneath the basket.
Big Green Egg does not come with a built in ash management system so the process for cleaning a Big Green Egg is a little more manual.  You have to use a tool to scrape ash from the inside of the egg onto a pan.  The good news is, if you use quality lump charcoal a Big Green Egg will produce minimal ash, so you won't need to do this often.
Winner (Ease of Use) – Kamado Joe
This one feels like splitting hairs, because cleaning a Big Green Egg isn't all that hard, but Kamado Joe took the extra step of a built in ash management system.  Combined with an advanced charcoal basket, that makes Kamado Joe the grill of choice when it comes to ease of use.
Check out our guide on how to clean a Big Green Egg here for an idea of what it takes to keep these cookers in prime condition.
Included Features
One of the biggest knocks on Big Green Egg is that a lot of features you'd think should be included standard cost extra.
Mostly, I'm thinking about the grill's stand and side tables right now.
Unless you are opting for a custom built in kamado grill table, you're going to need a stand to house your grill.  Kamado Joe includes a grill stand with the purchase of all of their standard grills (you can also buy a built in version without a stand if you want to).  With Big Green Egg, you are looking at paying a minimum $150 or so extra for a additional purchase of side shelvesgrill stand.
Same story for side shelves.  Kamado Joe comes with side shelves included on their flagship grills, where Big Green Egg requires an additional purchase of side shelves to the tune of another $180 or so.
Kamado grills are high quality and an investment, but it's just one of those things that you don't want to have to spend an extra $300 for features that should already be there.  Especially when you're looking at an entry level price point in the thousands for most Big Green Egg grills.
Winner (Included Features) – Kamado Joe
It's not really close on this one.  My personal opinion is that when you're buying a premium product, you shouldn't have to pull out the wallet to pay an extra 20% for basic features that are required to operate the grill normally.  In this department, Kamado Joe delivers and Big Green Egg falls a little short.
Add On Accessories and Features
One of the things that set both Kamado Joe and Big Green Egg apart from the rest of the competition is their versatility beyond the "normal" functions of a grill.
Both of these brands offer a plethora of add ons and accessories to customize your grilling experience to the utmost degree.  Everything from a wok insert for stir fry to pizza baking stones to griddles are possibilities when it comes to inserts and add ons for both Kamado Joe and Big Green Egg.
Winner (Add Ons) – Tie
It's really hard to pick a winner here as both brands offer pretty similar add ons and accessories, and both offer great ones at that.  While it would be splitting hairs to pick a winner, I will say that typically Kamado Joe is the more innovative brands out of the two.  They're more likely to develop a new attachment and Big Green Egg might make a comaprable add on 12 months later.
Availability
This category might not matter to some of you, but generally speaking, Kamado Joes are easier to get ahold of.  Big Green Egg actually doesn't allow the online sale of any of their grills, so you'll need to physically go to a store, make an order, and schedule a delivery to pick one up.
Kamado Joe grills on the other hand can be ordered online and shipped to your doorstep after a few clicks.
Winner (Availability) – Kamado Joe
Some people prefer to see things in person before they make a big purchase.  I totally get it!  Both Kamado Joe and Big Green Egg are available at various outdoors retail stores across the USA.  Kamado Joe gets the edge here because of their ability to deliver the modern day online sales experience.
Customer Support
Customer support is an often overlooked feature on the front end when buying a grill.  It's not until you need some help with set up or a warranty that you wish you had paid attention to how good the customer support is!
Big Green Egg has okay customer support.  They do what they're supposed to do, but frankly they can be pretty tough to get ahold of.  Most egg owners I know have said that they have way more luck getting support by using the retailer they bought their grill at as a proxy.  That's fine, but it just feels like Big Green Egg wants to keep things pretty arm's length.
Kamado Joe is a clear step up in this department and offers a class customer service experience.  No matter where you bought your grill from, be it a retailer or directly from Kamado Joe's website, their support team is responsive and eager to help you out.
Winner (Customer Support) – Kamado Joe
Kamado Joe vs Big Green Egg – Overall Winner
The Kamado Joe vs Big Green Egg debate is a close one but for my taste, Kamado Joe is the clear winner.  Their product is premium, impactful, and will make delicious food for a long time.  There's an endless amount of ways to customize your cooking experience on a Kamado Joe.
Frankly, a lot of the same things can be said about Big Green Egg.  It's another great brand with a loyal following – and for good reason.  If you end up with a Big Green Egg, I can assure you you won't be disappointed.
When comparing two extremely high quality brands, the verdict often comes down to the little things.  That's definitely the case here.  Kamado Joe just tends to stay a little bit ahead of the technology curve, their grills come with complete features so you don't have to pay extra for things like a stand or side tables, and their customer service is better.
Final Thoughts on Kamado Joe vs Big Green Egg
Even though it's a close call, Kamado Joe is an all around better choice for our taste.
With that in mind, both of these are world class brands and they are competitive with one another when it comes to the really important things.  As far as design and quality of construction goes, both a Kamado Joe and Big Green Egg can be the kind of grill that gets passed down from generation to generation – that's how good they are.
No matter which you choose, you really can't go wrong.  I hope this post has helped you on your journey to deciding which is better for you between Kamado Joe and Big Green Egg!
Which one did you end up with?  Let us know about it in the comments section below!