This content contains affiliate links.  If you make a purchase after clicking a link on this page, we might receive a commission at no cost to you.
Buying a Big Green Egg is without a doubt a sound investment when it comes to grills. And just like any other investment, you have to take care of your assets if you want them to provide better (and tastier!) returns as the years go on.
One of the ways to preserve your Big Green Egg and keep it in great shape is by cleaning it regularly.
Keep reading to find out more about how to clean a Big Green Egg.
6 Easy Steps for How to Clean a Big Green Egg
Use our easy-to-follow cleaning process to keep your Big Green Egg well-maintained and in tip-top condition. It's always smart to brush the grates with a wire brush before they get a chance to cool down.
A deep clean for all of the inside parts should be done once or twice a year, depending on how much you use your kamado grill.  Here is a step by step guide for how to deep clean a Big Green Egg:
Step 1: Remove the Ash
Stir the charcoal around. This will get any ash to fall into the bottom of the Egg. If the charcoal is damp, throw it away.
Step 2: Light it Up
This step is known as the 'High Temp Burn'. If you can still use your old charcoal, great! If not, then get some new lump charcoal and fill your grill to its half.
Then, light up your Egg to the hottest temperature. Set the timer and leave it for a full hour. This process should melt away the buildup inside your grill and grate. It'll be easier to scrape it off later.
It's important to mention that if your daisy wheel is full of gunk, that can make it hard to open. If you place it on the grill grate during the high temp burn, that should make the process a lot easier.
However, it's important to note that this trick can leave a bit of discoloration on your wheel, but that can be easily fixed. All you need to do is take it apart by removing the screw. Then, spray its parts with a black grill spray paint. It'll look brand new!  Spray painting isn't necessary if you don't want to – the discoloration is only aesthetic and does not affect the performance of your grill.
Step 3: Let It Cool Off
Shut your grill down and let it cool. This makes it easier to clean off all the buildup that's been accumulating in your grill.
Now, get your cleaning supplies. For the best results, get a vacuum cleaner that's specifically designed for ceramic grills.
Step 4: Let the Cleaning Begin
Use a stainless steel brush and scraper to scrape away any residue and buildup. Vacuum everything up and wipe it down with a dry microfiber cloth. Take out any leftover charcoal, along with the fire box and the fire ring.
Top Grill Brush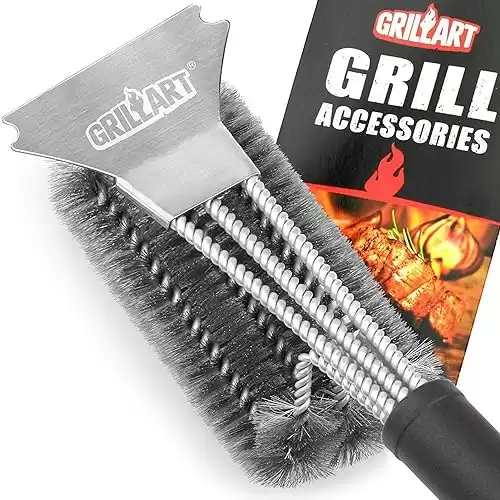 The fire box is located at the very bottom of your Big Green Egg, while the fire ring is right above it, with the grate lying between the two. You can also vacuum both the fire box and ring after you remove them from the grill.
After you finish cleaning them, make sure to place the fire box back to the bottom of your Big Green Egg, then the grate, then finally the fire ring.
A pro-tip: avoid using cleaning supplies that contain any harsh chemicals. Since the Big Green Egg is made from ceramic, it's permeable. This means the chemicals can easily soak into the grill itself and leak back into your food as you're grilling.
Step 5: Check the Gasket
Take a look at your gasket. Does it look worn out from all that grilling and smoking? If so, then it's time to replace it with a new one.
First, make sure you remove the old gasket completely. You can use some rubbing alcohol to clean away any remnants of the old gasket and its sticky self-adhesive strip.
Gaskets are typically made of gray or black felt. They come with a self-backing adhesive strip to make replacing them easier.
Step 6: Proper Storage
Keep your Egg covered and safely stored. You can also try using a grill cover if you want the best resistance against weathering.
Do you have a cabinet table for your Big Green Egg? Is it grimy and gunky, and crying out for some attention?
To get your table spick and span before your next grill, you can simply wipe it down with a 1:2 white vinegar and water solution. It'll clean, disinfect, and keep the cabinet in great shape for longer.
Pro-tip: to get your table looking cleaner and shinier, try this mixture:
2 parts vinegar
2 parts olive oil
1 part lemon juice
Mix the ingredients well. Then, use a microfiber cloth and start wiping away. The olive oil will help preserve the integrity of the table and give it a good polish. Lemon juice is antibacterial thanks to its low pH balance. It's safe to use for polishing and cleaning all types of materials.
Try to find a large cover to protect both the Egg and the table from the weather elements. It'll save you money in the long run.
The 'Magic' of the Big Green Egg
If you're already the proud owner of an egg, you know how special these cookers are and why it's so important to know how to clean a Big Green Egg.
When it first was introduced to the public in 1974, the Big Green Egg was just another innovative outdoor cooker. Now, it's become a ceramic marvel. It's a great piece of investment for anyone who enjoys outdoor cooking. The Big Green Egg even has a following who call themselves 'EGGheads.'
Read ahead to find out what makes the Big Green Egg so great!
The Glazed Ceramic Build
The ceramic body is what makes this outdoor cooker such a big hit. It keeps in the heat and moisture inside. What you get is deliciously succulent foods, dripping in their juices. Nothing comes out dry or tasteless.
Consistent Temperature Control
Regulating the Big Green Egg's temperature is a piece of cake thanks to its ceramic build. There are vents on both the top and the bottom. You can use them to adjust and control the temperature, smoke concentrations, and humidity.
Using the vents means you can rest assured that your food is cooking to perfection without having to lift the lid to check on your food. Unless you have to baste the meat, you don't have to open the lid at all.
Another benefit? You save money on charcoal. Since the heat is so well distributed, you don't need to use as much charcoal as with other types of grills.
Even temperature control also means less chance of food getting charred or burned. So even if you're not the savviest of outdoor cooks, you'll get it right every time.
A pro-tip: If you do need to open the lid during the cooking process, make sure you vent or 'burp' the Egg first. To do that, carefully open and close the lid just a tad several times.
By venting the Egg, you're allowing the outside air to enter. This cools down the Egg before you can safely check on your food. This prevents any bursts of hot air or flare-ups from scalding you.
Built With Safety in Mind
The ceramic construction keeps the Egg's surface cool on the outside, even while it's cooking at full power. This gives you peace of mind, especially if you have kids and pets running around.
It's a safety perk that greatly reduces the risk of injuries and accidents. And you won't find it in metal grills.
How to Clean a Big Green Egg – Final Thoughts
We hope our step-by-step directions have made it clear on how to clean a Big Green Egg. All it takes is a bit of time, a few simple all-natural cleaning products, and your grill will be as clean as new.
You'll know your hard work paid off in the end when it's time to grill again. The smell and taste won't disappoint!