This content contains affiliate links.  If you make a purchase after clicking a link on this page, we might receive a commission at no cost to you.
If you plan to bring your grill on the go or need a grill that's extremely portable for all your summer events, check out the Kamado Joe Jr. It's one of the smallest but most powerful grills on the market – and one of the only small kamado grills out there at all.
You can be sure it won't take up too much space in your trunk, but it will still give you all the features you need to have an amazing grill out with friends and families.
Let's look at exactly what makes this grill so powerful and so compact.
About Kamado Joe
Kamado Joe is one of the highest quality and most popular brands of kamado grill on the market.  Their flagship products are the Kamado Joe Classic and the Big Joe, but they have wide variety of other offerings too.  Their grills are made of high quality ceramic and are colored a distinct, hard to miss bright red.
A Quick Look At Kamado Joe Jr Features & Specs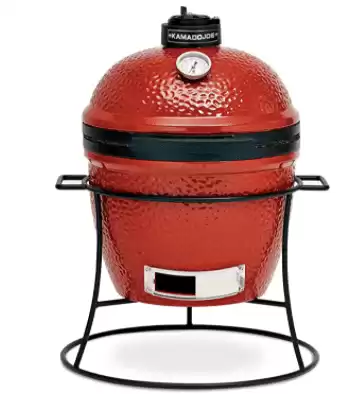 Features:
Lifetime guarantee and warranty
Ash door makes it extremely easy to clean
Accurate built-in thermometer
Ceramic heat deflector creates an ideal temperature zone for smoking
Fuel efficient so you can spend less on cooling costs
Heat retention is excellent with thick ceramic walls
Cast iron stans are strong and sturdy
We will dive into many of these later on more in-depth, don't worry.  You'll know exactly what makes the Kamado Joe Jr so useful and so powerful.
Specs:
Weight: 68 pounds
Price: Medium range compared to other grills of similar capacity
Fuel Type: Charcoal
Heat range: 225-degree Fahrenheit to 750 degrees Fahrenheit
Dimensions:75" W x 27" H x 20/75" D with the stand
Cooking Capacity: 148 square inches
Grate material: 304 stainless steel
Barbecue material: glazed ceramic
Warranty: Lifetime on the ceramic parts, 5 years on the metal parts, 3 years on the heat deflector and pizza stone, 1 year on the thermometer and gasket
We will also dive deeper into some of these stats later on so you can be sure you know everything about the grill before buying it.
Kamado Joe Jr – Our Review
Cooking Surface Area
Even though the Kamado Joe Jr might be compact, it still has an impressive cooking area of 148.5 square inches. This is easily enough space to smoke, bake, and braise all in one simple place.
This compact space is still enough to do an entire meal for 6 people or smoke up a whole pork shoulder. No matter who you're cooking for, you'll know you have more than enough room to accommodate everyone at your party.
With the downsize though, you do lose a few features that other Kamado grills are known for having. Since the size is much smaller than some of the other grills, you won't get a two-zone cooking system, known as the divide and conquer in the Kamado world. So, you can't cook two things at the same time at different temperatures. You also won't get the Air Life Hinge, the AMP 6-piece firebox, or the extra-high quality control tower vent.
Portability
You might not exactly think that a 68 pound grill can be classified as a portable grill.  However, considering the size of the Joe Jr, it's entirely possible to travel with it – just be careful when you lift!  The wire stand has handles which makes it easy for 2 people to carry at once.  It's a treat to be able to take a ceramic grill with you on the go.
As with any small grill, you can't expect to have all the same features as larger grills. This simple grill still has everything you need. As long as you don't plan to become a grill master, you don't need all the features that this grill goes without.
You do still get some features that usually come with larger and more expensive grills though. The stainless-steel hinge grate allows adding charcoal much easier, even if you are mid-cook. The stainless-steel components are also something you usually see with higher quality grills, but you still get it in this compact grill size.
Along with the basic features you still get some that are the same as in other Kamado grills that are the higher dollar and larger:
Built-in thermometer
Heat deflector
Cast iron stand
Regular hinge doors
Small and convenient tools for ash cleaning
Kamado grills are set on making your grilling life easier and this grill is no exception.
Kamado Joe Jr – Pros and Cons
Pros
While we've outlined the main pros of the grill and how using it can make your summer evenings or weekend parties much easier, let's check out the pros in a quick list:
You get the same lifetime warranty as all the other Kamado grills
Great heat retention and radiation
Strong cast iron stand so you don't have to worry about bringing the grill around or bringing a stand
The cooking grate is stainless steel which makes it rust-resistant and makes adding coals much easier
Includes ceramic heat deflector for smoking
Efficient fuel usage
Built-in thermometer
Easy to clean
Great for smaller cooking at home
Great for individuals cooking solo
Cons
While the pros definitely outweigh the cons, it's important to know everything about a grill before purchasing. Grills can be pricey, so you want to make sure to choose the right one for your lifestyle and budget.
Some of the main cons include:
Much more pricey than other portable grills. If you only plan to use a portable grill once or twice, you probably don't need to spend the money on the Kamado Joe Jr as there are other ones in the market for less. However, if you plan to spend the whole summer or next few years moving a grill around, the extra price is worth the convenience
Pretty heavy for a portable grill. With better quality though, there also comes weight. The performance factors usually outweigh the heavier size unless you really plan to move around quite a bit with it.
Frequently Asked Questions
You probably know by now whether you plan to buy this amazing grill or not. However, you might still have some questions:
Can I Smoke BBQ On a Kamado Joe Jr?
You might think because of its small size that the grill can't be used for smoking. However, it can. You can insert the heat deflector plate to change the grill functions from grilling to smoking. The plate is included so you don't need to spend anything extra.
Does the Grill Come With a Cover?
Kamado Joe Jr grills don't come with a cover but you can grab one at a small extra cost. You can buy a generic cover that fits a 14" ceramic and it should work perfectly.
What typically comes with the grill?
The best part about purchasing this grill is that you won't have to spend any extra money trying to locate accessories and additional items to make the grill functional.
When you purchase the Kamado Joe Jr, it comes with the cast iron stand, the stainless-steel cooking grate, the built-in thermometer, a heat deflector plate, a grate gripper, and an ash removal tool.
Final Thoughts
For a basic grill, the Kamado Joe has everything you need. You can take it with you on summer cookouts or you can just use it in your backyard. Either way, you have a powerful and efficient grill to make meals for the entire family or neighborhood.