Nothing beats the delicious, smoky flavor that comes from the low and slow smoking of your food.  No matter whether it's a whole brisket or a rack of delicious baby back ribs, there's no denying that eating smoked meats is one of the best ways to make your stomach happy.
Quite a few things have to come together for that BBQ to end up on your plate.  Everything from food prep to the best smoker grills, to the actual cooking and resting of the food.  Here's where the electric smoker can come in.
Most traditional smokers require lots of firemaking, monitoring, and babysitting throughout the entire cooking process.  Some meats, like brisket, can take upwards of 12 hours on the smoker – so that means that traditional smoking is quite the involved process.
Electric smokers on the other hand make things super easy and are a "set it and forget it" style of cooker. Plus, you can make tons of different BBQ recipes on an electric smoker.
In this article, we've highlighted the best electric smokers on the market today along with some tips for getting the most out of your unit.
In a Rush?  Here's Our Top Picks:
Smoking is quite the process and while it's somewhat simple, it's also very time consuming.  You have to spend a ton of your day starting, maintaining, and managing your fire to make sure your food is cooked properly.
Electric smokers have made things a lot easier.  They are truly set it and forget it smokers, and completely eliminate the need to tend a fire out in the weather elements if that's not your thing.
We've done the research, and in the rest of this post, we'll go over the best electric smoker reviews along with some buying tips, electric smoker history, and answers to FAQ.
A Quick Note on Electric Smokers
It's true that what you gain in convenience with an electric smoker, you sacrifice a little bit of flavor.  In other words, an electric smoker, even the best electric smoker, won't be able to produce quite the level of flavor of a traditional charcoal or wood smoker.
Don't let anybody tell you that an electric smoker isn't a perfectly legitimate way to smoke food though.  Technology has come a long way, and nowadays many of the best electric smokers will produce flavors that rival the "real" thing.  A true BBQ aficionado will be able to tell the difference, but lots of people won't.
All of that to say, we hope you give the electric smoker serious consideration vs other types of smokers, especially if you're more likely to use it because of the convenience.
Best Electric Smoker – Our Top Picks & Reviews
When all things are considered, it's hard to imagine you'll find a more complete electric smoker than the Masterbuilt 30 Inch Digital Electric Smoker.  It's our top pick for the best electric smoker overall on the market, and it's a great option for beginners and more advanced grill masters alike.
The design is intuitive and very easy to use.  There's a digital panel that controls on/off, temperature, and timers.  As far as the actual smoking goes, there's a side load wood chip system that allows you to add wood without having to open the smoker door.  This feature is incredibly helpful and comes in handy all the time.
The interior features 4 chrome-coated stainless steel smoking racks which total up to 730 square inches of cooking space.  That's enough for about 8 racks of ribs or 6 chickens simultaneously.  The unit has a temperature range of 100-275ºF, which is perfect for your smoking needs.
Construction wise the Masterbuilt 30 inch electric smoker is fully insulated, and the main cabinet is made from steel, and the interior is made from aluminum.  All of these materials (including the chrome coated cooking racks) clean very easily when the time comes for cleaning.
Masterbuilt also makes a couple of other variations of electric smokers that are all worthy of consideration:
One of the Bluetooth models make an appearance later on this best electric smoker list, so we'll sit tight on our thoughts for the moment.
Things We Like:
Lots of cooking area: With over 730 inches of primary cooking area, you have plenty of space to smoke for lots of people.  That's more cooking area than most of the other candidates for best electric smoker.
Temperature consistency: Thanks to a quality build and thoughtful design, the Masterbuilt electric smokers insulate and retain consistent heat extremely well.  You can use any of these units in the cold without issue.
Easy add wood chip system: when it's time to add wood chips for extra smoke and flavor, Masterbuilt's patented side load wood chip system makes adding chips a breeze.  You never have to open the smoker door to add wood chips.
Things We Don't:
A tiny bit too narrow for the largest rib racks or some other bulkier meats you'd smoke.  You can get around this by cutting large meats into smaller sections though.
The warranty is only 90 days.  Thousands of people have bought and used Masterbuilts without issue, but it's nice to be covered in the unlikely event that you get a faulty part.
If you really want to get down to business, the Cookshack Amerique SM066 is a premium level electric smoker that is sure to serve your needs for years and years.
While this thing will crank out restaurant quality BBQ, the downside is that it's pretty pricey.
But if it's in your budget wheelhouse, you're handsomely rewarded with a smoker that has 1,008 square inches of cooking surface area that allows for you to smoke up to 50 pounds of meat at once.
The temperature range is 140°F to 300°F, which is a wide range and opens the door to possibilities like jerky and much more in addition to traditional smoked foods.
Where the Cookshack really shines is in its insulation.  You'll never have to worry about inconsistent temperatures with this smoker – it remains at precisely the temperature you set it to and blows away the competition in terms of consistency.
Things We Like:
Excellent insulation: Compared to the other electric smokers on the market, this one is the best when it comes to retaining heat and providing consistent temperatures.
Digital controller and built in probe thermometer: Set your smoker's temperature and easily monitor the internal temperature of your food with an easy to use control system and built in probe thermometer.
Lots of cooking surface area: You're afforded just over 1,000 square inches of cooking surface area to work with.  You can easily smoke up to 50 pounds of meat at once in this unit.
Things We Don't:
Price is high: There's no way around it, this is the priciest smoker on this list.
The Pit Boss PBV3A1 caught my eye as an affordable electric smoker option for anyone looking to get into smoking without breaking the bank. With three porcelain coated cooking grids providing 528 square inches of space, there's plenty of capacity for smoking several racks of ribs or multiple pork shoulders.
I like that Pit Boss included a viewing window and internal light so you can monitor your food without constantly opening the door. The dual meat probes are handy for monitoring the internal temperatures of two cuts of meat. And with an adjustable temperature dial from 100 to 350 degrees F, you can fine tune the ideal smoking temp.
While it's a basic analog electric smoker without any fancy WiFi controls, the PBV3A1 still comes with useful features like the side access grease tray and rear vent for airflow control. The steel cabinet construction should hold up well over time. For an entry level electric smoker under $200, this Pit Boss model provides good value if you're not looking for a lot of bells and whistles.
Char-Broil is another trusted brand in the grilling community, and they brought their years of design expertise to the electric smoker.  The Char-Broil Deluxe Digital Electric Smoker is a nice alternative to the other smokers on this list at a very reasonable price.
As far as "normal" features go, there are 4 cooking grates totaling 725 square inches of space to smoke your food.  The large capacity smoke box means you can get 4 to 7 hours of smoke before having to refill the box.  Also included is a removable grease tray that makes clean up much easier when you are done.
Perhaps my favorite feature of the Char Broil electric smoker is the built in advanced control panel.  It's at the top of the smoker with an LED display, and couldn't be more intuitive.  Everything you need to control your smoke is right there in front of you.
The best part is, it comes with a remote control that lets you adjust settings from afar.  The temperature gauge is also removable so you can conveniently monitor the internal temperature of your food.
A glass door is featured on the front of the unit so you can monitor the appearance of your food from time to time.  It's not the most necessary feature, but I always like to take a gander while the smoking process is happening.  This way you don't have to open the door and let valuable heat escape.
*Note* If you're looking for a little more cooking space, they also sell a 1,000 square inch smoker.
Things We Like:
Advanced control panel and remote capabilities: Everything is right there in front of you when it comes to managing your food.  The removable food temperature gauge is a very convenient feature.
Easy to use: From an all around perspective, the Char-Broil is incredibly easy to use.  Removable grease and water trays make clean up easy, and the large capacity smoke box makes this a true set it and forget it unit.
Adjustable racks: The adjustable racks allow you to modify your setup and cater to the needs of whichever meat you are smoking.  It makes the 725 square inches of cooking space feel like more.
Things We Don't:
Remote control range: when I picture using a remote control, it's usually from across my house or yard.  The range is somewhat limited, so you need to be within about 20 feet for the remote to work.
Masterbuilt Bluetooth Digital Electric Smoker, 40"
We alluded to this unit earlier in this article, but the Masterbuilt Bluetooth Digital Electric Smoker is worthy of its own review.
It comes with all of the nice features you'd expect from a Masterbuilt.  That includes their patented side load wood chip system, 4 chrome coated smoking racks, easy ashtray removal, and an overall solid construction that maintains consistent temperatures.
Where this model separates itself is with its Bluetooth connectivity.  If you're in the market for the best electric smoker so you can have a set it and forget it way to smoke food – the Bluetooth connected app is hard to beat.
From the convenience of your phone, you can monitor the smoker's temperature, and your food's internal temperature, power everything on and off, and set timers.  Pretty impressive, and all of that technology makes for a hassle free experience.
The heating unit can get up to 275 degrees Fahrenheit, which is in line compared to the other products on this list.  Compared to the 30″ unit, this 40″ unit has the capacity to cook 16 chickens, 2 turkeys, 8 racks of ribs, or 8 pork butts all at once.  That extra space can definitely come in handy!
Things We Like:
Bluetooth technology and phone app: from the convenience of your phone, you can manage everything associated with your cook.
Built in features and lots of cooking space: a built in temperature probe and 4 chrome stainless steel cooking racks (totaling 975 square inches of cooking space) have you set up for success right from the beginning.
Back wheels make it easy to move: if you need to move your smoker from time to time, you won't have any problems with the easy transport back wheels.
Things We Don't:
Issues with the app: For all of the great things the Bluetooth app provides, some customers have noted that they have bugs with it, or issues connecting to the app.  This is obviously quite frustrating if it happens to you.  Most of the time it works though and is great!  Bluetooth aside, it's still an excellent buy.
Bluetooth range: The range of the Bluetooth connection is less than 20 feet in most cases, you have to be in close proximity to the smoker to utilize these features.
Masterbuilt Smoke Hollow – Best Electric Smoker On a Budget
Compared to other types of smokers, electric smokers are on the price friendly end of the spectrum.  That includes both the cost of acquiring an actual unit, along ongoing fuel costs.  The Smoke Hollow SH19079518 Digital Electric Smoker is one of the most affordable electric smokers on the market – which also makes it a great smoker for beginners.
Despite the attractive price tag, this smoker is capable of getting the job done without a doubt.  For the price, you get an 800 watt heating element, 3 chrome coated smoking racks, and a digital temperature control panel to manage your smoke.
In addition, the smoker is fully insulated for consistent and even heating.  A removable drip pan makes clean up easy, and a removable water pan lets you control how much moisture gets to your meat.
The air damper is also adjustable, which allows you to control how much smoke makes it to your food.
Things We Like:
Bang for your buck: For how much you have to spend, you get an impressive smoker that is well insulated and retains heat.
Great size: I don't want to go as far as to say that it's got a slim profile, but the exterior measures only 33.5 in. (H) x 18.2 in. (W) x 18.7 in. (L), so it's footprint is quite manageable.
Things We Don't:
Not the best for super cold weather: the insulation is good, however, it's not quite as insulated as more expensive units.  Because of this, the best electric smoker for use in the cold is probably one of the other picks on this list.
No exterior wood tray:  You have to open the front door to reload wood chips, which lets valuable heat escape when you have added wood.
Now, I'm going to go out on a limb and guess that you haven't heard of the brand Smokin-It before.  Don't let the lack of brand recognition fool you though – they make an outstanding product that is well deserving to be on this best electric smoker list.
The downside of this smoker is that it's on the expensive side compared to the other products on this list.  Each extra dollar in cost is an investment in a high performance unit, and those I know who have bought the Smokin-It Model #2 have raved about how good it is.  You'll be handsomely rewarded with better food if you choose to spend a little extra.
First things first, it's made of stainless steel with a little bit of fiberglass insulation – which does a tremendous job of retaining heat and consistent temperatures. On the inside, 4 stainless steel cooking grates have the capacity to hold up to 35 pounds of food at a time.
It almost looks like something you'd expect to see in a professional kitchen, and that's because it is.  This unit is actually NSF certified for restaurant use.  Don't worry though, it's simple and straightforward to use and one of the best electric smokers for home use too.  4 locking wheels on the bottom make moving it around outdoors pretty easy.
The 800-watt heating element can power temperatures from 100 to 250 degrees Fahrenheit, a perfect temperature range for all of your smoking needs.
Things We Like:
Commercial grade quality: From the stainless steel construction to the NSF certified heating element, everything about this smoker is built with quality in mind.
Temperature consistency: Thanks to stainless steel construction with fiberglass insulation, temperatures remain consistent throughout your cook.
Nice mobility: Between an included power cord, locking wheels, and built in side handles, moving the Smokin-It around is actually quite easy.
Wood chip efficiency: You'll burn through wood chips slowly with the Smokin-It electric smoker.  Each use typically requires 5 ounces or less of wood.
Things We Don't:
The price is on the high end: this doesn't have anything to do with the unit itself.  Performance wise it's the best electric smoker on this list.  But we recognize that the price point is relatively high and might be out of budget.
Nowadays, we've all come to expect nice, crispy photos when we're shopping online.  I bring this up because the photos of the Old Smokey Electric Smoker frankly aren't to the level of quality that you're probably used to.  Don't let that fool you though.  Despite the somewhat granular photos, this thing is well deserving to be on our best electric smoker list.
Old Smokey smokers have been around for almost an entire century now, and are made in the USA.  At only 25 pounds, it's lightweight but still packs a punch for a compact smoker.
There are 2 cooking racks, and beneath those you have a drip pan to catch food drippings and juices along with the heating element.  It's a really basic and straightforward design that's also highly effective.
The major downside to this unit is that it doesn't feature a built in temperature gauge.  Which means you'd need to invest in a probe smoker thermometer to assist you while you smoke.
Things We Like:
Great price point: Your dollar goes a long way with the Old Smokey – they're well made for the price.  Old Smokey has been around for a long time and has years of expertise.
Compact profile: With a size of 15.5″ W x 15.5″ L x 29″ H, you don't need to have a ton of dedicated outdoor space to use this smoker.
Simple and straightforward: The no frills design is ideal for beginners, or if you want something that is super easy to work with.
Things We Don't:
No built in thermometer: they do offer a thermometer as an optional accessory.  Either way, you'll need to invest in a thermometer to be able to utilize the smoker.
Difficult to clean: Due to the top door design, cleaning this smoker isn't the easiest.  Compared to some of the others on this list, it's probably the most difficult to clean.
Compared to the Char-Broil Deluxe, the Char-Broil Analog Electric Smoker is basically just a more compact, no frills version.
It features 505 square inches of primary cooking space and has good, but not great insulation thanks to a double-walled construction. It's definitely good enough and worth considering, but it's not well insulated enough to count on if you live in extreme cold.
A wood chip tray and water pan are built into the unit along with a lid mounted temperature gauge.  The temperature gauge is set in a bezel which gives a sleek look.  3 adjustable cooking racks let you customize your cooking space to fit the needs of your particular meal.
Things We Like:
Good price point: This smoker definitely qualifies as a budget smoker, and you get nice quality for the money.
Nice amount of cooking space: for the compact profile, the 505 square inches of cooking space is impressive.  You can adjust the racks also to maximize efficiency within the cooking space.
Has all the features you want: While the design is fairly basic, it includes everything you need to make delicious smoked food.
Things We Don't:
Not ideal for extreme cold: Since it's a budget smoker, you don't have quite enough insulation to have consistent temperatures in super cold climates.  If you live way up North, a more premium smoker is probably a better choice.
The door can be difficult to close: a design flaw that a few customers have complained about is that the main door can take extra effort to close.  Not a huge deal, but also something you don't want to worry about.
Rounding out our best electric smoker list is the Cuisinart COS-330 30″ Electric Smoker.  The old saying last but not least definitely applies here!
Cuisinart is another brand that has quite a bit of clout when it comes to cooking appliances and equipment.  Their electric smoker is an excellent product and a great choice for both beginners and seasoned chefs alike.
The temperature is controlled by a simple knob, and all you have to do is plug it in, set the temperature, then you're good to go.  With built in side handles and with a lightweight frame, the unit is pretty easy to move around.
The temperature range on the COS-330 is very good.  You can set it to anywhere between 100 to 400 degrees Fahrenheit – a much wider range than some of the other smokers on this list.  A 1500 watt heating element is what powers the wide range.
Things We Like:
Ease of use: It's simple and very straightforward to use – a great option for beginners.  It's also super lightweight and easy to transport.
Wide temperature range: the 1500-watt heating element provides a temperature range of 100 to 400 degrees Fahrenheit, more than enough for any of your smoking needs.
Plenty of cooking space: You get 548 square inches of cooking space across 3 racks, which is above average compared to other products on this list.
Things We Don't:
Not ideal for extreme cold: Similar to the other budget smokers on this list, there's not enough insulation to have consistent temperatures in super cold climates.
How to Choose the Right Electric Smoker for You
When you're browsing and shopping, here are a few things to keep in mind to help you find the best electric smoker for your needs:
Budget
Obviously, much of your buying decision is going to come down to budget.  Generally speaking, the higher the price, the better the quality of the smoker you're paying for.
With that being said, it's all up to you.  There are some fantastic electric smokers in the $150 range that will get the job done.  Especially if you live in a warmer year round climate, you may not need to pay extra for a smoker that's super insulated.
Just keep in mind that the best electric smoker is an investment.  You want to end up with something that's quality and that you're happy with.  At the end of the day, you'll be using it often to feed yourself, family, and friends!
Cooking Capacity
Take some time to consider which kinds of meats you plan on smoking.  Every smoker will be able to fit a chicken or two, or more.  But if you want to get into slabs of ribs, briskets, or turkeys, make sure that you're getting something with enough space.
It's important to note here that it's not solely about total cooking grate area.  It matters how wide each grate is too.  More specifically, you could have a smoker with 4 racks providing lots of total cooking area, but each rack is too narrow to hold a full brisket.
If you want to fit larger cuts of meat, it's probably best to narrow your search to 40-inch or larger units.
Extra Features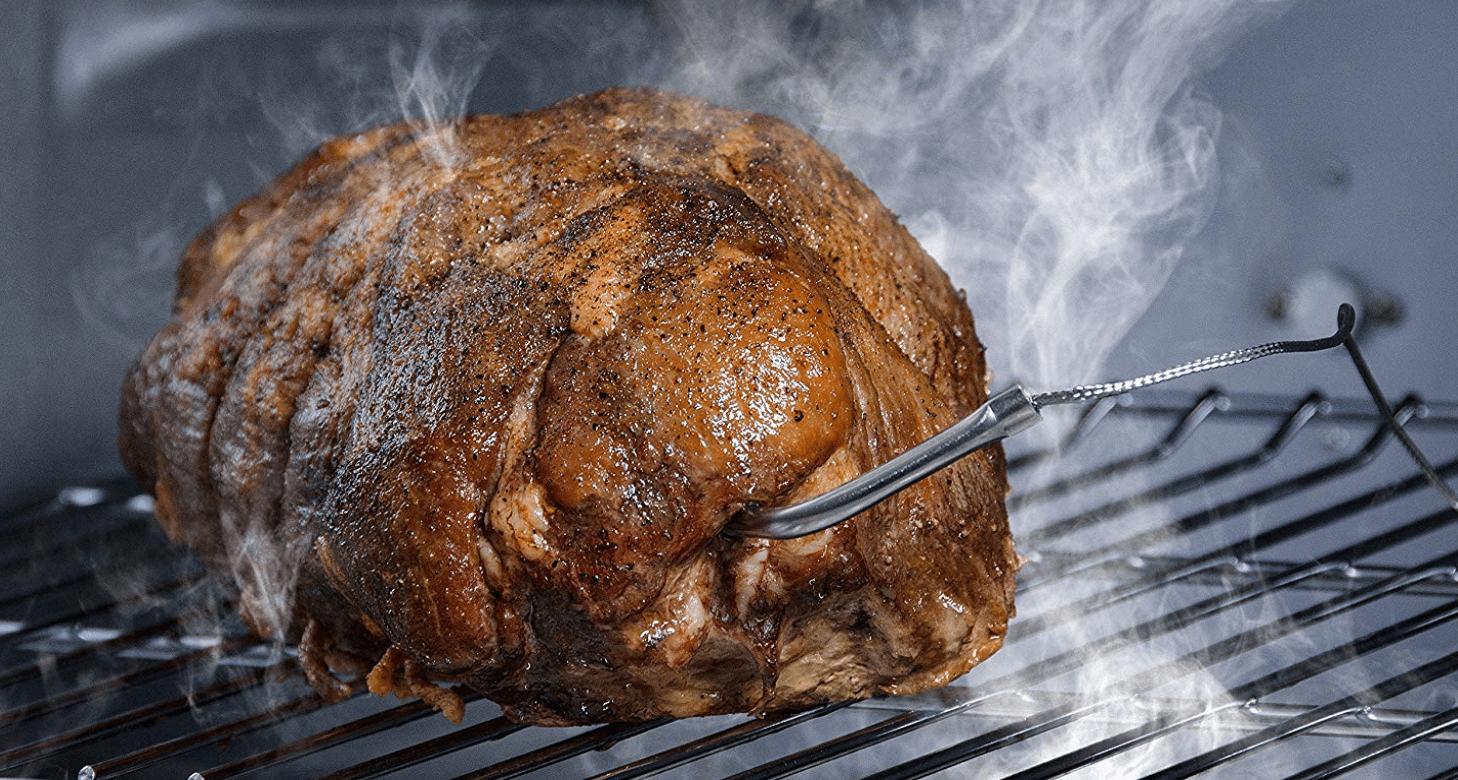 Another important aspect to consider is to what extent do you want extra features, and which ones do you want.  One of the best things about electric smokers is that they are truly set it and forget it smokers.  So most units come equipped with all of the basic features you need to do this.
But, maybe you're looking for something that utilizes technology a little more.  A Bluetooth electric smoker is a great option that adds an extra element of ease, as you can manage all aspects of your smoker and food from a phone app.  A unit with a detachable remote can serve this exact same purpose.
Another nice extra feature to look out for is built in temperature probes.  We preach it all the time here at Own the Grill, but you really should be cooking foods to the proper internal temperature.  The only way to know if your food is truly ready is if you're utilizing a probe thermometer.  While you can certainly purchase one on the side, I always think it's a nice and convenient feature when they're built in.
Lastly, you should keep an eye out for digital control panels.  Again these aren't 100% necessary by any means, but they make life a little easier compared to an analog temperature dial.
Mobility
I personally don't use an electric smoker on the go, but if you foresee yourself using one in multiple places, it's probably best to find a compact or lightweight unit to make transport as easy as possible.
Keep in mind that electric smokers need to be plugged in, so you can only use them in places where you have access to a traditional power source!
Clean Up
There are a few things to look for which will make your life a lot easier when it's time to clean after each cook, or when it's occasionally time to do a deep clean.
First, all parts should be removable.  Cooking racks, wood chip trays, drip trays, water trays, all of it.  Bonus points if they are dishwasher safe (although I wouldn't dishwasher the racks).
Second, eyeball the main cooking unit and see how easy it looks to wipe down.  A door barrel style electric smoker might be a little tough to clean all the way through for example.
Best Electric Smoker Brands
The reviews we did above aren't all inclusive – meaning I'm sure there are some great choices out there which don't appear on this list.  That being said, here are some of the best electric smoker brands for you to keep an eye out for!
Masterbuilt
It's easy to see why Masterbuilt is one of the most, if not the most trusted brand when it comes to electric smokers.  They specialize in this type of product, have a wide product offering, and have a history of lots of happy customers.
Masterbuilt actually owns the Smoke Hollow brand as well, so all Smoke Hollow units are sold by the same parent company.
I'd say that most of Masterbuilt's products are best fit for folks new to smoking or casual grillers, but they do have a couple of higher end options.  And as far as electric smokers go, they produce some of the best flavors and results.
Char-Broil
Char-Broil is a brand name that appears quite a bit across this website.  That's because they've earned a place as one of the most reputable brands in the grilling space.  Broadly speaking, they make quality products, have quality service, and have good warranties.
Whether you're in the market for the best electric smoker or some other kind of grill, Char-Broil is a great place to start.  They've been in the marketplace for over 50 years now.
Old Smokey and Smokin-It
To be clear, these are two separate brands.  I'm just including them on one line because neither have a wide array of options when it comes to their electric smokers.  They keep it simple and design one quality product.  Both brands are worth your consideration.
Electric Smoker Pros and Cons
I wouldn't be surprised if you've heard negative comments about electric smokers at some point if you spend time around professionals or purists.
The reason basically boils down to the fact that with an electric smoker, you sacrifice flavor opportunity and the "traditional" BBQ smoky taste that comes from smoking with a charcoal smoker.
It's very important to note here that you can make incredibly delicious food with an electric smoker.
But, when comparing an electric smoker to a charcoal smoker or a pellet grill, the food from the latter two is going to be more flavorful and will taste better.
So at the end of the day, it all comes down to personal preference.  Some people might not even notice the difference in taste.  Some people may value their time in other ways and would prefer to set and forget their smoker instead of spending tons of time building and managing a charcoal fire.  If you're ok sacrificing a little bit of flavor for the conveniences that come with an electric smoker then go for it!
With that out of the way, let's look at some pros and cons of buying an electric smoker:
Electric Smoker Pros
Convenience.  It feels like we've said it a million times in this post already, but electric smokers are a set it and forget it type of smoker.  After the press of a couple of buttons, you are well on your way to a delicious BBQ.  No time needs to be spent managing a fire, and the cleanup process at the end is also a lot easier.
Versatility.  No matter whether you want to smoke BBQ brisket, beef, fish, or chicken, your electric smoker is equipped to get the job done.  Most can also be converted into cold smokers.
Unlike charcoal, electricity doesn't emit CO2 and therefore is better for the environment (and possibly your health if you breathe in smoke a lot) than a charcoal grill.  The lack of CO2 emission even leads some to ask whether or not you can use an electric smoker in the garage!
You may live in an apartment or condominium complex that doesn't allow flame or charcoal grills.  If that's the case, an electric smoker is a great way to access smoked food and to get around this rule.
Price.  Generally speaking, prices for electric smokers are anywhere from $100 for basic models to $500+ for advanced models.  No matter which direction you go, those prices are pretty good compared to some other types of grills and smokers out there.
Electric Smoker Cons
What you gain in convenience with an electric smoker, you sacrifice a little bit in flavor.  Since you aren't using charcoal, you won't get that traditional, deep smoky BBQ flavor on your food.
Since the units rely on electricity, they have more components and are more prone to break down because of it.
You need to be able to access a power source to run your electric smoker.  That makes it really hard to take one on the go or use it in the rain, be it for camping or tailgating.
Frequently Asked Questions
What Can I Cook in an Electric Smoker?
Pretty much anything you'd put in another type of smoker, you can cook in an electric unit.  If you're looking for inspiration, check out our compilation of the top electric smoker recipes to get the ideas going.
How Do I Clean My Electric Smoker?
We've written a complete guide on how to clean your electric smoker right here that you should check out!
How Do Electric Smokers Work?
Electricity.  Bet you didn't see that one coming!
In all seriousness, this is a pretty common question I get.  Electric smokers rely on technology which limits or controls the flow of electricity through an electric heating element (picture the heating elements in your electric oven).
From there, the heat can burn wood chips to create smoke to flavor your food.  Electric smokers are also kitted with features and technology to control the flow of smoke as it works through your unit and your food.
Can I Use Wood Pellets in an Electric Smoker?
Most electric smokers have a tray for wood chips – but you might be wondering if it's safe to use wood pellets instead of wood chips.
I know of a few folks who have successfully used wood pellets in their electric smoker's wood box – so there's nothing inherently wrong with it.
The thing I would be careful with is to make sure using them won't void your smoker's warranty.  Our advice is to double check the warranty before you try to load up the wood pellets.
But if there aren't any issues with voiding the warranty, it shouldn't be a problem to use wood pellets or wood chips.
What Does it Mean to Season My Electric Smoker and How Do I Do It?
Seasoning a smoker or grill is a process in which you cure it of all unwanted chemicals and toxins that might be left over from the manufacturing process.
It's kind of like running a new water bottle through the dishwasher before you use it for the first time.  It's best practice to clean and cure your smoker before its first use.
Should I Get an Electric Smoker or Propane Smoker?
That comes down to your preference.  Both are pretty easy to use and set and forget it style smokers.  A propane fueled unit will have more ongoing fuel costs but will produce slightly more flavor.  The best electric smoker is still king when it comes to ease of use and convenience though.
Can I Use My Electric Smoker In the Rain?
We've outlined a more detailed answer in our complete guide to how to use an electric smoker in the rain, but the short answer is that you should avoid allowing your electric smoker to get wet, especially while in use.
If you want to use your electric smoker in the rain, it's probably best to also invest in a grill gazebo.
Can I Use an Electric Smoker Indoors?
The short answer is no, although I understand why some would ask the question.  Even though a flame isn't being used, smoke is still emitted from an electric smoker and as such it's not fit for use indoors.  If you use an electric smoker indoors, you'll at best end up with smoke damage to your property.
Can I Sear With My Electric Smoker?
Not really.  While some of the units on this list have a max temperature of 400 degrees Fahrenheit, most top out closer to 300 degrees.  Either way, they're not really designed or suited for searing and achieving crispy skin or crust on your meats.
Which Wood Chips Should I Use?
That part is also totally up to you!  I always tell people to experiment with different flavors of wood and try to discern the differences each time.  From there you can start to play around and figure out what you like most.  Hickory is a great starting point, and also makes a great base for blending different flavors.
Which Accessories Will I Need?
If you buy a higher end smoker, you may not need to buy any extras.  A digital probe thermometer is an absolute must though.  You won't be able to cook effectively without one.  Some of the more expensive models have one built in.  If the one you buy doesn't have a built in probe thermometer, you should 100% buy one as an accessory.
What is the Best Electric Smoker for Beginners?
That depends on what kind of smoking experience you're after! As a newbie to the game, you'll want an easy and intuitive smoker that's straightforward and simple to use. Electric models are generally trouble-free, so you're already off to a good start.
There's not much difference between one manufacturer's electric smoker and another in terms of ease of use – most of them require simply setting a timer and returning to collect your deliciously smoked meats when it's done!
As far as brands go, there are several that offer user-friendly smokers for those who are just getting to know these wonderful machines, and the following are recommended:
Char-Broil
Smokehouse Products
Camp Chef
Masterbuilt
Pit Boss
Big Chief
Little Chief
Landmann USA
Should You Soak Wood Chips for an Electric Smoker?
There's no law that says you have to, but you definitely can if you want! Soaking wood chips is designed to have them burn for longer, so you get more smoke production, but water and electricity don't tend to get along historically.
Luckily, as the wood chips won't be coming into contact with any of the electrical components, it's completely safe to soak them in water before you pop them into the smoker. That being said, it won't produce a different kind of smoke or impact the flavor – just guarantee that you'll be able to keep the wood burning for a lengthier period.
Does an Electric Smoker Use a Lot of Electricity?
Not really, no! The exact amount utilized by each smoker will be slightly different as the designs aren't exactly the same, but on average they tend to use approximately 800 watts of energy for every hour they are in use.
Therefore, if you were to smoke some meat for four hours, that would be 3,200 watts or 3.2 kilowatt hours. If you then multiply this figure by the average electricity rates in your state or with your provider, then you should be able to calculate the running cost.
Generally speaking, though, they use around the same amount of electricity as your average household appliance, so trying one out isn't going to increase your next electricity bill by a considerable amount – you might not even notice much of a difference in cost at all!
Is Smoked Meat Bad for You?
It can be, yes. Although it's one of the longest standing methods of food preparation and preservation, documented all the way back to prehistoric times, smoked meats are these days associated with risk of cancer, because of the carcinogens created during the smoking process.
Scientifically known as polycyclic aromatic hydrocarbons (PAH), it's believed these carcinogens not only increase your risk of developing cancer, but can also affect your chances of survival after you become unwell, too.
However, it's important to note that smoking is not the only method of cooking that can result in the production of such carcinogens: barbecuing, pan-frying, deep frying and grilling are also known to lead to PAH presence in food.
That being said, food exposed to smoke is more likely to contain these carcinogens and any of their byproducts, though the percentage chance depends on the type of wood that was used to smoke.
For instance, beech chips are largely considered one of the most unsafe options for wood smoking, whereas hickory or polar chips for instance are less likely to be carcinogenic.
Fortunately, it is believed that using a zeolite filter – also found in cars to reduce human exposure to vehicle pollutants – not only reduces the presence of carcinogens in your meat, but even increases the smokiness of the flavor, too!
Which is Better: An Electric Smoker or a Propane Smoker?
That's a matter of personal preference, weighing up the pros and cons to determine which would be best for your situation specifically. Both propane and electric smokers are equally popular in the smoking community for different reasons!
The primary difference between the two is, of course, their fuel source. Electric smokers are going to cost you far less to run in the long term, for instance, because you don't need to keep purchasing gas for them when your tanks run out.
Likewise, they are also a lot easier to use, given that temperature control is a matter of turning a dial to adjust, and unless you have a power cut, there's not likely to be any interruption to your cooking during the process.
On the other hand, propane smokers can be used just about anywhere outside, as there's no need to worry about finding an outlet that's close by enough to utilize, nor do you have to stop smoking in the event of electricity outages.
You'll also find that propane smokers are cheaper to pick up in general, and they're likely to run hotter than their electrical counterparts if reaching record temperatures is something that you're looking to achieve. Plus, they're the most straightforward to repair!
Can You Use an Electric Smoker in a Garage?
No! Regardless of what type of smoker you have or which kind of fuels it uses, you should never use one in an enclosed space.
As smokers require the burning of wood to work, they produce carbon monoxide during the process, so it's imperative that they are set up outside where ventilation is incredibly high and your oxygen levels will not be impacted. Never, ever use a smoker indoors!
Best Electric Smoker – Final Thoughts
I hope this guide has helped you on your journey to delicious smoked food.  An electric smoker is a fantastic fit for many, but certainly not for all.  Take the time to figure out if it's something you want to invest in.
At the end of the day, it's a perfectly viable and easy way to smoke delicious tasting BBQ.
If you do end up buying something off of our best electric smoker list, we want to hear about it!  Let us know in the comments section below which one you ended up with.