This content contains affiliate links.  If you make a purchase after clicking a link on this page, we might receive a commission at no cost to you.
If you love smoked foods but want to make the cooking process a little easier compared to other smokers, then you should definitely give the propane smoker a look.
A propane smoker is great because it's practical on a lot of different levels.  They're affordable, typically have multiple racks for cooking simultaneously, and most importantly can make some really tasty food.
You can find a lot of different makes and models of smoker grills out there – but we've done all the research to compile the best propane smoker guide right here for you.
Quick Glance at the 3 Best Propane Smokers
Best Propane Smokers – Our Ultimate Guide
Below we get into detail as to why so many love these smoker grills.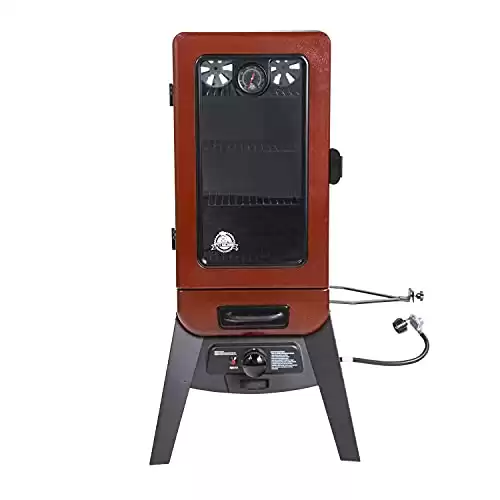 Pit Boss has a great reputation in the outdoor cooking industry, and their Pit Boss Vertical LP Gas Smoker is one of the best propane smoker choices out there.
It has a thinner profile than a lot of competitor products do, which is nice if you're tight for space on your patio.  Despite the narrower body, you're still given 884 square inches of cooking area to work with across 3 porcelain coated cooking racks.
Two stainless steel burners have a 12,500 BTU output capacity and can hold a temperature range of 100-350°F – which is a perfect range to handle smoking and roasting duties.
The wood chip drawer and grease tray are easy to access with an external door.  You can easily manage your wood chips while you're cooking and when it's time to clean up, grease removal is made easy too.
There's also a large viewing window with a high temperature seal so you can get a peek of your food while it cooks.
Things We Like:
Narrow profile is great for tighter spaces and you don't have to set aside a ton of area on your patio thanks to a small footprint.
800 square inches of cooking area across 3 separate porcelain enameled racks.
Wood chip box and grease pan are easily removable so you don't have to spend a bunch of time or hassle managing your smoker.
Nice temperature range at 100-350°F, you've got plenty of smoking versatility.
Things We Don't:
Customer service for these smokers isn't the best, which can be frustrating if something goes wrong.
You might have to cut your meats to fit them in the narrow body – for example a full rack of ribs likely won't fit in this smoker.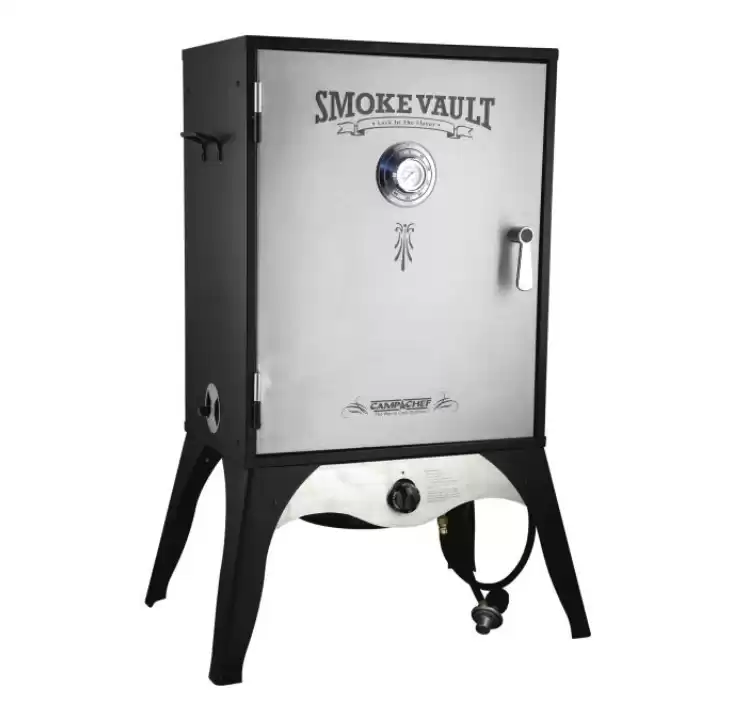 Camp Chef has a fantastic line of quality outdoor cooking appliances, and the Camp Chef Smoke Vault 24 definitely lives up to the bill.  It includes two cooking grids and one jerky rack, which makes the process of homemade jerky even easier – if that's something you're potentially looking for.
Three adjustable damper valves help you to control and fine tune your temperature, which is a great feature you don't see on a lot of other propane smokers.  A matchless easy press ignition system can have you smoking in no time.
Design wise, it's a straightforward smoker and can consistently hold a temperature range of 160-350°F.  The base tray is removable to help make the clean up process as hassle free as possible.
This is also one of the most efficient propane smokers we've seen.  I don't know what it is about the Smoke Vault series, but they just seem to go longer on less propane.
Things We Like:
Efficient user of propane, you'll find yourself getting more mileage out of less propane.
Simple, intuitive design that includes all the features you'd expect plus a few extras.
Great temperature range for smoking at 160-360°F.
Things We Don't:
Cooking racks could be more durable and seem to deteriorate with some cold exposure.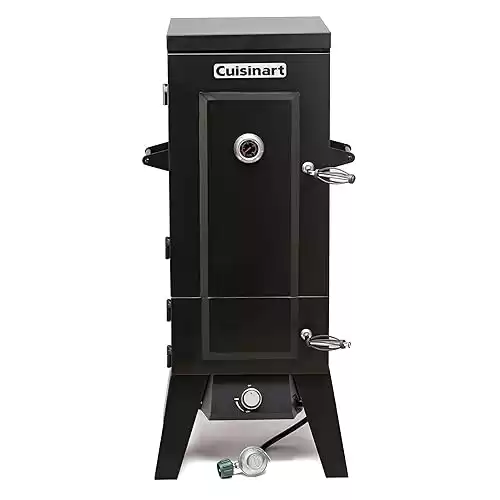 Cuisinart is a brand that's best known for kitchen appliances, but it also makes one of our favorite choices for the best propane smoker.  Particularly, the Cuisinart COS-244 Vertical Propane Smoker is a great choice – and at a low price.
It's got a very slim profile; probably the slimmest of any smoker on this list – so that can be a good or bad thing depending on how much patio space you have.  Despite the slim profile, you're still given 4 stainless steel racks to work with that total 748 square inches of cooking area.
Design wise, it's pretty similar to your standard propane smoker.  A main door lets you access the cooking area for your food, and a secondary door lets you access your water pan and wood chip tray.
Things We Like:
A slim profile is ideal for tight spaces – this is a great choice for those with minimal patio space.
Quality materials are used in construction, and it shown in customer reviews.  The COS-244 does a great job of retaining heat throughout long smoking sessions.
The twist lock door also has a high quality seal and ensures that heat won't escape during your cook.
Things We Don't:
The water tray isn't designed well and can lead to oxygen and heat not reaching and lighting your wood chips.
The warranty is only 1 year, we'd like to see something longer in line with industry standards.
Why Buy a Propane Smoker?
The best propane smoker is great about two things specifically – convenience and affordability.
Along with electric smokers and pellet smokers, propane smokers fall into the class of "set it and forget it" cookers and are designed to minimize the amount of time you have to actively spend managing your cook.
They can make some really delicious food with minimal effort and not really any extra features and fuel costs.  All you need to work a propane smoker is a propane tank and a few wood chips.
Remember, some foods cook on a smoker for upwards of 12-16 hours.   Some people love the process of managing a charcoal fire, but that's a lot of work!  Propane smokers take a lot of that burden away – you don't have to manage a fire when smoking on a gas smoker.
Check out a deeper comparison of propane vs electric smokers here.
Propane Smoker Pros and Cons
Here are a few distinct advantages and disadvantages of the best propane smoker:
Pros:
Set it and forget it style of smoking is ideal in a lot of situations.  It's a luxury to be able to set your temperature and return hours later to delicious, thoroughly cooked food.
General ease of use.  Everything about propane smokers is easy.  Specifically, you can dial in your temperature with the turn of a knob.
They're fairly portable smokers.  Most don't weigh too much, and all you need for fuel is a propane tank – which can also be transported.  Unlike electric smokers where you need an electrical connection for it to work.
Really good flavor.  As far as flavor goes, you'll get better flavor on a gas smoker vs electric – but less flavor compared to a charcoal smoker.
Propane is a reliable and cheap source of fuel.  Ongoing costs will be low, and you also don't have to rely on the cheap electrical components that typically come in an electric smoker.
Propane smokers are affordable.  You'd be hard pressed to find a propane smoker for much more than $400 – which is the entry level price point for many other types of smokers.
Cons
You might have to switch out propane tanks a lot if you smoke frequently, potentially even mid cook.  It's a hassle to do this, but just par for the course with even the best propane smoker.
Vertical design can make it challenging to smoke large cuts of meat like full rib racks or brisket.
A lot of models are cheaply made and leak heat and smoke.  We've done our best to avoid these on our best propane smoker list, but there are a lot of pieces of junk out there.
Best Propane Smoker – Buying Tips
Here are a few things and features to look out for when comparing different models.
Width
Width is important on two different levels.  First, it comes into play in terms of how large of a footprint your smoker will take up.  Generally speaking, propane smokers have a vertical cabinet design so they don't take up a lot of ground area.
But there are all sorts of different sizes, and some are narrower than others.  Make sure to pay attention to this and to note how much space you have available on your patio for a smoker!
The second consideration when it comes to smoker width has to do with the cuts of meat you plan to smoke.  With smoking, it's not uncommon to cook some pretty large and wide cuts of meat.
You might not want to cut down your rib racks or brisket in order to smoke them, so if this is you just make sure to buy a smoker with a wide cooking chamber that will accommodate the foods you want to smoke.
Wood Tray
Your wood tray is the way you are going to get that delicious smokey flavor to your food.  A properly designed wood tray will allow you to easily add wood chips, even mid cook, and will burn them to smoke your food with delicious flavor.
Be sure that your wood tray has a separate exterior door from your main chamber.  Any wood tray that requires you to open the main door and let heat escape is just poor design.
General Build Quality
We mentioned already that unfortunately, there's a lot of crap out there on the market.  Be sure to pay attention to the general build quality of your smoker – the best way to do this is to read customer reviews and feedback.
Specifically, you want to look for feedback that speaks to temperature retention and heat distribution.  The cardinal sin of any smoker is to leak heat – it will completely ruin your food and smokers that leak are totally useless.
Stay away from any smoker that appears to be prone to leaking heat, because there are plenty of options out there that are well made.
Warranty
With any expensive appliance, it's a good idea to take the warranty into consideration.  The industry standard for propane smokers is more or less a 3 year warranty.  Anything less than that I'd be disappointed with.  If all else is equal, choose the manufacturer that offers the more generous warranty.
Tips For Getting the Most Out of Your Propane Smoker
One of the knocks on propane smokers, when compared to charcoal smokers at least, is that your food will lack the same degree of traditional smokey BBQ flavor when cooked in a gas smoker.
We've compiled a few tips for increasing your food flavor to the point where some might not even know the difference.
Utilize a Pellet Tube Smoker
Pellet tube smokers and maze smokers were practically made for electric smokers and gas smokers.  They also work great in modified cold smoke generator setups, but they're ideal for adding extra flavor to your propane smoker.
These work so well because they burn for 5 or 6 hours at a time and will impart plenty of flavor.  That's plenty of time to flavor even larger cuts of meat.
The best part is, you can easily refill it if or when you need more.  All you need to do is have a bag of wood pellets handy and you are good to use a pellet tube.
Upgrade Your Wood Tray
Unfortunately, a lot of the wood trays out there just aren't that great.  There are a few different types of enhancements you can make to upgrade your wood tray and the amount of smoke it produces.
Each smoker is different, so you should test things out on your own, but many cheap boxes can be replaced with a small cast iron skillet – which will do a much better job of burning your wood chips and generating smoke.
If that doesn't work, try placing a cast iron skillet filled with wood chunks directly over your burner.  That should provide plenty of smoke to flavor your food.
Best Propane Smoker – Wrap Up
If you're considering getting a smoker, the best propane smoker is hard to beat.  When it comes to ease of use and flavor, you'll be hard pressed to find something better that checks both of those boxes.
I hope this guide has helped to point you in the right direction!  Which propane smoker did you end up with?  Let us know in the comments section below.