This content contains affiliate links.  If you make a purchase after clicking a link on this page, we might receive a commission at no cost to you.
Melted cheese on delicious food. Is there anything better than that? With the raclette grill, you can serve melted cheese from individual pots, with it also doubling up with a grill stone to cook your chicken, steaks, or even potatoes. They remind us of flat top griddles but enhanced with more features. 
Deciding on the best raclette grill for you can be a tough task. We have compiled a list of the raclettes in 2023, and what you should look for when choosing one.
Let's get into it.
What is a Raclette Grill?
A raclette grill is a special type of grill used for cooking and melting cheese, typically raclette cheese. It consists of a hot plate or grill on the bottom that can be heated, and an upper section with pans that can hold slices of cheese, meat, vegetables, etc.
How Do You Use A Raclette Grill?
To use a raclette grill, slices of raclette cheese are placed into the individual pans on the upper section. Meat, potatoes, vegetables, etc. are also placed on the hot grill below. As the cheese melts, it can be scraped off the pan onto the grilled food items. This allows each person to customize their meal with melted cheese on top.
Raclette grills are designed for heating and melting the cheese efficiently while also cooking food on the grill. The cheese pans are tilted so the melting cheese can drip down over the food. These grills are popular for raclette parties and dining where everyone sits around the grill cooking their own portions and customizing with cheese.
Where did the Raclette Grill Come From?
The raclette grill was invented in Switzerland and is commonly used for traditional Swiss raclette meals. However, all sorts of meats, vegetables, breads, and accompaniments can be cooked on the grill alongside the melted cheese. It provides a fun, interactive way to enjoy melted cheese and grilled foods.
What are the Best Raclette Grills?
A Quick Look At Our Top Picks:
What Should You Look For In A Raclette Grill?
Variable Temperature Control
Burnt cheese is the worst. And without adjustable temperature control, you are either going to have to eat all of the cheese at once or end up throwing some in the trash. 
To avoid these scenarios, you should look for an electric raclette grill that has a heating element that can keep food warm, or one that has versatile cooking options so you can keep the food items at a precise temperature.
Non-Stick Coating
Having to use lots of oil can ruin your grilling experience, turning delicious meals into unhealthy, messy, and tasteless cheese dishes.
Luckily, a lot of the electric grills are engineered carefully to make the cooking process easier, with each cooking surface and raclette pan being designed with safe non-stick surfaces. 
Heat Proof Handles
Cheese melting requires a lot of heat, resulting in the raclette dish ultimately becoming very hot. 
Without heat-resistant handles, this can make food removal dangerous and painful.
The ideal option for electric grills is to have stay-cool handles. A metal handle would need to be accompanied by a heat-resistant plastic, so you can pick up your favorite foods without your family dinners ending with a trip to the hospital. 
Grilling Surfaces
Deciding on the grilling surface perfect for you is important.
Other than a non-stick grilling surface, you need one that can accommodate your needs. Are you hosting a cheese raclette party or just grilling for the family? What kinds of meat are you planning to cook?
The basic raclette grills use a metal grill. This surface works fine and makes cooking meats and different types of foods fun, but could leave grill marks.
The most common option is a granite grill stone, as it provides a flat surface. This allows for healthier cooking, while also heating the food more evenly. This granite stone grill surface is a popular option that can cook a variety of foods.
Cooking Power And Time To Heat Up
Raclette cheese is too good not to be on your plate perfectly creamy. It's even worse being sat around at a dinner party, waiting for it to cook, when you want to be making meals for the group.
Having a grill with high power output, and power cords you can plug into the wall can make melting the cheese efficient and effective. Rather than having a lumpy piece of cheese in your cheese grill, you want one that drastically decreases the cooking time, so you can have cheese in minutes.
An electric heating element can vary the watts of power, making temperature adjustment a lot more versatile and simple.
5 Best Raclette Grills In 2023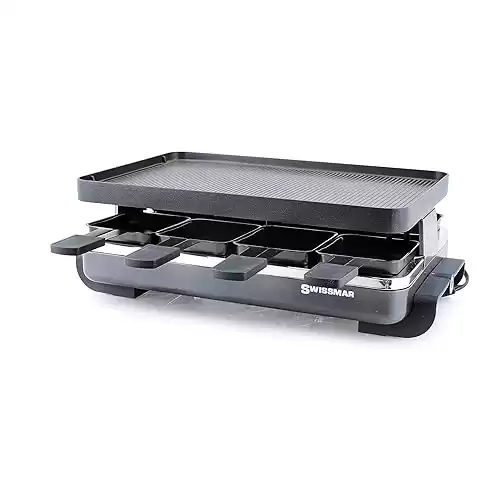 The Swissmar Classic Raclette is a unique and aesthetically pleasing grill, with the aluminum reversible grill plate allowing for a wide range of delicious food, from steaks to pancakes, to being cooked.
The Swissmar is small and versatile, making it perfect as a portable raclette grill. 
The grill plate has a grooved surface with a non-stick coating, meaning you can cook a variety of foods without having to worry about it sticking to the pan.
This is the perfect indoor table grill, with its adjustable grill temperatures and high power output allowing for a variety of cooking options, including keeping food warm.
This grill comes with eight raclette dish holders, each having its adjustable heat controls and separate heating element.
The heating process of the cheese is quick, and the removal of food is even quicker, with each pan having an anti-stick coating and eight heat-resistance spatulas. 
Pros 
Adjustable grill temperature.

Eight non-stick pans, making it ideal for a cheese raclette party.

Each pan has its variable heat control so you can keep food warm.

A reversible grill makes for versatile cooking options.

High power output.

Eight heat-resistant spatulas so you can avoid burns.
Cons
The aluminum cooking surface is basic, rather than the standard granite raclette table grill.

There is a lack of visible indicator lights which can help to determine if the grill or pans are ready to cook.

Grooves in the grill can make it very hard to clean.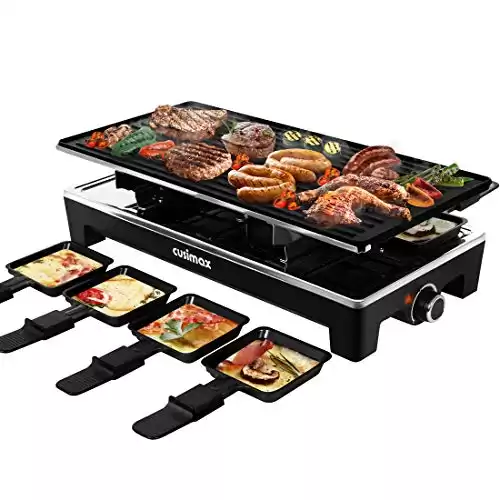 The Cusimax raclette grill is an affordable option, with a Korean BBQ grill meaning you and the family can cook a wide variety of your favorite meats in a unique and tasty way.
The grill itself is reversible with its variable temperature control, so you can get the perfect surface and temperature for cooking pancakes, delicious crepes, or even eggs for breakfast.
Every section of this product has an anti-adhesive coating, with each tray having a separate heating element. This can guarantee that your favorite dish will be cooked at the perfect temperature and the removal of foods even easier.
Now the main feature – the raclette trays. This portable grill comes with eight individual raclette trays with a non-stick coating, so you aren't losing any of that delicious Swiss cheese.
The pans for raclette cheese also come with eight heat-resistance handles, and adjustable thermostats, so you can have cheese in minutes, but keep it warm for hours.
The drawback with this type is the lack of space and power. The grill is not great for serving lots of people and has been reported to take a while to cook.
Pros
Nonstick cooking surfaces on each section.

A grooved surface allows you to grill to the desired food shade and removes excess cooking oil.

The flat surface is versatile and can even be used as a crepe maker.

Eight raclette dish holders with heat proof.

Each raclette pan has its own heat level and adjustable thermostats.

Worry-free 180-day return policy.
Cons
Not a great party grill. While you can get a cheese per person, the grill is not big enough to serve a lot of people.

The maximum temperature is not hot enough to cook large foods, such as whole chickens.

The griddle plate does not have a drip tray, so make sure to put a bowl underneath when cooking items with lots of oil and fat.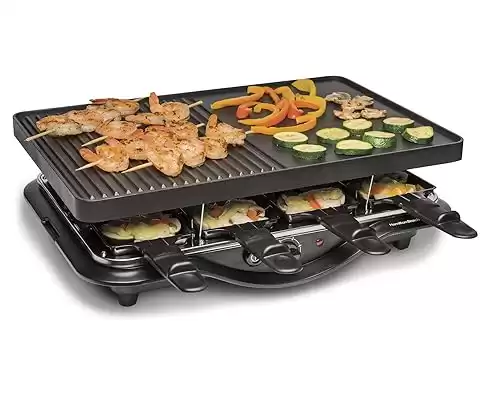 Another great option for a smokeless indoor grill, the Hamilton Beach indoor grill is a great piece of equipment to use as a party grill, or just at the dinner table.
The dual cooking surface is one of the larger grills on this list. It has a flat cooking surface, perfect for cooking morning or breakfast or delicious crepes. While the other surface is grooved, making it a great BBQ grill.
Both surfaces come with an essential non-stick feature. This makes the removal of foods and cleaning afterward, less of a daunting task. 
Eight non-stick raclette cheese pans also accompany the grill. This is great for family fun or a cheese raclette party, as everyone can get their own individual portions. 
Every tray has a heating element, adjustable heat features, and heat-resistant handles, meaning you can customize your meals, keep them at the right temperature, and pick them up without hassle or worries.
The indicator light at the front of the grill informs you when the grill is on. However, it does not help to determine when the grill is ready to use, which is an essential feature to some.
Additionally, with the grill being a duo plate, rather than reversible, you are losing some of the surface areas.
This is one of the lesser expensive options on the list, which is arguably why the power rating is toward the lower end of the spectrum. While cooking food thoroughly, meat has been reported to take much longer to cook.
Pros 
Dual cooking surfaces – flat and grooved.

All pieces of equipment have non-stick features.

Adjustable temperature control on the griddle, and the cheese pots.

Relatively large.

Heat-proofed, meaning safe for family fun.
Cons
The grill isn't reversible, meaning you lose out on the surface area.

Not very portable.

Low relative power output.

Lack of indicator lights.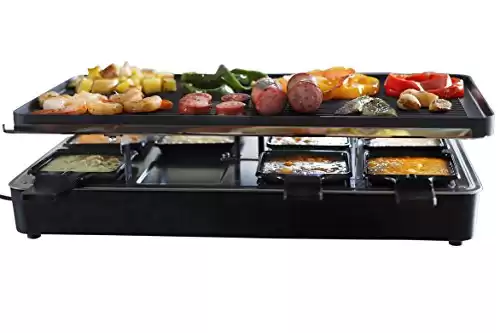 The Milliard raclette grill is great for family fun, or the hosting of a get-together. This piece of equipment tends to sell out very quickly, being one of the more luxury options.
The first thing you will notice with this grill is that it doesn't use the basic aluminum grill, but rather takes the standard form of the granite cooking stone. With this type of surface, you can expect a more uniform cook of your meats, or veggies.
The grill also comes with non-stick features, essential for the daunting task of cleaning, as well as a reversible feature, making it a versatile BBQ option, or great for re-heating foods.
The grill works hand-in-hand with the cheese melting pots. These raclette trays make it easy to have individual portions of cheese, with heat-resistant handles making it safe to touch at any point in your meal.
This grill also comes with adjustable temperature features, meaning you can cook your steak, then keep it warm, by simply adjusting the knob on the side. The power input is relatively high with this piece of equipment, coming in at 1200 watts.
Pros
Reversible, non-stick grill for versatility.

Eight cheese pots with heat-proof handles.

Large grill size.

Granite Cooking stone makes for evenly cooked meats.

High power input so cooks quicker.
Cons
Not very portable.

Lacks any heat indicator lights.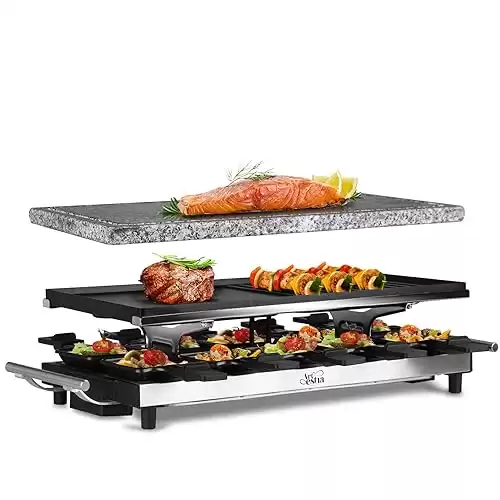 The final option on this list is the most powerful grill and unique design, the Artestia Raclette Table Grill. Coming in at 1500 watts, you can expect it to heat up extremely quickly.
The grill also has a large granite cooking surface, as well as a reversible aluminum cooking surface, meaning you can switch between the two depending on the food shade you are after, or the type of food you want to cook.
Every aspect of this grill comes with non-stick features. This allows for healthier cooking with no need for butter or oil, while also reducing the hours of cleaning up afterward.
This grill is accompanied by 10 cheese raclette dishes, making it one of the better options for a party, or a larger gathering. Each dish comes with a heat-proof spatula, making it safe and worry-free.
This grill even comes with various adjustable thermostat knobs, with visible indicator lights, meaning you can keep food warm, heat things up, or cook food quickly.
Pros 
Granite stone and reversible aluminum plate for a variety of cooking techniques.

Heat proofed.

Adjustable temperature controls with indicator lights.

High power output so heats up quickly.

10 cheese pots making it great for large gatherings.
Cons
Conclusion
To wrap up, we would probably say the best raclette grill in 2022 is the Artesia Raclette Table Grill,1500W Raclette Grill.
This grill is the best option for a large gathering since it's able to heat up quickly and has adjustable temperature controls and unique cooking options. 
If you are looking for a more portable option, then you should probably go for the Swissmar Classic 8-Person Anthracite Raclette with Cast Aluminum Grill Plate. 
While it may lack in surface area, it is still great to use, with it having all the features you want in a grill, while being able to use them in small spaces, such as a tent.