If you love grilling and you love traditional Japanese cuisine, odds are you've heard of a yakitori grill.
For those unfamiliar, "yakitori" translates to grilled chicken in Japanese.  Yakitori is a traditional Japanese dish that's skewered meat prepared on a specialized grill and served like a kabob. It's considered one of the original flat top griddles.
In the United States, yakitori has become synonymous with lots of types of skewered meats, so by acquiring a yakitori grill you aren't committing to only making grilled chicken skewers!
In this article, we'll go over our top picks for the best yakitori grill on the market today.  From there, we'll touch on a few things to look out for during your search.  Then, we'll go over some of the attributes that make the best yakitori grill.
Best Yakitori Grill Reviews
The Bincho Yakitori Tabletop Japanese Style Grill
Our top choice for yakitori style grilling is The Bincho Grill's line of Yakitori Tabletop Charcoal grills.  They offer their flagship product in both a 36″ and a 24″ wide configuration so you can choose a size that fits your table.
The cooker is sleek with a modern look and stainless steel construction.  Two handles on each side of the unit make it incredibly easy to transport around.  At only 34 pounds, you can easily take yakitori style grilling on the go.
The Bincho Grill is well insulated and designed to easily collect ash to make clean up as easy as possible.  Two adjustable dampers make controlling your airflow simple, which in turn makes maintaining steady heat quite easily.
The downside of this grill is that it does not come with grates – so you need to provide your own.  Even though hibachi style grates are widely available, this adds a tiny bit of hassle to the process.
Shichirin Hida Konro
If you're looking for elegance and artistry, the Shichirin Hida Konro Tabletop Charcoal Grill is made of Paulownia wood and features a beautiful design on the wooden box.
What's especially rare about this yakitori grill is that it's fueled by charcoal yet tabletop safe.  The key is to use high quality charcoal, but more on that later.
The mesh grill grate is iron with zinc plating and features about 65 square inches of cooking area, perfect for authentic style yakitori.  It's also offered in smaller sizes depending on what your needs are.
One other thing to consider with this grill is that none of the parts are dishwasher safe, so plan on washing by hand.
Fire Sense Large Yakatori Charcoal Grill
The Fire Sense Large Yakatori charcoal grill differentiates itself by utilizing ceramic clay as the main source of body construction material.
If you're a fan of kamado grills, you already know that ceramics have been used to construct cooking vessels in Eastern cultures as far back as 3000 years.  You'd also know that ceramic is an excellent insulator, so ceramic made grills do a fantastic job of retaining and evenly distributing heat.
On top of all of that, you get built in adjustable vents to help with temperature control.  Also, there are 170 square inches of cooking area to work with – which is plenty to even throw on a few sausages or hamburgers if you want to.
It also comes backed by a 1-year warranty, which is always a great feature to any grill purchase.
Iwatani Cassette Grill
The Iwatini Cassette is a bona fide made in japan yakitori grill.  It makes our list because its high quality, portability, and authenticity.
It weighs only about 5 pounds, so it's super easy to take on the go or to move around the kitchen if you need to.  It's fueled by Iwatani designed butane packs that will burn long and hot.
Most of the main components like the body, grill net, skewer trays, and water tray are all made of stainless steel for maximum performance and durability.
One of our favorite things about this product is the built in safety features.  An electric ignition system and pressure sensitive safety device ensure that you won't be dealing with any major safety issues while you grill.
Outsunny Stainless Steel Portable Folding Charcoal BBQ Grill
The Outsunny  Stainless Steel Portable Folding Charcoal Grill is a step up from the other grills so far on this list in terms of size.  The cooking area is 29″ x 13″ for a grand total cooking area of 377 square inches.  That's a great size if you're cooking yakitori for a large group of family or friends.
Double air vents on either end of the grill allow for easy temperature adjustment and control while you cook.  Additionally, it's designed with portable and lightweight legs for easy transport and storage.
This grill is ideal for the outdoors.  Whether that's your patio or a campsite is up to you!  The stainless steel material is durable, quality, and built to last.
Kinka BBQ Diatomite Charcoal Grill Barbecue Hibachi Stove
Last but not least on our best yakitori grill list is the Kinka BBQ Diatomite Hibachi Stove.
Technically speaking, it's a stove and not a grill and is designed for authentic yakitori and hibachi.  One great safety feature is that none of the materials on the outside of the stove will ever get hot enough to burn.  So it's safe to touch which is great if you have kids who might wonder and touch the stove while it's in use.
ISUMER Portable Charcoal BBQ
One of the most cost efficient yakitori grills is the ISUMER Charcoal Grill – it's affordable and does an excellent job cooking yakitori.
A detachable leg design and only 4 pounds of weight make it ideal for transport and storage.  It's a perfect choice for at home grilling, or for use when camping, backpacking, or picnicking.  The leg's height can also able to be adjusted to your preference while you cook.
The grilling surface area is approximately 175 square inches, which is a ton of space for a portable grill.  You can cook enough yakitori for a lot of people at once with that much space.
The entire body and grates are constructed of polished stainless steel that is durable and aesthetically very clean to look at.
What is a Yakitori Grill?
Compared to traditional types of grills, yakitori grills are much more compact and lightweight.  Many of them are actually designed for indoor use, unlike traditional charcoal or gas grills.  Typically the cooking grates are long and rectangular, which is an ideal design for grilling skewers on a tabletop.
Heat wise, expect most yakitori grills to operate best with temperatures in the 200-250°F range.
For the most part, you don't really need accessories or extras when it comes to these grills.  One of the beautiful things about them is their simplicity.  All you need to cook delicious food is skewers, which are used to rotate and place your food while it cooks.
The narrow design helps with this – the edge of the skewer should hang over the edge of the grill.  That means you don't have to ever put your heat over a flame or hot surface while you cook.
Which Kind of Charcoal Should I Use for Yakitori?
We mentioned earlier that it's best to use a special type of charcoal for yakitori cooking, especially with tabletop grills that utilize charcoal.
The answer to the question is that Binchontan charcoal is the best type of charcoal for yakitori.  Binchontan lump charcoal burns extremely clean and a shockingly low amount of smoke, which makes it ideal not only for the indoors – it's a healthier alternative to briquettes.
If you've got a larger, outdoor yakitori grill feel free to use briquettes or lump charcoal – but even then Binchontan charcoal is going to produce better results.
The only downside to Binchontan is that it can get pretty pricey, as does anything that is high quality.
What to Look For In the Best Yakitori Grill?
First and foremost for yakitori, your grill should be compact and rectangular.  You should be able to grill your meat while allowing the skewer ends to hang over the edge.  A rectangular shape also allows you to fit the maximum amount of skewers onto your grilling surface.
A grill that's safe for indoor use is also a great quality for the best yakitori grill.  Traditionally, yakitori is prepared and served at the table, so it's ideal to have a grill that can accommodate it.
On the other hand, if you need to cook outdoors or for a lot of people, it's perfectly fine to look at a larger grill that's ideal for camping and tailgating.
The other thing to pay attention to is heat retention and insulation.  Stainless steel is a fine material, but clay and ceramic are more authentic and do a better job of heat retention and distribution.
What If I Want to Cook Other Foods?
That's perfectly fine!  While yakitori is traditionally skewered chicken, you should feel free to substitute lamb, beef, shrimp, or anything else that would normally go on a skewer.
You don't even have to limit yourself to skewers!  After all the best yakitori grill is a perfectly capable cooking vessel, so anything that would normally go on a charcoal grill can likely get done on a yakitori, provided there's enough room.
Hamburgers, hot dogs, fish, and sausages are great foods that you could also cook, to name a few.  It's also perfectly conceivable to sear and cook steak if you have one of the bigger outdoor yakitori grills.
Which Skewers Should I Use for Yakitori?
We are fans of either metal or bamboo skewers.  Some people use plastic but we find that the quality of plastic skewers is consistently low.  Plus, you can typically find very cheap metal or bamboo ones at your local grocery store or online.
The only consideration beyond the material is length.  You want to make sure your skewers are long enough so that they have material that hangs off of the grill so that you can rotate your food as it cooks.
How Do You Make Yakitori?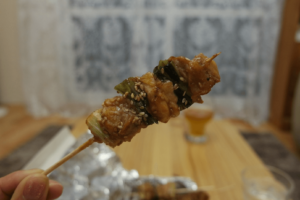 There is no one dead set way to make it, but most recipes broadly flavor the chicken with a sweet soy sauce or basic seasonings like salt and pepper.
Additionally, you can choose which parts of the chicken you want to cook.  You're not limited and can choose between the thighs, liver, breast, and wings.
Here's a link to one of our favorite yakitori recipes.  It's a recipe that uses chicken thigh pieces brushed with a sauce comprised of soy sauce, mirin, kecap manis, sugar, ginger, sriracha, and garlic.
Frequently Asked Questions
Can You Use a Yakitori Grill Inside?
No, we are sorry to inform you that you should not use a yakitori grill inside. Don't be disheartened by this, though, as it is for your safety! Yakitori grills are not safe for use indoors and can actually be very dangerous.
A yakitori grill has an open fire feature on it, so of course, this means flames can flow freely. This is very dangerous, and can easily set alight your home. It should only be used on a fireproof surface, meaning your kitchen counters, tables, carpets, and tatamis will not be safe!
Not only are Yakitori grills a fire hazard, but they also use charcoal which can pose a health risk if inhaled. They can also cause carbon monoxide poisoning if not used in a ventilated area. As such, using your yakitori in a well-ventilated outdoor spot is by far the safest option.
What Kind of Charcoal Do You Use for Yakitori?
Typically, the charcoal that is used for yakitori is white charcoal. This is also known as binchō-tan which literally translates to white charcoal! This charcoal is usually made from oak which is a type of hardwood.
Typically, since yakitori grills are Japanese, Japanese oak will be used for this charcoal. The reason why hardwoods like oak are used for white charcoal is that they can burn at a high temperature for a long period of time.
In general, you can expect white charcoal from oak trees to burn for around 4 to 5 hours, and it can handle temperatures as high as 1600 degrees Fahrenheit (this is 871 degrees Celsius for our metric folk).
Of course, this charcoal is what has been used traditionally. Nowadays, especially in the Western world, yakitoris can be used with lump charcoal and briquette. However, you will not get the same results when using these two types of charcoal and it will not taste as authentic.
Is Yakitori Only Chicken?
The translation of yakitori is literally a grilled bird. This has meant that many people assume that yakitori is only used in reference to grilled chicken. However, in Japan, yakitori restaurants also serve pork yakitori.
It is more common to find chicken being served when you eat yakitori, and certainly, this is what is served from street food vendors. However, you can also find pork, especially pork ribs being served in the same style.
You may find chicken breast pieces, chicken thighs, chicken livers, and even chicken hearts being served in this skewered style. Yakitori, whether that be chicken or pork, is seasoned with tare sauce which is made from sake, mirin, soy sauce, and sugar.
What is the Difference Between Robatayaki and Yakitori?
There is some confusion when it comes to robatayaki and yakitori, as both of them are grills! However, the main difference is the food that is served from these grills.
Typically, yakitori serves chicken. Although, as you will know from the previous section, it can also serve pork ribs.
Robatayaki, on the other hand, serves a far wider variety of food. From a robatayaki grill, you can expect to find the likes of grilled seafood, grilled vegetables, and other meats.
Robata is actually a direct reference to the style of cooking used by Japanese fishermen from the Northern areas of the country who would cook together around a large hearth.
This concept became very popular throughout the whole of Japan, with restaurants opening to emulate this tradition. Food (usually seafood and meat) would be cooked on one big hearth and served to guests who are all seated around the hearth.
Wrap Up
If you've ever had yakitori out at a restaurant or at home before, you know how delicious it is.  When properly made it's not only delicious, it's an experience you get to share with those around you.
Hopefully, this best yakitori grill round up helps you to find the perfect grill so that you can start to make those memories at home or out on the campsite.
Which one did you end up with?  We'd love to hear about it in the comments section below, along with any other recommendations you might have!