This content contains affiliate links.  If you make a purchase after clicking a link on this page, we might receive a commission at no cost to you.
The Camp Chef pizza oven is a great choice for an outdoor pizza oven. One of our favorite options, this oven is certainly not perfect – but it's pretty darn close for a portable oven. You will be able to make your favorite pizzas right in your own backyard or on the go!
Read on to learn more about the Camp Chef Italia Pizza Oven including the pros, cons, features, performance, and some tips on how to get the most out of your pizza oven.
Camp Chef Italia Pizza Oven Features
Camp Chef is a brand dedicated to creating the best and most practical outdoor cooking equipment.
They are big players in the pellet grill market, and they also make excellent portable camping stoves that allow outdoorsmen and women to prepare fantastic food while enjoying the outdoors.
It's important to note that Camp Chef pizza ovens come in a few shapes and sizes.
Many might be looking at attachments for an existing Camp Chef cooking system.  They sell pizza ovens as an attachment for their pellet grills (see the Woodwind WiFi) and camping stoves.
Here, we are specifically taking a closer look at the Camp Chef Italia Artisan Pizza Oven.
Take a look at some of the key features of the Camp Chef Pizza Oven. It was designed to have the feel of a wood-fired brick oven, without the mess of maintaining a wood oven. The dome shape and double-layered lid work to help improve the cooking and create results similar to what you would expect from a brick oven.
Temperature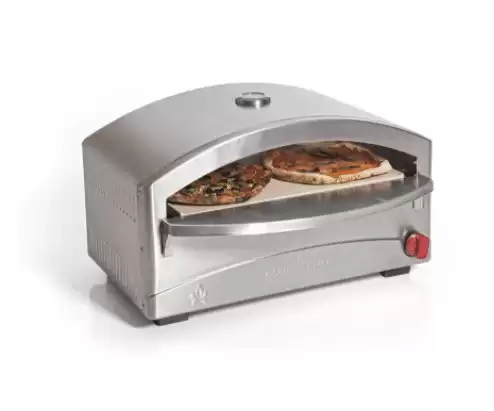 This oven can actually reach 700 degrees Fahrenheit because it has a 17,000 BTU burner. These high temperatures help you create great pizza each and every time you use the oven. The oven does have heat plates, which also enhance the cooking experience and promote even cooking throughout the oven and the pizza.
You are going to be able to cook quicker than if you used a conventional oven, since this oven can reach high temperatures in just 10-15 minutes. If heating time is a factor for you, you will not be disappointed with this oven.
There is also a built-in ignition along with a micro-adjust value, which lets you have total control over the temperature and cooking speed. The thermometer is accurate, so there is no need for a special tool to determine the temperature. You can also easily chance the temperatures in the oven if you happen to be cooking something else instead of pizza. The ventilated door also works to evenly control the temperature.
Heat Source
This pizza oven is fueled by propane, meaning you don't have to deal with the mess that comes with using wood chips. You will be able to use either a small 1 pound propane bottle or the standard sized propane tank, since there is a hose and regulator included with the oven.
Quality of the Oven
You are getting a durable oven mostly due to its high-end stainless steel construction. While some would say the stainless steel might take away from its aesthetics, you are getting a quality oven that can work under extremely high temperatures. Honestly, it doesn't look that bad, and we think the oven still looks just fine.
The biggest downside to the construction is that there could be a tad more cooking space. You are fairly limited to making just pizzas of a certain size. If the oven space were a little bigger, you would have more options and recipes available to you when you are cooking.
There is nothing not to like about this oven, including the cordierite ceramic stone, which really works to evenly cook your pizza so everything comes out the same temperature and crispness. The ceramic stone is the best choice for cooking pizza on at high temperatures.
This oven is built with high-quality materials and you will have no trouble hosting a pizza party with dozens of your nieces, nephews, and friends and family. You can rely on consistency and get the same pizza cooked the same way over and over again. Mix up the toppings and sauces and you can add some variety!
The Performance of the Oven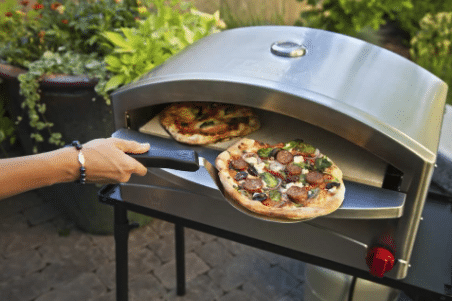 This oven is so easy to use! Set up is a breeze, as the only part of connecting your oven that might pose a challenge is hooking up the gas. Once you figure it out, it's easy to connect. Once you connect the propane the first time, you won't have to do it again until you change the propane tank.
Remember to watch the thermometer when you are pre-heating and cooking your pizza, so you can get a feel for how the temperature changes throughout the cooking process. All you have to do is wait for the temperature to get to what you want it and then you are all set to start cooking.
Using a pizza paddle that is floured or has corn meal on it, you can put the pizza on that and slide it right onto the stone. You are going to want to rotate the pizza some times to make sure it doesn't burn and that it cooks evenly.
It won't take long to be able to enjoy your pizza, since most cook well in just about 10 minutes. While pizza is best in this oven, you could also use it to warm up hot sandwiches, calzones, or strombolis. You are not limited just to pizza.
A Few Issues We Noticed When Using This Pizza Oven
Nothing in life is perfect, including this pizza oven. There are just a few issues you should be aware of before you get started with cooking.
The biggest complaint we have is the size of the oven just because it is so thin. The good news is, the smaller size makes this oven portable, so you can take it with you camping or tailgating without much of an issue.
But this can cause trouble if you aren't used to using a pizza oven – it can take a few tries to get good at moving your pizza around in the oven to get an even cook.
If you are cooking for larger groups of people, just plan on making many different pizzas instead of one big one. The roof is a little low, so you won't be able to cook foods in this oven that are tall in size. Stick to flat foods like pizzas or sandwiches.
If you are looking for a wood flavor on your pizza, you won't get that with this oven. Don't be confused into thinking you will get the same taste from this oven as a wood-fire brick oven.
We also don't love the user's manual, as it is a little limited. You are better off going to YouTube for instructions on setting up and using your oven than you are using the manual. The good news is once you figure it out and get all set up it is a super easy oven to use. You shouldn't need to constantly reference the manual or the internet to use your oven and find recipes.
Camp Chef Pizza Oven Pros
The team at Camp Chef spent a lot of time creating a great outdoor oven. Take a look at these pros:
The simple design makes it easy to assemble and get started making pizza with ease
High quality cooking and can cook the perfect pizza at high temperatures
Heats up quickly, reaching maximum temperature in as little as 10 minutes
Camp Chef Pizza Oven Cons
No pizza oven is perfect, take a look at the cons of the Camp Chef Pizza Oven:
It is a little small in size and not great for cooking pizzas that are bigger than 12 inches or for cooking more than one item at the same time
There is no wood flavor, which you could get using a wood oven
Tips to Follow to Get the Most From This Oven
To get the most out of this oven, here are a few tips for you:
While the thermometer on this oven is pretty accurate, you might want to get an Infared thermometer. You can aim it directly at the stone and get an instantly accurate temperature reading.
Other great gift ideas are things like pizza peels and pizza cutters. There are a lot of tools that go with this oven that would make life easier for the chef.
Consider getting a cover if you will store the oven outside, as this will keep it protected from the elements.
If you use a lot of toppings, the cooking process might be slower and the pizza might cook unevenly. If you are making a big Supreme pizza with all the fixings make sure you monitor it closely and rotate it to help it cook.
Make sure you keep the peel and stone clean in between uses as this will help the cooking process.
Final Thoughts
This is a great pizza oven! While the Camp Chef Italia is not perfect, if you follow a few tips and have a game plan for cooking, you will make many enjoyable pizzas.
Whether at home, in your backyard, or on a camping trip, you can now make your favorite pizza anytime you want to. You should also find that this is relatively affordable, so you can enjoy pizza while on a tight budget.
If you want authentic, homemade artisan pizza, there really is no better option on the market today. Just keep in mind that it is a little small in size, so you don't want to plan to make gigantic pizzas. Besides, it's more fun to make many different smaller pizzas so you can mix up the toppings and flavor of the pizzas!