This content contains affiliate links.  If you make a purchase after clicking a link on this page, we might receive a commission at no cost to you.
If you're seriously thinking about creating that perfect outdoor kitchen, odds are you understand the importance of using appliances of the utmost quality for your build out.
After all, if you're going to go through the trouble of installation and commit to permanent fixtures, would it make sense to buy cheap grill made with sub-par materials?
Brands like Lion Premium Grills also understand the importance of quality and craftsmanship when it comes to creating products that are highly functional and built to last.
In this article, we'll take a look at Lion's top grills and appliances to help you determine if they are the right fit for your dream outdoor kitchen.  Read on to hear our thoughts on this brand!
Lion Premium Grills – Brand Overview
Lion was founded by Leon Carter in the early 1990's.  He wanted to create a new way to BBQ and ended up designing the first ever BBQ island cabinet which could be easily assembled and customized with different finishing options.  The product turned out to be a hit and Lion Premium Grills was born.
Nowadays, the company still makes BBQ Islands but their line of products has expanded quite a bit.  You can find just about everything you need under their brand to create the outdoor kitchen of your dreams:
Freestanding grills
Outdoor kitchen storage (drawers, etc.)
Built-in side burners
Outdoor refrigeration
Outdoor sinks and bar centers
What You Can Expect With Lion
Even though their product line has expanded over time, you'll find that their attention to detail and craftsmanship has only risen in quality.
No matter which of their offerings you might be into, you can expect to find 16-gauge brushed stainless steel parts, intuitive panel and knob design, and sleek aesthetics.
Ease of Use
Lion Premium Grills are built with the user in mind.  Everything from their grills' ignition systems to their front panel design to the built in grill lights make their products some of the easiest to use in the industry.  Whether you're a seasoned grilling pro or new to the game, this ease of use factor is a big time positive for Lion grills.
Lifetime Warranty
Lion offers a lifetime warranty on all stainless steel framing and housing, along with all stainless steel burners and cooking grates.
The flame tamers have a three year warranty and all other parts have a one year warranty.  All things considered, their warranty package is certainly above industry average and exactly what you love to see on a high end grill purchase.
Commercial Quality at a Reasonable Price
As you will see below, these grills are some of the best on the market – they are the type of grills you could find professional chefs using to make spectacular, restaurant quality food.
While Lion grills certainly are not bargain bin pricing, they are half of the price you will see on some other comparable grills from other brands.
All of their grills are made with high quality, durable materials and are designed intelligently.
For example, above each burner rests a "flame tamer" which is a v shaped steel part that diffuses heat (for perfectly even heating) and also protects the burners from food drippings during your cook (which greatly reduces the probability of flare ups).
Lion Grill Reviews – A Closer Look
As mentioned above, Lion Premium Grills offer both built-in gas grills and freestanding grills – one isn't better than the other per se, but if you are looking for a custom outdoor kitchen then built-in will be the way to go.
Alternatively if you value a little more mobility, the freestanding grills sit on durable caster wheels which allow for you to adjust the position of your grill whenever you need to.
Lion 75000 32 Inch Built-In Grill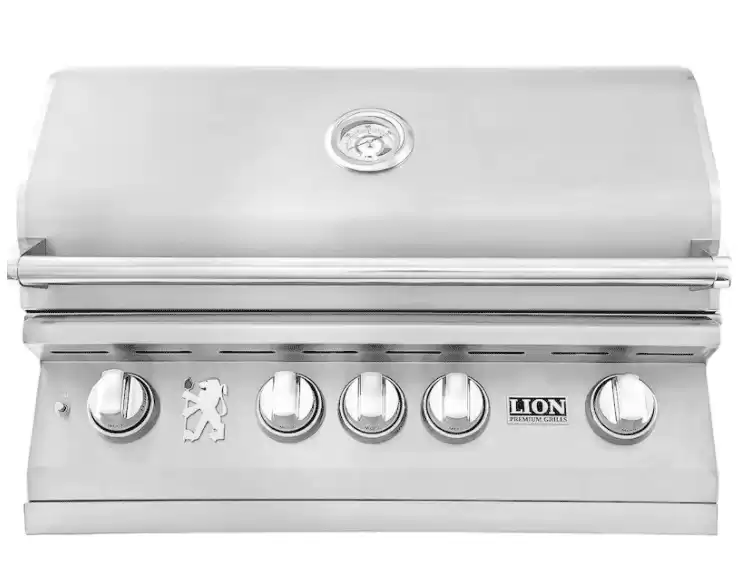 When it comes to quality, it's hard to beat the Lion 75000 built-in grill.  It's offered in both a propane fueled and natural gas fueled set up, and features a total of 830 square inches of grilling surface area.  The surface area is split between a 647 square inch main cooking area and a 183 inch elevated rack.
The lid, cooking grates, and burners are all constructed from premium quality 304 cast stainless steel, which means that all of these parts are extremely durable and built to last.
As far as power goes, the four cast steel burners deliver a total of 60,000 BTUs of heating power which is plenty to get your grill scorching hot for that perfect steak sear.  Furthermore, there's an additional 15,000 BTU infrared burner at the back which adds more heating power to this grill.
Every Lion grill also comes with an accessory bundle which includes a smoker box, grill cover, rotisserie kit, and griddle insert. The grill cover is a definite need-to-have so that you can keep your grill in excellent condition while it's not in use.
The griddle and rotisserie kit are nice-to-haves which can really take the versatility of your grill to the next level if you utilize them.  The rotisserie kit in tandem with the rear infrared burner can make some pretty epic food.
Aesthetically, this grill has a sleek look to it with the stainless steel build and fits in really nicely with just about any type of finishes you might have in your outdoor kitchen.
Last but not least, it comes with interior lights which light up the grill's cooking grates when its dark outside – a feature that comes in handy more often than you'd expect.
Lion 90000 40 Inch Built-In Grill
In many respects, the Lion 90000 40 Inch Built-In is quite similar to the 32 inch model, with the obvious main difference that this grill has more cooking surface area.
Specifically, the main grilling area for this grill is 802 square inches and the elevated rack has 228 square inches for a grand total of 1,030 square inches of cooking surface area.
An extra main burner can be found under the main grate for a total of 5 burners plus the rear infrared burner.  Power wise each burner produces 15,000 BTUs for a total of 75,000 BTUs of heating power on the main grate.
The extra space is probably not a necessity for most kitchens, but it's hard to overstate how nice it is to have the extra space.  This grill can fit over 30 burgers on it at once, so it's great for feeding decent sized crowds.
Even if you don't foresee yourself cooking for that many people, the extra grate area gives you a ton of flexibility in your cook – specifically you can quite easily create multiple heat zones with a grill this big.
Otherwise, this grill comes with all of the same design features as its 32 inch counterpart, including the quality stainless steel build and included accessory bundle.
Lion 75000 32 Inch Freestanding Grill
The Lion 32 Inch Freestanding Gas grill is an extremely popular option when it comes to freestanding high end grills.  It's truly a commercial quality grill that can be enjoyed right in your back yard.
It shares a lot of similarities with the built-in grills regarding cooking surface area, build, and burner power.  This grill also comes with the coveted rear infrared burner, rotisserie kit, smoker box, grill cover, and griddle insert.
Unlike the built-in models, Lion's freestanding grills come with a storage cabinet behind premium doors underneath the grill head.
The entire unit sits on high quality wheel casters which can be locked into place – so you don't have to worry about your grill rolling around while it's in use.
Finally, the freestanding units come with two stainless steel side shelves, which can come in quite handy to help organize your cook.
Lion 90000 40 Inch Freestanding Grill
Simply put, the Lion 90000 40 Inch freestanding grill is an absolute unit.  Like the other grills on this list, it delivers professional quality grilling results and has plenty of cooking surface area to get the job done on just about any cook you have ambitions for.
The main grate is heated by 5 stainless steel burners which deliver 75,000 BTUs of heating power.
Similar to its built-in counterpart, this grill has a total of 1,030 square inches of cooking surface area across the main cooking grate and an elevated rack.  It also has a rear infrared burner, built-in lighting, and comes with the accessory bundle.
The cabinet is split with an access door to cabin space on one side and two drawers on the other side.  The drawer/cabinet space combination comes in really handy and makes for an excellent system of organizing your grilling tools.
Other Lion Outdoor Kitchen Products
Lion Stainless Steel Bar Center
It's hard to overstate just how much easier prep and cooking become when you have the right equipment.  The Lion Built-in Bar Center adds a ton of value to any outdoor kitchen design by adding a functional space to clean and contain the inevitable mess which comes while cooking.
This bar center set up comes with a sink which has a 1/2 inch drain – which is plenty big for many tasks but you probably shouldn't be stuffing huge solids down it.
There are a couple of catch areas on the front panel which can hold anything from tools to trash to freshly popped bottle tops opened on the built-in bottle opener.
Next to the sink is a cooler which can be filled with ice for drinks or also used to store food in the sort term.  Food storage containers sit next to the cooler which can be utilized for serving toppings, sides, or as a salad bar.
Storage and Refrigeration
If you're opting for a custom outdoor kitchen centering around a built-in grill, it's probably a good idea to look at some built-in cabinetry and refrigeration to help with organization.
Lion offers various types of drawers, storage cabinets, and refrigerators which can all be included in just about any outdoor custom set up.
Similar to their grills, all of their storage and refrigeration products are built with the highest quality 304 stainless steel and are backed by a lifetime warranty.
Final Thoughts
With Lion Premium Grills, what you see is what you get – and we say that as a good thing.
You don't necessarily see any crazy innovation with their products in terms of novel features, but they've essentially taken technology that is already out there and perfected it.
High quality materials, intuitive design, and a bunch of user friendly features add up to a truly incredible grill.
When it comes to bang for your buck in the luxury grill tier, you'll be hard pressed to find a better value out there than Lion Grills – especially if you are considering a full on outdoor kitchen build out where your costs can really add up fast.
What are your thoughts on Lion?  Did you end up getting one of their grills?  We'd love to hear your thoughts in the comments section below.