If you're searching for a new grill, you have probably heard the names Napoleon and Weber grills. Both brands truly stand out from the crowd and are known for having some amazing features that rival professional grills.
Each appliance is unique with different features. The best way to decide which grill is right for you is by deciding what features you need and which ones you can go without. Since these grills tend to be high dollars, you want to make sure you invest in the right one for your needs.
This guide will go over everything you need to know about the difference and similarities between Napoleon vs Weber grills. Choosing the right grill doesn't have to be difficult with the right information.
No matter what grill you choose, you are sure to get a durable, high-end grill that will make your outdoor living area more luxurious.  Read on to see our overview of Napoleon vs Weber brands followed by reviews of their flagship grills!
A Quick Look at Our Favorite Grills From Both Brands:
Napoleon Grills – Everything You Need to Know
The number one thing that comes to mind when someone thinks about Napoleon Grills is performance. Napoleon builds grills that stand the test of time and can be used with safety and ease of mind – all while delivering a bona fide high end grill experience.
Lighting System
One way they make their grills so reliable is the Instant JETFIRE ignition. It lights the first time, every time. The system also shoots a jet flame to light each burner individually. It doesn't even require any batteries and very little effort. So, if you want a grill that you never need to be worried about lighting, the Napoleon grills are amazing.
The grills also all have a cross-lighting action. If the burner happens to fail to light, it will automatically relight. The is possible because of a specially built cross-light bracket between the burners where the flame can pass to the unlit burner.
Grill Lights
All the Napoleon grills have interior lighting in the barbecues and grill cabinets. The lights are LED and long-lasting. Feel free to use the grill late at night or in the early morning. With the lights, you will be able to see the grill and your food no matter what time of day it is.
The grills also have LED Spectrum Night Light control knows with endless color options so you can customize your grill. The knobs also have a safety glow. The knobs will always change to red when the grill is on so you know that the grill is hot. The grills will also glow blue when they're on, but not lit so that you never forget to turn the grill off.
The Prestige PRO grills have even more lights. The lights are motion-activated and will turn on when you walk by. The grill will begin to glow the Napoleon logo when it senses your presence.
For grills that don't have light from the Napoleon brand, there are endless accessories you can buy and add to the grill to give yourself some light while cooking. The lighting accessories can be added to barbecue lid handles and even some barbecue cooking tools.
Burner Tubes
The burner tubes are specifically customized and designed with the type of fuel the grill uses in mind. The grills are usually natural gas or propane. The dual gas ports on the tops and sides of the burner make even heating spaces between the front to back and side to side. This also produces fewer flare-ups and makes your grills much safer to use.
The burner tubes are also made with 16-gauge and premium 304 stainless steel. This material is extremely durable and ensures that your burner tubes do not rust or decay as time goes by. Stainless steel will keep your grill safe and going even if you use it every day for years and years.
Charcoal Tray
All Napoleon grills have charcoal trays. The gas burners will automatically light the charcoal. Simply remove the grids and sear plates over the burners, add the tray, and fill with charcoal. Using the charcoal tray can add creativity to your recipes and meals even though you are still using a gas grill.
The charcoal can also add extra flavor to the food you're cooking and give all your meat and vegetables a smoky flavor.
High Efficiency
All the Napoleon grills have BTUs which stands for British Thermal Unit. They measure the energy that takes one pound of water to raise one degree Fahrenheit. It also measures the amount of heat needed to generate when the burners are running at maximum output. It's calculated by fuel consumer per square foot.
The units in the Napoleon grills are built to seal tightly while providing the perfect amount of airflow for complete combustion. The balanced airflow also ensures even heating and cooking. This will give you more control over your temperature and allow you to cook more efficiently.
The stainless steel mentioned above also makes the grills much more efficient. The stainless steel helps the grills to heat up quickly and retain heat better. The lids are also built with two layers of insulation which helps with circulation and heat retention.
Iconic Wave Grids
The iconic wave grid shape in the grills is not only sleek and modern but serves an amazing purpose. It will also give you meat amazing sear marks that make the meat look like they were cooked in a fancy restaurant. It also encourages even heating and provides more surface area.
The shape also keeps small pieces of food from falling through the cracks into the grill. Lastly, the shape makes your grill last longer by allowing for better heat expansion and contraction.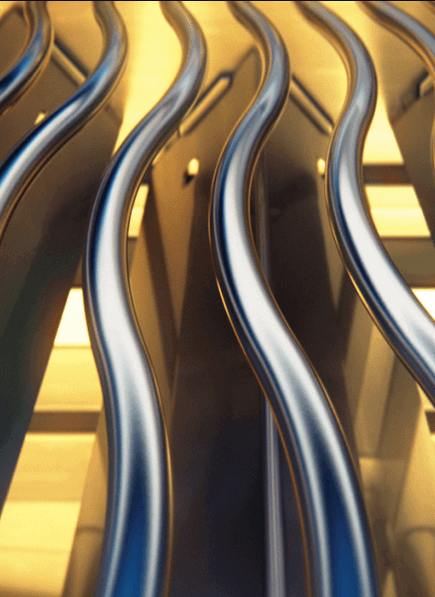 Infrared Sizzle Zones
The infrared grill burners are ceramic bricks found in the grill. They are more efficient and get much hotter than conventional burners. This makes it perfect for high heat searing and crusting meat. With the tiny portholes, the grill can also force gas through the ports and make the grill heat up even faster. The high heat can instantly caramelize and brown meats.
Roll Top Lids
The roll-top lids make the grill much easier to use and also make it more durable. The grill also won't take up any more space when it is open than when it is closed. The lid is also extremely to lift and makes using the grill easy.
Improved Cooking Capabilities
Each of Napoleon's grills also has several components that make cooking and using the grill much easier than with other grills. Some of the most important features include:
Integrated smoker
Infrared rotisserie burner
Infrared sear station burner
Warming burner
Two-stage power side burner
Weber Grills – Everything You Need to Know
Weber grills have some of the same fancy features that Napoleon grills have. Weber was founded on the belief that we should all be able to enjoy delicious meals outside with the people that we love the most. All the grills are made with drive, passion, and curiosity.
Weber grills are bound to make your grilling experiences easier and better than ever before. The first Weber grill was made in 1952 by George Stephen. He loved grilling steaks and barbecue for his family and friends. After making his innovative grill design, Weber quickly became one of the world's top leading barbecue brands.
The grill company has kept its midwestern roots by manufacturing its grills in Illinois, near Chicago. All the grill parts are proudly made in the USA. They individually inspect every grill and make sure that they all have the perfect amount of durability, workmanship, and quality. Their jobs and manufacturing process also support the local community and economy.
Their grills can be shipped all over the world and people love using them even in international cities such as Paris, Berlin, Mexico City, Toronto, Sydney, and Tokyo. All their grill recipes are globally inspired.
Warming Racks with Every Grill
All the grills have warming racks for your grills. This is the best place to keep food warm as you are whipping up culinary masterpieces. It's an amazing feature to have, especially when you are cooking for large crowds or at large family gatherings.
The warming rack can also be placed perfectly above the grill in the perfect place to toast buns for your burgers. This is very convenient because it means you don't have to take the buns inside to toast in the toaster or the oven. It also keeps them from getting too charred if you cook directly on the grill.
Stainless Steel Design
All the Weber grills featured in this article are made with stainless steel. This material gives ultimate durability and reliability when it comes to your grill's life. Stainless steel grills usually last much longer than grills that are made with other materials.
Some of the grates are also porcelain enameled and will help the grill to last longer as well. With the porcelain design, you get even heat distribution every time you use the grill. This makes it very simple to cook meat because you will be able to get evenly cooked dishes every time.
Large Cooking Areas
The grill comes with maximum grilling space that allows you to have enough room for cooking enough burgers for the entire neighborhood. With the infrared rare grills and side burners, you have even more space to make food for everyone at your event.
The prestige series has the most space, so go with one of the grills in that line if you plan to regularly cook for large crowds or if you want the maximum amount of space to cook on.
Flavorizer Bars
Weber grills come kitted with Flavorizer Bars, which are essentially upside down stainless steel v shaped strips that rest over the grill's burners.  These bars serve two main purposes.  First and foremost, they protect drippings and grease from falling into the burner flame, thus reducing the instances of flare ups on your grill.
Second, when drippings hit the bars, the drippings vaporize and rise back up into the food, flavoring it with smoke.  This is one of the main reasons Weber grills create more flavorful food than your run-of-the mill gas grill.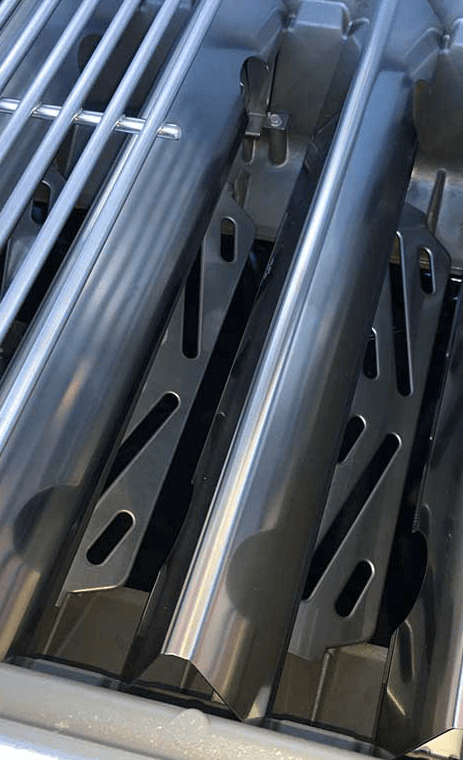 Napoleon vs Weber – Grill Reviews
Napoleon Prestige 500
The Napoleon Prestige 500 can cook up to 30 burgers at one time in the 17.75″ x 28″ main cooking grate. It also has a total power of 48000 BTUs. Every part of the grill including the lid is made of stainless steel. This gives the grill maximum durability and longevity.
The grill also has a generous size warming rack where you can toast buns or keep the food you have just finished grilling nice and warm. The stainless-steel lid will also help to protect the tube burners, the cooking grids, and the sear plates.
The lid comes with the Lift Ease mechanism, which allows you to easily roll it up when you are ready to use the grill. The roll-top feature doesn't take up any extra space when the grill is down. The lid also provides more superior heat retention when you are searing, roasting, baking, or smoking.
The grill comes fully equipped with the Safety Glow feature that glows red when the grill is on. This will ensure that you and everyone around you know that the grill is on and hot. This helps you to avoid injury and will help you to remember to turn the grill off when you are done using it.
The grill is compact, but it still features folding side shelves and interior cabinet storage. This grill is an amazing way to complete the outdoor living space. The base can also be used for extra storage space.
The above photographed grill is a freestanding cart model, but this grill (and all Napoleon grills on this article) are offered in a built-in grill configuration too.
Napoleon Prestige 665
This grill has a stunning stainless construction that is bound to be the focal point of your outdoor living area. The Napoleon Prestige 665 is a cart model that has full-sized shelves and areas for cooking. With five main burners, an infrared rear burner, and a side burner, the grill can cook a wide variety of meals with different styles.
Like the other Napoleon grills, it has the iconic infrared sear marks and wavy grid lines. The lid is also stainless steel for maximum durability. It also has tube burners, dual-level sear plates, and numerous cooking grids.
The stainless-steel sear plates provide extra surface area for any dripping or food to vaporize. This helps you to avoid flare-ups and will keep you safe while you are grilling. It also has a safety glow feature that will glow when the grill is on, so you'll never forget to turn the grill off again. It will always control red when it is hot and on, so you know when to be extra cautious around the grill.
The cooking area is 18 x 36.87 inches and has a total power of 92,000 BTUs. This will give you enough space to fit about 41 burgers in total. Ultimately, this grill will allow you to grill meats and vegetables like a pro. You will get restaurant-quality food every time you cook on this amazing and reliable grill.
Napoleon Prestige Pro 825
The Napoleon Prestige Pro 825 is a professional grade grill and an absolute unit.  It's a propane gas grill has a powerful side burner and an infrared burner. The bottom burners also add extra power to the cooking space. The body is stainless steel and provides ultimate durability and reliability. The control knobs all have LED lighting which makes cooking at night very easy.
The iconic wave cooking grids allow you to cook with amazing sear marks that give your meat restaurant-quality looks. The main grill is huge and gives you enough space to cook for a large crowd of family or friends. You can also turn your grill into a smoker with the integrated smoker tube and dedicated burner.
The second part of the grill features two ceramic infrared burners that can reach the highest heat settings in just a few seconds. The two-stage power side burner with a reversible cooking grid is also perfect for side dishes, sauces, and sautes. The entire cooking area is 18 x 28.25 in and 18 x 18.25 in. This can hold up to 51 burgers with a total cooking power of 123,000 BTUs. There is also an amazing integrated ice bucket and cutting board. This allows you to easily cook the meat and meal you are wanting.
The built-in temperature gauge is perfect for temperature control and ensuring your meat is being cooked at optimal temperatures. The cast iron charcoal tray can also be added to this grill to give you even more options and creativity when it comes to cooking.
Check out our deep dive into the Prestige Pro 825 right here for more on this grill.
Weber Genesis II E-435
If you're looking for a modern and sleek grill design, the Weber II E-435 is a great option for you. Perfectly grilled good is the ultimate mission statement of the Weber Genesis II E-435. The main burners have 48,000 BTU per hour input. There are 4 stainless steel burners total with a 198 square inch tuck-away warming rack.
The sear station burner has 9,000 BTU per hour input and the side burner has 12,000 BTU per hour. The primary cooking area is 646 square inches with a total cooking space of 844 square inches once you add in the extra burners.
With the total cooking space, you can git about 28 burgers, making this a great grill option if you are planning to grill for an event or large parties. The sear station creates an intense heat zone. It will quickly add sear marks to your meat. The high heat from the extra burner will also decrease preheat time.
The side burner is a great addition because it allows you to cook side dishes or simmer sauces conveniently right next to the grill. The grill is also compatible with the iGrill 3 app-connected thermometers. The thermometer is sold separately and will monitor your food's temperature from the beginning to the end.
The lid is porcelain-enameled which helps to retain heat. The material also helps protect your grill from weather and other elements. The cooking grates are also porcelain enameled. This provides even heat distribution across the entire grilling surface.
A warming rack is a great place to keep food warm or to toast buns while you are searing your meat. It also is easily folded away when you aren't using it for easy storage.
Weber Genesis II E-310
The main burners on the Weber Genesis E-310 have 39,000 BTU per hour input. The primary cooking area is 513 square inches, and the total cooking area of the grill is 669 square inches total when you use the rear burner space. The tuck-away warming area is 156 square inches.
This large cooking space will fit about 20 burgers. The grill has porcelain-enameled cast-iron cooking grates. This is amazing for superior heat retention and even heat distribution.
The easy-to-read fuel gauge is located next to the gas tank and lets you easily see how much fuel is left in the tank. It's compatible with the iGrill 3 apps and will monitor the temperature of your food from beginning to end. The porcelain-enameled lid will help to protect your grill and add in heat retention.
The warming rack can be easily folded away when you aren't using it and then easily pulled out when you want to keep any of your delicious food warm.
The grill also comes fully equipped with side tables and integrated tool hooks. This makes it very easy to keep your grill tools organized. It also keeps you from having to buy counter space or a side table for your grilling accessories.
Weber Summit S-670
Weber's Summit series is without a doubt their premium level product offering.  While all of their grills are high quality, the Summit series crests into the luxury category.  You can check out our article about the similarities and differences between Weber Summit and Genesis grills for more on this topic.
The main burners on the Weber Summit S-670 provide 60,000 BTU per hour input. The sear station is 10,600 BTU per hour input. The stainless-steel smoker box and the smoker burner are 6800 BTU per hour. The side burner is 12000 BTU per hour and the rear-mounted infrared rotisserie burner is 10,600 BTU per hour input.
This grill has a sear station that is specifically designed to create an intense heat zone to quickly add sear marks to your meat. The high heat can also decrease the preheat time. The tuck-away rotisserie system is heavy-duty and rear-mounted. The infrared rotisserie burner evenly distributes heat directed toward the spit.
It also comes with a flip-up motor and a separate spit and fork storage area in the enclosed cart. The smoker box and the burner add smoky flavor with the integrated smoker burner. The side burner is an easy place to simmer sauce and make vegetables to go along with the main course.
The handle light has a light with a built-in sensor that automatically turns on and off when you lift the lid. The lighted control knobs have a light-up push-button for optimal control while night-time grilling.
With 769 square inches of space and 60,000 BTU per hour with the burners combined, you get maximum cooking power. You also can fit 24 burgers.
Napoleon vs Weber Guide
Now that you've seen some specs on the grills that brands have as well as some features and history of the grills, let's look at exactly how they compare to each other. Many of the features such as stainless-steel design, roll top lids, and the designs are the same. However, there are a few key differences to note when comparing Napoleon vs Weber grills.
Technology Differences
While the Napoleon grills use the JETFIRE Ignition System, the Weber has their own starting system called GS4 Grilling System. Both systems make grilling and lighting the burners very convenient and easy.
Both lighting systems are pretty easy to use, but most people will argue that the Napoleon grills will light easier and give you no flare-ups. If you are wanting the grill with the easiest ignition mechanisms, the Napoleon grills might be a better choice.
Both grills also have thermometers to help you monitor the temperature of your meat and help you to better cook all your meat cuts to perfection. The Weber grills though must have the thermometer bought separately, while the Napoleon ones are built into the lid.
The Weber grills have smart features that can be fully controlled within the iGrill 3 app. This is pretty amazing and very innovative, especially if you want to be able to control your grill remotely and see temperature readings from your phone. If you slow cook meat or want the smart features, the Weber grills will be a solid choice.
Storage and Cleaning
Napoleon and Weber's grills are both amazing cleaning systems, although they work a little differently from one another. The Napoleon grills have a full-length drip pan to collect all the fat and juices. The grease tray is disposable and can be thrown away after each use to minimize the cleaning process. Then, you just have to wipe down splashes and stains.
The Weber grills have a catch pan as well to get rid of all the excess grease. They also have Flavorizer bars though that will eliminate more grease while you are cooking as well as adding in smoky flavors to the meat. The Weber units are slightly more compact and will have less space to wipe down and clean after each use.
Buying a grill cover will also minimize cleaning because you won't need to wipe down the grills before using them.
Final Thoughts On Napoleon vs Weber
While the Napoleon and Weber grills have different structures and some different technology parts, the designs and innovative features are similar to one another.
They also have simple storage and cleaning options that make using them even easier. With the large grilling spaces and the side burners on some models, cooking for large groups is easier than ever before. No matter what grill you choose from either of these brands, you are making a solid choice.