This content contains affiliate links.  If you make a purchase after clicking a link on this page, we might receive a commission at no cost to you.
If you've spent some time looking at pellet grills, odds are you have probably come across the Pit Boss Austin XL pellet grill name.
Pit Boss has earned a reputation for itself by building solid pellet grills that offer a great value for the money.
Although they have a huge line of choices, the Austin XL is one of the most popular options because of its large cooking surface area and the many different features it has.
Main Features of the Pit Boss Austin XL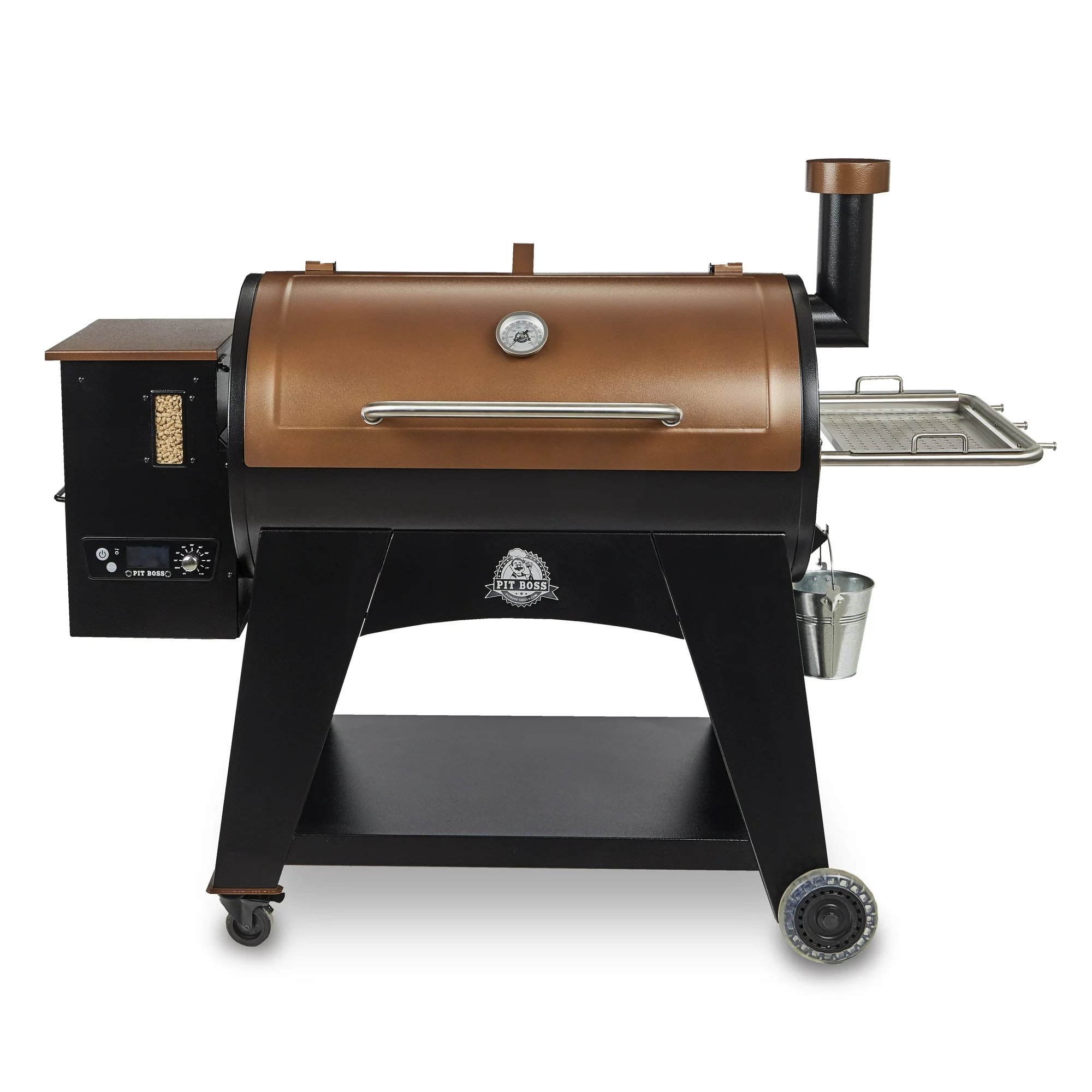 Although there is a lot to talk about when it comes to this grill, let's take a quick look at some of the main features that you will get when adding the Pit Boss Austin XL to your outdoor living area or patio.
Most noteworthy features:
Reliable heat regulation
Wide temperature range that can be used for suit smoking and grilling
Pellet purge system allows you to easily purge unused pellets
Auto start and stop
Full-function LED control panel
Best parts about the construction:
Super-sized pellet hopper
Large cooking capacity
Porcelain-coated steel cooking grates
Heavy-duty powder-coated steel body
Add ons we love:
Meat probe
5-year warranty
Stainless steel side shelf
Removable serving tray
Slide-out sear plate for open-flame grilling
Now that you know of the best basic features that come with the Pit Boss Austin XL Review, let's review some of the more in-depth.
Smoking Performance
Of course, when buying a new grill, you want to make sure the smoking performance is good quality so you don't have to worry about wasting money on meat and ingredients only to find that the grill can't perform the way you want it to.
Since there is such a high-temperature range with the Pit Boss Austin XL, you can be sure that the smoking performance is top-notch. It can slow and low cook if that's what you're looking for you can sear over an open flame. It can also bake and roast meat if you prefer. Some people have even used to make a pellet grill pizza.
The 1,000 square inches of cooking space is perfect for families and can fit over 52 burgers. It's also a fantastic grill size for those you want to be able to entertain or cook for large gatherings.
With two removable racks to hook on, you can keep the heat throughout the grill extremely uniform so that you don't have to worry about some meat cooking more than others.
As with all pellet smokers, the conditions and weather will depend on how fast and how high you can cook meat on the grill. The Austin XL though can hold 31 pounds and keep a temperature of 225 degrees Fahrenheit for 12-14 hours.
The V3 digital control board and the meat probe are both pretty good at gauging the temperature in the grill correctly. It will even maintain your set temperature in cooler weather conditions.
Construction of the Grill
The construction of any grill you buy is extremely important because you want to ensure it's stable enough to hold all the meat and materials you need. Even though this smoker is more affordable and lower cost than other grills, it's still pretty stable and compares to other grills that are at a much higher price point.
The powder-coated steel design looks modern and sharp. It is also very sturdy. The grill fits together well which gives it an edge over grills because it won't leak smoke or lower the temperature of the inside of the grill.
The porcelain-coated racks also make it very easy to clean and much more durable than other grills. The removable trays also make the grill even easier to clean.
Grilling
The most important thing you might be looking for is the grilling performance because you will be dependent the majority of the time on grilling with the Pit Boss Austin XL. This grill is high heat and you can also grill over an open flame as well.
The broiler plate can also give you direct access to the wood fire, which gives you better sear marks and a better flavor. This is not available with every pellet smoker, so it might be something you want to consider if you like sear marks and being able to grill over the open flame.
Cleaning the Austin XL
It might not be the first thing on your mind but cleaning the grill should be something you consider before buying a new grill. You will spend more time cleaning than you do grilling if you don't get a grill with easy cleaning features.
The Pit Boss Austin XL has a clean-out door which makes it easy to remove the hopper and pellets. You can also store the pellets properly, so you don't have to worry about the buildup of moisture.
However, the pellet grill does require you to use a shop vac to clean out the firepot, which is not ideal for everyone. If you don't use a shop vac, you won't be able to get a good flame next time you use the grill, so you need to make sure you use the shop vac every single time you use the pellet smoker.
You have to remove the center grate to use the shop vac, which can be hard to maneuver and pull out. You also have to wait until the ashes are cold before you clean the pellet smoker. Make sure you always remember to clean it out after enjoying your meal.
It sounds more complicated than cleaning other grills, but the overall process doesn't take too long as long as you don't mind waiting for the ashes to cool and cleaning it out later.
Pros and Cons of the Pit Boss Austin XL
For a quick list of the pros and cons of the grill, check out this guide:
Pros:
High quality and good construction
Large cooking space perfect for large families
Includes meat probe and temperature readings on the LCD panel
Slide-out sear plate lets you grill over the open flame
A large temperature range lets you smoke, bake, and roast
Cons:
Manually cleaning out ash can be a pain for some
No WIFI or smart features
FAQ
Does the Pit Boss Austin XL have WIFI?
The grill does not have WIFI or any smart features. Although the automatic smart feature allows you to set the grill easily to your desired temperature, you cannot change the temperature from an app or remote. This might not be the best grill choice if you want WIFI.
How do you empty the pellet hopper?
Unlike the fire pot and ashes, the pellet hopper does not need a shop vacuum. The clean-out door is easy to open and take out all the unused pellets.
Can the Pit Boss Austin XL be used for grilling and smoking?
Yes, the grill can be used for grilling and smoking. The grill gets up to 500 degrees Fahrenheit, you have plenty of temperature for grilling.
Final Verdict
Overall, the Pit Boss Austin XL is a great price and has great value for money. The large size and high-temperature range make it very versatile and easy to use. The 5-year warranty is also great and can give you peace of mind.
If you want to learn a little more about Pit Boss and how their grills stack up to the competition, check out our Pit Boss 820 Pellet Grill review or our comparison of Pit Boss vs Traeger grills next!