This content contains affiliate links.  If you make a purchase after clicking a link on this page, we might receive a commission at no cost to you.
I'm a firm believer that it doesn't get much better than homemade Neapolitan style pizza on the back patio with friends and family.  Nothing beats making your own delicious pizza and throwing it in the oven to be cooked to perfection.
Thankfully, this blissful scenario has become a fairly easy reality to achieve with the abundance of outdoor pizza oven options that are available nowadays.
Two such options are Roccbox and Ooni.  If you've spent time comparing the top pizza oven brands, odds are you've come across one or both of these names.
Both of these brands have a great reputation, and for very good reason.  They produce quality pizza ovens that are highly functional, and reasonably priced for what you get.
But it might not be clear which out of the two is the best choice for you and your needs.  That's why we've created this resource dedicated to comparing Roccbox vs Ooni pizza ovens.  By the end, you should have a better idea about which brand is the right choice for your patio set up.
A Quick Look At Our Favorite Ovens From Both Brands:
Gozney (Roccbox) Brand Overview
The Roccbox pizza oven is manufactured by Gozney, a brand that specializes in manufacturing commercial grade pizza ovens for use in restaurants and high end outdoor kitchens.
The founder, Tom Gozney, created his first pizza oven on his own without any special help – just a passion for food and connecting with others over delicious pizza.  His first successful brand was launched in 2010 and focused on providing pizzerias with quality, commercial grade pizza ovens.
In 2016, the Roccbox was launched as Gozney's first residential pizza oven.  The Roccbox was developed to address a gap in the market – there was clear demand for at-home pizza ovens but very few, if any, manufacturers offering quality residential ovens.
The Roccbox saw instantaneous success after launch and to this date is one of the most popular residential pizza ovens on the market, which has led to Gozney developing additional styles of ovens for residential use.
Ooni Brand Overview
Ooni was founded by a husband and wife team out of the UK (Kristian Tapaninaho and Darina Garland) in 2012.  Frustrated by his inability to recreate an excellent restaurant quality pizza at home, Kristian set out on a quest to find a wood fired pizza oven that would make great pizza at home.
Kristian was disappointed to find that most pizza ovens at the time were either way too big or way too expensive, or both.  However, his entrepreneurial spirit led him to design, prototype, and test multiple styles of outdoor pizza oven until he had created a winner.
Ultimately, Kristian, Darina, and Ooni created the first portable wood fired pizza oven in the world – and the best part?  It made perfect pizzas without breaking the bank.
After the success of their first pizza oven, Ooni has since continued to grow, develop, and expand their product line in the residential pizza oven space.  Nowadays, they offer multiple quality residential pizza ovens with different options for your ideal size and fuel type.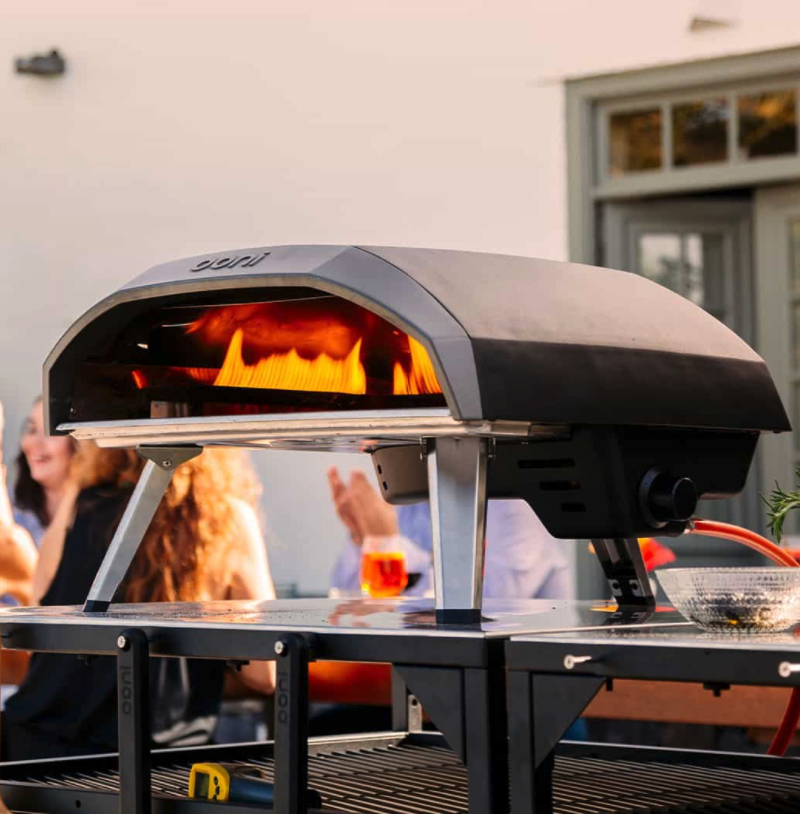 Roccbox vs Ooni – Pizza Oven Comparisons
When it comes to comparing the Roccbox vs Ooni brands, there are quite a few things to consider.  At the end of the day, the goal is the same – make great pizza!
But there are some important differences between the two brands, how they cook pizza, and what they cost.  Here's a breakdown of what we think are the most important things to consider when comparing the two:
Heat Range and Performance
One of the main reasons pizzeria pies are so good is because commercial operations cook their pizzas at scorching hot temperatures – often upwards of 700ºF.  So when we look at the performance capability of an oven, temperature range is the key attribute to consider.
There are a few reasons why cooking pizza at hotter temperatures is better – but there are three main reasons that are particularly important.
First, the higher the temperature, the crispier your crust will be on the outside while ensuring the inside of the dough is cooked through.  Second, the high heat makes certain that your cheese melts thoroughly and evenly.
The last reason is simply that you can cook more pizzas in less time on high heat – which might sound obvious, but it's an important point.  With temperatures over 700ºF, you can cook pizzas in a minute to a minute and a half!  It's a great way to keep the show on the road and make sure nobody has to wait too long for their pizza to finish.
When it comes to temperature range and performance, Roccbox and Ooni are neck and neck.  Both the Roccbox and all Ooni models are designed to reach and sustain temperatures up to a whopping 950ºF.
Size Options
It's important to consider the size of pizza you envision yourself making in your oven.  Are you exclusively making personal sized pizzas or do you plan to make larger pies to share at bigger gatherings?
Generally speaking, most portable pizza ovens on the market have an opening wide enough to make up to a 12″ pizza or a 16″ pizza.
In the case of Roccbox, they ONLY offer models that have an opening wide enough to make 12″ diameter pizzas.  Ooni on the other hand offer a selection of both traditional sizes – so you can scoop an Ooni that is wide enough for either 12″ or 16″ pizzas.
So in our mind, it's pretty clear that Ooni has the edge when it comes to size options.  If you see yourself making larger pizzas, you're going to be better off with one of their 16″ models.  And of course, you can easily cook smaller sized pizzas on the larger Ooni ovens as well!
Price
Thankfully, we can make an apples to apples comparison of the Ooni Koda 12 vs Roccbox with respect to each brand's gas fueled pizza ovens.  On the multi-fuel side, we can compare the Ooni Karu 12 vs Roccbox's dual fuel model.
Obviously, there isn't really a great price comparison to be made for Ooni's line of 16 inch ovens simply because Roccbox doesn't offer a similar sized option.
Comparing 12″ gas fueled ovens, the Ooni Koda 12 currently runs at $399 and the Roccbox Gas Only is priced at $499.  It's worth pointing out, however, that the Roccbox comes with a pizza peel included, whereas you'll have to buy one extra with Ooni (most of their pizza peels run around $40).  So for comparison's sake, the Ooni Koda 12 is priced at $439 – still well below the Roccbox.
For the dual fuel options, the Ooni Karu 12 is currently $399 and the Roccbox Dual Fuel is $599.  Similarly here, you need to buy extra accessories to make the Ooni bundle comparable.  Out of the box, the Karu works with wood or charcoal fuel, but you need an extra gas burner ($89) to make it truly dual fuel.
So with the gas burner and pizza peel, the Koda 12 is effectively $529 for proper comparison to the Roccbox.
If you're purely comparing Ooni vs Roccbox prices, Ooni pretty clearly takes the cake when you compare 12″ portable outdoor pizza ovens.
Fuel Options
We've already touched on gas and wood/charcoal fueled ovens, but there is one more type of fuel that can be used to fire up a perfect pizza – wood pellets.
And if you happen to also own a pellet grill, odds are you have a stash of wood pellets at home already.  Even if you don't, pellets are cheap, widely available, and easy to get ahold of.
Roccbox does not currently offer a wood pellet fueled oven – but Ooni does, and it's an excellent product (see below)!  So if wood pellets are your top fuel choice, Ooni is the best option.
Warranty
Any time the price point of a product gets higher than a couple hundred bucks, I start to pay attention to warranties.  Even if it's unlikely that it will happen, you want to be covered in case something breaks down.
In the case of these two pizza oven brands, Gozney offers a 5 year warranty on the Roccbox, and Ooni offers warranty coverage for 3 years.  Both are reasonable coverage periods, but obviously the 2 extra years of coverage on the Roccbox is better.
Roccbox vs Ooni – Pizza Oven Reviews
Ooni Koda Gas Pizza Oven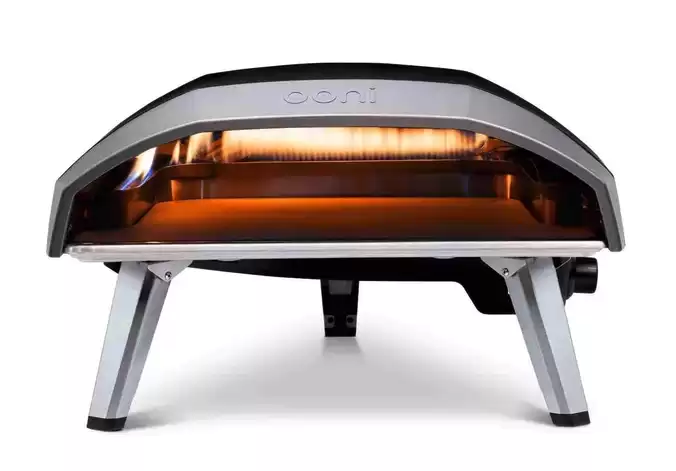 Ooni's flagship portable cooker is the Ooni Koda gas powered pizza oven.  It's offered in two sizes, one that is wide enough for 12″ diameter pies and another that's wide enough for 16″ diameter pies.
The name of the game is ease and simplicity with the gas models.  Simply connect the oven to a propane tank and fire it up!  You can literally be on your way to great pizza within minutes after opening the box.  It takes roughly 20 minutes for the oven to heat to proper temperature after you've started your fire.
It's also easy to control your temperature, so you can customize the level of heat you cook at.  Simply turn the built-in heat control dial up or down to set your ideal temperature.
A unique design feature of this oven is that the flame is L shaped – note the photo above how the flame rolls in on the left and back side of the oven.  Practically this means that you only have to turn your pizza ONE time 180º to cook it evenly.  Unlike some other ovens on the market where the heat source only comes from one side.
The baking board is made of strong and durable cordierite stone that is an ideal surface to cook pizzas on – you'll end up with crispy crusts in no time at all.
Roccbox Gas Only Pizza Oven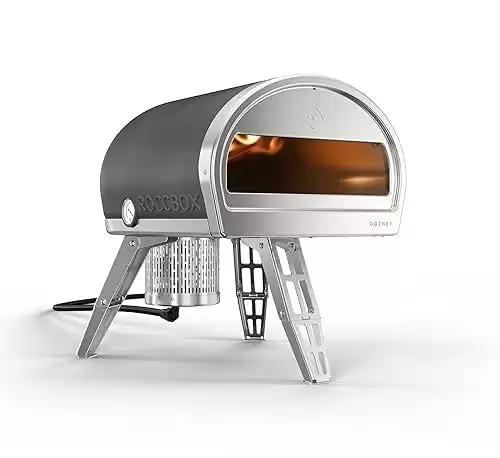 The Roccbox Gas Only pizza oven checks all of the boxes you like to see in a quality outdoor cooker.  It's relatively lightweight, durable, and most importantly makes excellent pizzas.
It comes with a built-in thermometer, retractable legs, and a quality pizza peel – all of which make the experience of transporting, setting up, and making pizzas as simple as possible.
Similar to the Ooni Koda, all you need to do after removing the Roccbox from it's packaging is connect it to a propane tank and turn on the heat!  From there you can crank the temperature as high as 950ºF and get to cooking your artisan pizzas.
The Roccbox has a unique flame flow, which is influenced by the cooker's ceiling height, dome shape, and baffle plate.  Essentially, the flame "rolls" from back to front and ultimately creates incredibly even heat distribution that is ideal for cooking pizzas.
A very thoughtful feature of the Roccbox is its silicone outer body skin, which greatly reduces the danger of burns if you or somebody in your family accidentally touches the oven while it's in use.
The baking board here is also made of cordierite stone, which is ideal for pizza making.
Ooni Karu Multi-Fuel Pizza Oven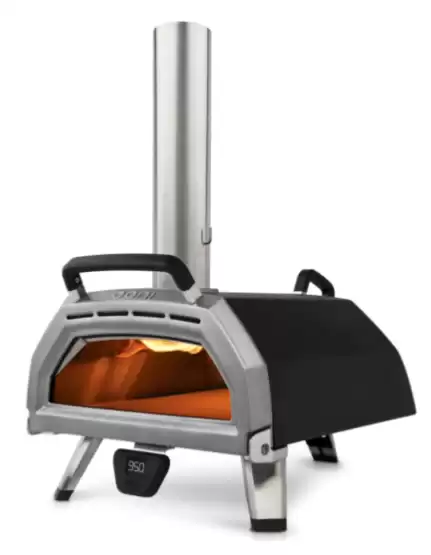 The Karu 16 is Ooni's newest and most impressive oven (note it's also sold in a 12″ configuration that hasn't been updated as recently as the 16″ model).  This impressive oven can reach 950ºF in only 15 minutes.
Out of the box, you can fuel the fire with either wood or charcoal (just like the Ooni Pro), but you can buy a compatible gas burner to give you the additional option to bake your pizzas with a gas powered flame.
The hinged oven door design helps to cook more consistent pizzas without compromising on functionality.  The glass door opens easily and is highly visible through the viewing window.
This oven comes with an increased focus on insulation and weather resistance, which make pizza creation easy even if you're outdoors in the cold and/or wind.
You can precisely manage your temperature thanks to a mounted digital thermometer which brightly displays the oven's ambient temperature.
It's hard to overstate how much cooking surface area you're afforded with this oven –  making a 16″ pizza is a breeze.  In fact, some customers use the space to cook large roasts, steaks, and much more – so there are quite a few other functions for this cooker in addition to just pizza.
Roccbox Dual Fuel Pizza Oven
For all intents and purposes, the Roccbox Dual Fuel oven is the same as their gas powered oven, with the addition of a detachable wood burner that allows you to heat your cooker with a wood fire.
The burner system is incredibly easy to use – so you can switch back and forth between wood or gas fire without hassle.
All of the other features you like to see are there.  There's a built-in thermometer, a pizza peel, fold away legs, silicone safe touch outer shell, and a cordierite stone cooking surface.
Similarly, Roccbox's rolling flame technology is present here which creates an ideal flow of heat to cook your pizzas.
Ooni Fyra Wood Pellet Pizza Oven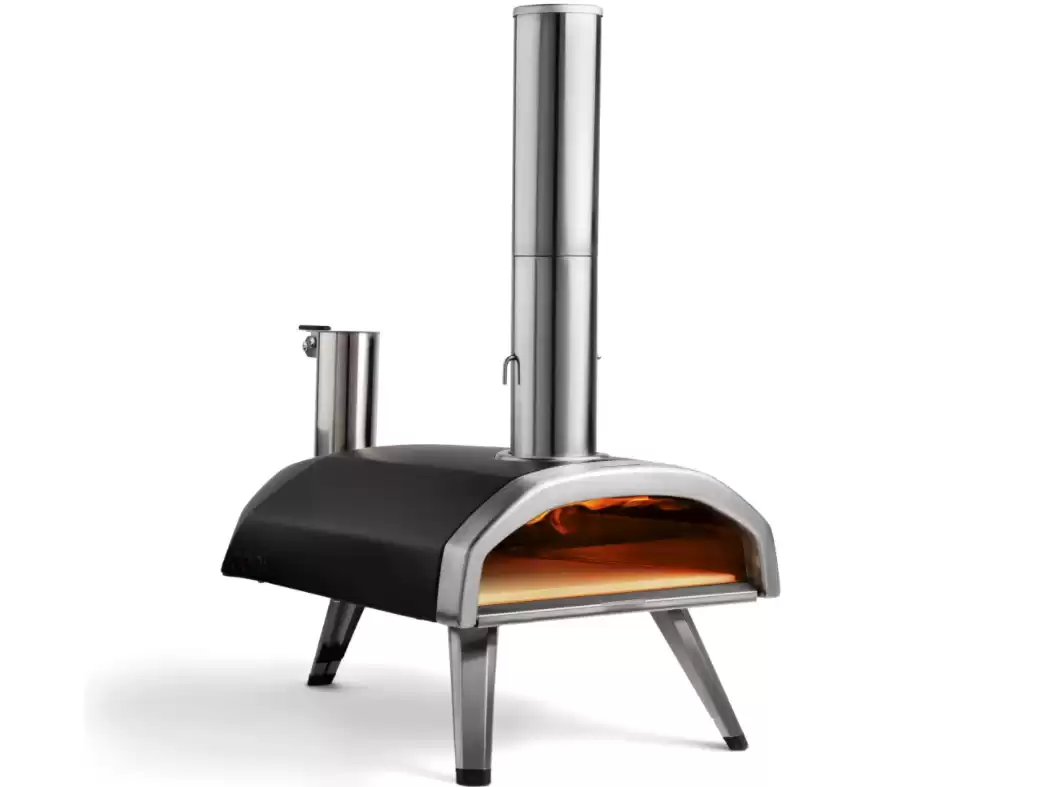 Pellet grills have been something of a craze over the last decade and have exploded in popularity.  As such, wood pellets have become a widely available and reliable fuel source for cooking that is 1) easy to use and 2) provides that wood fired flavor we love so much.
So it's no surprise that a pellet fueled pizza oven came about over the last few years.  The Ooni Fyra 12 is the leader in the industry when it comes to wood pellet fueled pizza ovens.
The fire is fueled by a gravity fed pellet hopper that automatically feeds pellets into the firepot.  The hopper system runs so effeciently that you don't have to sacrifice any performance compared to other Ooni ovens – this one can reach up to 950ºF and can be ready to cook a pizza in as little as 15 minutes.
The door is wide enough to cook a 12″ pizza and is incredibly portable.  At only 22 pounds, combined with the fact that you don't need to haul a propane tank with it, it might be the most portable oven on the market today, period.
Final Thoughts on Roccbox vs Ooni
I hope this resource comparing and contrasting Ooni vs Roccbox pizza ovens was helpful!  At the end of the day, both brands make world class residential portable pizza ovens, and you really can't go wrong with either.  Both are in the same class at the top of the market.
But for our taste, we give Ooni the slight nod from an overall perspective.  In our mind, they produce just as good pizzas as the Roccbox, at a little bit of a better price.
And that's not to mention the fact that Ooni has a wood pellet fueled oven and 16″ wide ovens, whereas Roccbox does not!
That's not to say we aren't fans of Roccbox – if you're in the market for a 12″ oven then their offering is hard to beat.
What are your thoughts on these two brands?  Which did you end up with?  We'd love to hear your thoughts in the comments section below!