This content contains affiliate links.  If you make a purchase after clicking a link on this page, we might receive a commission at no cost to you.
Pizza is one of the most loved foods around the world. Whether you love it or hate it, chances are you've eaten at least once.
Making restaurant quality pizza at home has never been easier with a recent influx of affordable outdoor pizza ovens onto the market. Pizza ovens are great because they let people cook delicious meals without having to spend hours in the kitchen. 
There are several types of pizza ovens out there, each with their pros and cons. Some are expensive, some are cheap, some are slow, some are quick. What makes one better than another? Is the Ooni Pro the best pizza oven for home use? 
We have reviewed the Ooni Pro pizza oven to help you decide whether it is the right pizza oven for you. Keep reading to find out more:
Ooni Pro 16 Overview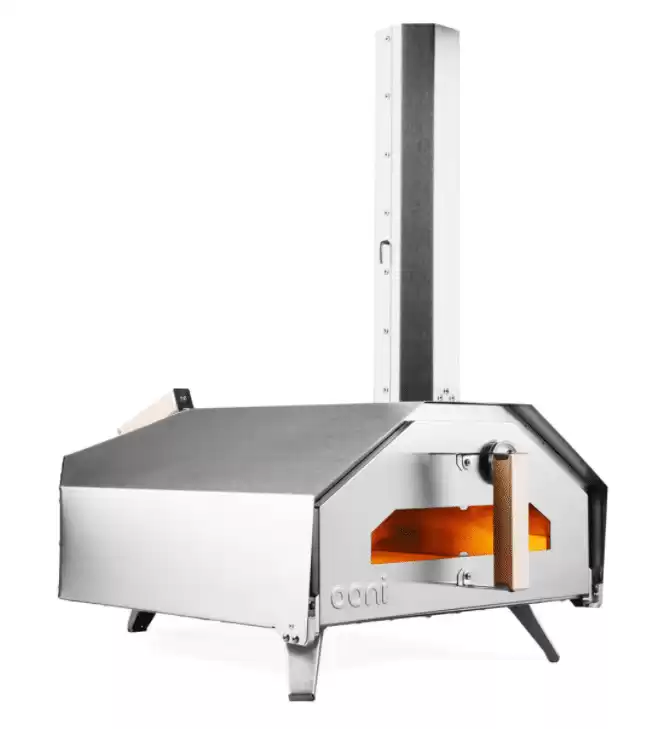 The Ooni Pro 16 is a large pizza oven that is relatively easy to carry around despite it's size. Ooni Pro 16 has a large cooking area and is made out of brushed stainless steel with ceramic fiber insulating material.
It is very easy to clean. It has ceramic fiber insulation so it keeps heat well. Ooni is a compact oven that comes with three different types of fuel options: wood, charcoal, and gas.
Briquettes are not recommended because they block air flow and cause an inefficient burn. The oven measures 28.8 inches by 19.2 inches by 30.7 inches and weighs about 48 pounds. It takes approximately twenty minutes to pre-heat the pizza oven.
Unboxing and Setup
The Ooni Pro 16 arrives with a sturdy box made of heavy-duty cardboard. Inside, the oven body was expertly packaged in styrofoam and packing cardboard. There were no defects due to shipment, so the packing was clearly effective.
It took about 15 minutes from unboxing to fully setting up the Ooni Pro. One of its many advantages is how easy it is set up, as you can get started straight away. Once the legs are unfolded, you insert the pizza stones and fuel trays, attach the chimney and your chosen door, and you're ready to bake.
The instructions were straightforward, and the videos help you to understand what you need to do. Ooni also has a how-to tutorial video showing you step-by-step how to install the pizza oven on your first theme.
A Note on Build Quality
The overall build quality for the oven is very good- not only the oven body, but the accessories as well. The steel feels sturdy and the insulation gives the unit a heavier feel, so it's difficult to dent or break.
There are no wobbles or loose parts. The cooking chamber is well calibrated and does not move around when you're using the oven. The fuel trays and pizza stones slide easily in their respective places.
This is a good example of a product being described as having been designed for perfection. It was designed to be used by professionals who want a high-quality tool that is easy to use, yet it is also perfect for amateur or hobbyist pizza makers who want to be able to create delicious pizza at home. 
Ooni Pro 16 Performance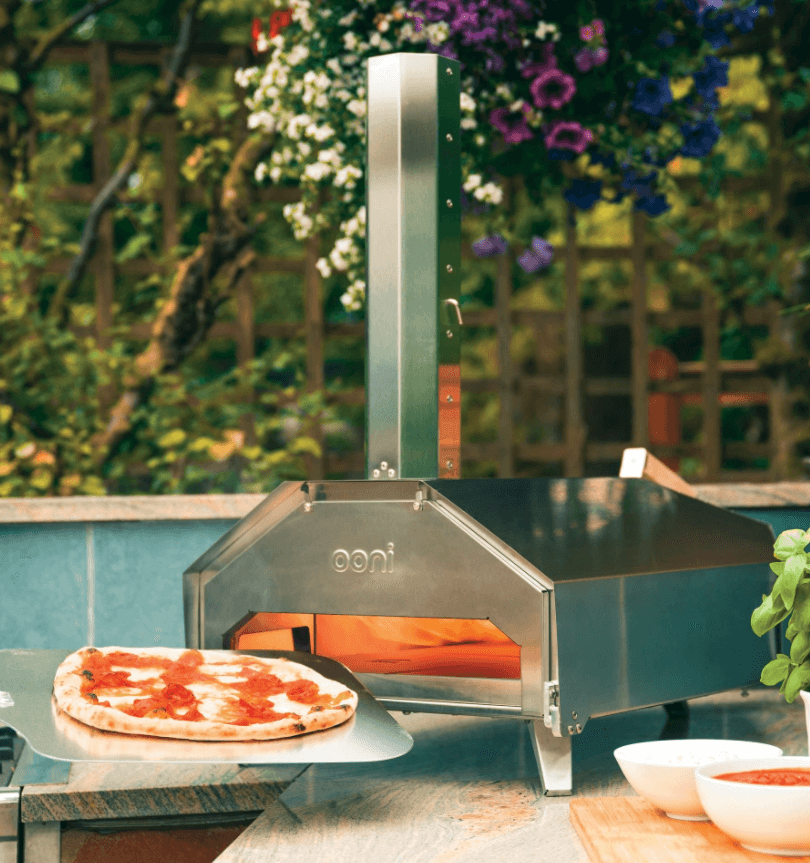 One of the good things about the Ooni Pro is that it is practically impossible to get it too hot. You want the oven to be as hot as possible so that the pizzas cook quickly- as long as you keep an eye on them then you don't need to worry about letting the oven get too hot. Your pizza can cook in as little as 60 to 90 seconds!
The oven is advertised to heat up to 950ºF in 20 minutes. This is definitely the case when you are using gas. If you are using charcoal or wood then you can expect it to take longer, maybe even double this time.
However, once the stones are hot, they retain their temperature even if the overall oven temperature dips. This means that the pizza will still cook evenly and quickly. 
Using gas is much more convenient and produces more consistent pizzas. However, using wood or charcoal tends to give the pizzas that extra bit of flavor that is more reminiscent of a traditional pizza restaurant. You can also use a combination of charcoal and wood for the perfect browning of the crust and smoky flavor. 
The type of pizzas that you cook in this pizza oven will be light, with crispy crusts and a soft middle. The flames lick the crust as it cooks, creating brown charred spots called 'leoparding'. This adds a lot of flavor. 
Cooking with Charcoal and/or Wood
If you decide to cook with charcoal or wood instead of gas then you need to make sure that you have the right set up. You can use just wood, or just charcoal, or a combination of the two.
Charcoal is great for keeping the temperature of the oven high, whilst wood adds a very authentic smoky flavor to the pizza. 
Start by removing the chimney cap and opening the vent, along with the ceiling vent. Add the door that you are going to be using. Put your fuel in the fuel hatch and light it using your choice of fire starter.
Ooni has an all natural fire starter that they recommend using but it is up to you what you choose. 
Once the fire is going you can add more fuel to make sure that you have enough to cook your pizza and to bring the oven up to the right temperature.
You will need to leave the oven alone for around 20 minutes or up to 30 minutes to preheat. Come back and check the temperature to see if it is ready to start cooking. You can use the Ooni infrared laser thermometer to check the temperature accurately. 
Once the oven is at the right temperature you will need to add a bit more fuel to make sure you don't run out while you are cooking. However, if you add too much fuel at this point you could end up snuffing out the fire so be careful. 
If the oven is at the right temperature then your pizza should take no more than 90 seconds to cook. To achieve an even amount of browning you should rotate the pizza every thirty seconds using a pizza peel. Rotate it a quarter turn each time. 
Cooking With Gas
Cooking with gas is a lot easier – and less messy than cooking with wood or charcoal. 
First you need to make sure that the chimney vent and the ceiling vent are close and switch to the pizza door rather than the regular oven door. To light the gas burner, turn the dial on the attachment until it clicks.
Make sure the fuel hatch is open as you are lighting the burners, then close it again immediately afterwards. Leave the oven to preheat, which should take around 20 minutes. 
The pizzas tend to cook more consistently when you use gas, but you don't get as much browning or leoparding on the crust. There is also less of a smoky flavor, though the pizza still tastes really good.
It is much more convenient because you don't need to keep topping up the fuel and the oven temperature remains steady so you don't have to monitor it as much. Gas is perfect for if you make a last minute pizza and you haven't given yourself enough time to let the oven preheat with wood or charcoal. 
Cleaning the Ooni Pro
 It is important that you keep your Ooni pro clean to make sure that it lasts. The inside of the oven gets so hot that any food is burnt to ash – there is no stuck cheese or anything to remove. Once the oven has cooled down you can sweep the ash out using a non-abrasive brush. 
To clean the outside of the Ooni pro, use a non-abrasive stainless steel cleaner or a damp cloth. 
Ooni Pro Accessories
Ooni offers a fantastic range of accessories to make your pizza cooking experience more fun and convenient. They even have a cookbook with great artisan pizza recipes and much more!
The oven comes with heat resistant gloves which can come in very handy and help you to stay safe when you are cooking. A pizza peel is a must have to get the pizza in and out of the oven.
You can turn the oven with a pizza peel, or you can get a dedicated turning peel which has a different shape for moving the pizza around in the oven whilst it is cooking. 
The infrared thermometer is a good accessory to get as it helps you to make sure that the oven is at the correct temperature before you start cooking your pizza.
You simply point the laser into the oven and it will tell you the temperature. This means that you can check the surface temperature of the pizza stone as well as the temperature of the internal walls. 
A cover for the pizza oven lets you leave it outside for extended periods of time rather than bringing it in whenever you are not using it. However, you should still bring the pizza oven indoors in adverse weather conditions or over the winter. 
If you aren't sure which fire starter you want to use then Ooni offers a great natural fire starter for the wood and charcoal fuels. 
You can choose between a traditional pizza cutter wheel or a rocker blade to cut your pizza. The rocker blade tends to give you a cleaner cut and doesn't drag the toppings over the pizza. 
Not all of the accessories come included with the oven and you will need to buy some of the separately. This means that you can purchase your accessories elsewhere if you prefer.
The Ooni accessories are not the cheapest, but they are well made. They are also designed to fit with their ovens. If you buy your accessories from somewhere else then you will need to make sure that they are compatible with the oven in terms of size, material and heat-proofing.
Pros and Cons of the Ooni Pro
Pros
The Ooni pro is very easy to use because it heats up quickly and cooks pizzas quickly. This means that you will get lots of use out of it as it won't feel like a hassle to set it up. 
Another great feature of the Ooni pro is it's versatility. For starters, it has multi-fuel capability. You can use charcoal or wood for a more authentic flavor, or use gas for convenience and a steady cooking temperature.
You can also use the pizza oven to make bread, roast up some vegetables, or cook joints of meat. Once you become familiar with how to use the Ooni pro you will be amazed at how much you can do with it. 
The Ooni Pro comes with a great range of cooking accessories which make it much easier for you to create some really impressive pizzas. The accessories are of a really high quality so you won't need to replace them with alternative products.
They offer pizza peels to get the pizzas in and out of the oven and turn it around while cooking, cooking pans for different styles of pizza, prep tables for working with the dough, and digital thermostats to make sure the oven is at the right temperature. 
The pizza oven is really easy to clean and requires little maintenance, which makes it much more convenient than a BBQ or grill. 
Cons
There are a few downsides to the Ooni Pro pizza oven. 
First of all, the fuel chamber is quite small. This means that you have to frequently add more wood in order to maintain the temperature of the oven, which can get quite frustrating if you are making multiple pizzas.
However, the fuel burner tray fits really nicely onto the back of the Ooni Pro. If you are using gas then you won't have the same problem. 
Whilst it only takes 20 minutes to preheat the oven when you are using gas, it can take up to double that amount of time if you are using wood or charcoal. This makes the cooking process longer and is not true to how the product is advertised. 
Another issue with the Ooni Pro is the price. It is at the higher end of the scale compared to other similar products. What you are paying for is the versatility, so if this is not important to you then you might be better off with a cheaper product that only offers one type of fuel.
However, it is a very good quality pizza oven that provides consistent results.  
Ooni Pro Alternatives
Ooni offers a pizza oven that only cooks with gas – the Ooni Koda. It is cheaper, so if you want to save a bit of money and you aren't interested in cooking with wood or charcoal then this could be a good option for you.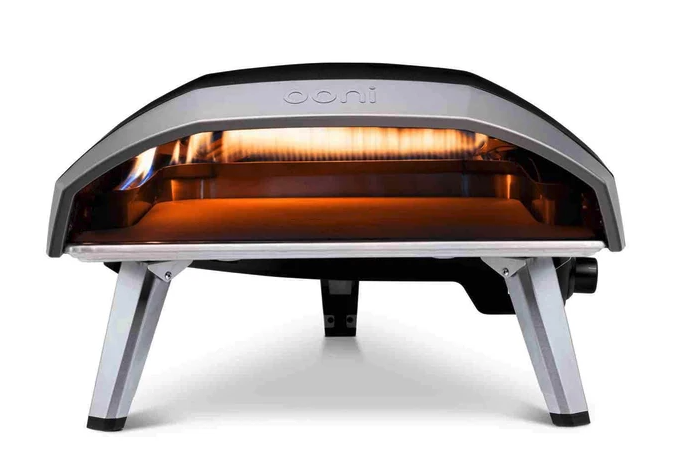 There are also some other great companies offering competitive products. Gozney makes a pizza oven called the Roccbox which is similar to the Ooni pro in terms of price and functionality.
It has a very clever feature to protect you whilst you cook – a safe touch silicone shell. This means that if you touch the outside of the pizza oven you won't burn yourself, even if the oven temperature is really high.
This is great if you have children in the garden. It can reach a similar oven temperature to the Ooni Pro but is a little smaller so you won't be able to cook a 16 inch pizza in it. 
Another great product is the Camp Chef Italia Artisan Pizza Oven. It is a portable 16 inch pizza oven. However, it only offers gas compatibility and it doesn't reach temperatures as high as the Gozney Roccbox or the Ooni Pro. It is a similar price, which means you are getting less for your money.
Note: you can check out our brand comparison of Ooni and Gozney Roccbox pizza ovens for a deep dive on these two brands.
If you don't need a portable pizza oven then you could consider the Bella Medio 28 inch outdoor wood fired pizza oven. It is quite expensive and is more of a permanent feature in your garden, but it is a very good product. You can cook up to three 12 inch pizzas at one time which is perfect for parties or large gatherings. 
Final Thoughts
If you are looking for a pizza oven that will give you restaurant quality pizzas from your own garden then you can't go wrong with an Ooni Pro. It is durable, portable and very versatile with an excellent build quality. 
You will need to spend a bit of time getting to grips with the different cooking styles and using the various fuel types, but once you get the hang of it you will be able to knock out incredible pizzas in no time. You will also be able to cook other foods like bread, meat and vegetables. 
Remember, with the kind of pizzas you will be cooking on your Ooni Pro it is very important that you use top quality ingredients. Your toppings should be fresh and simple, and you need to make sure you use the right kind of flour and proofing methods to get the dough just right. 
Overall, this is a fantastic product and you won't be disappointed.