This content contains affiliate links.  If you make a purchase after clicking a link on this page, we might receive a commission at no cost to you.
Are you looking for a way to make your tailgating parties more fun? Do you need something beyond your basic charcoal grill?
Do you like to smoke meats but don't have room for a full-size smoker on your apartment patio? Look no further than the Traeger Tailgater which easily brings the best of wood-fired flavor wherever you go!
Traeger Tailgater Overview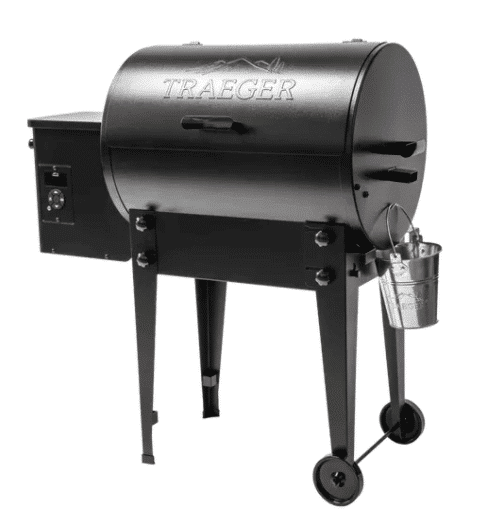 The Traeger Tailgater is compact, with foldable legs that make it easy to take on the go or to set up in your truck bed. It also only weighs a mere 62 pounds, which is much lighter than your average smoker.
You can now enjoy all the flavor and features of a much larger smoker without having to sacrifice the space on your balcony or patio. The Traeger Tailgater has 6 different modes packed all into one easy to use grill.
The temperature is selectable using a convenient digital arc controller and can be set to 5-degree increments for cooking perfection.
Unlike most grills, the Tailgater is easily able to maintain the temperature that you set it to all the way up to its maximum temperature of 450 degrees Fahrenheit.
Once you are finished cooking, you can even select the keep warm mode which will keep your meal toasty warm until you are ready to indulge.
The Traeger Tailgater is truly built with your next party in mind. Although it is compact and portable, it can still hold up to two fill chickens, three full racks of ribs, or a dozen regular-sized hamburgers. This grill comes with a full 300 square inches of cooking space.
Tired of lifting the lid to check meat temperature? With the Traeger Tailgater, there is a built-in meat probe which makes checking to see if your meat is done easier than ever before.
Set Up
When you purchase the Traeger Tailgater, you have a couple of options. If you purchase it in-store, you can likely purchase a pre-assembled version. If you order it online for delivery, you will have to assemble a few portions of it yourself.
The assembly process is basic, with all tools included, but you can use your own if you desire. The process is straightforward and outlined in the instructions with pictures similar to something you may buy at IKEA. You don't need any wiring or electrical knowledge for the set- up process, as you only have to connect a chord that is already provided.
Before you can use your smoker for the first time, you need to "season" it. This can be done by running the grill on hot for 45 minutes. There are certain parts of the grill that need this process to be completed before food can safely be cooked in it.
There may be a smell during this process and this is completely normal. Once you've completed this seasoning process, the smell will dissipate, and the grill is ready to smoke your first delicious meal!
The Design
The Traeger Tailgater was specifically designed with portability in mind. The size is shorter, smaller, and lighter than comparable smokers. Most people will find the smoker can be easily folded and moved by just one person.
Part of making this grill more portable did involve making it shorter. The grill comes up to just three feet off the ground, which can be a bit short if you are a taller individual. It is recommended for your grilling comfort, that if three feet is too short for you, you fold the grill legs and place the smoker on a table or better yet, your truck bed.
The metal of the Tailgater is thin, to keep the smoker light and easy to move, but it is high quality and guaranteed to keep the temperature regulated.
The legs are made of this same sturdy material so you never have to worry about the elements destroying your smoker. The wheels are made of plastic and are easy to adjust and roll over any surface. The legs and wheels can easily be folded up and held in place by tightening a knob.
The Traeger Tailgater does need to be plugged into a 110v power source, but with an inverter, it can be easily hooked up to and powered by your vehicle or a generator. The grill also comes in a couple of different colors,  black, blue, bronze and silver, so you can choose the one which fits in best with your backyard or patio aesthetic.
One of everyone's most dreaded activities after a fun day of tailgating is the grill cleaning process. With the Trager Tailgater, you don't have to worry about spending hours scraping the grill because the grates are porcelain-coated—which prevents foods from sticking and makes cleaning an absolute breeze!
Performance
The slogan of Traeger is "set it and forget it" and the grill lives up to this idea by having a temperature control knob that is easy to adjust and set. Once the temperature is set, it will remain within a few degrees of your desired temperature.
It does this best when the door is closed and remains closed for the majority of the cooking time. And with the built-in temperature probe to check your meat temps, this won't be a problem as you likely won't have to open the door until your food is done!
The Traeger Tailgater was designed for a variety of functions and can be used not only as a smoker, but also as a stove, oven, and grill! Using the Tailgater as a regular grill is very simple, just crank the temperature dial to the higher temperatures and start grilling!
If you are using it as an oven, it may require the food to be rotated depending on what you are cooking, but otherwise works the same as an indoor oven. So, don't be afraid to experiment with some new oven baked recipes!
Unlike your old gas grill, this is a pellet grill. The cool thing is, you can adjust the taste and flavor of your meats just based on the wood pellets you purchase. This means that the taste possibilities you can create using your Traeger Tailgater are endless! The hopper can hold up to eight pounds of wooden pellets at one time. The pellets are ignited using a flame, however, there is no open or visible flame, making this grill an easy choice for camping or apartment complexes that don't allow open flame grills.
Why the Traeger Tailgater?
There are a number of other smokers out there, but the quality you will get from using a Traeger Tailgater far surpassed that you would get using any other model.
And no model currently on the market has quite the blend of portability and functionality as this one. Lots of other companies will tell you they have a portable model, but the Traeger Tailgater is truly the lightest and easiest to move in its class – all the while providing 300 square inches of cooking area.
There is a lot of uncertainty involved in smoking meats in a traditional smoker—as you never quite know when the meat is done or safe to eat. Traeger takes away a lot of this guesswork by having a smoker like the Tailgater which holds temperature within a five-degree range.
This means you can follow recipes and cook meats for as long as it says in the recipe without constantly checking on your meats. Even if you are still a bit skeptical, not to worry, the built-in temperature probe can assist you in deciding if your met is done or not—without you having to even lift the lid.
[optin-monster slug="tnxx7wq84kenca3q0jgu"]
Spending time with friends is important, and if you are constantly having to stand by a grill which only can cook four burgers at a time, how will you ever have time to watch the game?
The Traeger Tailgater not only helps you to produce quality meats but it can also hold enough to feed your entire game day crew! And thanks to the temperature regulation feature mentioned above, you'll be able to put your meats in the grill and then go enjoy the game with the family while they cook!
All of this comes in the amazingly compact Traeger Tailgater. Even if you live in an apartment, camper, or somewhere else with very little space, the Tailgater can help you maximize the space you do have to smoke your favorite meats. You can even use this grill for oven and stovetop recipes, making it an easy pick for a camping trip to keep everyone happy.
Final Thoughts
Overall, finding the perfect smoker for all of your meats can be difficult. But Traeger Tailgater makes the choice easy. With everything from an easy set-up, portable design, and adjustable temperature, this grill really does it all.
If you've hesitated to buy a smoker in the past because of its size, this truly is the smoker for you. No matter how you look at it, the Traeger Tailgater is the perfect smoker for any location and occasion and will take your tailgates to the next level.
If you aren't sure if the tailgater is the grill for you, check out our article on the best portable pellet grills for some alternative ideas.