This content contains affiliate links.  If you make a purchase after clicking a link on this page, we might receive a commission at no cost to you.
When it comes to pellet grills, it's hard to argue that Z Grills has quickly become one of the most popular brands in the game.
The bottom line?  They make some high quality cookers – at a very affordable price.
One of their most popular and best selling lines of grills is the Z Grills 700 Series of grills.  We thought it would be worth while to do a deep dive into these grills and talk a little bit about what makes them such a solid choice.
So read on to learn a little bit more about Z Grills as a brand, and for our complete reviews of the Z Grills 700 Series!
Z Grills Brand Overview
As far as brand histories go, Z Grills has one of the more unique stories I've come across.
The company was founded in 2017, after completing one of the more successful Indiegogo campaigns to ever come across the crowdfunding platform.
Much of the leadership of Z Grills was not new to the pellet grill industry – they had been a part of the manufacturing process for one of the most popular pellet grill brands for decades.
So while Z Grills is technically a new kid on the block, their design team comes with over 30 years of experience designing pellet grills.  Not only that, but they were able to leverage their knowledge of the industry to cut out a lot of unnecessary costs in the product creation process.
The result is that Z Grills has been able to deliver high quality pellet grills at incredibly reasonable prices.  You'll notice if you compare their models to similar models of other brands, Z Grills almost always blows the price of other brands out of the water.  (Check out our Z Grills vs Traeger comparison right here)
And that's precisely why Z Grills have become so popular in a short amount of time – they've found a way to deliver products at bargain prices, but without sacrificing quality.
A Quick Note On Pellet Grills
Just in case you're new to this type of grill, a pellet grill is an outdoor cooker that utilizes some pretty cool technology to cook your food.
First and foremost, they use a special type of fuel as a source of heat – wood pellets specifically designed for these types of grills.
These pellets are essentially compressed capsules of sawdust and other scrap wood that are 100% food safe.  The beauty of these pellets too is that when ignited, they impart delicious smokey flavor into your food.  Pellets come in all of the traditional wood flavors we have all come to love for our BBQ (hickory, mesquite, oak, cherry, etc.).
The pellets are loaded into a hopper, then fed to a firebox through an automatic auger system.  In the firebox, the pellets are ignited – then a fan distributes the heat and smoke throughout the cooking chamber.  This system creates a convection style cooking environment where your food is virtually guaranteed to be cooked evenly.
Z Grills are also controlled with a digital control system – meaning you set your temperature with the turn of a dial, then internal electronics automatically feed and burn pellets at the optimal rate to maintain the temperature you set.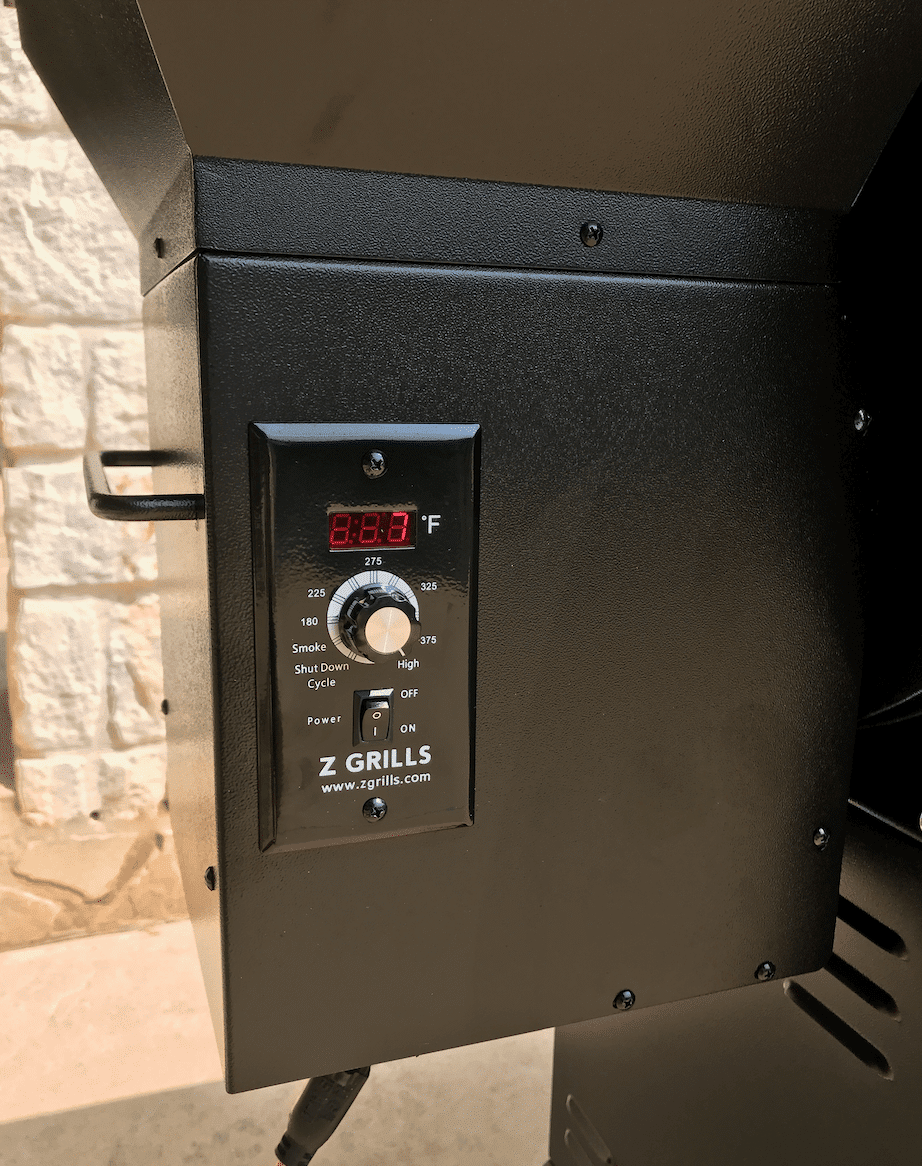 By design, Z Grills are able to steadily hold a temperature anywhere between 180°F and 450°F.  With that kind of temperature range, it's possible to grill, smoke, sear, bake, roast, and much more all on the same cooker.  This versatility is precisely why pellet grills have exploded in popularity.
In addition to all of that, pellet grills fall into the "set it and forget it" category of cooker.  Because of the built in technology, you don't have to spend time building or babysitting a fire.  You simply set your temperature dial, put your food on the grates, and let it cook with delicious wood fired flavor.
Z Grills 700 Series Overview
We're about to get into reviews of the specific grills in the Z Grills 700 Series, but first it's worth pointing out some similarities shared across all grills in this product line.
Cooking Surface Area
First, the "700" in the series name is a nod to the amount of cooking surface area you'll find on each grill.  Specifically, each grill in the series features 694 square inches of cooking surface area to work with.  That's enough space to accommodate up to 35 burgers, 5 racks of ribs, or 4 whole chickens at once.
The cooking area is split between a primary rack, which has 504 square inches of cooking surface area, and an elevated warming rack, which features the additional 190 square inches of cooking surface area.
Hopper Capacity
Each of the grills in this series has a hopper which can hold up to 20 pounds of wood pellets.  Relative to other pellet grills on the market, that's a generous hopper size and you'll find yourself having to refill the hopper only occasionally.
There are a lot of factors that go into how fast a grill will burn through pellets, like weather, temperature, and which style of cooking you're employing.  But as a general rule of thumb, you can expect to burn through about 1/2 of a pound of pellets per hour if you're cooking low and slow, and about 2 pounds per hour if you're cooking on high heat.
Warranty
All Z Grills products are backed by a 3 year warranty, which is pretty generous as far as pellet grills are concerned.  Any time I'm dealing with electronics I like to have a manufacturer's warranty backing the product, so the 3 year warranty on the Z Grills 700 Series is definitely a plus in my eyes.
Z Grills 700 Series Reviews
Z Grills 7002E Wood Pellet Grill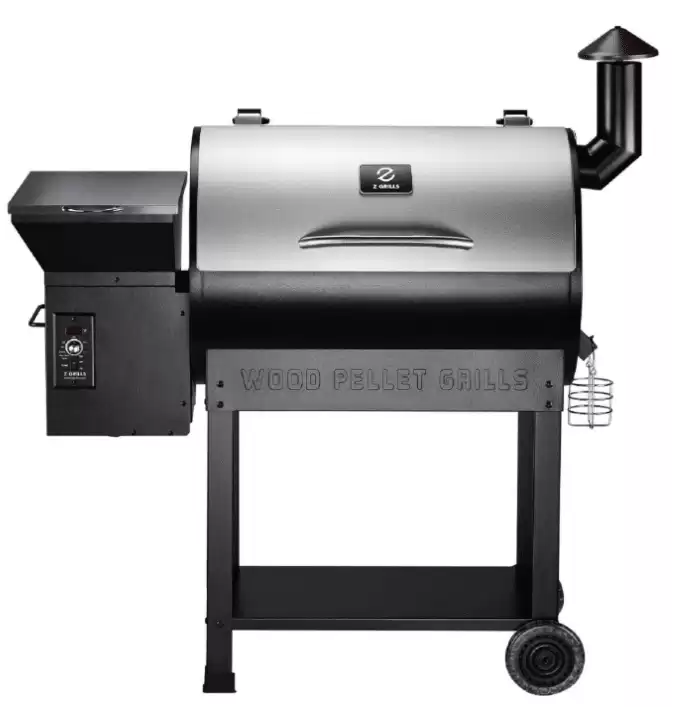 The Z Grills 7002E Wood Pellet Grill is arguably the brand's flagship grill, and it comes with everything you love to see in an outdoor cooker.  Aesthetically, the design is simple, sleek, and a welcome addition to any porch or patio.
It features an open cart design that affords you plenty of space to store some of your grill accessories underneath the main cooking chamber.  The cart itself is incredibly sturdy and comes with caster wheels that allow for you to easily transport and set up your grill.  Once you've settled on a spot, the wheels lock securely into place for a more permanent placement.
This grill also features an intuitive waste management system – all grease drips into a bucket that can be conveniently and easily removed to discard any grease drippings from your cook.
Build wise, the entire cooker is made of stainless steel that won't corrode or rust, even with heavy use (although it's still a good idea to use a grill cover).  The stainless steel finish gives off a really sleek look that fits in with the vibe of just about any outdoor cooking set up.
As mentioned above, the temperature range of the 7002E is 180-450°F, so it's very possible to smoke meats low and slow or sear a steak on high heat all on this grill.
This grill is completely hands off in terms of ease of use.  All you have to do to fire it up is turn your temperature dial to the desired setting (temperature can be set in 25°F increments).  From there, you can monitor your temperatures on an easy to read LED display on the digital control board.
Cooking Area (Main): 504 square inches
Cooking Area (Total): 694 square inches
Hopper Capacity: 20 pounds
Temperature Range: 180°F to 450°F
Cart Style: Open
Finish: Steel
Warranty: 3 years
Z Grills 700D4E Wood Pellet Grill
In terms of overall design and the actual grilling features of the Z Grills 700D4E Pellet Grill, it's not all that different from the 7002E.
Cooking surface area, hopper capacity, temperature range, warranty, grease management systems, and the digital control system are all the same and will function just as well as one another.
The difference between the two models comes in the cart design.  Instead of an open cart design, the 700E comes with a cabinet style design to house any BBQ accessories.  And instead of two large wheels and two studs, the 700E features 4 smaller locking wheel casters.
There isn't one style of cart that's "better" than the other – it largely boils down to your personal preference.  Some people prefer the open nature of an open style cart.  Others prefer being able to house equipment inside of doors that can shut reliably.  If that's you, this upgraded cart is a fantastic choice, and the stainless steel build will last you a long time.
Cooking Area (Main): 504 square inches
Cooking Area (Total): 694 square inches
Hopper Capacity: 20 pounds
Temperature Range: 180°F to 450°F
Cart Style: Cabinet
Finish: Steel
Warranty: 3 years
Z Grills 7002B Wood Pellet Grill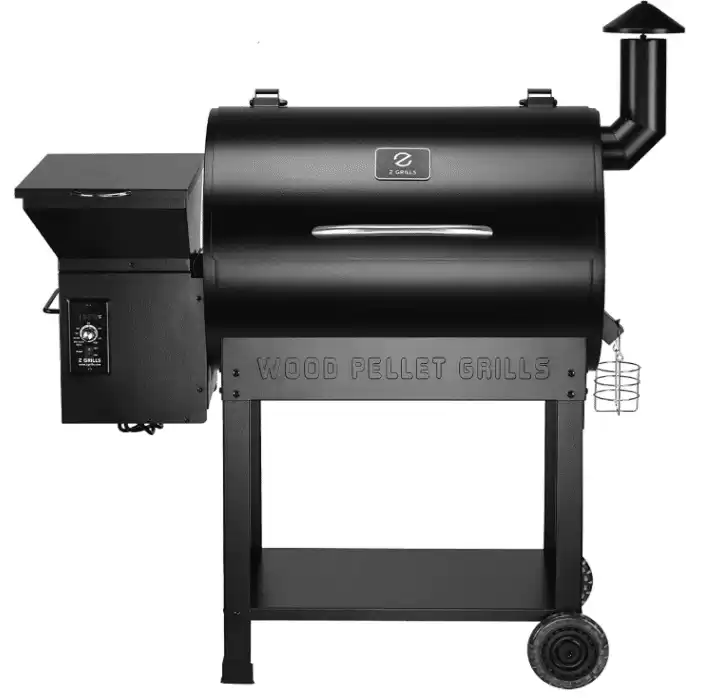 If you prefer the look of an all black design, the Z Grills 7002B Pellet Grill might be a great fit for you.
It features an open cart design and the same high quality stainless steel build as all of the other grills on the 700 line, but instead of a steel colored finish this one comes with a black finish on the exterior.
As far as performance goes, you can expect top notch results out of this cooker.  The grill will hold steady temperatures of 180-450°F in 25 degree increments, and the digital control panel is incredibly intuitive and easy to use.
Cooking Area (Main): 504 square inches
Cooking Area (Total): 694 square inches
Hopper Capacity: 20 pounds
Temperature Range: 180°F to 450°F
Cart Style: Open
Finish: Black
Warranty: 3 years
Z Grills 700D Wood Pellet Grill
The last grill we thought would be worth noting on this list is the Z Grills 700D Wood Pellet Grill, which features a cabinet style design and all of the features you'd expect out of a quality pellet grill.
The most notable differentiation between this version and the 700E model is the color of the finish.  The 700D features a distinct bronze finish, which may or may not suit your taste depending on the decor of your grilling area.
Besides that, the functionality is the same as the other 700 series grills – you can accomplish just about anything with this version and it's still backed by a 3 year manufacturer's warranty.
Cooking Area (Main): 504 square inches
Cooking Area (Total): 694 square inches
Hopper Capacity: 20 pounds
Temperature Range: 180°F to 450°F
Cart Style: Cabinet
Finish: Bronze
Warranty: 3 years
Z Grills 700 Series:  The Bottom Line
If you're looking for a balance of budget pricing and quality – you frankly aren't going to find a better deal for a ~700 square inch cooking surface area pellet grill than the Z Grills 700 Series.  With other brands, a similar sized grill is likely going to cost a few hundred dollars extra, and you might not even get much more in the quality department.
I understand that brand loyalty is very much a consideration for many folks – and Z Grills hasn't been around for that long, so maybe it's not a fit for everybody.  But I do know that many who give Z Grills a try never look back – the delicious and tasty results don't lie!
Essentially, the 700 Series is comprised of two different grill designs – one with an open cart and one with a cabinet style cart.  Each of those designs are then offered in multiple color finishes like black, silver, and bronze.  But the fundamentals like the size, hopper capacity, digital control system, warranty, and temperature range are all the same.
[optin-monster slug="tnxx7wq84kenca3q0jgu"]
Final Thoughts
If you came for a closer look at the Z Grills 700 Series line of pellet grills, I hope you feel like you have a little more insight as to whether or not this is the right pellet grill for you.  At the end of the day it's hard to argue that it's not the best budget pellet grill on the market – you get an entry level price point for a grill that can make restaurant quality food.
Did you end up going with Z Grills?  How do you like it?  Did you try one of our recipes?  We'd love to hear from you in the comments section below.