This content contains affiliate links.  If you make a purchase after clicking a link on this page, we might receive a commission at no cost to you.
Nowadays it's rare that I'm blown away seeing a grill I've never seen before for the first time.
Don't get me wrong – I appreciate the expert level of craftsmanship that most high-end grill manufacturers put into their products.
It's just not every day that I come across a truly unique product that makes me feel like I've discovered something different.
But that's exactly what happened when I saw an Arteflame grill for the first time.  These grills deliver an elite cooking experience – plus they're just flat-out cool and create an unbeatable ambiance in any outdoor kitchen.
My encounter led me to create this complete Arteflame review for anybody who might be interested or on the fence about picking one up.  So read on to learn more about a fire pit grill and what makes them so special!
Arteflame Brand Overview
Arteflame is an American brand that manufactures all of its products in the USA.  The founders felt that most grills were not aesthetically pleasing – and rarely, if ever, ended up as a centerpiece where people would gather around to create and share memories.
So they wanted to create a product that knocked it out of the park with function, form, and style – a grill that could cook spectacular food but would also draw people in.
They created their flagship product, the Arteflame Classic 40″ Grill, out of that vision.  It's a grill that almost looks like a piece of art – and best of all it can cook incredible food while people gather around to watch the show.
What Are Arteflame Grills Exactly?
In a nutshell, Arteflame Grills are high end, standalone flat top grills that are designed to be the center of your outdoor parties and get togethers.
Aesthetically, the grills present elevated, contemporary, and sleek centerpieces to your outdoor space.
Functionally, the grills work as a wood or charcoal fired flat top grill.  A centrally located fire pit is the heat source for a circular cooking surface that surrounds the cooking fire pit.  The cooking surface can also be removed and the unit can be enjoyed simply as a fire pit.
While the ultimate prize is a full size Arteflame Grill, they also offer a few accessories that allow for you to have a taste of the Arteflame experience at a more budget friendly price point.
Specifically, they offer carbon steel grill inserts that fit inside a Weber Kettle or a Kamado-style grill (such as a Big Green Egg or a Kamado Joe).  These inserts just pop right in to replace your grill's cooking grate and feature a quality flat top surface around the circumference – with a traditional grill grate in the center.
Arteflame Classic 40″ Review – A Close Look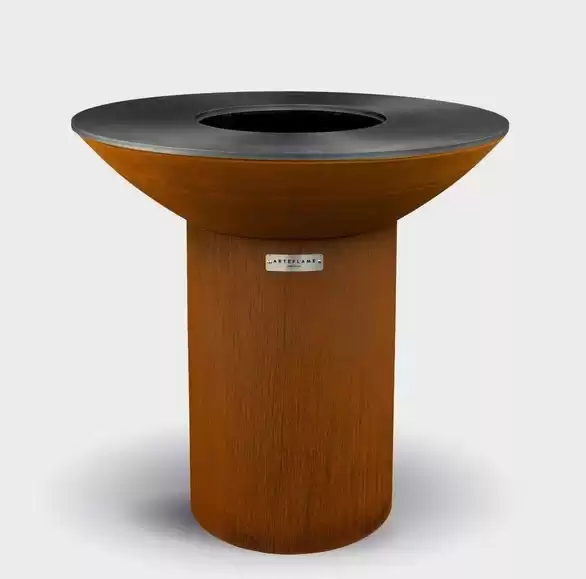 Arteflame Classic 40" Grill w/ Tall Round Base
Uses both wood and / or charcoal
Removable cooktop is laser cut from 1/2" steel
Optional center grill grate
Can be used as a fire bowl with, or without the cooktop
Cooktop "lift and remove" tool included
Virtually maintenance-free: all residue can be scraped into the fire
Fire bowl is spun from a single piece of corten steel without seams or welds
After cooktop cools, wipe clean with a cloth or paper towel and food safe oil
Can be left outside year-round; base develops a beautiful, maintenance free patina over time
Includes seasoning puck for seasoning of cooktop
Designed and Made in the USA using US steel
DIMENSIONS: 40" Wide x 18" High, 290lbs. (102cm x 46cm, 132Kg)
Base diameter is 21"
Arteflame Grills are all steel making the grills quite heavy, shipping weights can be over 500lbs!
Check Price on Arteflame
The best way to illustrate how great Arteflame Grills are is to dive into their flagship Classic 40″ tall base grill for a look at its features and how it performs.
For starters, the unit is 38″ tall – the bottom of the base has a 20″ diameter and the top of the base, where the cooking surface is set, has a 40″ diameter.
The fire bowl is a single piece of Cor-ten steel, so there are no seams or weld marks.  Cor-ten steel is a special type of weathering steel that has increased resistance to corrosion compared to other steel.  That means repeated exposure to rain, snow, and ice won't affect the quality of your fire bowl.
To get the grill going, you build your fire in the center of the grill – with either wood or charcoal or both – and this fire serves as the energy source to heat your flat top cooking surface.
Essentially, the fire in the centerfire bowl heats your cooking surface to the ideal cooking temperature.  What's really cool about this configuration is that naturally, the inside of the ring gets much hotter than the outside of the ring, which means you can simultaneously cook different types of foods at their ideal temperatures.
The cooktop is made of 1/2″ carbon steel, which is generally considered to be a superior cooking surface to cast iron.  The inside of the cooktop can reach upwards of 500ºF with a large enough fire, ideal for searing steaks, burgers, and much more.  The outside of the cooktop reaches about 250ºF, ideal for peppers, veggies, or simply to keep already cooked food warm before it's served.
It's hard to overstate just how good looking of a grill this is – it truly looks like a piece of art in person and creates a unique ambiance for any outdoor setup.  In addition to the Classic 40″ version, Arteflame offers a few other tall base configurations that present a slightly different aesthetic – namely a Euro base and a classic base with built-in storage.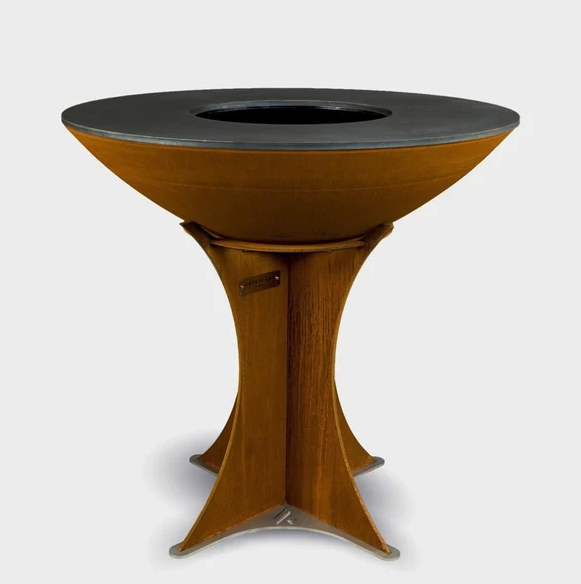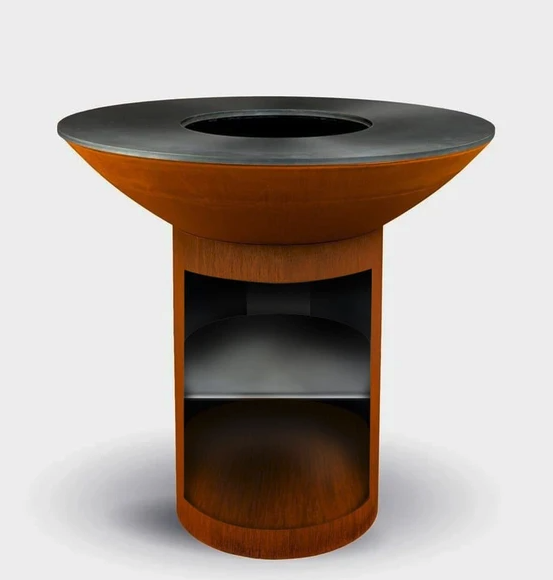 Furthermore, they offer the classic and euro styles in a low base configuration, which is only 18″ tall compared to the 38″ tall standard base.  The low base options still have a 40″ diameter cooking surface.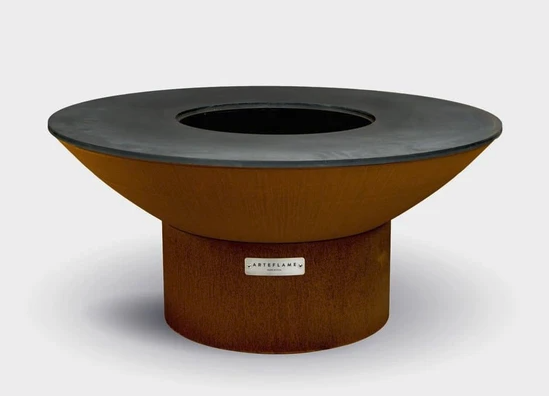 Last but not least they offer a fire bowl only set up, which is ideal if you plan to install a custom built-in flat top grill configuration.  The bowl-only version can be set into various styles of outdoor pits or sturdy countertops to complete your outdoor kitchen.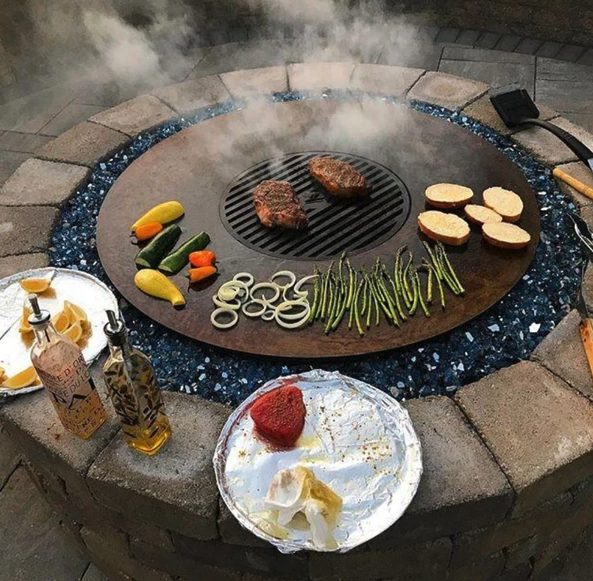 Getting the Most Out of Your Arteflame Grill
Accessories
Arteflame has developed quite the suite of well thought out accessories to compliment their already incredibly functional grills.  Here's a quick look at some of our favorite add ons:
Food Saver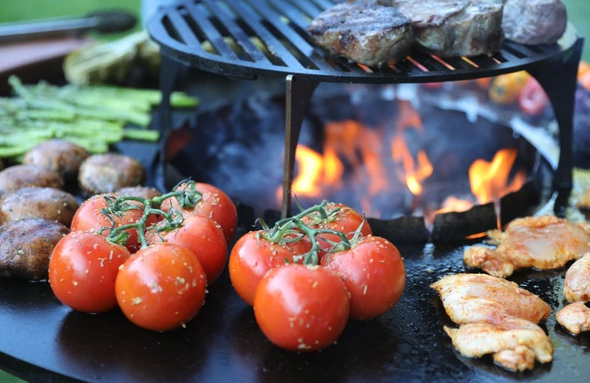 If you ever plan to load up your grill or cook foods that can roll around (like hot dogs), the food saver is almost a must.  This stainless steel insert fits to the outside of the center ring and creates a little blockade to prevent your food from falling into the fire.
Center Grill Grate
The center of your Arteflame grill – where your fire is built – is left uncovered by default.  However, you can cover the center space over your fire with a carbon steel grill grate if you want to utilize the center area of the cooker.
The center grill grate sits flush with the flat top cooking surface and makes it easy to get beautiful grill marks on your food.  Not to mention, food from the grate is sure to pick up some incredible smoky flavor as it cooks directly over your fire.
Bottom line, the center grill grate is a nice way to add versatility and significantly more cooking surface area to your set up.
Grill Grate Riser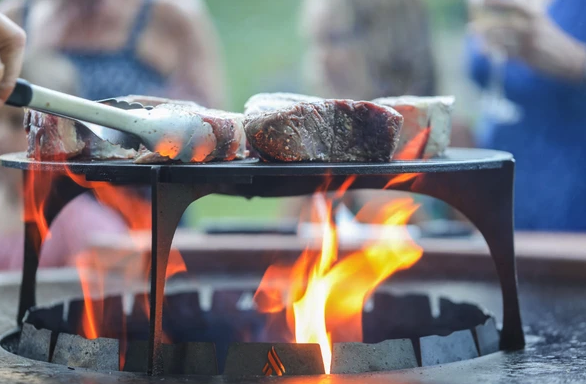 The Arteflame grill grate riser is designed to work in tandem with the center grill grate attachment.  Instead of setting your grate flush with the flat top cooking surface, the grate riser lifts your grate about 9″ above the cooking surface.
This adds functionality in a couple of ways.  First, it allows for you to place a cast iron pan directly on the center grate without smothering your fire.  Second, it serves as a lower heat zone to set food that you want to cook a little slower and pick up extra smokey flavor.
Rotisserie Kit
Everybody loves a good rotisserie set up, but the problem is most are a pain to deal with.  Arteflame's rotisserie kit is designed to be as straightforward as possible to use.
The kit fits perfectly into the center of an Arteflame grill with a simple squeeze and release system.  That's all it takes to be well on your way to delicious rotisserie chicken, turkey, and much more.
Pizza Oven
If you're the type who enjoys a good Neapolitan style pizza, the pizza oven kit provides an excellent way to make 'em right there on your grill.
The kit is designed to sit over the center of the grill, which creates a cooking chamber that's well ventilated and perfect for cooking some spectacular pizzas over the wood fire.
The best part is that once your pizzas are done in the oven, all you have to do is pull them out and set them right there on the Arteflame's cooktop where they can be sliced and stay warm until you're ready to grab a slice.
Grill Scraper
A grill scraper is a versatile tool in the pit master arsenal.  When it comes to Arteflame grills, the grill scraper serves two main functions.  It allows you to corral foods that you are cooking on the flat top surface, like veggies.
The grill scraper is also the perfect no fuss tool to clean your cooktop quickly.  Simply scrape your food bits and excess oils into the fire pit and boom, you're ready to go for your next cook.
Arteflame Insert for Weber Kettle and Kamado Grills
If you're interested in the Arteflame cooking style – that is, flat top grill cooking over a charcoal or wood fire – but don't need a full sized grill, the inserts are an excellent alternative.
These inserts are a carbon steel cooking surface, with a flat top surface around the outside and grill grates over the center.  The Weber Kettle insert is obviously designed to fit all sizes of Weber's Kettle grill, and the Kamado insert is designed to fit the most popular Kamado grill brands like Kamado Joe or Big Green Egg.
Caring For Your Arteflame Grill
First and foremost, it's worth reemphasizing here that Arteflame grills are incredibly durable.  In fact, they're designed to be able to be left outdoors, uncovered, in any kind of weather, and still perform well for years.
But with that being said, at Own the Grill we are big proponents of grill care, so we'd still recommend covering your Arteflame just to make sure it stays in tip top shape (Arteflame sells grill covers that fit each of their products).
You'll also need to be prepared to season your cooking surface as it will arrive unseasoned.  The purpose of seasoning the cooktop is to remove any leftover residue from the manufacturing process, but also to form a natural non-stick cooking surface that will make your Arteflame more durable and easy to cook on.  Here's a resource Arteflame created which walks through the process of seasoning their grills:
Last but not least, it's important to give your grill a quick clean at the end of each cook.  We mentioned already that a grill scraper helps immensely for this – all you really need to do is scrape any food bits and oil into the center fire pit.  If you want to re-season your cooktop, do so by giving it a light wipe with a rag that has been dipped in your griddle cooking oil of choice.
From there, scoop out the ashes (after they have completely cooled!!) and dispose.  You can reuse charcoal or wood that has not burned.
Arteflame Review – Final Thoughts
At the end of the day, Arteflame grills might not be for everybody – they aren't exactly budget grills and you need to have some patio space to dedicate to your cooker.
But those who dive in to the Artiflame family are handsomely rewarded with a grill that not only will cook tasty food time after time.  They're rewarded with a bona fide centerpiece to any outdoor cooking set up that will make people gather around for memorable cookouts time and time again.
We hope you've found this Arteflame grill review to be helpful!  Let us know if you've come across one before and what your experience was – we love to gather feedback and are constantly trying to improve the quality of our content!