Grills and fire pits are two items that are almost guaranteed to elevate the ambiance of any outdoor patio setup.  Each is designed for people to gather around for memorable moments outdoors – but generally speaking, they are two completely different things.
However, in recent years some clever manufacturers in the outdoor lifestyle space had the bright idea of combining the two.  A few of these manufacturers executed the fire pit grill to perfection – and they're epic centerpieces that just have a special way of bringing people together.
We've created this list of the best cooking fire pit (or fire pit grill combos) to help get you started with your search!  We'll highlight some of our favorite options on the market and also highlight some of the features you should consider when deciding which pit is best for you.
A Quick Look At Our Top Picks:
Best Cooking Fire Pits
Arteflame 40″ Contemporary Grill
When it comes to all around performance, durability, and aesthetics – the Arteflame Contemporary Fire Pit Grill is hard to beat.  That's why gets our pick as the best cooking fire pit currently on the market.
Arteflame grills almost look like they're pieces of art – and they're designed to draw people in to gather and enjoy excellent food.  The cooker comes in a few different configurations; the flagship grill comes with a tabletop height cabinet, but you can also opt for a shorter base cabinet or a built-in configuration.
The fire bowl (where your charcoal or wood fire is built) is made of corten steel, which is a special type of corrosion resistant metal.  The round cooking surface is made of high quality 1/2″ carbon steel, which is considered to be a superior cooking surface to cast iron, generally speaking.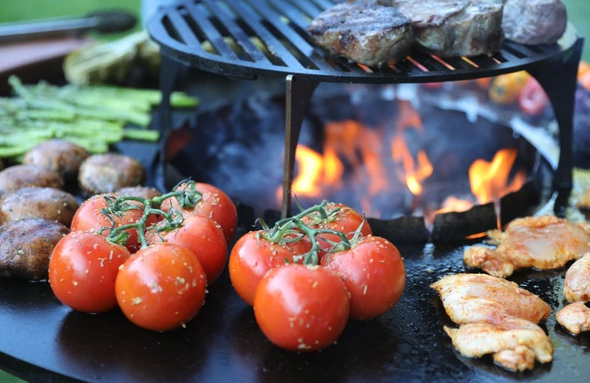 The diameter of the cooking surface is 40″, and is suited to cook everything from the largest ribeye steaks to veggies and sides.  The inside of the ring (closest to the fire) reaches 500ºF and above to get that perfect sear, while the outside of the cooktop usually reaches 250ºF – which is ideal for peppers, veggies, or just to keep food warm before serving.  Of course, you can make the cooktop temperature hotter or cooler than this by adjusting the size of your fire.
Arteflame also knocks it out of the park in the accessories department – there are more than a handful of add-ons to choose from to elevate your cooking experience:
Center grill grate (for cooking directly over your fire)
Grill grate riser (lifts center grill grate 9″ above the cooking surface)
Food saver (prevents food from falling into the centerfire)
Rotisserie kit
Pizza oven
Various clean up accessories
The downside to the Arteflame is the price point – it's on the more expensive side of the spectrum for sure.  However, if you have the coin to pick one up, you won't be disappointed.
Check out our full Arteflame review here for more on this high-end brand!
Cast Master Bon 2000 Bonfire Pit
If you're looking for a cheaper or more portable option, the Cast Master Bon 2000 Dual Purpose Bonefire Pit is an excellent choice.  At only 32 pounds and with a carrying case included, it's easy to take with you on the go for a camping trip or tailgate before the game.
The unit is constructed of stainless steel and does an outstanding job of channeling heat to deliver a hot fire that you can gather around to keep warm or cook some burgers.  The Bon 2000 is actually designed to be a smokeless fire pit, which may be a positive or a negative depending on your preferences when it comes to cooking and enjoying fireside warmth.
However, you can load lump charcoal or briquettes into the charcoal grate and you'll still get some smokey flavor.  You likely will not get much smoke flavor in this pit from traditional hardwoods like oak, hickory, etc.
A cooking grate is included that sits perfectly on top of the firepit where you can cook your food.  The grate has a 19″ diameter, which translates to about 283 square inches of cooking surface area to work with.  It's enough space to comfortably fit 4 large burgers at once or potentially 6-8 smaller ones.
Breeo X Series Smokeless Fire Pit
The Breeo X Series Smokeless Fire Pit is another option that is primarily marketed as a smokeless fire pit, but can easily be converted into a cooking fire pit with a few extra attachments.
Namely, Breeo developed the Outpost Grill attachment – which is an adjustable height grate attachment that allows you to cook directly over your pit.  It comes with a carry bag and is completely adjustable, so you can use it over a campfire in addition to the smokeless pit.
The Breeo X Series comes in a few different sizes – there's a 19″, 24″, and 30″ option.  For the 19″ version, the only way to convert it into a fire pit grill combo is via the Outpost attachment.
But for the 24″ and 30″ options, you can actually choose to add on a SearPlate rim, which gives you the ability to sear steaks, burgers, and more on the outer rim of the fire pit.  Functionally, the SearPlate works similarly to the way the Arteflame grill works – this is just a smaller and less expensive option.
Bali Outdoors Wood Fire Pit
Our budget pick for the best fire pit grill goes to the Bali Outdoors Fire Pit – it's one of the least expensive options on our list.  Even though it's cheap, it provides a reasonable amount of performance in the cooking department.
The grill grate is elevated from the rest of the pit, but you can adjust the height by a few inches depending on how hot you need your grate to be.  Also, the grate swivels 360º – which comes in handy if you ever need to let a steak rest at a warm temperature after searing.
You're afforded roughly 270 square inches of cooking surface area on the 18.7″ diameter grill grate, so it's an ideal size to cook for 2-4 people.  Any more than that you'll probably need to cook in multiple batches.
This fire pit only weighs 27 pounds, so its quite possible to take it with you on the go, but it doesn't break down into a more compact size for travel.  Four legs fixed on a circular steel ring provide sturdy footing no matter where or on what surface you choose to place your pit on.
Best Cooking Fire Pit – What to Look For
When it comes to choosing the right fire pit grill combo, there are a few things to be aware of – especially if it's your first time picking one up.  Here are a few of the top things we think you should consider when comparing products.
Cooking Surface Material & Style
On typical grills, the cooking grates are made of either stainless steel, enameled porcelain, or cast iron.  You'll want to make sure that your cooking fire pit uses one of these materials in the construction of the grate.
The reason has to do with heat distribution and consistency – these materials are proven to create consistent heat zones, which becomes even more important when cooking over an open fire.  Furthermore, inferior metals won't last nearly as long as stainless steel, enameled porcelain, or cast iron.
Also consider whether you want a traditional grill grate, a flat top grill, or both!  Some fire pit grills only have a grill grate over the centerfire.  Others have a flat top cooking surface around the outside of the fire pit.  A few have both of these cooking styles available on the same pit.
Cooking Surface Area
It's important to consider how many people you plan to cook for in any given setting.  Many of the smaller, portable fire pits are only suitable for cooking for about 4 people, which would make things tough if you needed to grill burgers for a party of 12.  Obviously, if you hope to have your fire pit grill be the centerpiece of your back patio, you should opt for a bigger size that will accommodate the party size you'd like.
Cooking Grate Adjustability
No two fires are the same, so when it comes to cooking over a fire it's ideal to have an adjustable grate.  The reason is so that you can easily set your food at an ideal distance from the flame so that it cooks exactly how you want it to.
It's not that you can't cook on a fire pit grill without an adjustable grate, you just have to be more precise and consistent with your fire building.
Portability
Some cooking fire pits are designed to be more or less permanent fixtures on your patio – and others are designed to be taken on the go.  The permanent options are typically better suited for those looking to create an outdoor kitchen or hang out area on their patio, whereas the portable options are ideal for things like camping trips and tailgates.
Ideally, a portable option should weigh less than 40 or so pounds and come with a carrying case so that it can easily be taken with you in your vehicle.
Price
Obviously, price is a consideration any time you are comparing one product to another.  Generally speaking, high end fire pit grill combos run in the range of $500 to $2,500, depending on the configuration and setup you choose.
On the other end, a budget friendly cooking fire pit runs in the range of $100 to $300.  Anything below $100 I would begin to have serious doubts about the quality of materials used to construct the pit – remember, if you plan to cook on these units you want the grate to be at least a certain baseline level of quality.
Final Thoughts
When it comes to all around fun and memory making, it's hard to beat gathering around a fire, pulling up some fire pit chairs, and cooking up a delicious meal.  The best cooking fire pits do just that – draw people in and deliver outstanding quality food.
We hope this resource was helpful for you in comparing fire pit grill combos – at the end of the day, there are quite a few different options out there that cater to different experiences and goals.  Hopefully, some of our suggestions above helped to clear the air on these similarities and differences.
Which pit did you end up with?  Do you like it?  Or did we omit an excellent cooking fire pit from our list?  We'd love to hear your thoughts in the comments section below.