This content contains affiliate links.  If you make a purchase after clicking a link on this page, we might receive a commission at no cost to you.
When it comes to grills and outdoor cookers, I'm a firm believer that flat top griddles are one of the most underrated types of cooking equipment on the market. That's why we are excited to share are favorite built in griddle guide. 
They're extremely versatile, don't take up a bunch of space, and most importantly, they cook some incredibly good food.  Anything from a top notch steak to a veggie side can be masterfully cooked on a flat top grill.
Of course, not all flat tops are created equal.  Generally speaking, if you're looking at a built-in flat top grill you are looking at the highest quality units on the market.  After all, it's a pretty permanent decision and an investment to get one installed in your outdoor kitchen.
Our goal with this article is to help shed some light on which products are out there and what their benefits and drawbacks are.  Hopefully, by the end, you will have a better idea of which one might be the best fit for you.
In a Hurry?  Here's a Quick Look at Our Top Picks:
Best Built-in Flat Top Grill Reviews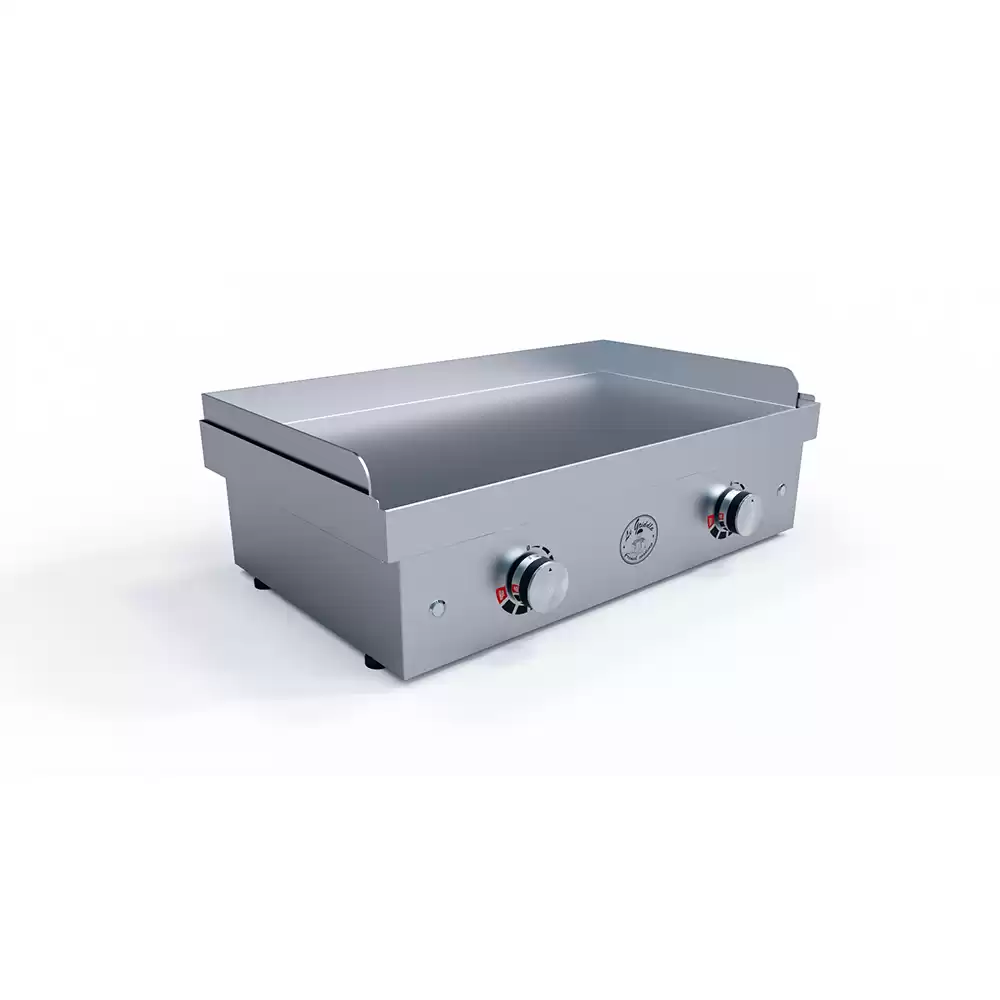 Le Griddle gets our top vote for a variety of reasons – but from a high level, it's a luxury quality griddle that is offered at a better price point than many of its peers.
Le Griddle flat top cooking surfaces come in 3 different sizes, but their most popular size is 30 inches wide and features 2 burners. You can also choose between gas burners and an electric heating element.
One design feature that I love about this grill is that they are built in a thin cast iron sub-plate that sits between the burners and the griddle surface.  This plate heats and in turn provides outstanding heat distribution to the surface above, virtually eliminating any chance of inconsistent heat or hot spots.
The griddle surface itself is made of aircraft quality 304 stainless steel and is heated by two U-shaped burners which can each provide up to 9,000 BTUs of power.  The surface features 465 square inches of cooking area to work with.
The simple design aesthetic makes it a perfect and elegant fit in most outdoor kitchen setups – it looks perfectly in place even if you mix and match brands for your built-in grill.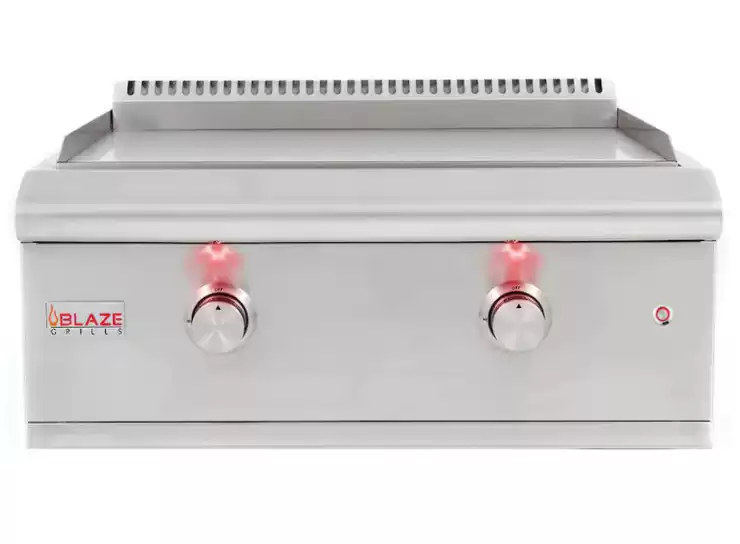 I've made no secret on this site of my opinion that Blaze is one of the best brands when it comes to premium products and high end grills.  Each of their cookers is made with an incredible level of craftsmanship and is made to last a lifetime.
Their LTE Built-in 30 Inch Griddle is no different.  The chassis is made from heavy-duty 304 stainless steel which is extremely durable.  Blaze is so confident in their product that this grill is actually backed by a lifetime warranty.
This commercial quality grill has two U-shaped burners that each max out at 18,000 BTUs of heat output for a total of 36,000 BTUs across the entire cooking surface.
The cooking surface itself is also high quality stainless steel and spans 495 square inches, which is plenty of space to handle a wide variety of cooking endeavors.  Just about any type of breakfast, lunch, or dinner is possible with a cooking surface area of that size.
One key design element of any built-in flat top grill is a grease management system.  The last thing you want is for clean up and routine maintenance to be a tedious job.  Blaze knocks it out of the park on this with an intuitively designed grease tray and a system that directs the flow of grease into a drip tray that is easy to access and clean.
All around, the Blaze LTE is an excellent choice to add to your setup.  It is powerful enough to work as the centerpiece of an outdoor kitchen but also works fantastically as a compliment to a "regular" built in grill.
The Evo Affinity is a commercial grade cooking surface that is a welcome addition to any outdoor kitchen.  You might have noticed right off the bat that it is not the traditional rectangle shaped cooking area that most of the other grills on this list have.
Evo is known for its circular shaped cooking surfaces – and whether or not you like this can come down to personal preference, but there are a few situations where the circular shape functions a lot better than a more traditional shape.
In particular, the Evo is perfect for utilizing corners of your counter space.  That's not to say an Evo has to go on a corner, but it functions really really well on corners that might otherwise be awkward to put to use.
Additionally, this is a powerful unit with a high quality cooking surface.  Two circular shaped burners heat the surface from below and can get dialed in to anywhere between 225 to 700°F.  That's a huge temperature range that can essentially go from a keep warm setting all the way up to pizza making and steak searing temperatures.  The cooking surface is 30 inches in diameter and features about 650 square inches of area to cook on.
There is also a drip pan that surrounds the cooking surface which makes clean up a breeze.  The pan funnels grease to removable waste trays which are dishwasher safe.  All of that said, Evo makes the clean up side of things as pain free as possible.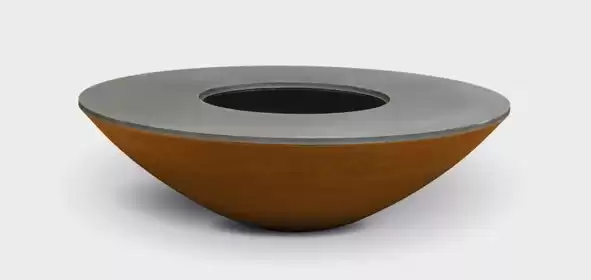 Arteflame Classic 40" Cooktop
Uses both wood and / or charcoal
Removable cooktop to use as a fire pit
Cooktop is laser cut from 1/2" carbon steel
Virtually maintenance-free: all residue can be scraped into the fire
Fire bowl is spun from a single piece of corten steel without seams or welds
After cook top cools, wipe clean with a cloth or paper towel and food safe oil
Can be left outside year-round; base develops a beautiful, maintenance free patina over time
Arteflame base or other support stand needed for stable placement
Includes seasoning puck for seasoning of cooktop
Designed and Made in the USA using US steel
DIMENSIONS: 40" Wide x 12" High, 237lbs. (102cm x 30cm, 107Kg)
Arteflame Grills are all steel making the grills quite heavy, shipping weights can be over 500lbs!
Check Price on Arteflame
Arteflame grills are without a doubt some of the coolest grills on the market in my opinion.  What's unique about their built-in configuration, as compared to the rest of the built-ins on this list, is that the Artiflame Classic 40″ Cooktop is heated by a wood or charcoal fire, not gas.
That means you can kind of have the best of both worlds – you get even, beautiful cooks on the carbon steel cook surface while your food absorbs the delicious smoke flavor that can only come from a wood or charcoal grill.
Not to mention, Arteflame grills are aesthetically beautiful, almost artistic.  They make a great centerpiece to any outdoor kitchen setup and are sure to draw people in for epic cookout memories.
The grill has a fire pit in the center where you build your fire.  The fire then heats the circular cooking surface where your food is cooked.  What's really cool is that the inside of the cooktop ring will get scorching hot with a big enough fire (about 450-500ºF) while the outside of the ring stays relatively cooler, around 250ºF.  Practically, this makes it quite easy to cook different types of food at different temperatures at the same time.
For a closer look at this grill and all it has to offer, check out our Arteflame review next!
If you're looking for a more budget friendly option, the Turbo Grills Teppanyaki style grill is an excellent choice.  I wouldn't call it "cheap", but it's generally less expensive than other built-in flat top grills.
Most importantly, Turbo Grills delivers the type of high quality you want to see in something that will be permanently installed in your outdoor kitchen.  So even though you might be saving a buck, you aren't sacrificing so much in the quality department.
Aesthetically, Turbo did a really nice job with the design of this grill.  It's stacked with LED lights and visual indicators that notify you of burner usage and allow you to entertain at night time.
This grill is powered by two U-shaped burners that each deliver 20,000 BTUs of power across a 740 square inch cooking surface area.  The only gripe I have with this grill is that the griddle surface is only 8 millimeters thick.  Most of the time it is not a big issue, but that's a relatively thin cooking surface which can lead to poorer heat control and more hot spots compared to a thicker cooking surface.
Lynx is a staple in the world of custom outdoor kitchens, and their Lynx Asado 30 Inch Built-in Flat Top Grill lives up to the lofty standard that they have set.  This grill has a pretty hefty price tag but if it's in the cards for you you're handsomely rewarded with a 495 square inch cooking surface area that is constructed with the absolute highest quality materials.
The chassis is made of professional grade 304 stainless steel and the cooking surface is a multi layer all clad aluminum build that has two sheets of stainless steel also built in to provide perfect heat distribution.  The cooking area is heated by two 23,000 BTU burners, which are the most powerful set of burners of any grill on this list.
The unit is loaded with blue LED control panel accents that look really nice aesthetically and help to illuminate your setup for nighttime cooks.
What to Consider when buying a Built In Griddle
Obviously, a built-in flat top grill is an investment that shouldn't be taken lightly.  In addition to the price, you're talking about getting one of these units installed into an outdoor kitchen, which is a pretty permanent decision.  Here are a few points to consider when you evaluate which one might be the best built-in flat top grill for you.
Price for a Built In Griddle
The price point is near the center of just about any discussion when it comes to a purchase like this.  Generally speaking, expect quality built-ins to cost anywhere between $1,500 and $8,000.  Anything below that $1,500 threshold probably is going to cost you more in the long run anyways due to poor grill construction and/or poor materials.
Within that price range there's a lot of variance as to what you get for your money.
Heating Power and Distribution
I would argue that heat distribution is more important than sheer heating ability.  I'd much rather have a grill that maxed out at 450°F that was perfectly consistent than a grill that can reach 700°F but has hot spots or inconsistent heating.
Burner configuration plays a large role in heat distribution.  A grill like the EVO has an advantage here because the circular burners line up really nicely with the circular cooking surface area.  Where you might see heat spots is in the rectangular grills with U shaped burners.  Look for grills (like Lynx) that include extra plates between the burner and surface area which serve to even out the distribution of heat.
Warranty
Warranties can be a feature that is easy to gloss over when you are in the excitement of making a big purchase, but they are extremely important to consider.  Especially when we are talking about a big ticket item like a built-in grill.
I obviously don't plan on buying a product that will turn out to be faulty, but you never know and there is always a slight chance that your grill will have a defect.  When that's the case it's nice to have the protection.
Many of the high-end grill manufacturers have a lifetime warranty on chassis and burners and 5+ year warranties on other parts.  Just be sure to double check when you are comparing and all things equal, go with the grill with the better warranty.
Final Thoughts
I hope this list has proven to be helpful to you and a nice jumping off point for your search into the perfect built-in grill for you!  If you have any questions about our choices or have input on our list, please don't hesitate to reach out!
If you'd like to compare some other types of built-in grills, check out our articles on the best built-in gas grills and best built-in pellet grills next.