This content contains affiliate links.  If you make a purchase after clicking a link on this page, we might receive a commission at no cost to you.
When it comes to the world of grills and BBQ cooking, Traeger is up there with some of the biggest names in the grilling kingdom.
Because of their sleek designs and efficient work ethic, these grills are regarded as some of the best in the world.
However, a lot of people nowadays are opting for the built-in design that many grills possess, rather than the mobile versions that are able to move around.
But why do people do this? Does Traeger have a built-in grill up for grabs? Follow our guide to find out more on whether they do.
Does Traeger Have A Built-In Grill? The Short Answer
As of early 2022, the short answer is yes, Traeger does not have a built-in pellet grill available!
With that being said, their new Timberline XL Series grills might not be a good fit if you're looking a built-in grill head only.
The Timberline XL has a modular structure that can easily be placed between permanent cabinets, so functionally it can work similarly to a built-in Traeger.
Traeger sells a trim kit that makes the built-in set perform at a high level and look aesthetically pleasing.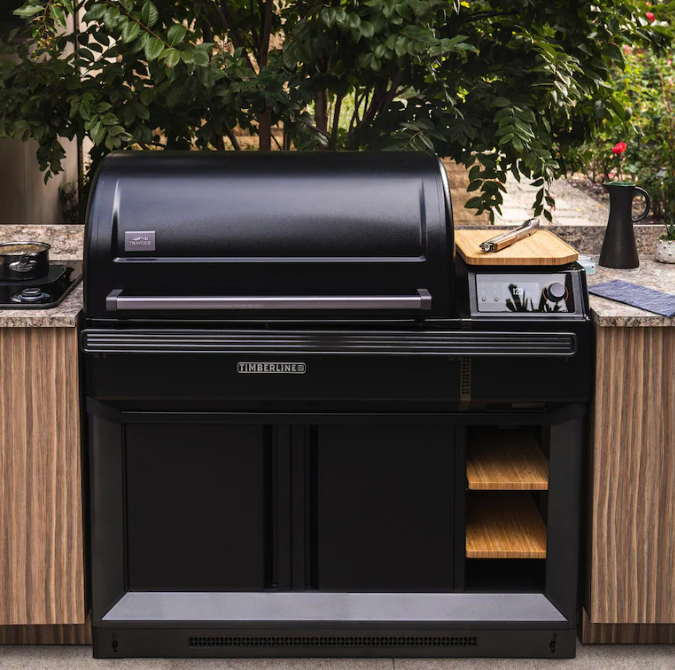 Built-In Pellet Grill Alternatives
While the Timberline XL has made a splash since it's release, Traeger still seems to specialize in your standard freestanding grill design with the stands and the wheels.
Market opponents such as Coyote Grills and Memphis Grills have developed built-in grills for some time now, so they might be worth a look as a built-in alternative to Traeger.
The benefit of some of the options Coyote and Memphis offer is that they sell a pellet grill head only, which gives you much more flexibility in the design of your outdoor kitchen.
What Is A Built-In Grill?
A built in grill is very similar to a normal grill that you can move around. The main difference is, these types of grills are fixed in place and are usually part of a bigger structure. They're also usually made of very high quality materials.
Other features that are often seen alongside a built-in grill are sinks, smokers, chopping stations and prep areas, and even eating areas for everyone to have some good food.
These outside areas are usually made from a high-quality standard of wood, stone, or even metal in some cases.
Because these grills are almost always situated outside of a house or structure, it's important to make sure that the surfaces and materials have the proper protection from elements such as rain and heavy winds. Although you might live in a reasonably hot area, you never know what's around the corner.
Because of how popular BBQs are in modern society and how easy it is to get your hands on appliances such as a built-in gas grill or a charcoal grill, there's no wonder why so many people are looking for Traeger's built-in grills. But why do people prefer built-in grills to your standard models?
Why Do People Like Built-In Grills?
One of the main reasons that people like these kinds of grills is because of how they look. As previously mentioned, when these areas are made properly, they make sure that the look of the grill complements the rest of the area and vice versa.
With materials such as wood and stone often being used, this area can make any garden look like an outdoor kitchen!
As well as this, people love the accessibility of the whole surroundings of the grill. Because these wood pellet grill designs or even your standard electric grill often stand somewhere in space, the built-in versions have areas for eating, general use, and food preparation.
Many chefs out there will appreciate these mini-kitchen designs!
Some people may choose to go for a built-in grill because of the stability you get with having a piece of stationary equipment.
We all know that when a grill with wheels gets old, it's hard to move around or may even start to drift. With a built-in grill, you don't have to worry about this and you can spend more time cooking with freedom than worrying about your food making a quick getaway.
Cool Features For Built-In Grills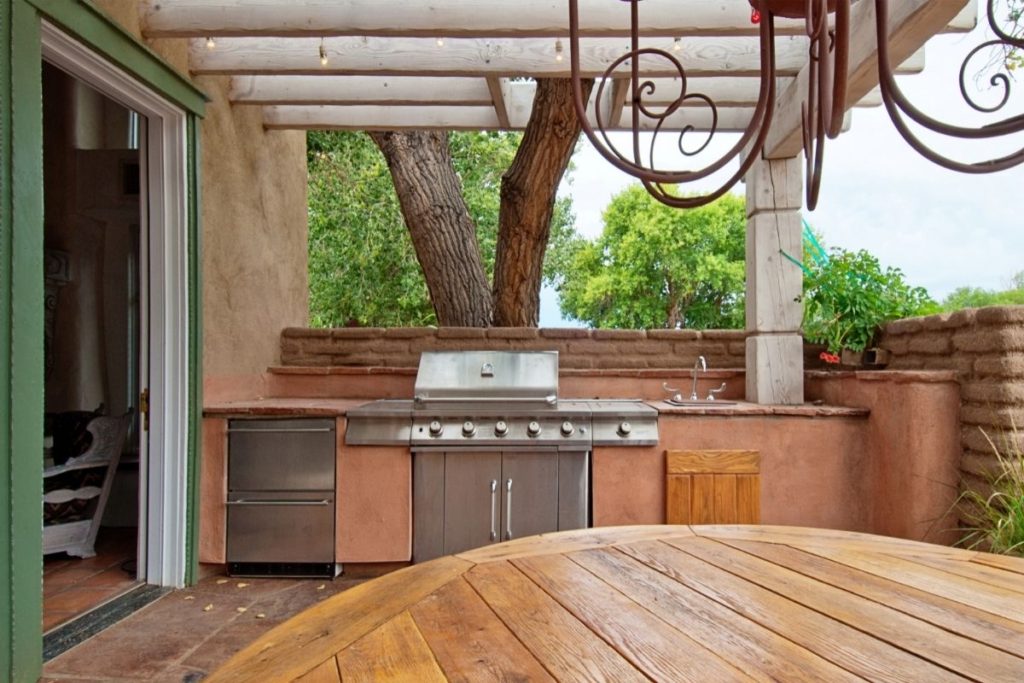 Because these high end grill models are so state of the art, a lot of them come with touch-screen technology that you can even control from your phone.
This means that even the smaller designs of outdoor kitchens with smaller inches of cooking space will allow you to have as much accessibility as possible.
Controlling the temperature from your phone almost seems like cheating, but who cares?!
Of course, we've mentioned that having a smoker in your outdoor kitchen area can be a huge advantage when it comes to the art of cooking food.
Adding that smoky flavor to your food is sometimes the finishing touch that will sway people to come to your place, rather than your friend's house.
With a difference in cooking temperature and a variety of flavors at your fingertips, it's no wonder people love these outdoor kitchen structures.
Flat flooring is a huge part of your outdoor kitchen and will often allow people to cook with a lot more freedom.
Could you imagine cooking indoors with a potentially uneven surface to walk around on when carrying sharp utensils and hot ingredients?
Having a wooden or stone floor can ensure that any potential accidents are avoided.
As previously mentioned, a lot of these outdoor areas often have an area like a kitchen island or a built-in table for people to enjoy their food and keep their chef company.
Because of potential rain or wind, you can often implement some sort of covering away from the grill so that any smoke or debris doesn't cause any problems.
This keeps you dry and your food safe, without the stress of the weather ruining the day.
Final Thoughts
Pellet smokers and pellet grills are often very popular amongst those who are looking for a new built-in appliance and will widen their search based on these features.
However, as previously mentioned, there's nothing stopping you from purchasing a model of Traeger grill and building the rest of the area around this appliance.
Because of their versatility and cooking quality, your love for Traeger and outdoor kitchen spaces can still flourish!